Tour of California Cycling News, February 17, 2008
Edited by Gregor Brown
Tour of California press conference - riders comments
By Kirsten Robbins in California, USA
David Millar (Slipstream Chipotle - H30) during the 2008 Tour of California press conference
Photo ©: Jon Devich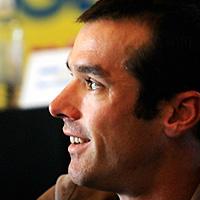 A stellar panel of riders convened for a press conference on the eve of the Tour of California start. Event director Jim Birrell commented how this year's edition has attracted nine ProTour teams and eight domestic teams to participate over eight days of racing.
"Last year when I sat in font of you I made a comment that I felt that with the course in 2007 we should see a change in yellow jersey on a regular basis, well I'm not going to make that same comment today," said Birrell regarding last year's race winner Levi Leipheimer maintaining the leader's jersey over the entire eight-day event.
"Levi proved me wrong; however, we listened to our critics in choosing the 2008 courses and while we still haven't been able to achieve that mountain top finish, the courses that we have brought to the 2008 tour should increase our chances to see a very dynamic race unfolding."
Several changes were made to the event starting with the flat 2.1-mile prologue in Palo Alto. Stage three's Modesto to San Jose offers four mountain classifications with the debut of the Mt Hamilton climb before heading over to Sierra Rd – a traditionally decisive climb en route to the finish. The Tour will end on stage seven's Pasadena circuit, a non-traditional way to end the tour, which includes a mountain classification before a long circuit around Rose Bowl.
When last year's race winner was asked what he thought of the new prologue, Leipheimer stated with a laugh, "damn it, I like the old prologue much better. I think that the additional climbs are a great new addition to the race, and I look forward to those. I have the advantage in the prologue because the next day goes into my hometown, and last few years has been an overwhelming experience for me to come into my home town of Santa Rosa with the tour.
Coming up on
Cyclingnews will cover the 60th edition of the Dauphiné Libéré live as of stage 4 on Wednesday, June 10, at approximately 15:00 local Europe time (CEST)/ 23:00 Australian time (CDT)/ 9:00 (USA East).

WAP-enabled mobile devices: http://live.cyclingnews.com/wap/
"The first year was very emotional because when I came into town I didn't know what to expect. I figured my friends would be there and a few people, but it was unbelievable. It was like the Champs Élysées; it was packed with people and I was a loss for words when I got on the stage, and I'll never forget that. I have a lot of great memories."
George Hincapie (High Road)
Photo ©: Jon Devich

George Hincapie: The team is great and I really believe we have the best youngest talents in the world and a great group of guys who have a lot of fun. I'm also excited about the team being an American team because now I can say that I've ridden for an American team my whole cycling career. We all have a lot of friends in this race. We are all professionals, I know Levi is probably in good shape right now but we are going to be trying to win as best we can. Sure there will be a big battle but in the end we're still friends.
David Millar (Slipstream Chipotle - H30): "This is the same sort of prologue competition at the Tour de France. We've got George, Cancellara, Zabriskie, Wiggins – the best in the world. We wouldn't get a prologue as technical as this anywhere in the world, so it's probably a good gage. I'm the only non-American on the team here and it's an honour to be leading the American team in its first big act in its new incarnation. Honestly, along with High Road we are a new wave of professional cycling."
Rory Sutherland (Health Net): "I kind of wished it stayed as the old prologue to be honest. I don't really like the flat. I haven't seen the full course because there was traffic down there, but if it's anything to go by based on the organisation from last year it's going to be a spectacular day."
Oscar Freire (Rabobank): "My decision to race in the Tour of California this year was easy because all the others felt very good about this race. We are at the beginning of the season and the weather is good so I think it's a good race to start with. Maybe I won't have my best moments now but I'll do the best I can. I think we have a good team of young riders ... so it is important for our sponsors. It's very nice here."
Oscar Freire (Rabobank)
Photo ©: Jon Devich

Jens Voigt (CSC): "Every year we put our best on the start line; we are really trying to go for it. We've had a second and a third place so far and we want to take that one more step up to reach the highest point on the podium. For me personally, I was in good shape until a little crash I had in training the other day. But I have enough other colleagues who can take over so they don't really need me to win here; there is more than one capable. It's always a great way to start the season with big wide roads, which I always like."
Bobby Julich (CSC): "Hopefully I'll be going up on the podium and not down. We just got finished with a great training camp and I think the team is ready. I feel good; obviously I'm getting a little older when you start to question your motivation in the winter a couple of times. All in all, it was good training at altitude up in Nevada. I swear to God the last time I checked I was twenty-seven and now I'm thirty-seven.
"The thing I love about the Tour of California is that they do not forget the little guys, those American teams that are lining up are going through the same feelings that George [Hincapie] and I had lining up against guys like Gianni Bugno at the Tour DuPont. It's good to see how things turn, and here we are on the eve of the biggest race in America and I'm excited to get things started."
Fred Rodriguez (Rock Racing): "I've always enjoyed racing in the US, especially in California and where I grew up in Los Angeles. Now I live down in Emoryville, Berkley, and this race will cross my zone, so I'm really excited. The more competition the better for me because the race really opens up when everyone is watching each other. Rock's a great team and I think we have some tough sprinters on our team that are going to really do their best."
Michael Ball starts Rock Racing team
By Kirsten Robbins in California, USA
Fred Rodriguez will race for Ball's Rock Racing California team
Photo ©: Jon Devich

After a series of discussions and press conferences on the eve of the Tour of California prologue regarding AEG Sports' decision to exclude three riders from the team, Michael Ball spoke with Cyclingnews about his team's decision to start the five riders eligible to compete in the eight-day event.
The black and lime green team was provided with its start times for the prologue beginning with Doug Ollerenshaw, Michael Creed, Victor Hugo Peña, Freddie Rodriguez and Mario Cipollini. However, the team will be without its core riders Tyler Hamilton, Santiago Botero and Oscar Sevilla.
Ball had announced in an earlier press conference that he would stand by his team and defend his riders at the expense of AEG Sports' decision to only start five riders. However, Ball told Cyclingnews in a later interview that he had the opportunity to sit down with his team and discuss the issues at hand concluding with the decision to start the five riders eligible to compete. "I stood by my team like I said I would," said Ball referring to the team meeting.
"We had a discussion and then we made a decision together," continued Ball. "I'm the owner of the team, but I'm also a part of the team and I listened to what my riders' thoughts were on the subject. We laid out the pros and the cons of starting tomorrow and decided to start the race with the five riders we have. It was a difficult meeting, but we all gave our personal input and opinions, and to be honest it was really touching."
Ball acknowledged that his team was eager to compete in the Tour of California even if they fell short handed with out the three core riders who might have been capable of accomplishing a result in the race overall. "Our prospects for the GC have been neutered by AEG Sports, and Sevilla, Hamilton and Botero are disappointed that they cannot compete this week because this is a great race for them," said Ball. "But they will be here to support their team-mates on every race day, pushing our brand, signing autographs and meeting with the public."
According to Ball, his relationship with AEG has been severed and he will move on to focus on the team's goal of performing well at the Tour de Georgia held in April. "I will honour my obligation to pay my part for the event because I am a good business man," said Ball regarding his intention to fund future cycling events across America. "There are other races, promoters and organisations that we will focus on. Maybe we will create our own races one day, which is something I would like to do, and treat the riders with respect and dignity that they deserve. Everyone makes mistakes and bad choices, and some cyclists do that because they only have a small window of opportunity to make the most out of the sport. I believe in giving them second chances."
AEG responds to Rock Racing
By Kirsten Robbins in California, USA
Andrew Messick, president of AEG Sports,
Photo ©: Jon Devich

In the Saturday afternoon Tour of California press conference AEG Sports president Andrew Messick confirmed that three Rock Racing riders, Santiago Botero, Tyler Hamilton and Oscar Sevilla would not race. "I have a high regard for Michael Ball," said AEG Sports President, Andrew Messick. "He's passionate about cycling, he believes that underdogs deserve a second chance, and I think all of those are enormously admirable. Our issue is that for us to have a race that is credible and fair, and that generates the respect of the organisations around the world – there has to be better a set of rules that are unambiguous and everyone has to live by them ... We are not prepared to make exceptions on the basis of deals. We have an obligation to all the other athletes and teams that have chosen to abide by the rules, and an obligation to the sport. The team is still permitted to start five riders and we would love to have them."
In response to Messick being asked if the possibility remained that Rock Racing would be permitted to start the eight riders, his answer was that "the only riders who will be aloud to start are the riders who are officially on the roster," said Messick regarding the exclusion of the other three riders. "There is a process by which the riders were put on the roster. ... We bent quite a number of rules over the last thirty-six hours to allow the inclusion of Mario Cipollini on the roster, and he is on the roster. As of today, Rock Racing has five riders on its roster, and so five riders will be allowed start.
"Ball and I went for a bike ride this morning and we spent forty-five minutes talking about various issues related to cycling, and while we have an enormous amount in common with respect to our passion for the sport, our hopes for the sport and what we think is required to put the recent past behind us, I think its fair to say that we differ on a number of issues," continued Messick. "I should say that the specific nature of our disagreements is going to stay between Michael and me."
Messick's decision to not start the three riders was based on an agreement between AEG Sports and the 17 teams competing in the event that any rider involved in an 'open' investigation would not be permitted to start the Tour of California. The three Rock Racing riders were recognised by the UCI to have been implicated in Operación Puerto and thus AEG Sports made the final decision to not allow them to start the event.
Although Ball received letters from the riders' national federations of Colombia, USA and Spain confirming that the three riders were not involved in any open investigations, Messick clarified by stating the UCI's direct confirmation was enough to exclude the riders from starting. "The letters are irrelevant, and whether the athlete is eligible to race in UCI races has no bearing on what all seventeen teams agreed to about the eligibility of riders for this race. Every team agreed that no riders who were under an open investigation would participate; it's different from UCI eligibility. Every team agreed the UCI and USA Cycling would tell us about any riders who are currently under investigation and that is the criterion and the basis – that's the rule."
Leipheimer comments on Astana and ASO
By Kirsten Robbins in California, USA
Levi Leipheimer comments on the Astana and ASO situation
Photo ©: Jon Devich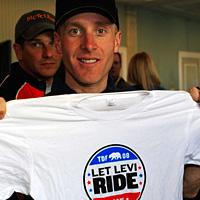 Astana has been up against a difficult battle with ASO, the French organisation that runs the Tour de France, after being told they were not invited to compete in the 2008 Tour even though it has the defending champion, Spaniard Alberto Contador, and third placed rider, Levi Leipheimer.
USA rider Leipheimer addressed the issue at hand during the press conference held on the eve of Tour of California prologue, stating that he has no idea why ASO would exclude its winning team from the event this year.
"First of all I think I would say that I'm really sad about what's happened to us in the last week," said Leipheimer, who found out about his team's non-invite to the Tour just days before the start of the Tour of California. "I can't speak for ASO; I don't know what it's thinking. I do know what I've read and that is that Contador has made himself available for questioning; he's offered his DNA to the proper authorities. I don't know what else we and Astana can do to prove to the world that we are on board with the new cycling."
Leipheimer noted his main reason for signing the 2008 Astana team was because it had little to do with the old Astana programme and was more of a new rendition of the Discovery Channel squad. "The main reason I signed with this team is because it was already in place," said Leipheimer. "In my mind I see that Discovery Channel brought on a new sponsor, they got a renewal and that's how I logically handled the position in my own head. So I have no idea what ASO's reason is for excluding us from the Tour; that's what is so frustrating. We are all left to wonder because there are no set of rules they follow – If they don't like you, they can exclude you. It's unfortunate because Astana has put millions of euro into this sport and they've basically been told to just go home."
Prior to the press conference, Leipheimer was stopped in the walkway and given a hat and t-shirt that read LetLeviRide.com – a petition website designed to campaign an appeal ASO's ban on Astana in this year's Tour. "I will say that I received an overwhelming amount of support from fans, friends, family and people I don't even know, who will stop me and tell me that they support us," continued Leipheimer.
"This website is an example of overwhelming support for our team. In the end I think that, I worked my whole life to do the Tour and when I was thirteen years old I knew I wanted to be there. I sacrificed my whole life and I've trained my whole life, as all these guys have. We've all gone to bed early, watched what we ate, rode our bikes enormous amount of miles our whole life, and I feel like it is a little bit unjust what the Tour de France has done."
When asked if he regretted joining Astana and if he would consider riding for another team, he responded, "When I joined Astana in my mind I didn't foresee this problem. I think any logical person would see it the same way. We have sponsors that sign up for the team that think the same as I do and other riders. I think if the ASO's reasons for excluding us from the Tour have to do with last year's Tour or before, it sounds like it could have made that decision last year in August, which would have been a little bit fairer. We are all wondering what the exact reason is; there is not set of rules and no security for the sponsors for our teams to count on to get into these world famous races."
For the time being, Leipheimer is devoted to his home state's race, ready to bring home the yellow jersey for the second consecutive year. "The Tour of California has always been a goal of mine. It's an important race no matter what is going on in the cycling world or beyond that, it is always very important to me and will always be a goal of mine.
Photography
For a thumbnail gallery of these images, click here
Images by Jonathan Devich/

Previous News Next News
(All rights reserved/Copyright Future Publishing Limited 2008)