U.S. National Criterium Championships - NE
Downers Grove, Illinois, USA, August 16-17, 2008
Main Page Results Overall standings Race Details Previous Race Next Race
Race 3 - August 17: USCF Women's National Criterium Championship,
Miller doubles national titles with crit win
By Mark Zalewski, North American Editor in Downers Grove, Illinois
Brooke Miller (TIBCO) doubles up on her stars and stripes
Photo ©: Mark Zalewski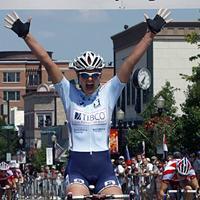 Brooke Miller's TIBCO team clothing will have a distinctive look for the next 364 days.. that is unless she is racing a time trial. The recent elite road national champion decided she liked the look of stars and stripes and out-sprinted the fastest American women to add the elite national criterium title to her palmarès in one of the fastest editions of the race in recent years.
"My hat is off to the peloton today," said Miller. "I've done this race when it has been negative and slow, but people raced their bikes and it was fast!"
Unlike the pro men's race, only American nationals were allowed to race, leaving some teams more shorthanded than others – and for TIBCO that meant only Amber Rais and Lauren Franges helping Miller. "On the late laps Amber was in charge of picking up the attacks so she wasn't able to help with the lead-out. It was up to Lauren and me going into the last laps. Pretty much from eight to go I found her wheel and having someone like her, who can sprint and navigate through the peloton like she can, kept me just completely relaxed."
As Miller mentioned, the racing was fast from the gun, with the announcers ringing a $50 prime before the gun even fired! Aaron's Corporate Furnishings and Cheerwine both put riders up the road in dangerous moves – including one with Kat Carroll (Aaron's) and the always dangerous Laura Van Gilder (Cheerwine).
"We wanted the race to be aggressive and not a repeat of road nationals," said Carroll. "The more we attack the more we could keep things strung out. But there were more people in it in the end than we wanted." Still, Carroll easily won the mid-race prime with clean wheels behind her.
But teams like Colavita-Sutter Home were interested in a field sprint for the most-winning rider in this event, defending champion Tina Pic. Meredith Miller (Aaron's) tried to spoil the fun for everyone by putting in a solo move that had a lot of potential. But a combined effort across teams brought her back. Down to the business-end of the race it was all together but still moving fast. Entering the last lap it was a hodge-podge on the front.
"We had moved back going up the hill and on the downhill Lauren moved me up to the right-hand corner," said Miller about the last lap. "We came out – Lauren, myself and then Tina – but then we were swarmed. I had wanted to come out of second-wheel, ideally off of Lauren. But as it happened I got shuffled and I jumped from seventh and racing Tina to the last corner. I knew if I could beat her there I could beat her to the finish. I was on the left side and I bombed it as hard as I could!
Meredith Miller (Aaron's) was in attacking mood
Photo ©: Mark Zalewski

"Going into the second-to-last corner I should have gone left, but I held my line and she came up next to me and it was a race to the last corner," said Pic. "I think I had visions of two years ago coming into this last corner, going neck-and-neck! When she went I thought she was going to go into the barrier, so I completely backed off and three people went by on her wheel."
"I got a late jump when the girls went before the last turn," said Carroll. "Brooke just had a well-timed jump and went through the corner first."
"I knew there were hay bales and those don't hurt as much as a curb!" joked Miller. "But really I have confidence in my equipment and I love adrenaline, descending and leaning into corners. I had to control it a little on the way out after the apex but then I jumped a second time and just looked for shadows... and there weren't any!"
Photography
For a thumbnail gallery of these images, click here
Images by Mark Zalewski/Cyclingnews.com
Results
1 Brooke Miller (Team TIBCO)                    1.25.43
2 Theresa Cliff-Ryan (Verducci Breakaway Racing)       
3 Jen Mc Rae (Advil Chapstick)                         
4 Katharine Carroll (Aaron's Pro Women's Cycling)      
5 Lara Kroepsch (ValueAct Capital Cycling Team)        
6 Tina Pic (Colavita/Sutter Home p/b)                  
7 Kelly Benjamin (Cheerwine Cycling)                   
8 Brenda Lyons (Advil Chapstick)                       
9 Erica Allar (Aaron's Pro Cycling)                    
10 Samantha Schneider (Coalvita/Sutter Home p/b)       
11 Jen Wilson (vanderkitten)                           
12 Anna Lang (Aaron's Pro Cycling)                     
13 Kirsten Davis (Sorella Cycling/BVM)                 
14 Rebecca Larson (Aaron's Pro Cycling)                
15 Carrie Cash Wootren (Team Revolution)              
16 Catherine Walberg (Team Kenda Tire)                 
17 Christina Smith (Lonestarworks.com)                 
18 Laura Van Gilder (Cheerwine Cycling)                
19 Carmen McNellis (Aaron's Pro Cycling)               
20 Holli Steelman (Juice Plus)                         
21 Amy Mcguire (Team Kenda Tire)                       
22 Amanda Miller (Mesa Cycles Racing)                  
23 Debbie Dust (Team Kenda Tire)                       
24 Kacey Manderfield (Verducci Breakaway Racing)       
25 Karla Kingsley (Easton/SugarCRM/Specialized)        
26 Tricia Carnila (Verducci Breakaway Racing)          
27 Arielle Filiberti                                   
28 Sherri Stedje (Hub Racing)                          
29 Elizabeth Morse-Hill (Hub Racing)                   
30 Devon Haskell (Get a Grip Cycles)                   
31 Martina Patella (ValueAct Capital Cycling Team)     
32 Katie Weber (Team Revolution)                       
33 Kate Sherwin (Team Advil-ChapStick)                 
34 Annie Yuey (Americas Dairyland)                     
35 Allyson Brandt (Cheerwine Cycling)                  
36 Kristin Wentworth (Team Kenda Tire)                 
37 Alison Rosenthal (Team TIBCO)                       
38 Sheba Farrin (Hub Racing)                           
39 Lauren Franges (Team TIBCO)                         
40 Nicole Bossie (Hincapie-Barkley Development)        
41 Mary-Ellen Ash (Easton/SugarCRM/Specialized)        
42 Shontell Gauthier (Colavita/Sutter Home p/b)        
43 Alison Powers (Colavita/Sutter Home p/b)            
44 Amber Rais (Team TIBCO)                             
45 Taitt Sato (ValueAct Capital Cycling Team)          
46 Robin Farina (Cheerwine Cycling)                    
47 Stacy Marple (Cheerwine Cycling)                    
48 Leigh Valletti (vanderkitten)                       
49 Marisa Asplund-Owens (Cheerwine Cycling)            
50 Kathryn Clark (Team Kenda Tire)                     
51 Christina Ruiter (ValueAct Capital Cycling Team)    
52 Laura Bowles (Advil Chapstick)                      

Back to top