Tour of Missouri - 2.1
USA, September 11-16, 2007
Main Page Results Overall standings Stage Details Live report Previous Stage Next Stage
Stage 5 - September 15: Jefferson City - St. Charles, 204 km
The Pate pulls a solo win in Missouri
Break survives as Hincapie on verge of overall
By Mark Zalewski, North American Editor with Kirsten Robbins in St. Charles, Missouri
Danny Pate (Slipstream)
Photo ©: Jon Devich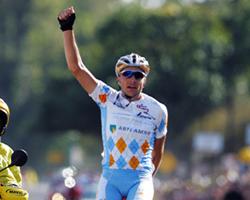 The final tough point-to-point stage of the Tour of Missouri was an animated affair as fall weather arrived early with cool temperatures and blustery wind. Like yesterday, a breakaway formed with a good representation of riders and Discovery Channel kept the break at a reasonable distance. But unlike yesterday, the sprinter's teams left the chase too late allowing Danny Pate (Slipstream-Chipotle) to attack his seven remaining break riders and solo to an impressive win.
This was Pate's first win in a season that has seen him numerous times on the second podium step, including two weeks ago by one second at the US Time Trial Championships. "I was very happy to get a win finally," said Pate. "It's been a little while since I've won. I was close at nationals and in Ireland this year."
Pate said that despite good form all year, the win came when he least expected it. "I was really fit about a week ago but it didn't happen for me. Now I'm tired and at a point where I least want to be in a break and have to work, but I ended up in it. I wanted to go back to the group all day today but no one wanted to chase and I ended up racing all the way to the end. I was a little lucky and got the win - sometimes you get a win when you don't expect too."
The most aggressive rider of the race, John Fredy Parra (Tecos), was the first to attack the break and rode solo for many kilometres. "This is a very, very good race for my team Tecos," he said. "For us to be invited here is a dream for us and we want to have a good race. The stages have been very long but I am a rider that is used to that kind of distance. I have raced in races that are very long in the past and I train alone on long training riders of that distance."
Still, Parra had enough to lead the rest of the break to the line to take second. "Once I got caught after my solo effort at the end my legs were a little bit tired and when they started attacking I was tired but I had a lot of desire to win and so I knew I had to be strong," he explained.
Crossing the Missouri river.
Photo ©: Jon Devich

Health Net-Maxxis' Jeff Louder was also in the break in an effort to keep and extend his lead in the KOM competition. "I was really interested in making sure I could sew up the KOM and to do that I had to go in the move for the second day in a row," he said. "I picked the right break and I did it but after the KOM I though, oh no, I'm in this for the long haul again!"
In the points competition, Luciano Pagliarini (Saunier Duval-Prodir) remains tied with Ivan Dominguez (Toyota-United) with 25 points each and Dominque Rollin (Kodak Gallery-Sierra Nevada) close behind with 21 - setting up a potential battle for the intermediate and final sprints tomorrow.
Race leader George Hincapie had another protected day in the peloton, letting his stacked team set the pace for the entire day. Barring catastrophe in tomorrow's final circuit race in downtown St. Louis, Hincapie will take his first stage race overall victory since the Driedaagse De Panne in 2004.
When asked by a local reporter what this win means to him, compared to others, he joked, "Tour of Missouri has been a great race and I am happy that I could have ridden that good today," he said, before joking: "It's been the best Tour of Missouri ever!"
How it unfolded
One of the many farms along the route.
Photo ©: Jon Devich

The race left Missouri's capital Jefferson City under the coldest temperatures of the week. The mid-50 degree temperatures and winds caused many riders to dig their cold weather clothing out from their packs. The pace started fast from the start in the middle of the bridge over the Missouri river, likely because everyone wanted to get their core body temperatures up.
Attacks tried to snap the hold of the peloton, but it seemed everyone wanted to be in the break on the final day that a break might actually survive. The first notable break had Slipstream-Chipotle's Jonathan McCarty, Cody O'Reilly (Kodak Gallery/Sierra Nevada), Jeremy Venell (DFL-Cyclingnews-Litespeed), Sergey Lagutin (Navigators Insurance), Matthew Crane (HealthNet-Maxxis) and Christoph Schweizer (Team Sparkesse).
But the winds and the motivation of the peloton ended their chances early. Following that just about every team put riders on the front to get into the moves.
Stevn Cozza (Slipstream-Chipotle)
Photo ©: Jon Devich

The main move of the day came at 45 kilometres into the race with Glen Chadwick (Navigators Insurance), Ian McKissick (BMC), Danny Pate (Slipstream-Chipotle), John Fredy Para (Tecos), Matti Helminen (DFL-Cyclingnews-Litespeed), Jeff Louder (Health Net-Maxxis), Bernado Colex (Tecos), Pete Lopinto (Kodak Gallery-Sierra Nevada), Anthony Colby (Colavita-Sutter Home) and Andrew Badjadali (Jelly Belly).
This break finally began to gain ground as the first sprint and KOM of the day came closer and closer. In a bit of irony, the first sprint line of the day in Hermann was about the same size as some of the KOM climbs of the race. With $500 and free wine from the local winery on the line, it was Colex taking the prize. "Our good team motivation was simply because we were invited here," said Hermann. "To be here competing with the Discovery team and Saunier Duval is a dream. I have always dreamed of this opportunity-it is a dream come true."
But not long after, a more contested race for the KOM put Louder on the offensive, with Colby putting in a dig along with Helminen to keep him on his toes.
The break head out of the small town of New Haven.
Photo ©: Jon Devich

From there it was a mostly stable ride as Discovery Channel watched the clock, keeping the break at six minutes. The second of two back-to-back KOM climbs made an impact, as it actually went uphill for a significant amount of time. This actually put the hurt on the long break, shedding Lopinto off the back and putting Louder in some difficulty. Luckily, Louder had already amassed a comfortable lead in the competition and just hung on the back.
As the kilometres started to dwindle, a few teams began a motivated chase for their sprinters, led by Kodak Gallery-Sierra Nevada for Dominque Rollin.
But it was too little, too late as the break had stayed just as motivated. Eventually, John Fredy Parra launched an attack and dangled solo by 30 seconds for a lengthy time. But the break, now considered chasers, did not panic and kept him in sight. Eventually, with 10 km to go, Chadwick and Helminen bridged up to the Mexican and passed him, staying away for a few more kilometres before Pate bridged across. "The two were out there at 10 kilometres to go and I caught them at three kilometres to go," he said. "I jumped and the rest of the break caught them and I got a gap. So I rode to the finish from there."
"I was not aware of the corners, hills or cobbles in the end of the race," said Pate. "I didn't look at the race manual that clearly this morning. I felt like if I got a gap than that would be easier than trying to win out of the group sprint."
Cyclingnews will keep you updated with live coverage of tomorrow's final stage starting at 1:00 p.m. central US time.
Photography
For a thumbnail gallery of these images, click here
Images by Jonathan Devich/

Images by Kurt Jambretz/www.actionimages.cc
Results

1 Danny Pate (USA) Team Slipstream p/b Chipotle                                        4.50.21 (42.156 km/h)
2 John Fredy Parra (Col) Tecos de la Universidad Autonoma de Guadalajara                  0.08
3 Jeff Louder (USA) Health Net p/b Maxxis                                                     
4 Glen Chadwick (Aus) Navigators Insurance Cycling Team                                       
5 Anthony Colby (USA) Colavita - Sutter Home p/b Cooking Light                                
6 Matti Helminen (Fin) DFL - Cyclingnews - Litespeed                                          
7 Nicholas Reistad (USA) Jelly Belly Cycling Team                                             
8 Ian McKissick (USA) BMC Professional Cycling Team                                           
9 Bernardo Colex Tepoz (Mex) Tecos de la Universidad Autonoma de Guadalajara              0.30
10 Charles Dionne (Can) Colavita - Sutter Home p/b Cooking Light                          2.26
11 Sebastian Frey (Ger) Team Sparkasse                                                        
12 Sergey Lagutin (Uzb) Navigators Insurance Cycling Team                                     
13 David Canada Gracia (Spa) Saunier Duval - Prodir                                           
14 Gert Vanderaerden (Bel) DFL - Cyclingnews - Litespeed                                      
15 Jeremy Vennel (NZl) DFL - Cyclingnews - Litespeed                                          
16 Robby Meul (Bel) DFL - Cyclingnews - Litespeed                                             
17 Dominique Rollin (Can) Kodakgallery.com - Sierra Nevada                                    
18 Mike Sayers (USA) BMC Professional Cycling Team                                            
19 Steven Cozza (USA) Team Slipstream p/b Chipotle                                            
20 Jake Rytlewski (USA) US National Development Team                                          
21 James Meadley (Aus) Jelly Belly Cycling Team                                               
22 Kari Menzies (Aus) Health Net p/b Maxxis                                                   
23 Valery Kobzarenko (Ukr) Navigators Insurance Cycling Team                                  
24 Rory Sutherland (Aus) Health Net p/b Maxxis                                                
25 George Hincapie (USA) Discovery Channel                                                    
26 Jackson Stewart (USA) BMC Professional Cycling Team                                        
27 Stefan Parinussa (Ger) Team Sparkasse                                                      
28 Michael Friedman (USA) Team Slipstream p/b Chipotle                                        
29 Nathan O'Neill (AUS) Health Net p/b Maxxis                                                 
30 Cameron Jennings (Aus) DFL - Cyclingnews - Litespeed                                       
31 Davide Frattini (Ita) Colavita - Sutter Home p/b Cooking Light                             
32 Brad Huff (USA) Team Slipstream p/b Chipotle                                               
33 Sheldon Deeny (USA) US National Development Team                                           
34 Frank Pipp (USA) Health Net p/b Maxxis                                                     
35 Andrew Guptill (USA) Colavita - Sutter Home p/b Cooking Light                              
36 Fausto Esparza (Mex) Tecos de la Universidad Autonoma de Guadalajara                       
37 Adam Bergman (USA) Colavita - Sutter Home p/b Cooking Light                                
38 Kane Oakley (Aus) DFL - Cyclingnews - Litespeed                                            
39 Antonio Cruz (USA) Discovery Channel                                                       
40 Danilo Wyss (Swi) Saunier Duval - Prodir                                                   
41 Alberto Contador Velasco (Spa) Discovery Channel                                           
42 John Devine (USA) Discovery Channel                                                        
43 Benjamin Noval Gonzalez (Spa) Discovery Channel                                            
44 Jeremy Powers (USA) Jelly Belly Cycling Team                                               
45 Max Jenkins (USA) US National Development Team                                             
46 Rhys Pollock (Aus) DFL - Cyclingnews - Litespeed                                           
47 William Frishkorn (USA) Team Slipstream p/b Chipotle                                       
48 Mark Walters (Can) Kodakgallery.com - Sierra Nevada                                        
49 Chris Wherry (USA) Toyota - United Pro Cycling Team                                        
50 Tim Johnson (USA) Health Net p/b Maxxis                                                    
51 Luciano André Pagliarini Mendonca (Bra) Saunier Duval - Prodir                             
52 Yaroslav Popovych (Ukr) Discovery Channel                                                  
53 Jonathan Garcia (USA) BMC Professional Cycling Team                                        
54 Fuyu Li (Chn) Discovery Channel                                                            
55 Levi Leipheimer (USA) Discovery Channel                                                    
56 Rubens Bertogliati (Swi) Saunier Duval - Prodir                                            
57 Ryder Hesjedal (Can) Health Net p/b Maxxis                                                 
58 David Vitoria (Swi) BMC Professional Cycling Team                                          
59 Matt Rice (Aus) Jelly Belly Cycling Team                                                   
60 Matthew Crane (USA) Health Net p/b Maxxis                                                  
61 Andrew Randell (Can) Symmetrics Cycling Team                                               
62 Ben Bradshaw (USA) US National Development Team                                            
63 Scott Moninger (USA) BMC Professional Cycling Team                                         
64 Darren Lill (RSA) Navigators Insurance Cycling Team                                        
65 Francisco Matamoros (Mex) Tecos de la Universidad Autonoma de Guadalajara                  
66 Jacob Rosenbarger (USA) BMC Professional Cycling Team                                      
67 Bernard Van Ulden (USA) Navigators Insurance Cycling Team                                  
68 Guy East (USA) US National Development Team                                                
69 Chris Monteleone (USA) US National Development Team                                        
70 Patrick McCarty (USA) Team Slipstream p/b Chipotle                                         
71 Juan Pablo Magallanes Aranda (Mex) Tecos de la Universidad Autonoma de Guadalajara         
72 Stefan Löffler (Ger) Team Sparkasse                                                        
73 Guido Trentin (Ita) Saunier Duval - Prodir                                                 
74 Jesus Zarate Estrada (Mex) Tecos de la Universidad Autonoma de Guadalajara                 
75 Tyler Wren (USA) Colavita - Sutter Home p/b Cooking Light                                  
76 Ivan Dominguez (Cub) Toyota - United Pro Cycling Team                                      
77 Cameron Evans (Can) Symmetrics Cycling Team                                                
78 Gregorio Ladino (Col) Tecos de la Universidad Autonoma de Guadalajara                      
79 Hector Rangel (Mex) Tecos de la Universidad Autonoma de Guadalajara                        
80 Eric Wohlberg (Can) Symmetrics Cycling Team                                                
81 Daniel Vaillancourt (USA) Colavita - Sutter Home p/b Cooking Light                         
82 Timo Honstein (Ger) Team Sparkasse                                                         
83 Andy Bajadali (USA) Jelly Belly Cycling Team                                               
84 Phil Zajicek (USA) Navigators Insurance Cycling Team                                       
85 Sven De Weerdt (Bel) DFL - Cyclingnews - Litespeed                                         
86 Christian Lademann (Ger) Team Sparkasse                                                    
87 Huub Duyn (Ned) Team Slipstream p/b Chipotle                                               
88 Will Routley (Can) Symmetrics Cycling Team                                                 
89 Kyle Wamsley (USA) Navigators Insurance Cycling Team                                       
90 Christoph Schweizer (Ger) Team Sparkasse                                                   
91 Jesse Anthony (USA) Kodakgallery.com - Sierra Nevada                                       
92 Jacob Erker (Can) Symmetrics Cycling Team                                                  
93 Andrew Pinfold (Can) Symmetrics Cycling Team                                               
94 Heath Blackgrove (NZl) Toyota - United Pro Cycling Team                                    
95 Timothy Duggan (USA) Team Slipstream p/b Chipotle                                          
96 Zach Bell (Can) Symmetrics Cycling Team                                                    
97 Svein Tuft (Can) Symmetrics Cycling Team                                               2.46
98 Philipp Mamos (Ger) Team Sparkasse                                                     2.50
99 Justin England (USA) Toyota - United Pro Cycling Team                                  2.54
100 Cody O'Reilly (USA) Kodakgallery.com - Sierra Nevada                                      
101 Brian Dziewa (USA) Jelly Belly Cycling Team                                               
102 Ben Raby (USA) Kodakgallery.com - Sierra Nevada                                       3.30
103 Dan Timmerman (USA) Kodakgallery.com - Sierra Nevada                                      
104 Peter Lopinto (USA) Kodakgallery.com - Sierra Nevada                                  6.55
DNS Christopher Baldwin (USA) Toyota - United Pro Cycling Team                                
DNS Joshua Thornton (USA) Kodakgallery.com - Sierra Nevada                                    
 
Mountains
 
Mountain #1
1 Jeff Louder (USA) Health Net p/b Maxxis                                                    6 pts
2 Anthony Colby (USA) Colavita - Sutter Home p/b Cooking Light                               5
3 Bernardo Colex Tepoz (Mex) Tecos de la Universidad Autonoma de Guadalajara                 4
4 Matti Helminen (Fin) DFL - Cyclingnews - Litespeed                                         3
5 Glen Chadwick (Aus) Navigators Insurance Cycling Team                                      1
 
Mountain #2
1 Anthony Colby (USA) Colavita - Sutter Home p/b Cooking Light                               6 pts
2 Bernardo Colex Tepoz (Mex) Tecos de la Universidad Autonoma de Guadalajara                 5
3 Jeff Louder (USA) Health Net p/b Maxxis                                                    4
4 Matti Helminen (Fin) DFL - Cyclingnews - Litespeed                                         3
5 Glen Chadwick (Aus) Navigators Insurance Cycling Team                                      1
 
Mountain #3
1 Anthony Colby (USA) Colavita - Sutter Home p/b Cooking Light                               6 pts
2 Bernardo Colex Tepoz (Mex) Tecos de la Universidad Autonoma de Guadalajara                 5
3 Ian McKissick (USA) BMC Professional Cycling Team                                          4
4 Glen Chadwick (Aus) Navigators Insurance Cycling Team                                      3
5 John Fredy Parra (Col) Tecos de la Universidad Autonoma de Guadalajara                     1
 
Sprints
 
Sprint #1
1 Bernardo Colex Tepoz (Mex) Tecos de la Universidad Autonoma de Guadalajara                 5 pts
2 Matti Helminen (Fin) DFL - Cyclingnews - Litespeed                                         3
3 John Fredy Parra (Col) Tecos de la Universidad Autonoma de Guadalajara                     1
 
Sprint #2
1 Matti Helminen (Fin) DFL - Cyclingnews - Litespeed                                         5 pts
2 John Fredy Parra (Col) Tecos de la Universidad Autonoma de Guadalajara                     3
3 Glen Chadwick (Aus) Navigators Insurance Cycling Team                                      1
 
Teams
 
1 Tecos de la Universidad Autonama de Guadalajara                                     14.34.07
2 Team Slipstream Powered By Chipotle                                                     1.48
3 DFL-Cyclingnews-Litespeed                                                               1.56
4 Navigators Insurance Cycling Team                                                           
5 Colavita/Sutter Home p/b Cooking Light                                                      
6 Health Net Presented By Maxxis                                                              
7 BMC Racing Team                                                                             
8 Jelly Belly Cycling Team                                                                    
9 USA Cycling National Development Team                                                   4.14
10 Prodir-Saunier Duval                                                                       
11 Discovery Channel Professional Cycling                                                     
12 Team Sparkasse                                                                             
13 KodakGallery Pro Cycling p/b Sierra Nevada Brewing Co.                                     
14 Symmetrics Cycling Team                                                                    
15 Toyota-United Pro Cycling Team                                                             
 
General classification after stage 5
 
1 George Hincapie (USA) Discovery Channel                                             18.23.13
2 William Frishkorn (USA) Team Slipstream p/b Chipotle                                    1.40
3 David Canada Gracia (Spa) Saunier Duval - Prodir                                        2.22
4 Dominique Rollin (Can) Kodakgallery.com - Sierra Nevada                                 2.23
5 Michael Friedman (USA) Team Slipstream p/b Chipotle                                     2.48
6 Frank Pipp (USA) Health Net p/b Maxxis                                                  2.57
7 Valery Kobzarenko (Ukr) Navigators Insurance Cycling Team                               3.04
8 Andrew Randell (Can) Symmetrics Cycling Team                                            3.48
9 Stefan Parinussa (Ger) Team Sparkasse                                                   4.20
10 Matt Rice (Aus) Jelly Belly Cycling Team                                               6.21
11 Andrew Guptill (USA) Colavita - Sutter Home p/b Cooking Light                          6.25
12 Jonathan Garcia (USA) BMC Professional Cycling Team                                    6.34
13 Danny Pate (USA) Team Slipstream p/b Chipotle                                         11.48
14 Levi Leipheimer (USA) Discovery Channel                                               12.23
15 Nathan O'Neill (AUS) Health Net p/b Maxxis                                            12.39
16 Glen Chadwick (Aus) Navigators Insurance Cycling Team                                 13.38
17 Anthony Colby (USA) Colavita - Sutter Home p/b Cooking Light                          14.30
18 Timothy Duggan (USA) Team Slipstream p/b Chipotle                                     14.54
19 Darren Lill (RSA) Navigators Insurance Cycling Team                                   14.59
20 Matti Helminen (Fin) DFL - Cyclingnews - Litespeed                                    15.11
21 Rory Sutherland (Aus) Health Net p/b Maxxis                                           15.18
22 Bernardo Colex Tepoz (Mex) Tecos de la Universidad Autonoma de Guadalajara            15.19
23 Alberto Contador Velasco (Spa) Discovery Channel                                      15.20
24 Rubens Bertogliati (Swi) Saunier Duval - Prodir                                       15.30
25 Scott Moninger (USA) BMC Professional Cycling Team                                    15.59
26 Steven Cozza (USA) Team Slipstream p/b Chipotle                                       16.08
27 Sergey Lagutin (Uzb) Navigators Insurance Cycling Team                                16.15
28 Chris Wherry (USA) Toyota - United Pro Cycling Team                                   16.35
29 Huub Duyn (Ned) Team Slipstream p/b Chipotle                                          16.40
30 James Meadley (Aus) Jelly Belly Cycling Team                                          16.49
31 Svein Tuft (Can) Symmetrics Cycling Team                                                   
32 Patrick McCarty (USA) Team Slipstream p/b Chipotle                                    16.51
33 Bernard Van Ulden (USA) Navigators Insurance Cycling Team                             16.54
34 Jeremy Powers (USA) Jelly Belly Cycling Team                                          17.05
35 Zach Bell (Can) Symmetrics Cycling Team                                               17.08
36 Andy Bajadali (USA) Jelly Belly Cycling Team                                          17.14
37 Matthew Crane (USA) Health Net p/b Maxxis                                             17.19
38 Jeremy Vennel (NZl) DFL - Cyclingnews - Litespeed                                     17.25
39 Will Routley (Can) Symmetrics Cycling Team                                            17.38
40 John Devine (USA) Discovery Channel                                                   17.40
41 Antonio Cruz (USA) Discovery Channel                                                  17.42
42 Jacob Rosenbarger (USA) BMC Professional Cycling Team                                 17.45
43 David Vitoria (Swi) BMC Professional Cycling Team                                     17.48
44 John Fredy Parra (Col) Tecos de la Universidad Autonoma de Guadalajara                     
45 Jake Rytlewski (USA) US National Development Team                                     17.52
46 Gregorio Ladino (Col) Tecos de la Universidad Autonoma de Guadalajara                      
47 Phil Zajicek (USA) Navigators Insurance Cycling Team                                  17.59
48 Mark Walters (Can) Kodakgallery.com - Sierra Nevada                                   18.01
49 Kari Menzies (Aus) Health Net p/b Maxxis                                              18.07
50 Fausto Esparza (Mex) Tecos de la Universidad Autonoma de Guadalajara                  18.13
51 Benjamin Noval Gonzalez (Spa) Discovery Channel                                            
52 Ryder Hesjedal (Can) Health Net p/b Maxxis                                                 
53 Christian Lademann (Ger) Team Sparkasse                                                    
54 Gert Vanderaerden (Bel) DFL - Cyclingnews - Litespeed                                 18.18
55 Jeff Louder (USA) Health Net p/b Maxxis                                               18.19
56 Brad Huff (USA) Team Slipstream p/b Chipotle                                          18.28
57 Nicholas Reistad (USA) Jelly Belly Cycling Team                                       18.32
58 Eric Wohlberg (Can) Symmetrics Cycling Team                                           18.33
59 Adam Bergman (USA) Colavita - Sutter Home p/b Cooking Light                           18.38
60 Yaroslav Popovych (Ukr) Discovery Channel                                             18.41
61 Andrew Pinfold (Can) Symmetrics Cycling Team                                          18.46
62 Timo Honstein (Ger) Team Sparkasse                                                         
63 Ian McKissick (USA) BMC Professional Cycling Team                                     18.49
64 Jackson Stewart (USA) BMC Professional Cycling Team                                   18.57
65 Hector Rangel (Mex) Tecos de la Universidad Autonoma de Guadalajara                   18.58
66 Davide Frattini (Ita) Colavita - Sutter Home p/b Cooking Light                        19.06
67 Daniel Vaillancourt (USA) Colavita - Sutter Home p/b Cooking Light                    19.07
68 Guy East (USA) US National Development Team                                           19.11
69 Cameron Evans (Can) Symmetrics Cycling Team                                           19.25
70 Guido Trentin (Ita) Saunier Duval - Prodir                                            19.26
71 Francisco Matamoros (Mex) Tecos de la Universidad Autonoma de Guadalajara             19.28
72 Ivan Dominguez (Cub) Toyota - United Pro Cycling Team                                 19.33
73 Juan Pablo Magallanes Aranda (Mex) Tecos de la Universidad Autonoma de Guadalajara    19.41
74 Charles Dionne (Can) Colavita - Sutter Home p/b Cooking Light                         19.50
75 Mike Sayers (USA) BMC Professional Cycling Team                                       19.58
76 Jesus Zarate Estrada (Mex) Tecos de la Universidad Autonoma de Guadalajara            20.03
77 Christoph Schweizer (Ger) Team Sparkasse                                              20.06
78 Max Jenkins (USA) US National Development Team                                        20.14
79 Heath Blackgrove (NZl) Toyota - United Pro Cycling Team                               20.19
80 Sven De Weerdt (Bel) DFL - Cyclingnews - Litespeed                                    20.38
81 Luciano André Pagliarini Mendonca (Bra) Saunier Duval - Prodir                        20.42
82 Ben Raby (USA) Kodakgallery.com - Sierra Nevada                                       20.46
83 Ben Bradshaw (USA) US National Development Team                                       20.53
84 Tim Johnson (USA) Health Net p/b Maxxis                                               20.54
85 Chris Monteleone (USA) US National Development Team                                   20.56
86 Danilo Wyss (Swi) Saunier Duval - Prodir                                              21.00
87 Sheldon Deeny (USA) US National Development Team                                      21.06
88 Rhys Pollock (Aus) DFL - Cyclingnews - Litespeed                                      21.25
89 Fuyu Li (Chn) Discovery Channel                                                       22.35
90 Robby Meul (Bel) DFL - Cyclingnews - Litespeed                                        22.36
91 Cody O'Reilly (USA) Kodakgallery.com - Sierra Nevada                                  22.38
92 Jesse Anthony (USA) Kodakgallery.com - Sierra Nevada                                  23.20
93 Tyler Wren (USA) Colavita - Sutter Home p/b Cooking Light                             23.59
94 Kane Oakley (Aus) DFL - Cyclingnews - Litespeed                                       24.22
95 Dan Timmerman (USA) Kodakgallery.com - Sierra Nevada                                  24.24
96 Sebastian Frey (Ger) Team Sparkasse                                                   24.49
97 Kyle Wamsley (USA) Navigators Insurance Cycling Team                                  24.52
98 Jacob Erker (Can) Symmetrics Cycling Team                                             25.04
99 Peter Lopinto (USA) Kodakgallery.com - Sierra Nevada                                  25.20
100 Philipp Mamos (Ger) Team Sparkasse                                                   25.41
101 Stefan Löffler (Ger) Team Sparkasse                                                  26.10
102 Cameron Jennings (Aus) DFL - Cyclingnews - Litespeed                                 27.02
103 Brian Dziewa (USA) Jelly Belly Cycling Team                                          30.24
104 Justin England (USA) Toyota - United Pro Cycling Team                                30.57
 
Mountains classification
 
1 Jeff Louder (USA) Health Net p/b Maxxis                                                   26 pts
2 Anthony Colby (USA) Colavita - Sutter Home p/b Cooking Light                              17
3 Bernardo Colex Tepoz (Mex) Tecos de la Universidad Autonoma de Guadalajara                17
4 Darren Lill (RSA) Navigators Insurance Cycling Team                                       10
5 Levi Leipheimer (USA) Discovery Channel                                                    6
6 Matti Helminen (Fin) DFL - Cyclingnews - Litespeed                                         6
7 Nathan O'Neill (AUS) Health Net p/b Maxxis                                                 5
8 Glen Chadwick (Aus) Navigators Insurance Cycling Team                                      5
9 Ian McKissick (USA) BMC Professional Cycling Team                                          4
10 Kari Menzies (Aus) Health Net p/b Maxxis                                                  4
11 Rubens Bertogliati (Swi) Saunier Duval - Prodir                                           4
12 Jesse Anthony (USA) Kodakgallery.com - Sierra Nevada                                      3
13 Svein Tuft (Can) Symmetrics Cycling Team                                                  3
14 John Fredy Parra (Col) Tecos de la Universidad Autonoma de Guadalajara                    1
15 Ryder Hesjedal (Can) Health Net p/b Maxxis                                                1
16 David Vitoria (Swi) BMC Professional Cycling Team                                         1
 
Sprints classification
 
1 Luciano André Pagliarini Mendonca (Bra) Saunier Duval - Prodir                            25 pts
2 Ivan Dominguez (Cub) Toyota - United Pro Cycling Team                                     25
3 Dominique Rollin (Can) Kodakgallery.com - Sierra Nevada                                   21
4 George Hincapie (USA) Discovery Channel                                                   20
5 John Fredy Parra (Col) Tecos de la Universidad Autonoma de Guadalajara                    16
6 Jeff Louder (USA) Health Net p/b Maxxis                                                   15
7 Danny Pate (USA) Team Slipstream p/b Chipotle                                             15
8 Matti Helminen (Fin) DFL - Cyclingnews - Litespeed                                        13
9 Charles Dionne (Can) Colavita - Sutter Home p/b Cooking Light                             12
10 Zach Bell (Can) Symmetrics Cycling Team                                                  12
11 Andrew Pinfold (Can) Symmetrics Cycling Team                                             12
12 Frank Pipp (USA) Health Net p/b Maxxis                                                   12
13 Kyle Wamsley (USA) Navigators Insurance Cycling Team                                     10
14 Valery Kobzarenko (Ukr) Navigators Insurance Cycling Team                                 9
15 Stefan Parinussa (Ger) Team Sparkasse                                                     8
16 Glen Chadwick (Aus) Navigators Insurance Cycling Team                                     8
17 Bernardo Colex Tepoz (Mex) Tecos de la Universidad Autonoma de Guadalajara                7
18 Danilo Wyss (Swi) Saunier Duval - Prodir                                                  7
19 Michael Friedman (USA) Team Slipstream p/b Chipotle                                       7
20 Sebastian Frey (Ger) Team Sparkasse                                                       6
21 David Vitoria (Swi) BMC Professional Cycling Team                                         6
22 Anthony Colby (USA) Colavita - Sutter Home p/b Cooking Light                              6
23 Darren Lill (RSA) Navigators Insurance Cycling Team                                       5
24 James Meadley (Aus) Jelly Belly Cycling Team                                              5
25 Brad Huff (USA) Team Slipstream p/b Chipotle                                              5
26 Sergey Lagutin (Uzb) Navigators Insurance Cycling Team                                    5
27 Steven Cozza (USA) Team Slipstream p/b Chipotle                                           4
28 David Canada Gracia (Spa) Saunier Duval - Prodir                                          4
29 Davide Frattini (Ita) Colavita - Sutter Home p/b Cooking Light                            4
30 Nicholas Reistad (USA) Jelly Belly Cycling Team                                           4
31 Cameron Jennings (Aus) DFL - Cyclingnews - Litespeed                                      3
32 Philipp Mamos (Ger) Team Sparkasse                                                        3
33 Juan Pablo Magallanes Aranda (Mex) Tecos de la Universidad Autonoma de Guadalajara        3
34 Ian McKissick (USA) BMC Professional Cycling Team                                         3
35 Andrew Guptill (USA) Colavita - Sutter Home p/b Cooking Light                             3
36 Andrew Randell (Can) Symmetrics Cycling Team                                              2
37 Kari Menzies (Aus) Health Net p/b Maxxis                                                  2
38 Hector Rangel (Mex) Tecos de la Universidad Autonoma de Guadalajara                       1
39 William Frishkorn (USA) Team Slipstream p/b Chipotle                                      1
40 Mike Sayers (USA) BMC Professional Cycling Team                                           1
 
Best young rider classification
 
1 Steven Cozza (USA) Team Slipstream p/b Chipotle                                     18.39.21
2 Huub Duyn (Ned) Team Slipstream p/b Chipotle                                            0.32
3 James Meadley (Aus) Jelly Belly Cycling Team                                            0.41
4 Matthew Crane (USA) Health Net p/b Maxxis                                               1.11
5 John Devine (USA) Discovery Channel                                                     1.32
6 David Vitoria (Swi) BMC Professional Cycling Team                                       1.40
7 Guy East (USA) US National Development Team                                             3.03
8 Cameron Evans (Can) Symmetrics Cycling Team                                             3.17
9 Christoph Schweizer (Ger) Team Sparkasse                                                3.58
10 Max Jenkins (USA) US National Development Team                                         4.06
11 Ben Bradshaw (USA) US National Development Team                                        4.45
12 Chris Monteleone (USA) US National Development Team                                    4.48
13 Danilo Wyss (Swi) Saunier Duval - Prodir                                               4.52
14 Sheldon Deeny (USA) US National Development Team                                       4.58
15 Cody O'Reilly (USA) Kodakgallery.com - Sierra Nevada                                   6.30
16 Jesse Anthony (USA) Kodakgallery.com - Sierra Nevada                                   7.12
17 Sebastian Frey (Ger) Team Sparkasse                                                    8.41
 
Teams classification
 
1 Team Slipstream Powered By Chipotle                                                 55.23.57
2 Discovery Channel Professional Cycling                                                 13.38
3 Navigators Insurance Cycling Team                                                      14.00
4 Health Net Presented By Maxxis                                                         14.23
5 Jelly Belly Cycling Team                                                               20.57
6 BMC Racing Team                                                                        21.18
7 Symmetrics Cycling Team                                                                22.46
8 Prodir-Saunier Duval                                                                   23.00
9 Colavita/Sutter Home p/b Cooking Light                                                 23.14
10 KodakGallery Pro Cycling p/b Sierra Nevada Brewing Co.                                23.37
11 Team Sparkasse                                                                        27.03
12 DFL-Cyclingnews-Litespeed                                                             32.23
13 Tecos de la Universidad Autonama de Guadalajara                                       34.51
14 Toyota-United Pro Cycling Team                                                        36.24
15 USA Cycling National Development Team                                                 42.02