USA Cycling Pro championships - CN
USA, September 1-2, 2007
Main Page Results Overall standings Race Details Live report Next Race
Race 1 - September 1: USA professional time trial championships, 32.4 km
Zabriskie barely holds off challengers to defend TT title
By Mark Zalewski, North American Editor in Greenville, South Carolina
Pate second by a second, Raisin wins by starting
David Zabriske
Photo ©: Jonathan Devich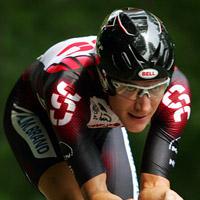 With only 33 riders on the start list today for the time trial, a casual observer might think it reflects poorly on US time trialing. That could not be farther from the truth, as it was all about quality and not quantity today in the rolling hills of upstate South Carolina. The depth of the field shone in the results as Dave Zabriskie (Team CSC) won his second championship in a row only one second ahead of Danny Pate and eight seconds ahead of Timmy Duggan, both of Slipstream-Chipotle and future teammates of Zabriskie. In fact, the top eight finishers were all within a minute of last year's world silver medalist.
"Obviously it is disappointing, but to get beat by the guy who was second at worlds last year puts it in perspective," said Pate. "I'm happy to be second place. I wasn't sure how close it was -- I kinda figured he beat me, but I didn't think it would be quite so close."
Pate was in first place until Zabriskie came in, with everyone counting the seconds on the clock over the finish line. "I didn't wear a radio again this year," said Zabriskie who relied on George Hincapie's brother Rich to drive the follow car. "At the turn around I saw Baldwin and I knew I was quite a bit ahead of him. I was going as hard as I could go. All I could hear from George's brother was fifteen, so I thought it was a minute and fifteen. I lost a little aggression on the way back, and coming into the finish I heard, 'He's gotta finish in two second or he's going to lose!' so I started sprinting!"
Slipstream dominated the entire day until the very end with Pate assuming first place after knocking Duggan off the top spot -- a place he had held since finishing as the first rider. "It was intense but the good guys come at the end," said Duggan about his time on the hot seat. "I was surprised to beat Julich so after that I held out some hope to stay on the podium."
Saul Rasin (Credit Agricole)
Photo ©: Jonathan Devich

With Zabriskie heading to the American outfit next year, the podium was a virtual sweep for Slipstream, something that team director Jonathan Vaughters was certainly pleased with, albeit bittersweet. "One way or the other we have the national champion," he said. "But Danny has been part of our family for longer and an upset victory would have been more fun. He did the fastest second half of anyone! I'm glad he did such a good ride. I hope he didn't burn too many matches because he can do well tomorrow, too."
Zabriskie also indicated his hopes for next season. "It's exciting -- I'm excited for my future and the team," he said. "Today was good, I think I see a good future with the team with what happened today."
Another measure of the depth of the field was last year's runner-up Chris Baldwin (Toyota-United), who was surprised with his eight place. "I have been here all week to do the preparation to adjust to the climate, so I don't think it affected me. I felt like I was riding way faster than I was last year! Honestly, I was thrilled with my ride -- my preparation, my training -- the legs felt great."
"I went faster the second half -- I lost 38 seconds to Dave going out and only 20 on the way back. It's a small amount of consolation. But I feel like I am repeating myself all year long -- everyone else is stepping up."
The top three:
Photo ©: Jonathan Devich

With four riders in the top ten (five if you count future riders), Slipstream is in a good position to contend for the road title tomorrow. When asked if the team will chase if Zabriskie is up the road, Pate joked, "Maybe not if he hadn't won today; but now, definitely!"
Looking forward to the road race, Zabriskie said he will try to be a factor. "I think tomorrow will be a lot harder than last year, there will be a lot more people and we only go up the hill four times. I'll try to stay in it a little longer this year!
The biggest surprise of the day was the sight of Tyler Hamilton (Tinkoff Credit Systems) on the start list, and under the Tinkoff Credit Systems name. However, Hamilton rode in a Cervelo skinsuit and on a Cervelo bike indicating he is still in a legal battle with is former employer. Halmilton finished a quiet sixth place with virtually the same time as Bobby Julich (Team CSC) and rode off without a word.
Danny Pate (Slipstream-Chipotle)
Photo ©: Jonathan Devich

Besides crowning a national champion the time trial served another purpose -- the re-debut of Saul Raisin (Credit Agricole) as a professional racer. The north Georgia native was the first starter today, in his first race since a near-death crash that looked to end his chances of ever walking again, let alone riding a bike. While he did finish last, though only by nine seconds, his fist pump across the finish line showed this was not a race about times or places.
"It brought back the old memories of me racing," he said, breaking down in tears. "I felt strong out there. I had a great day. I felt like I won the race before I even started, it was a personal victory for me!"
Raisin embraced his fiancee, parents and other well-wishers for a while after finishing; but before rolling away from the group he did promise his next goal is a full return to racing in 2008, starting with the Tour of California.
Photography
For a thumbnail gallery of these images, click here
Images by Jonathan Devich /www.epicimages.us
Images by Trish Albert/www.southeasterncycling.com
Images by Rob O'Dea/www.RobODeaPhotography.com
Images by Kurt Jambretz/www.actionimages.cc
Results

1 David Zabriske (USA) Team CSC                                                      39.34
2 Danny Pate (USA) Team Slipstream powered by Chipotle                                0.01
3 Timothy Duggan (USA) Team Slipstream powered by Chipotle                            0.08
4 Tom Zirbel (USA) Priority Health presented by Bissell Pro Cycling Team              0.15
5 Bobby Julich (USA) Team CSC                                                         0.49
6 Tyler Hamilton (USA) Tinkoff Credit Systems                                             
7 Michael Creed (USA) Team Slipstream powered by Chipotle                             0.56
8 Christopher Baldwin (USA) Toyota - United Pro Cycling Team                          0.59
9 Michael Friedman (USA) Team Slipstream powered by Chipotle                          1.02
10 Ben Jacques-Maynes (USA) Priority Health presented by Bissell Pro Cycling Team     1.12
11 Michael Grabinger (USA) Succesfulliving.com presented by Parkpre                   1.28
12 Daniel Ramsay (USA) Succesfulliving.com presented by Parkpre                       1.42
13 Bernard Van Ulden (USA) Navigators Insurance Cycling Team                              
14 Thad Dulin (USA) The Jittery Joe's - Zero Gravity Pro Cycling Team                 1.49
15 Curtis Gunn (USA) Succesfulliving.com presented by Parkpre                         2.05
16 Steven Cozza (USA) Team Slipstream powered by Chipotle                             2.07
17 Graham Howard (USA) Priority Health presented by Bissell Pro Cycling Team          2.10
18 Brad Huff (USA) Team Slipstream powered by Chipotle                                2.11
19 Matthew Crane (USA) HealthNet presented by Maxxis                                  2.16
20 Ian Mckissick (USA) BMC Pro Cycling Team                                           2.22
21 Tony Cruz (USA) Discovery Channel Pro Cycling Team                                 2.24
22 Phil Zajicek (USA) Navigators Insurance Cycling Team                               2.31
23 Jacob Rosenbarger (USA) BMC Pro Cycling Team                                       2.59
24 Nick Reistad (USA) Jelly Belly Cycling Team                                        3.03
25 Joshua Thornton (USA) KodakGallery.com - Sierra Nevada Brewing Co. Cycling Team    3.10
26 Clayton Barrows (USA) Rite Aid Pro Cycling Team                                    3.16
27 Reid Mumford (USA) Kelly Benefit Strategies / Medifast                             3.19
28 Bobby Sweeting (USA) AEG Toshiba - Jetnetwork Pro Cycling Team                     3.25
29 Bryce Mead (USA) Jelly Belly Cycling Team                                          3.39
30 Michael Lange (USA) Team Slipstream powered by Chipotle                            3.51
31 Michael Norton (USA) Rite Aid Pro Cycling Team                                     4.02
32 David Winston (USA) AEG Toshiba - Jetnetwork Pro Cycling Team                      4.24
33 Saul Raisin (USA) Credit Agricole                                                  4.33