PowerNet Tour of Southland - 2.2
New Zealand, November 5-10, 2007
Main Page Results Overall standings Stage Details Previous Stage Next Stage
Stage 5 - November 7: Tuatapere - Winton, 88.3 km
Vennell gets his victory
By Nathan Burdon, The Southland Times
New Zealand's Jeremy Vennell (Bissell Pro Cycling Team) takes victory,
Photo ©: Barry Harcourt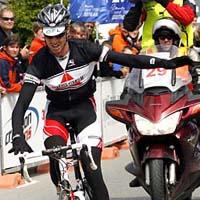 New tour leader Hayden Roulston (Trek Zookeepers Cafe) holds a 29 second advantage over Marc Ryan (Colour Plus) and is now the rider to beat at the midway point of the Tour of Southland. Roulston was third in each of today's two stages, a 101 km ride from Invercargill along the exposed southern coastline to Tuatapere and an equally windy 88km ride from Tuatapere back to Winton.
Ryan now presents the biggest challenge to the Trek Zookeepers rider defending the title he won last year, with Roulston's team mate Gordon McCauley in third place 1min 24sec back.
Overnight leader Reon Park (Colour Plus) has dropped back to sixth place, nearly three minutes in arrears
How it unfolded
The Trek Zookeepers Cafe squad attacks
Photo ©: Barry Harcourt

The afternoon stage saw an early break from 10 riders including Subway rider Jeremy Yates. Yates took an aggressive attitude towards the hill climbs and ended the day with the King of the Mountain jersey, but the pre-race favourite is placed 37th overall.
The breakaway got out to nearly 1.30 minutes before the peloton eventually reeled it back in with 20 kilometres to go. From that point a strong split of nine riders including Roulston and McCauley, Park and Ryan, Under 23 leader Clinton Avery (Ascot Park Hotel) and Jeremy Vennell (Bissell Pro Cycling Team) made a break for the finish.
Vennell went on to take the stage, a welcome victory after the dramatics involving Glen Rewi (Creation Signs) in the stage finish on Tuesday, with Ryan second and Roulston third.
Photography
For a thumbnail gallery of these images, click here
Images by Barry Harcourt/www.southlandtimes.co.nz
Results
1 Jeremy Vennell (NZl) Bissell Pro Cycling Team       2.00.22 (44.015 km/h)
2 Marc Ryan (NZl) Colour Plus                            0.06
3 Hayden Roulston (NZl) Trek Zookeepers Cafe                 
4 Clinton Avery (NZl) Ascot Park Hotel                       
5 Scott Zwizanski (USA) Bissell Pro Cycling Team             
6 Reon Park (NZl) Colour Plus                            0.08
7 Gordon Mccauley (NZl) Trek Zookeepers Cafe                 
8 Logan Hutchings (NZl) Colour Plus                      0.12
9 Tim Gudsell (NZl) Colour Plus                          1.01
10 Chris Macic (NZl) The Southland Times                     
11 Brian Jenson (USA) Hilo Decorating                    1.04
12 Miles Watson (NZl) Share The Road                         
13 Karl Murray (NZl) RaboPlus                                
14 Joe Chapman (NZl) Creation Signs                      1.18
15 Michael Grabinger (USA) Hilo Decorating                   
16 Aaron Anderson (NZl) Share The Road                       
17 Roman Van Uden (NZl) Sycamore Print                       
18 Blair Martin (NZl) PFP - Calibre Cycles                   
19 Michael Fitzgerald (Aus) Creation Signs                   
20 Chris Nicholson (NZl) Fulton Hogan                        
21 Steve Tilford (USA) Hilo Decorating                       
22 Paul Odlin (NZl) Trek Zookeepers Cafe                     
23 Michael Torckler (NZl) Trek Zookeepers Cafe               
24 Scott Hodges (NZl) Placemakers                            
25 Sam Bewley (NZl) Trek Zookeepers Cafe                     
26 Mark Langlands (NZl) Calder Stewart Pink Batts            
27 Thomas Zirbel (USA) Bissell Pro Cycling Team              
28 Justin Ralph (NZl) Powernet                               
29 Scott Lyttle (NZl) The Southland Times                    
30 Justin Kerr (NZl) RaboPlus                                
31 Curtis Gunn (USA) Hilo Decorating                         
32 Omer Kem (USA) Bissell Pro Cycling Team                   
33 Nicholas Walker (Aus) Gen-i/Savings & Loans               
34 Adam Semple (Aus) Calder Stewart Pink Batts               
35 Jonathan Atkinson (NZl) Riverside Rentals                 
36 Steven Elden (NZl) Benchmark Homes                    1.33
37 Jeremy Yates (NZl) Subway                             1.59
38 Nathan Jones (Aus) Gen-i/Savings & Loans              2.13
39 Matt Sillars (NZl) Preston Russell Law                2.44
40 Silas Cullen (NZl) Preston Russell Law                    
41 Graeme Stone (NZl) Gen-i/Savings & Loans                  
42 Ryan Wills (NZl) Calder Stewart Pink Batts                
43 Samuel Eadie (NZl) Preston Russell Law                    
44 Jeremy Smart (NZl) Winton's Middle Pub                    
45 Chris D'amelio (Aus) Prime Estate Buyers Agents           
46 Aaron Strong (NZl) The Southland Times                    
47 Shane Archbold (NZl) Calder Stewart Pink Batts            
48 Scott Wilder (NZl) Benchmark Homes                        
49 James Fairweather (NZl) Calder Stewart Pink Batts         
50 Nick Atkinson (NZl) Placemakers                           
51 Brad Carter (NZl) PFP - Calibre Cycles                    
52 Shem Rodger (NZl) RaboPlus                                
53 Mathew Gorter (NZl) Powernet                              
54 Mike Northey (NZl) The Southland Times                3.07
55 James Williamson (NZl) Subway                         5.11
56 Jack Bauer (NZl) Fulton Hogan                             
57 Brian Biggs (NZl) Winton's Middle Pub                 5.59
58 Leon Hextall (NZl) Winton's Middle Pub                    
59 Jason Somerville (Aus) Sycamore Print                     
60 Alex Meenhorst (NZl) Ascot Park Hotel                     
61 Charles Howlett (Aus) Sycamore Print                      
62 Darrin Strahan (NZl) PFP - Calibre Cycles             6.27
63 Eliot Crowther (NZl) PFP - Calibre Cycles                 
64 Lachlan Shannon (NZl) South West Helicopters          7.04
65 Sam Silver (USA) NOW MS Society                           
66 James Gibson (NZl) Winton's Middle Pub                    
67 Eric Barlevav (USA) NOW MS Society                        
68 Scott Ardern (NZl) Bissell Pro Cycling Team               
69 Andrew Jamieson (NZl) Placemakers                         
70 Aaron Lawson (NZl) Riverside Rentals                      
71 Christopher Klem (Aus) Sycamore Print                     
72 Nick King (NZl) Creation Signs                            
73 Jason Barlow (NZl) Placemakers                            
74 Joseph Cooper (NZl) Subway                                
75 Glen Rewi (NZl) Creation Signs                            
76 Tom Hanover (NZl) Ascot Park Hotel                        
77 Will Dickeson (NZl) Gen-i/Savings & Loans                 
78 Westley Gough (NZl) Colour Plus                           
79 Eric Drower (NZl) Fulton Hogan                       10.29
80 Brett Tivers (NZl) The Southland Times               12.57
81 Joe Crooks (NZl) Winton's Middle Pub                 16.24
82 Michael Van Eerd (Ned) NOW MS Society                17.04
83 David Ayre (NZl) Cycling Southland                        
84 Brock Curry (USA) NOW MS Society                     17.55
85 Royce Newell (NZl) Cycling Southland                 19.26
86 David Weston (NZl) Riverside Rentals                      
87 Glen Frost (NZl) Riverside Rentals                        
88 Justin Davis (Aus) Prime Estate Buyers Agents             
89 Jonathan Stockwell (NZl) Cycling Southland                
90 Joshua Barley (NZl) Benchmark Homes                       
91 Rodney Weinberg (NZl) Fulton Hogan                        
92 Travis Kane (NZl) South West Helicopters                  
93 Joshua England (NZl) Subway                               
94 Ed Barrett (NZl) Benchmark Homes                          
95 Daryl Cleghorn (NZl) South West Helicopters               
96 Eric Losak (USA) NOW MS Society                           
97 Joel Lewis (Aus) Sycamore Print                           
DNF William Elliston (USA) Hilo Decorating                   
DNF Timothy Hargrave (NZl) Cycling Southland                 
DNS Will Alexander (NZl) RaboPlus                            
DNS Edwin Crossling (NZl) Preston Russell Law                
DNS Matt Taylor (NZl) Riverside Rentals                      
 
General Classification after Stage 5
 
1 Hayden Roulston (NZl) Trek Zookeepers Cafe         11.11.49
2 Marc Ryan (NZl) Colour Plus                            0.29
3 Gordon Mccauley (NZl) Trek Zookeepers Cafe             1.25
4 Logan Hutchings (NZl) Colour Plus                      1.43
5 Clinton Avery (NZl) Ascot Park Hotel                   2.49
6 Reon Park (NZl) Colour Plus                            2.57
7 Tim Gudsell (NZl) Colour Plus                          6.05
8 Jeremy Vennell (NZl) Bissell Pro Cycling Team          8.07
9 Miles Watson (NZl) Share The Road                      8.31
10 Mark Langlands (NZl) Calder Stewart Pink Batts        8.34
11 Brian Jenson (USA) Hilo Decorating                    8.47
12 Omer Kem (USA) Bissell Pro Cycling Team               9.56
13 Aaron Strong (NZl) The Southland Times               12.50
14 Steve Tilford (USA) Hilo Decorating                  13.36
15 Roman Van Uden (NZl) Sycamore Print                  14.11
16 Shem Rodger (NZl) RaboPlus                           14.16
17 Paul Odlin (NZl) Trek Zookeepers Cafe                14.19
18 Thomas Zirbel (USA) Bissell Pro Cycling Team         14.26
19 Blair Martin (NZl) PFP - Calibre Cycles              15.01
20 Westley Gough (NZl) Colour Plus                      15.04
21 Adam Semple (Aus) Calder Stewart Pink Batts          15.13
22 Brad Carter (NZl) PFP - Calibre Cycles               15.20
23 Silas Cullen (NZl) Preston Russell Law               15.37
24 Shane Archbold (NZl) Calder Stewart Pink Batts       15.38
25 Graeme Stone (NZl) Gen-i/Savings & Loans             15.46
26 Karl Murray (NZl) RaboPlus                           15.54
27 James Williamson (NZl) Subway                        17.08
28 James Fairweather (NZl) Calder Stewart Pink Batts    17.43
29 Scott Zwizanski (USA) Bissell Pro Cycling Team       18.10
30 Ryan Wills (NZl) Calder Stewart Pink Batts           18.56
31 Michael Grabinger (USA) Hilo Decorating              19.54
32 Charles Howlett (Aus) Sycamore Print                 20.03
33 Curtis Gunn (USA) Hilo Decorating                    21.07
34 Joe Chapman (NZl) Creation Signs                     21.33
35 Alex Meenhorst (NZl) Ascot Park Hotel                21.55
36 Eric Drower (NZl) Fulton Hogan                       22.33
37 Jeremy Yates (NZl) Subway                            24.32
38 Joseph Cooper (NZl) Subway                                
39 Nicholas Walker (Aus) Gen-i/Savings & Loans          24.51
40 Brett Tivers (NZl) The Southland Times               24.57
41 Scott Lyttle (NZl) The Southland Times               25.00
42 Michael Torckler (NZl) Trek Zookeepers Cafe          25.47
43 Chris Nicholson (NZl) Fulton Hogan                   26.04
44 Chris Macic (NZl) The Southland Times                26.05
45 Justin Kerr (NZl) RaboPlus                           26.13
46 Tom Hanover (NZl) Ascot Park Hotel                   26.31
47 Chris D'amelio (Aus) Prime Estate Buyers Agents      27.07
48 Mike Northey (NZl) The Southland Times               27.09
49 Jack Bauer (NZl) Fulton Hogan                        27.26
50 Scott Hodges (NZl) Placemakers                       28.29
51 Steven Elden (NZl) Benchmark Homes                   29.14
52 Jason Barlow (NZl) Placemakers                       29.43
53 Eric Barlevav (USA) NOW MS Society                   29.58
54 Sam Bewley (NZl) Trek Zookeepers Cafe                30.56
55 Glen Rewi (NZl) Creation Signs                       31.10
56 Michael Fitzgerald (Aus) Creation Signs              31.34
57 Mathew Gorter (NZl) Powernet                         33.54
58 Aaron Anderson (NZl) Share The Road                  37.23
59 Justin Ralph (NZl) Powernet                          37.54
60 Nick Atkinson (NZl) Placemakers                      38.57
61 Joshua England (NZl) Subway                          39.27
62 Jonathan Atkinson (NZl) Riverside Rentals            39.59
63 Eliot Crowther (NZl) PFP - Calibre Cycles            40.14
64 Samuel Eadie (NZl) Preston Russell Law               40.28
65 Nathan Jones (Aus) Gen-i/Savings & Loans             43.30
66 James Gibson (NZl) Winton's Middle Pub               45.26
67 Aaron Lawson (NZl) Riverside Rentals                 46.31
68 Scott Wilder (NZl) Benchmark Homes                   47.15
69 Andrew Jamieson (NZl) Placemakers                    47.36
70 Matt Sillars (NZl) Preston Russell Law               48.45
71 Jason Somerville (Aus) Sycamore Print                49.36
72 Darrin Strahan (NZl) PFP - Calibre Cycles            49.51
73 Christopher Klem (Aus) Sycamore Print                     
74 Will Dickeson (NZl) Gen-i/Savings & Loans            50.40
75 Jeremy Smart (NZl) Winton's Middle Pub               51.12
76 Scott Ardern (NZl) Bissell Pro Cycling Team          54.16
77 Nick King (NZl) Creation Signs                       54.52
78 Leon Hextall (NZl) Winton's Middle Pub               56.33
79 Lachlan Shannon (NZl) South West Helicopters         57.34
80 Joel Lewis (Aus) Sycamore Print                    1.04.39
81 David Ayre (NZl) Cycling Southland                 1.07.11
82 Ed Barrett (NZl) Benchmark Homes                   1.09.19
83 Sam Silver (USA) NOW MS Society                    1.09.41
84 Travis Kane (NZl) South West Helicopters           1.10.04
85 Justin Davis (Aus) Prime Estate Buyers Agents      1.12.14
86 Jonathan Stockwell (NZl) Cycling Southland         1.13.04
87 Brock Curry (USA) NOW MS Society                   1.14.53
88 Joe Crooks (NZl) Winton's Middle Pub               1.17.59
89 Brian Biggs (NZl) Winton's Middle Pub              1.19.31
90 Eric Losak (USA) NOW MS Society                    1.21.51
91 Michael Van Eerd (Ned) NOW MS Society              1.27.29
92 Joshua Barley (NZl) Benchmark Homes                1.28.22
93 Rodney Weinberg (NZl) Fulton Hogan                 1.34.29
94 David Weston (NZl) Riverside Rentals               1.42.01
95 Royce Newell (NZl) Cycling Southland               1.50.06
96 Daryl Cleghorn (NZl) South West Helicopters        1.50.30
97 Glen Frost (NZl) Riverside Rentals                 1.53.22
 
Sprint classification
 
1 Miles Watson (NZl) Share The Road                        53 pts
2 Karl Murray (NZl) RaboPlus                               27
3 Marc Ryan (NZl) Colour Plus                              24
4 Jeremy Vennell (NZl) Bissell Pro Cycling Team            17
5 Eliot Crowther (NZl) PFP - Calibre Cycles                15
6 Joseph Cooper (NZl) Subway                               14
7 Brian Jenson (USA) Hilo Decorating                       11
8 Aaron Anderson (NZl) Share The Road                      11
9 Thomas Zirbel (USA) Bissell Pro Cycling Team             10
10 Alex Meenhorst (NZl) Ascot Park Hotel                   10
11 Curtis Gunn (USA) Hilo Decorating                        8
12 Hayden Roulston (NZl) Trek Zookeepers Cafe               7
13 Joshua England (NZl) Subway                              7
14 Mark Langlands (NZl) Calder Stewart Pink Batts           7
15 Jonathan Atkinson (NZl) Riverside Rentals                7
16 Gordon Mccauley (NZl) Trek Zookeepers Cafe               6
17 Logan Hutchings (NZl) Colour Plus                        6
18 Jeremy Yates (NZl) Subway                                6
19 Clinton Avery (NZl) Ascot Park Hotel                     6
20 Omer Kem (USA) Bissell Pro Cycling Team                  5
21 Aaron Strong (NZl) The Southland Times                   5
22 Glen Rewi (NZl) Creation Signs                           5
23 Charles Howlett (Aus) Sycamore Print                     5
24 Steven Elden (NZl) Benchmark Homes                       5
25 Scott Zwizanski (USA) Bissell Pro Cycling Team           4
26 Tim Gudsell (NZl) Colour Plus                            4
27 Reon Park (NZl) Colour Plus                              3
28 Westley Gough (NZl) Colour Plus                          3
29 Shane Archbold (NZl) Calder Stewart Pink Batts           3
30 Jason Barlow (NZl) Placemakers                           3
31 Michael Torckler (NZl) Trek Zookeepers Cafe              2
32 Mike Northey (NZl) The Southland Times                   2
33 Adam Semple (Aus) Calder Stewart Pink Batts              2
34 Will Dickeson (NZl) Gen-i/Savings & Loans                2
35 Nathan Jones (Aus) Gen-i/Savings & Loans                 2
36 Justin Kerr (NZl) RaboPlus                               1
37 Michael Fitzgerald (Aus) Creation Signs                  1
 
Mountains classification
 
1 Jeremy Yates (NZl) Subway                                24 pts
2 Omer Kem (USA) Bissell Pro Cycling Team                  22
3 Miles Watson (NZl) Share The Road                        16
4 Reon Park (NZl) Colour Plus                              12
5 Eliot Crowther (NZl) PFP - Calibre Cycles                12
6 Will Dickeson (NZl) Gen-i/Savings & Loans                10
7 Hayden Roulston (NZl) Trek Zookeepers Cafe                8
8 Alex Meenhorst (NZl) Ascot Park Hotel                     8
9 Aaron Strong (NZl) The Southland Times                    4
10 Brian Jenson (USA) Hilo Decorating                       4
11 Jeremy Vennell (NZl) Bissell Pro Cycling Team            2
12 Marc Ryan (NZl) Colour Plus                              2
13 Tim Gudsell (NZl) Colour Plus                            2
14 Adam Semple (Aus) Calder Stewart Pink Batts              2
15 Charles Howlett (Aus) Sycamore Print                     2
16 Steven Elden (NZl) Benchmark Homes                       2
 
Teams classification
 
1 Colour Plus                                        33.40.15
2 Trek Zookeepers Cafe                                   4.32
3 Bissell Pro Cycling Team                              16.48
4 The Southland Times                                   33.36
5 Calder Stewart Pink Batts                             33.43
6 Hilo Decorating                                       36.59
7 RaboPlus                                              38.10
8 Ascot Park Hotel                                      45.51
9 Subway                                                53.19
10 PFP - Calibre Cycles                                 58.50
11 Gen-i/Savings & Loans                              1.08.38
12 Fulton Hogan                                       1.11.12
13 Creation Signs                                     1.13.07
14 Sycamore Print                                     1.17.15
15 Placemakers                                        1.23.10
16 Preston Russell Law                                1.38.16
17 Winton's Middle Pub                                2.14.33
18 Benchmark Homes                                    2.19.18
19 NOW MS Society                                     2.21.45
20 Riverside Rentals                                  2.39.59
21 South West Helicopters                             3.09.31
22 Cycling Southland                                  3.49.12