23rd Tour de l'Aude - 2.1
France, May 18-27, 2007
Main Page Results Overall standings Stage Details Previous Stage Next Stage
Stage 8a - May 26: Quillan - Axat, 55 km
Arndt holds on as heat rises
By Greg Johnson
Arndt wins the stage
Photo ©: CJ Farquharson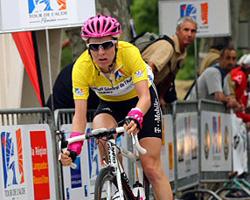 Judith Arndt (T-Mobile) took her first stage victory since acquiring the yellow jersey in last Sunday's Team Time Trial on the first of today's two stages. The motivation for the German rider to vie for the stage win was simple - there was simply no alternative.
With the race nearing its conclusion and Arndt holding onto the yellow jersey by a matter of seconds, her competitors knew that an attack needed to be now or never, and they chose the former. Team Flexpoint declared its intent early: the Netherlands squad had Susanne Ljungskog in the mix and it was going to do whatever it took to ensure the Swedish rider was wearing yellow by day's end.
Ljungskog broke free from the peloton early on the 55 kilometre stage. As both Arndt and fellow general classification contender Trixi Worrack (Equipe Nürnberger Versicherung) took off in pursuit, spectators were ensured a thrilling battle to the line.
The trio pushed away from the main bunch of 31 riders, and stayed over 30 seconds ahead to the line. With the finish rapidly approaching Arndt wasn't willing to take any risks and jumped away early to a one second victory over Ljungskog. Worrack took third place, three seconds behind Arndt, while the main bunch lead by Angela Brodtka (Germany) and Marianne Vos (Team DSB Bank) rolled home a further 35 seconds back.
The result sees Arndt hold a 27 second margin over Ljungskog heading into this afternoon's penultimate stage. Worrack is 56 seconds adrift in third while Vos, who has won four stages on debut at the Tour de l'Aude, sits in fourth place.
Photography
For a thumbnail gallery of these images, click here
Images by CJ Farquharson/WomensCycling.net
Results

1 Judith Arndt (Ger) T-Mobile Team - Women                     1.34.59 (36.883 km/h)
2 Susanne Ljungskog (Swe) Team Flexpoint                          0.01
3 Trixi Worrack (Ger) Equipe Nürnberger Versicherung              0.03
4 Angela Brodtka (Ger) Germany                                    0.38
5 Marianne Vos (Ned) Team DSB Bank
6 Daphny Van Den Brand (Ned) Vrienden Van Het Platteland
7 Joanne Kiesanowski (NZl) Raleigh Lifeforce Pro Cycling Team
8 Julia Martisova (Rus) FRW - Gauss
9 Lang Meng (Chn) Giant Pro Cycling Team
10 Nicole Brändli (Swi) Bigla Cycling Team
11 Tania Belvederesi (Ita) FRW - Gauss
12 Priska Doppmann (Swi) Raleigh Lifeforce Pro Cycling Team
13 Andrea Bosman (Ned) Team DSB Bank
14 Dorte Lohse Rasmussen (Den) Menikini - Gysko
15 Suzanne De Goede (Ned) T-Mobile Team - Women
16 Svetlana Bubnenkova (Rus) Fenixs - HPB
17 Maryline Salvetat (Fra) France
18 Karine Gautard (Fra) France
19 Amber Neben (USA) Team Flexpoint
20 Elena Kuchinskaya (Rus) FRW - Gauss
21 Toni Bradshaw (NZl) New Zealand
22 Jennifer Hohl (Swi) Bigla Cycling Team
23 Sigrid Corneo (Ita) Menikini - Gysko
24 Sarah Düster (Ger) Raleigh Lifeforce Pro Cycling Team
25 Georgina Waibl (NZl) New Zealand
26 Edita Pucinskaite (Ltu) Equipe Nürnberger Versicherung
27 Olivia Gollan (Aus) Menikini - Gysko
28 Kimberly Anderson (USA) T-Mobile Team - Women
29 Marina Jaunatre (Fra) France
30 Loes Gunnewijk (Ned) Team Flexpoint
31 Tatiana Antoshina (Rus) Fenixs - HPB
32 Andrea Graus (Aut) Equipe Nürnberger Versicherung
33 Hanka Kupfernagel (Ger) Germany
34 Serena Sheridan (NZl) New Zealand                              0.48
35 Sharon Van Essen (Ned) Team DSB Bank
36 Natalia Boyarskaya (Rus) Fenixs - HPB                          0.51
37 Miho Oki (Jpn) Menikini - Gysko
38 Tanja Slater (GBr) Raleigh Lifeforce Pro Cycling Team          0.53
39 Marlyn Brinnendijk (Ned) Vrienden Van Het Platteland
40 Fabiana Luperini (Ita) Menikini - Gysko
41 Tatsiana Sharakova (Blr) FRW - Gauss
42 Ina Teutenberg (Ger) T-Mobile Team - Women                     1.11
43 Linda Villumsen Serup (Den) T-Mobile Team - Women
44 Claudia Häusler (Ger) Equipe Nürnberger Versicherung
45 Eva Lutz (Ger) Equipe Nürnberger Versicherung
46 Charlotte Becker (Ger) Equipe Nürnberger Versicherung
47 Luise Keller (Ger) Team Flexpoint
48 Anne Samplonius (Can) Team Expresscopy.com                     3.08
49 Helen Wyman (GBr) Global Racing Team
50 Debby Van De Berg (Ned) Global Racing Team
51 Iris Slappendel (Ned) Team Flexpoint
52 Béatrice Thomas (Fra) France
53 Christelle Ferrier-Bruneau (Fra) Les Pruneaux D'Agen
54 Marlen Johrend (Ger) Germany
55 Fabienne Sandig (Ger) Germany
56 Andrea Thürig (Swi) Bigla Cycling Team
57 Fanny Riberot (Fra) France                                     5.28
58 Janne Brok (Ned) Vrienden Van Het Platteland
59 Noemi Cantele (Ita) Bigla Cycling Team
60 Nathalie Jeuland (Fra) France
61 Oxana Kozonchuk (Rus) Fenixs - HPB                             6.42
62 Sufen Ma (Chn) Giant Pro Cycling Team
63 Silvia Valsecchi (Ita) Menikini - Gysko                        6.46
64 Ana Garcia Antequera (Spa) Comunidad Valenciana
65 Melissa Holt (NZl) Team Expresscopy.com
66 Alexandra Sontheimer (Ger) Germany
67 Liane Bahler (Ger) Fenixs - HPB
68 Edita Janeliunaite (Ltu) Lithuania                             7.29
69 Lina Skujaute (Ltu) Lithuania
70 Eleonora Van Dijk (Ned) Vrienden Van Het Platteland
71 Agne Sukutyte (Ltu) Lithuania
72 Carina Ketonen (Fra) Les Pruneaux D'Agen
73 Maria Rosario Rodriguez (Spa) Comunidad Valenciana
74 Fei Wang (Chn) Giant Pro Cycling Team
75 Marieke Van Wanroij (Ned) Team DSB Bank
76 Jaccolien Wallaard (Ned) Vrienden Van Het Platteland
77 Kettj Manfrin (Ita) FRW - Gauss
78 Linda Ringlever (Ned) Global Racing Team
79 Erinne Willock (Can) Team Expresscopy.com
80 Urte Juodvalkyte (Ltu) Lithuania
81 Maribel Moreno Allue (Spa) Comunidad Valenciana               10.30
82 Silvia Tirado Marquez (Spa) Comunidad Valenciana
83 Li Ping (Chn) Giant Pro Cycling Team                          11.23
84 Céline Nivet (Fra) Les Pruneaux D'Agen                        12.04
85 Agne Miliskeviciute (Ltu) Lithuania
86 Amanda Shaw (Can) Team Expresscopy.com                        12.06
87 Xiong Ying Ruan (Chn) Giant Pro Cycling Team
88 Anke Wichmann (Ger) T-Mobile Team - Women
89 Marina Duvnjak (NZl) New Zealand                              12.21
DNF Patricia Schwager (Swi) Raleigh Lifeforce Pro Cycling Team
DNF Xiaoning Gao (Chn) Giant Pro Cycling Team
DNS Sanne Van Paassen (Ned) Team DSB Bank
DNS Joelle Numainville (Can) Team Expresscopy.com
 
General classification after stage 8a
 
1 Judith Arndt (Ger) T-Mobile Team - Women                    20.41.12
2 Susanne Ljungskog (Swe) Team Flexpoint                          0.27
3 Trixi Worrack (Ger) Equipe Nürnberger Versicherung              0.56
4 Marianne Vos (Ned) Team DSB Bank                                1.51
5 Priska Doppmann (Swi) Raleigh Lifeforce Pro Cycling Team        1.53
6 Nicole Brändli (Swi) Bigla Cycling Team                         1.58
7 Andrea Bosman (Ned) Team DSB Bank                               2.49
8 Amber Neben (USA) Team Flexpoint                                2.53
9 Edita Pucinskaite (Ltu) Equipe Nürnberger Versicherung          3.38
10 Joanne Kiesanowski (NZl) Raleigh Lifeforce Pro Cycling Team    3.42
11 Maryline Salvetat (Fra) France                                 3.51
12 Svetlana Bubnenkova (Rus) Fenixs - HPB                         5.12
13 Julia Martisova (Rus) FRW - Gauss                              5.14
14 Kimberly Anderson (USA) T-Mobile Team - Women                  6.54
15 Marina Jaunatre (Fra) France                                   7.04
16 Sigrid Corneo (Ita) Menikini - Gysko                           7.27
17 Toni Bradshaw (NZl) New Zealand                               10.54
18 Elena Kuchinskaya (Rus) FRW - Gauss                           12.19
19 Loes Gunnewijk (Ned) Team Flexpoint                           13.19
20 Andrea Graus (Aut) Equipe Nürnberger Versicherung             15.17
21 Hanka Kupfernagel (Ger) Germany                               17.43
22 Claudia Häusler (Ger) Equipe Nürnberger Versicherung          18.01
23 Serena Sheridan (NZl) New Zealand                             19.41
24 Dorte Lohse Rasmussen (Den) Menikini - Gysko                  19.43
25 Suzanne De Goede (Ned) T-Mobile Team - Women                  20.59
26 Tanja Slater (GBr) Raleigh Lifeforce Pro Cycling Team         21.09
27 Sarah Düster (Ger) Raleigh Lifeforce Pro Cycling Team         22.36
28 Fabiana Luperini (Ita) Menikini - Gysko                       23.09
29 Georgina Waibl (NZl) New Zealand                              29.30
30 Linda Villumsen Serup (Den) T-Mobile Team - Women             34.15
31 Andrea Thürig (Swi) Bigla Cycling Team                        35.35
32 Debby Van De Berg (Ned) Global Racing Team                    36.27
33 Charlotte Becker (Ger) Equipe Nürnberger Versicherung         40.08
34 Tatsiana Sharakova (Blr) FRW - Gauss                          41.45
35 Jennifer Hohl (Swi) Bigla Cycling Team                        42.22
36 Tatiana Antoshina (Rus) Fenixs - HPB                          43.42
37 Marlyn Brinnendijk (Ned) Vrienden Van Het Platteland          44.02
38 Daphny Van Den Brand (Ned) Vrienden Van Het Platteland        45.13
39 Karine Gautard (Fra) France                                   45.46
40 Luise Keller (Ger) Team Flexpoint                             46.27
41 Fabienne Sandig (Ger) Germany                                 48.27
42 Anne Samplonius (Can) Team Expresscopy.com                    49.03
43 Eva Lutz (Ger) Equipe Nürnberger Versicherung                 50.29
44 Lang Meng (Chn) Giant Pro Cycling Team                        51.29
45 Olivia Gollan (Aus) Menikini - Gysko                          51.59
46 Oxana Kozonchuk (Rus) Fenixs - HPB                            57.13
47 Christelle Ferrier-Bruneau (Fra) Les Pruneaux D'Agen          57.55
48 Béatrice Thomas (Fra) France                                  58.13
49 Maria Rosario Rodriguez (Spa) Comunidad Valenciana          1.00.25
50 Ana Garcia Antequera (Spa) Comunidad Valenciana             1.00.27
51 Noemi Cantele (Ita) Bigla Cycling Team                      1.01.45
52 Sharon Van Essen (Ned) Team DSB Bank                        1.02.16
53 Helen Wyman (GBr) Global Racing Team                        1.03.19
54 Melissa Holt (NZl) Team Expresscopy.com                     1.05.43
55 Natalia Boyarskaya (Rus) Fenixs - HPB                       1.06.12
56 Ina Teutenberg (Ger) T-Mobile Team - Women                  1.08.35
57 Maribel Moreno Allue (Spa) Comunidad Valenciana             1.14.41
58 Tania Belvederesi (Ita) FRW - Gauss                         1.15.21
59 Eleonora Van Dijk (Ned) Vrienden Van Het Platteland         1.15.25
60 Iris Slappendel (Ned) Team Flexpoint                        1.16.11
61 Janne Brok (Ned) Vrienden Van Het Platteland                1.18.13
62 Urte Juodvalkyte (Ltu) Lithuania                            1.18.24
63 Liane Bahler (Ger) Fenixs - HPB                             1.19.52
64 Silvia Valsecchi (Ita) Menikini - Gysko                     1.21.20
65 Marlen Johrend (Ger) Germany                                1.21.45
66 Angela Brodtka (Ger) Germany                                1.22.07
67 Miho Oki (Jpn) Menikini - Gysko                             1.22.15
68 Nathalie Jeuland (Fra) France                               1.24.11
69 Alexandra Sontheimer (Ger) Germany                          1.27.29
70 Erinne Willock (Can) Team Expresscopy.com                   1.28.17
71 Carina Ketonen (Fra) Les Pruneaux D'Agen                    1.29.55
72 Linda Ringlever (Ned) Global Racing Team                    1.30.14
73 Jaccolien Wallaard (Ned) Vrienden Van Het Platteland        1.33.33
74 Sufen Ma (Chn) Giant Pro Cycling Team                       1.35.14
75 Fanny Riberot (Fra) France                                  1.35.20
76 Kettj Manfrin (Ita) FRW - Gauss                             1.35.31
77 Marieke Van Wanroij (Ned) Team DSB Bank                     1.35.45
78 Fei Wang (Chn) Giant Pro Cycling Team                       1.35.52
79 Lina Skujaute (Ltu) Lithuania                               1.38.30
80 Anke Wichmann (Ger) T-Mobile Team - Women                   1.46.02
81 Edita Janeliunaite (Ltu) Lithuania                          1.47.04
82 Marina Duvnjak (NZl) New Zealand                            1.48.31
83 Li Ping (Chn) Giant Pro Cycling Team                        2.00.04
84 Silvia Tirado Marquez (Spa) Comunidad Valenciana            2.04.18
85 Amanda Shaw (Can) Team Expresscopy.com                      2.04.33
86 Xiong Ying Ruan (Chn) Giant Pro Cycling Team                2.04.54
87 Agne Sukutyte (Ltu) Lithuania                               2.22.57
88 Agne Miliskeviciute (Ltu) Lithuania                         2.25.45
89 Céline Nivet (Fra) Les Pruneaux D'Agen                      2.51.29