23rd Tour de l'Aude - 2.1
France, May 18-27, 2007
Main Page Results Overall standings Stage Details Next Stage
Prologue - May 18: Gruissan - Gruissan (ITT), 3.9 km
Riders battle blustery conditions
By Greg Johnson
Christiane Soeder (Raleigh)
Photo ©: CJ Farquharson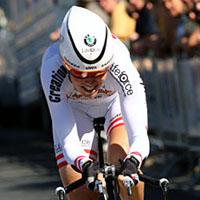 When the women's peloton headed to France for what is regarded as one of the toughest races on the women's calendar, the Tour de l'Aude, the riders probably weren't expecting tough conditions to commence until the 3.9 kilometre flat, and circular prologue had been completed. But gusty conditions put paid to those beliefs and also spaced out the field over the stage which would otherwise be a walk in the park for the elite women.
"It was really tough to find any rhythm, because the course was a loop the wind direction was constantly changing," said Canadian Amanda Shaw (Team Expresscopy.com) of the conditions.
The event's 2007 edition reverted to its seemingly traditional bi-annual start, commencing with a short individual time trial, rather than the 28 kilometre team time trial that opened last year's race, or a stage, up to 100 kilometres in length, which has open the race ever other year.
Judith Arndt (T-Mobile) came fifth.
Photo ©: CJ Farquharson

By day's end it was Austria's Christiane Soeder (Raleigh Lifeforce) who proved the most resistant to the conditions, blowing home with an average speed just a nudge under 50 km/h to post a time of 4.43.50. Soeder's time was an impressive 5.4 seconds ahead of her nearest rivals, 2000 winner Hanka Kupfernagel (Germany) and highest placed Under 23 rider Eleonora Van Dijk (Vrienden Van Het Platteland), who took second and third respectively with equal times.
T-Mobile's Judith Arndt was the highest ranked of the favourites. The two time winner crossed the line some 8.7 seconds down in fifth, behind Kazakhstan's Zoulfia Zabiroca (Bigla) in fourth.
"This was a superb result for Judith, because she's now the best placed out of the favourites for the overall victory," said sporting director Anna Wilson. "The aero-dynamic and position tests in Büttgen paid dividends. You could really see the difference in the competition."
Current world road champion Marianne Vos (Team DSB Bank) finished a further two places, and one second behind in seventh. The Netherlands rider finished some 0.9 seconds behind sixth placed Alexandra Sontheimer (Germany).
Neben wears number one
Photo ©: CJ Farquharson

Swiss rider Andrea Thürig (Bigla Cycling Team) took eighth place ahead of Linda Villumsen (T-Mobile).
Meanwhile, two time race winner and defending champion, Amber Neben (Team Flexpoint), just barely made the top ten. The American's 10th place, combined with the finishing positions of former podium finishers Susanne Ljungskog (Team Flexpoint) and Trixi Worrack (Equipe Nürnberger Versicherung), who finished 12th and 15th respectively, shows that the real action wont get underway until tomorrow's 115 kilometre mountain stage.
"The climbs are situated far away from the finish so it could actually be just the right kind of stage for Ina-Yoko Teutenberg werden könnte," said Wilson. "But we don't want to use up too much energy because we'll need be fit for the team time trials on Sunday."
Photography
For a thumbnail gallery of these images, click here
Images by CJ Farquharson/WomensCycling.net
Results
1 Christiane Soeder (Aut) Raleigh Lifeforce Pro Cycling Team     4.43.50 (49.611 km/h)
2 Hanka Kupfernagel (Ger) Germany                                0.05.40
3 Eleonora Van Dijk (Ned) Vrienden Van Het Platteland                   
4 Zoulfia Zabirova (Kaz) Bigla Cycling Team                      0.08.30
5 Judith Arndt (Ger) T-Mobile Team - Women                       0.08.70
6 Alexandra Sontheimer (Ger) Germany                             0.08.80
7 Marianne Vos (Ned) Team DSB Bank                               0.09.70
8 Andrea Thürig (Swi) Bigla Cycling Team                         0.09.90
9 Linda Villumsen Serup (Den) T-Mobile Team - Women              0.10.10
10 Amber Neben (USA) Team Flexpoint                              0.12.20
11 Charlotte Becker (Ger) Equipe Nürnberger Versicherung         0.12.80
12 Susanne Ljungskog (Swe) Team Flexpoint                               
13 Priska Doppmann (Swi) Raleigh Lifeforce Pro Cycling Team      0.14.30
14 Sarah Düster (Ger) Raleigh Lifeforce Pro Cycling Team         0.14.60
15 Trixi Worrack (Ger) Equipe Nürnberger Versicherung            0.15.70
16 Joanne Kiesanowski (NZl) Raleigh Lifeforce Pro Cycling Team          
17 Edita Pucinskaite (Ltu) Equipe Nürnberger Versicherung        0.16.40
18 Ina Teutenberg (Ger) T-Mobile Team - Women                    0.16.70
19 Andrea Graus (Aut) Equipe Nürnberger Versicherung             0.17.00
20 Maryline Salvetat (Fra) France                                0.19.10
21 Eva Lutz (Ger) Equipe Nürnberger Versicherung                 0.20.00
22 Nicole Brändli (Swi) Bigla Cycling Team                       0.20.40
23 Iris Slappendel (Ned) Team Flexpoint                          0.20.60
23 Tanja Slater (GBr) Raleigh Lifeforce Pro Cycling Team                
25 Julia Martisova (Rus) FRW - Gauss                             0.21.20
26 Patricia Schwager (Swi) Raleigh Lifeforce Pro Cycling Team    0.22.00
27 Anne Samplonius (Can) Team Expresscopy.com                    0.22.10
28 Loes Gunnewijk (Ned) Team Flexpoint                           0.22.20
29 Marlyn Brinnendijk (Ned) Vrienden Van Het Platteland          0.22.70
30 Suzanne De Goede (Ned) T-Mobile Team - Women                  0.23.00
31 Andrea Bosman (Ned) Team DSB Bank                             0.23.20
32 Madeleine Sandig (Ger) Team Flexpoint                         0.24.00
33 Catherine Moncassin-Prime (Fra) Les Pruneaux D'Agen           0.25.10
34 Silvia Valsecchi (Ita) Menikini - Gysko                       0.26.00
35 Kimberly Anderson (USA) T-Mobile Team - Women                 0.26.80
36 Liane Bahler (Ger) Fenixs - HPB                               0.26.70
37 Tatsiana Sharakova (Blr) FRW - Gauss                          0.26.90
38 Karine Gautard (Fra) France                                   0.27.30
39 Marina Jaunatre (Fra) France                                  0.27.70
40 Claudia Häusler (Ger) Equipe Nürnberger Versicherung          0.28.40
41 Daiva Tuslaite (Ltu) Lithuania                                0.28.90
42 Olivia Gollan (Aus) Menikini - Gysko                          0.29.30
43 Anke Wichmann (Ger) T-Mobile Team - Women                     0.29.50
44 Natalia Boyarskaya (Rus) Fenixs - HPB                         0.29.80
45 Sanne Van Paassen (Ned) Team DSB Bank                         0.30.20
46 Svetlana Bubnenkova (Rus) Fenixs - HPB                        0.31.20
47 Noemi Cantele (Ita) Bigla Cycling Team                        0.31.30
48 Jessica Phillips (USA) Team Expresscopy.com                   0.31.90
49 Sigrid Corneo (Ita) Menikini - Gysko                          0.32.40
50 Christelle Ferrier-Bruneau (Fra) Les Pruneaux D'Agen          0.33.10
51 Sharon Van Essen (Ned) Team DSB Bank                          0.33.60
52 Maria Rosario Rodriguez (Spa) Comunidad Valenciana            0.33.90
53 Dorte Lohse Rasmussen (Den) Menikini - Gysko                         
54 Fabiana Luperini (Ita) Menikini - Gysko                       0.35.00
55 Melissa Holt (NZl) Team Expresscopy.com                       0.35.20
56 Carissa Wilkes (NZl) New Zealand                                     
57 Linda Van Rijen (Ned) Team DSB Bank                                  
58 Luise Keller (Ger) Team Flexpoint                             0.35.80
59 Tanja Hennes (Ger) Bigla Cycling Team                         0.36.20
60 Miho Oki (Jpn) Menikini - Gysko                               0.36.40
61 Georgina Waibl (NZl) New Zealand                              0.37.10
62 Béatrice Thomas (Fra) France                                  0.37.20
63 Fabienne Sandig (Ger) Germany                                 0.38.50
64 Silvia Tirado Marquez (Spa) Comunidad Valenciana              0.39.50
65 Angela Brodtka (Ger) Germany                                  0.40.20
66 Amanda Shaw (Can) Team Expresscopy.com                        0.40.50
67 Oxana Kozonchuk (Rus) Fenixs - HPB                            0.40.90
68 Marieke Van Wanroij (Ned) Team DSB Bank                       0.41.20
69 Urte Juodvalkyte (Ltu) Lithuania                              0.41.30
70 Toni Bradshaw (NZl) New Zealand                               0.41.70
71 Tatiana Antoshina (Rus) Fenixs - HPB                          0.42.10
72 Romy Kasper (Ger) Germany                                     0.42.20
73 Maribel Moreno Allue (Spa) Comunidad Valenciana               0.42.90
74 Jennifer Hohl (Swi) Bigla Cycling Team                        0.43.10
75 Ana Garcia Antequera (Spa) Comunidad Valenciana               0.43.20
76 Nathalie Jeuland (Fra) France                                 0.44.90
76 Maria Auxiliadora Martin Morales (Spa) Comunidad Valenciana          
78 Fanny Riberot (Fra) France                                           
79 Debby Van De Berg (Ned) Global Racing Team                    0.45.90
80 Helen Wyman (GBr) Global Racing Team                          0.46.20
81 Elena Kuchinskaya (Rus) FRW - Gauss                           0.46.50
82 Olga Slyusareva (Rus) Fenixs - HPB                            0.47.20
83 Marina Duvnjak (NZl) New Zealand                              0.48.40
84 Serena Sheridan (NZl) New Zealand                             0.48.70
85 Carina Ketonen (Fra) Les Pruneaux D'Agen                      0.49.20
86 Tiina Nieminen (Fin) Les Pruneaux D'Agen                      0.49.60
87 Michelle Hyland (NZl) New Zealand                             0.50.00
88 Lina Skujaute (Ltu) Lithuania                                 0.51.20
89 Marlen Johrend (Ger) Germany                                  0.51.30
90 Erinne Willock (Can) Team Expresscopy.com                     0.51.90
91 Linda Ringlever (Ned) Global Racing Team                      0.52.80
92 Agne Miliskeviciute (Ltu) Lithuania                                  
93 Edita Janeliunaite (Ltu) Lithuania                            0.53.30
94 Tania Belvederesi (Ita) FRW - Gauss                           0.53.60
95 Linn Torp (Nor) Global Racing Team                            0.53.80
96 Lang Meng (Chn) Giant Pro Cycling Team                        0.54.30
97 Janne Brok (Ned) Vrienden Van Het Platteland                  0.55.40
98 Jaccolien Wallaard (Ned) Vrienden Van Het Platteland          0.56.80
99 Daphny Van Den Brand (Ned) Vrienden Van Het Platteland        0.58.30
100 Agne Sukutyte (Ltu) Lithuania                                1.00.50
101 Sigrid Jochems (Ned) Global Racing Team                      1.02.90
102 Xiong Ying Ruan (Chn) Giant Pro Cycling Team                 1.03.90
103 Fei Wang (Chn) Giant Pro Cycling Team                        1.05.00
104 Kettj Manfrin (Ita) FRW - Gauss                              1.06.00
105 Céline Nivet (Fra) Les Pruneaux D'Agen                       1.06.80
106 Li Ping (Chn) Giant Pro Cycling Team                         1.08.70
107 Joelle Numainville (Can) Team Expresscopy.com                1.10.90
108 Eleonora Soldo (Ita) FRW - Gauss                             1.13.00
109 Sufen Ma (Chn) Giant Pro Cycling Team                        1.15.00
110 Xiaoning Gao (Chn) Giant Pro Cycling Team                    1.15.10
111 Aurore Jeudy (Fra) Les Pruneaux D'Agen                       1.20.30
DNS Nikki Harris (GBr) Global Racing Team                               
 
General classification after prologue
 
1 Christiane Soeder (Aut) Raleigh Lifeforce Pro Cycling Team     4.43
2 Hanka Kupfernagel (Ger) Germany                                0.05
3 Eleonora Van Dijk (Ned) Vrienden Van Het Platteland                
4 Zoulfia Zabirova (Kaz) Bigla Cycling Team                      0.08
5 Judith Arndt (Ger) T-Mobile Team - Women                       0.09
6 Alexandra Sontheimer (Ger) Germany                                 
7 Marianne Vos (Ned) Team DSB Bank                               0.10
8 Andrea Thürig (Swi) Bigla Cycling Team                             
9 Linda Villumsen Serup (Den) T-Mobile Team - Women                  
10 Amber Neben (USA) Team Flexpoint                              0.12
11 Charlotte Becker (Ger) Equipe Nürnberger Versicherung         0.13
12 Susanne Ljungskog (Swe) Team Flexpoint                            
13 Priska Doppmann (Swi) Raleigh Lifeforce Pro Cycling Team      0.14
14 Sarah Düster (Ger) Raleigh Lifeforce Pro Cycling Team         0.15
15 Trixi Worrack (Ger) Equipe Nürnberger Versicherung            0.16
16 Joanne Kiesanowski (NZl) Raleigh Lifeforce Pro Cycling Team       
17 Edita Pucinskaite (Ltu) Equipe Nürnberger Versicherung            
18 Ina Teutenberg (Ger) T-Mobile Team - Women                    0.17
19 Andrea Graus (Aut) Equipe Nürnberger Versicherung                 
20 Maryline Salvetat (Fra) France                                0.19
21 Eva Lutz (Ger) Equipe Nürnberger Versicherung                 0.20
22 Nicole Brändli (Swi) Bigla Cycling Team                           
23 Iris Slappendel (Ned) Team Flexpoint                          0.21
23 Tanja Slater (GBr) Raleigh Lifeforce Pro Cycling Team             
25 Julia Martisova (Rus) FRW - Gauss                                 
26 Patricia Schwager (Swi) Raleigh Lifeforce Pro Cycling Team    0.22
27 Anne Samplonius (Can) Team Expresscopy.com                        
28 Loes Gunnewijk (Ned) Team Flexpoint                               
29 Marlyn Brinnendijk (Ned) Vrienden Van Het Platteland          0.23
30 Suzanne De Goede (Ned) T-Mobile Team - Women                      
31 Andrea Bosman (Ned) Team DSB Bank                                 
32 Madeleine Sandig (Ger) Team Flexpoint                         0.24
33 Catherine Moncassin-Prime (Fra) Les Pruneaux D'Agen           0.25
34 Silvia Valsecchi (Ita) Menikini - Gysko                       0.26
35 Kimberly Anderson (USA) T-Mobile Team - Women                 0.27
36 Liane Bahler (Ger) Fenixs - HPB                                   
37 Tatsiana Sharakova (Blr) FRW - Gauss                              
38 Karine Gautard (Fra) France                                       
39 Marina Jaunatre (Fra) France                                  0.28
40 Claudia Häusler (Ger) Equipe Nürnberger Versicherung              
41 Daiva Tuslaite (Ltu) Lithuania                                0.29
42 Olivia Gollan (Aus) Menikini - Gysko                              
43 Anke Wichmann (Ger) T-Mobile Team - Women                         
44 Natalia Boyarskaya (Rus) Fenixs - HPB                         0.30
45 Sanne Van Paassen (Ned) Team DSB Bank                             
46 Svetlana Bubnenkova (Rus) Fenixs - HPB                        0.31
47 Noemi Cantele (Ita) Bigla Cycling Team                            
48 Jessica Phillips (USA) Team Expresscopy.com                   0.32
49 Sigrid Corneo (Ita) Menikini - Gysko                              
50 Christelle Ferrier-Bruneau (Fra) Les Pruneaux D'Agen          0.33
51 Sharon Van Essen (Ned) Team DSB Bank                          0.34
52 Maria Rosario Rodriguez (Spa) Comunidad Valenciana                
53 Dorte Lohse Rasmussen (Den) Menikini - Gysko                      
54 Fabiana Luperini (Ita) Menikini - Gysko                       0.35
55 Melissa Holt (NZl) Team Expresscopy.com                           
56 Carissa Wilkes (NZl) New Zealand                                  
57 Linda Van Rijen (Ned) Team DSB Bank                               
58 Luise Keller (Ger) Team Flexpoint                             0.36
59 Tanja Hennes (Ger) Bigla Cycling Team                             
60 Miho Oki (Jpn) Menikini - Gysko                                   
61 Georgina Waibl (NZl) New Zealand                              0.37
62 Béatrice Thomas (Fra) France                                      
63 Fabienne Sandig (Ger) Germany                                 0.39
64 Silvia Tirado Marquez (Spa) Comunidad Valenciana                  
65 Angela Brodtka (Ger) Germany                                  0.40
66 Amanda Shaw (Can) Team Expresscopy.com                            
67 Oxana Kozonchuk (Rus) Fenixs - HPB                            0.41
68 Marieke Van Wanroij (Ned) Team DSB Bank                           
69 Urte Juodvalkyte (Ltu) Lithuania                                  
70 Toni Bradshaw (NZl) New Zealand                               0.42
71 Tatiana Antoshina (Rus) Fenixs - HPB                              
72 Romy Kasper (Ger) Germany                                         
73 Maribel Moreno Allue (Spa) Comunidad Valenciana               0.43
74 Jennifer Hohl (Swi) Bigla Cycling Team                            
75 Ana Garcia Antequera (Spa) Comunidad Valenciana                   
76 Nathalie Jeuland (Fra) France                                 0.45
76 Maria Auxiliadora Martin Morales (Spa) Comunidad Valenciana       
78 Fanny Riberot (Fra) France                                        
79 Debby Van De Berg (Ned) Global Racing Team                    0.46
80 Helen Wyman (GBr) Global Racing Team                              
81 Elena Kuchinskaya (Rus) FRW - Gauss                               
82 Olga Slyusareva (Rus) Fenixs - HPB                            0.47
83 Marina Duvnjak (NZl) New Zealand                              0.48
84 Serena Sheridan (NZl) New Zealand                             0.49
85 Carina Ketonen (Fra) Les Pruneaux D'Agen                          
86 Tiina Nieminen (Fin) Les Pruneaux D'Agen                      0.50
87 Michelle Hyland (NZl) New Zealand                                 
88 Lina Skujaute (Ltu) Lithuania                                 0.51
89 Marlen Johrend (Ger) Germany                                      
90 Erinne Willock (Can) Team Expresscopy.com                     0.52
91 Linda Ringlever (Ned) Global Racing Team                      0.53
92 Agne Miliskeviciute (Ltu) Lithuania                               
93 Edita Janeliunaite (Ltu) Lithuania                                
94 Tania Belvederesi (Ita) FRW - Gauss                           0.54
95 Linn Torp (Nor) Global Racing Team                                
96 Lang Meng (Chn) Giant Pro Cycling Team                            
97 Janne Brok (Ned) Vrienden Van Het Platteland                  0.55
98 Jaccolien Wallaard (Ned) Vrienden Van Het Platteland          0.57
99 Daphny Van Den Brand (Ned) Vrienden Van Het Platteland        0.58
100 Agne Sukutyte (Ltu) Lithuania                                1.00
101 Sigrid Jochems (Ned) Global Racing Team                      1.03
102 Xiong Ying Ruan (Chn) Giant Pro Cycling Team                 1.04
103 Fei Wang (Chn) Giant Pro Cycling Team                        1.05
104 Kettj Manfrin (Ita) FRW - Gauss                              1.06
105 Céline Nivet (Fra) Les Pruneaux D'Agen                       1.07
106 Li Ping (Chn) Giant Pro Cycling Team                         1.09
107 Joelle Numainville (Can) Team Expresscopy.com                1.11
108 Eleonora Soldo (Ita) FRW - Gauss                             1.13
109 Sufen Ma (Chn) Giant Pro Cycling Team                        1.15
110 Xiaoning Gao (Chn) Giant Pro Cycling Team                        
111 Aurore Jeudy (Fra) Les Pruneaux D'Agen                       1.20
 
Points classification
 
1 Christiane Soeder (Aut) Raleigh Lifeforce Pro Cycling Team       30 pts
2 Hanka Kupfernagel (Ger) Germany                                  24
3 Eleonora Van Dijk (Ned) Vrienden Van Het Platteland              20
4 Zoulfia Zabirova (Kaz) Bigla Cycling Team                        17
5 Judith Arndt (Ger) T-Mobile Team - Women                         14
6 Alexandra Sontheimer (Ger) Germany                               11
7 Marianne Vos (Ned) Team DSB Bank                                  9
8 Andrea Thürig (Swi) Bigla Cycling Team                            8
9 Linda Villumsen Serup (Den) T-Mobile Team - Women                 7
10 Amber Neben (USA) Team Flexpoint                                 6
11 Charlotte Becker (Ger) Equipe Nürnberger Versicherung            5
12 Susanne Ljungskog (Swe) Team Flexpoint                           4
13 Priska Doppmann (Swi) Raleigh Lifeforce Pro Cycling Team         3
14 Sarah Düster (Ger) Raleigh Lifeforce Pro Cycling Team            2
15 Trixi Worrack (Ger) Equipe Nürnberger Versicherung               1
 
Team classification
 
1 Raleigh Lifeforce Pro Cycling Team                            14.38
2 T-Mobile Team                                                  0.07
3 Bigla Cycling Team                                             0.09
4 Equipe Nürnberger Versicherung                                 0.16
5 Team Flexpoint                                                 0.17
6 Germany                                                        0.24
7 Team DSB Bank                                                  0.34
8 France                                                         0.45
9 Netherlands                                                    0.54
10 Menikini-Gysko                                                0.58
11 Fenixs-HPB                                                    0.59
12 Team Expresscopy.com                                          1.00
13 Team FRW                                                      1.05
14 Les Pruneaux D'Agen                                           1.18
15 New Zealand                                                   1.25
16 Comunidad Valenciana                                          1.27
17 Lithuania                                                     1.32
18 Global Racing Team                                            1.56
19 Giant Pro Cycling Team                                        2.34