22nd Tour de Beauce - 2.2
Canada, June 12-17, 2007
Main Page Results Overall standings Stage Details Previous Stage Next Stage
Stage 4b - June 15: Centre-ville de St-George Critérium, 60 km
Navigators make it four in a row in Beauce
By Mark Zalewski, North American Editor in Saint-Georges, Québec
Grishkin pounces on field sprint for win
Oleg Grishkin (Navigators Insurance)
Photo ©: Mark Zalewski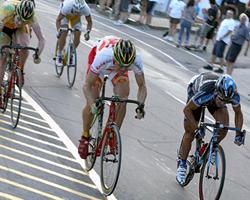 Solo break, mountain summit, time trial and now field sprint... is there any other type of way to win a bike race? If there is, the Navigators Insurance team will likely find it here at the Tour de Beauce, as sprinter Oleg Grishkin dove inside of sprinter Dominque Rollin (Kodak Gallery) for the win in tonight's criterium in downtown Saint-Georges.
"I went a little bit early when there was a gap at the last corner, and I had like double speed and I passed [Rollin,]" Grishkin said. "It was hard and I didn't like it today! I was already done before the line but I was ahead - next time he'll get me."
"We had a good set-up with our trackie Cody O'Rielly leading it out," Rollin explained. "Unfortunately he went a bit left and I tried to go outside when I should have gone inside. Grishkin just went inside of me and that was it."
Earlier in the race a strong break away formed and gained almost a half-lap on the field with 20 laps to go. The break consisted of Quebecors Francois Praisien (Slipstream-Choipotle), Charles Dionne (Équipe du Quebec), Canadian Cameron Evans (Symmetrics), Australian Craig McCarney (Savings and Loans) and German Timo Honstein (Sparkasse).
Ben Day (Navigators Insurance) kept his
Photo ©: Jerome Lessard

However, with 15 laps to go the Navigators were replaced at the front by Kodak Gallery, working to set up Rollin for the sprint. "Everyone was rolling through until the last five laps when guys started jumping, and I think that slowed us up," said Evans, who was wearing the red jersey as the best young rider. "If it weren't for that I think we would have stayed away. They caught us on the hill the last time up."
Evans has been very active the race, riding strong in a two-man break in yesterday's tough stage. "These Beauce roads... it's easier to ride ahead than back in the pack!" he said laughing.
Safely tucked at the rear of the Navigators train was race leader Ben Day, who claimed the yellow jersey this morning with a huge effort in the time trial. "How good has today been?" he asked. "We didn't necessarily play our cards right on the first day but we had the men there. We're leading the tour and we've won four stages now. The team is meshing really well together and it is an absolute honour to ride for them."
Day was appreciative of Kodak Gallery's effort to bring the break back, which also gave his team a rest. "They had interest in it to set-up Rollin, their sprinter - but hats off to them, they have ridden really well this week," he said. "They may have taken a bit of a flogging from us the last two days but they came out tonight really strong and brought the break back for their guy."
With two tough urban circuits to go, Day knows the race is far from over - but he trusts his teammates with his jersey. "I'm very confident with these guys around me," he said. "It's going to be hard but they are going to deliver me right to the finish."
Photography
For a thumbnail gallery of these images, click here
Images by Jerome Lessard
Images by Mark Zalewski/Cyclingnews.com
Results
1 Oleg Grishkin (Rus) Navigators Insurance               1.24.10 (42.772 km/h)
2 Dominique Rollin (Can) Kodak Gallery Pro Cycling Team         
3 Keven Lacombe (Can) Volkswagen Trek                           
4 David O'loughlin (Irl) Navigators Insurance                   
5 Martin Gilbert (Can) Québec                                   
6 Cody O'rielly (USA) Kodak Gallery Pro Cycling Team            
7 Ben Day (Aus) Navigators Insurance                            
8 David Pell (Aus) Savings And Loans Cycling Team               
9 Juan Pablo Magallanes Arawda (Mex) Tecos Trek Vh          0.04
10 Charles Dionne (Can) Québec                                  
11 Glen Alan Chadwick (NZl) Navigators Insurance                
12 Philipp Mamos (Ger) Team Sparkasse                           
13 Danny Pate (USA) Team Slipstream                             
14 Ivor Bruin (Den) Farso Denmark Nat                           
15 Dominique Perras (Can) Québec                                
16 Sergey Lagutin (Uzb) Navigators Insurance                    
17 Tilo Schüler (Ger) Team Sparkasse                            
18 Svein Tuft (Can) Symmetrics                              0.07
19 Jacob Erker (Can) Symmetrics                                 
20 Andrew Randell (Can) Symmetrics                              
21 Mark Walters (Can) Kodak Gallery Pro Cycling Team            
22 Joel Dion-Poitras (Can) Eva-Devinci                          
23 Jamie Sparling (Can) La_Z_Boy                                
24 Mathieu Roy (Can) Eva-Devinci                                
25 Timo Honstein (Ger) Team Sparkasse                           
26 Francois Parisien (Can) Team Slipstream                      
27 Gregorio Ladino Vega (Col) Tecos Trek Vh                     
28 Cameron Evans (Can) Symmetrics                               
29 Christian Meier (Can) Symmetrics                             
30 Hector Hugo Rangel (Mex) Tecos Trek Vh                       
31 John Fredy Parra Calada (Col) Tecos Trek Vh              0.14
32 Buck Milller (Can) Team R.A.C.E                          0.16
33 Greg Reain (Can) Calyon-Litespeed                            
34 Eric Wohlberg (Can) Symmetrics                               
35 Fausto Esparza (Mex) Tecos Trek Vh                           
36 Ryan Mckenzie (Can) Volkswagen Trek                          
37 Heberth Gutierrez Garcia (Col) Tecos Trek Vh                 
38 Jeffrey Dirksen (Ned) Team R.A.C.E                           
39 Jean-Sebastien Perron (Can) Calyon-Litespeed                 
40 Soren Petersen (Den) Farso Denmark Nat                       
41 Will Routley (Can) Symmetrics                                
42 Ian Macgregor (USA) Team Slipstream                          
43 Jacob Nielsen (Den) Farso Denmark Nat                        
44 Benjamin Martel (Can) Garneau - Crocs                        
45 Derrick St-John (Can) Garneau - Crocs                        
46 Andreas Schillinger (Ger) Team Sparkasse                     
47 Alex Howes (USA) Team Slipstream                             
48 Stefan Parinussa (Ger) Team Sparkasse                        
49 Dirk Müller (Ger) Team Sparkasse                             
50 Craig Mccarney (Aus) Savings And Loans Cycling Team          
51 Ben Raby (USA) Kodak Gallery Pro Cycling Team                
52 Rob Britton (Can) La_Z_Boy                                   
53 Éric Boily (Can) Eva-Devinci                                 
54 Jesse Athony (USA) Kodak Gallery Pro Cycling Team        0.26
55 Rene Ahrenkiel (Den) Farso Denmark Nat                   0.28
56 Ryan Beliveau (Can) Calyon-Litespeed                         
57 Dan Timmerman (USA) Kodak Gallery Pro Cycling Team           
58 Morten Christiansen (Den) Farso Denmark Nat                  
59 Connor Trevor (Can) La_Z_Boy                             0.30
60 Adam Thuss (Can) Team R.A.C.E                            0.32
61 Matt Guse (Can) Calyon-Litespeed                             
62 William Goodfellow (Can) Volkswagen Trek                 0.34
63 Peter Mueller (Aus) Savings And Loans Cycling Team       0.41
64 Jean-François Racine (Can) Garneau - Crocs               0.47
65 Pascal Bussières (Can) Québec                            0.53
66 Phil Cortes (Can) Calyon-Litespeed                           
67 Dave Vukets (Can) Tean Spin 12                           0.57
68 Mark Pozniak (Can) Team R.A.C.E                          1.06
69 Lars Wackernagel (Ger) Team Sparkasse                    1.39
70 Ciarán Power (Irl) Navigators Insurance                  3.18
71 André Tremblay (Can) Volkswagen Trek                     3.29
72 Peter Morse (Can) Tean Spin 12                           4.16
73 Mike Dietrich (USA) Kodak Gallery Pro Cycling Team       4.21
74 Mark Batty (Can) Team R.A.C.E                            4.54
75 Jamie Lamb (Can) Garneau - Crocs                         5.07
76 Charlie Bryer (Can) Tean Spin 12                         7.49
77 Charles Thibault (Can) Eva-Devinci                       9.48
DNF Peter Ladd (Aus) Garneau - Crocs                            
 
Points
 
1 Oleg Grishkin (Rus) Navigators Insurance                    15 pts
2 Dominique Rollin (Can) Kodak Gallery Pro Cycling Team       14
3 Keven Lacombe (Can) Volkswagen Trek                         13
4 David O'loughlin (Irl) Navigators Insurance                 12
5 Martin Gilbert (Can) Québec                                 11
6 Cody O'rielly (USA) Kodak Gallery Pro Cycling Team          10
7 Ben Day (Aus) Navigators Insurance                           9
8 David Pell (Aus) Savings And Loans Cycling Team              8
9 Juan Pablo Magallanes Arawda (Mex) Tecos Trek Vh             7
10 Charles Dionne (Can) Québec                                 6
11 Glen Alan Chadwick (NZl) Navigators Insurance               5
12 Philipp Mamos (Ger) Team Sparkasse                          4
13 Danny Pate (USA) Team Slipstream                            3
14 Ivor Bruin (Den) Farso Denmark Nat                          2
15 Dominique Perras (Can) Québec                               1
 
Teams
 
1 Navigators Insurance                                   4.12.30
2 Kodak Gallery Pro Cycling Team                            0.07
3 Québec                                                    0.08
4 Team Sparkasse                                            0.15
5 Tecos Trek Vh                                             0.18
6 Symmetrics                                                0.21
7 Team Slipstream                                           0.27
8 Eva-Devinci                                               0.30
9 Farso Denmark Nat                                         0.36
10 Volkswagen Trek                                          0.50
11 La_Z_Boy                                                 0.53
12 Savings And Loans Cycling Team                           0.57
13 Calyon-Litespeed                                         1.00
14 Team R.A.C.E                                             1.04
15 Garneau - Crocs                                          1.19
16 Tean Spin 12                                            13.02
 
General Classification after Stage 4b
 
1 Ben Day (Aus) Navigators Insurance                    15.05.55
2 Svein Tuft (Can) Symmetrics                               0.40
3 Danny Pate (USA) Team Slipstream                          1.08
4 Gregorio Ladino Vega (Col) Tecos Trek Vh                  1.32
5 David O'loughlin (Irl) Navigators Insurance                   
6 Dominique Rollin (Can) Kodak Gallery Pro Cycling Team     2.43
7 Jacob Erker (Can) Symmetrics                              2.51
8 Dominique Perras (Can) Québec                             2.59
9 Philipp Mamos (Ger) Team Sparkasse                        3.18
10 Juan Pablo Magallanes Arawda (Mex) Tecos Trek Vh         3.24
11 Mark Walters (Can) Kodak Gallery Pro Cycling Team        4.21
12 Soren Petersen (Den) Farso Denmark Nat                   7.59
13 Glen Alan Chadwick (NZl) Navigators Insurance            8.40
14 Francois Parisien (Can) Team Slipstream                  9.22
15 Craig Mccarney (Aus) Savings And Loans Cycling Team      9.25
16 Hector Hugo Rangel (Mex) Tecos Trek Vh                  11.27
17 Eric Wohlberg (Can) Symmetrics                          12.12
18 Timo Honstein (Ger) Team Sparkasse                      12.19
19 Charles Dionne (Can) Québec                             14.16
20 Cameron Evans (Can) Symmetrics                          15.15
21 Sergey Lagutin (Uzb) Navigators Insurance               15.25
22 Christian Meier (Can) Symmetrics                        16.57
23 John Fredy Parra Calada (Col) Tecos Trek Vh             17.57
24 Jacob Nielsen (Den) Farso Denmark Nat                   18.39
25 Greg Reain (Can) Calyon-Litespeed                       19.29
26 Connor Trevor (Can) La_Z_Boy                            19.49
27 David Pell (Aus) Savings And Loans Cycling Team         19.59
28 Dirk Müller (Ger) Team Sparkasse                        20.04
29 Ivor Bruin (Den) Farso Denmark Nat                      20.56
30 Andreas Schillinger (Ger) Team Sparkasse                21.27
31 Mathieu Roy (Can) Eva-Devinci                           21.44
32 Andrew Randell (Can) Symmetrics                         21.54
33 Lars Wackernagel (Ger) Team Sparkasse                   21.57
34 Will Routley (Can) Symmetrics                           22.11
35 Ben Raby (USA) Kodak Gallery Pro Cycling Team           22.22
36 Rob Britton (Can) La_Z_Boy                              22.43
37 Jamie Sparling (Can) La_Z_Boy                           22.59
38 Heberth Gutierrez Garcia (Col) Tecos Trek Vh            23.19
39 Fausto Esparza (Mex) Tecos Trek Vh                      23.22
40 Ian Macgregor (USA) Team Slipstream                     24.00
41 Joel Dion-Poitras (Can) Eva-Devinci                     24.10
42 Éric Boily (Can) Eva-Devinci                            26.13
43 William Goodfellow (Can) Volkswagen Trek                26.38
44 Stefan Parinussa (Ger) Team Sparkasse                   27.15
45 Martin Gilbert (Can) Québec                             27.48
46 Peter Mueller (Aus) Savings And Loans Cycling Team      29.06
47 Keven Lacombe (Can) Volkswagen Trek                     29.30
48 Dan Timmerman (USA) Kodak Gallery Pro Cycling Team      29.40
49 Ciarán Power (Irl) Navigators Insurance                 32.26
50 Oleg Grishkin (Rus) Navigators Insurance                34.59
51 Derrick St-John (Can) Garneau - Crocs                   39.52
52 Benjamin Martel (Can) Garneau - Crocs                   41.17
53 Pascal Bussières (Can) Québec                           43.09
54 Buck Milller (Can) Team R.A.C.E                         43.24
55 Tilo Schüler (Ger) Team Sparkasse                       43.32
56 Alex Howes (USA) Team Slipstream                        45.05
57 Cody O'rielly (USA) Kodak Gallery Pro Cycling Team      45.13
58 Jean-Sebastien Perron (Can) Calyon-Litespeed            46.35
59 Matt Guse (Can) Calyon-Litespeed                        48.57
60 Jean-François Racine (Can) Garneau - Crocs              49.15
61 Phil Cortes (Can) Calyon-Litespeed                      49.55
62 Ryan Mckenzie (Can) Volkswagen Trek                     51.36
63 Morten Christiansen (Den) Farso Denmark Nat             52.03
64 Adam Thuss (Can) Team R.A.C.E                           52.10
65 Mark Pozniak (Can) Team R.A.C.E                         53.07
66 Dave Vukets (Can) Tean Spin 12                          53.24
67 Mark Batty (Can) Team R.A.C.E                           55.21
68 Jamie Lamb (Can) Garneau - Crocs                        55.41
69 Jesse Athony (USA) Kodak Gallery Pro Cycling Team       56.09
70 Mike Dietrich (USA) Kodak Gallery Pro Cycling Team    1.00.32
71 Rene Ahrenkiel (Den) Farso Denmark Nat                1.05.53
72 Ryan Beliveau (Can) Calyon-Litespeed                  1.07.49
73 Peter Morse (Can) Tean Spin 12                        1.15.55
74 Jeffrey Dirksen (Ned) Team R.A.C.E                    1.25.50
75 André Tremblay (Can) Volkswagen Trek                  1.27.07
 
Points classification
 
1 Ben Day (Aus) Navigators Insurance                          51 pts
2 Glen Alan Chadwick (NZl) Navigators Insurance               49
3 Dominique Rollin (Can) Kodak Gallery Pro Cycling Team       46
4 David O'loughlin (Irl) Navigators Insurance                 43
5 Francois Parisien (Can) Team Slipstream                     39
6 Danny Pate (USA) Team Slipstream                            34
7 Svein Tuft (Can) Symmetrics                                 29
8 Juan Pablo Magallanes Arawda (Mex) Tecos Trek Vh            26
9 Charles Dionne (Can) Québec                                 25
10 Gregorio Ladino Vega (Col) Tecos Trek Vh                   24
11 Jacob Erker (Can) Symmetrics                               22
12 Hector Hugo Rangel (Mex) Tecos Trek Vh                     20
13 Philipp Mamos (Ger) Team Sparkasse                         18
14 Sergey Lagutin (Uzb) Navigators Insurance                  17
15 Oleg Grishkin (Rus) Navigators Insurance                   16
16 Timo Honstein (Ger) Team Sparkasse                         16
17 Mark Walters (Can) Kodak Gallery Pro Cycling Team          15
18 Dominique Perras (Can) Québec                              14
19 David Pell (Aus) Savings And Loans Cycling Team            13
20 Keven Lacombe (Can) Volkswagen Trek                        13
21 Cameron Evans (Can) Symmetrics                             12
22 Eric Wohlberg (Can) Symmetrics                             11
23 Martin Gilbert (Can) Québec                                11
24 Greg Reain (Can) Calyon-Litespeed                          10
25 Cody O'rielly (USA) Kodak Gallery Pro Cycling Team         10
26 Morten Christiansen (Den) Farso Denmark Nat                 9
27 Ryan Mckenzie (Can) Volkswagen Trek                         4
28 Christian Meier (Can) Symmetrics                            4
29 Soren Petersen (Den) Farso Denmark Nat                      4
30 Craig Mccarney (Aus) Savings And Loans Cycling Team         3
31 Ciarán Power (Irl) Navigators Insurance                     3
32 John Fredy Parra Calada (Col) Tecos Trek Vh                 2
33 Ivor Bruin (Den) Farso Denmark Nat                          2
34 Jacob Nielsen (Den) Farso Denmark Nat                       2
35 Stefan Parinussa (Ger) Team Sparkasse                       2
36 Andreas Schillinger (Ger) Team Sparkasse                    2
37 Dirk Müller (Ger) Team Sparkasse                            2
 
Mountains classification
 
1 Gregorio Ladino Vega (Col) Tecos Trek Vh                    51 pts
2 Glen Alan Chadwick (NZl) Navigators Insurance               35
3 Ben Day (Aus) Navigators Insurance                          35
4 Francois Parisien (Can) Team Slipstream                     27
5 Dirk Müller (Ger) Team Sparkasse                            27
6 Cameron Evans (Can) Symmetrics                              21
7 Sergey Lagutin (Uzb) Navigators Insurance                   20
8 Dominique Perras (Can) Québec                               16
9 Andreas Schillinger (Ger) Team Sparkasse                    12
10 Charles Dionne (Can) Québec                                 9
11 Svein Tuft (Can) Symmetrics                                 9
12 Philipp Mamos (Ger) Team Sparkasse                          8
13 Danny Pate (USA) Team Slipstream                            8
14 Mark Walters (Can) Kodak Gallery Pro Cycling Team           7
15 David O'loughlin (Irl) Navigators Insurance                 7
16 Timo Honstein (Ger) Team Sparkasse                          6
17 Hector Hugo Rangel (Mex) Tecos Trek Vh                      6
18 Juan Pablo Magallanes Arawda (Mex) Tecos Trek Vh            4
19 Eric Wohlberg (Can) Symmetrics                              4
20 Jacob Erker (Can) Symmetrics                                4
21 Ben Raby (USA) Kodak Gallery Pro Cycling Team               3
22 Ryan Mckenzie (Can) Volkswagen Trek                         3
23 Éric Boily (Can) Eva-Devinci                                2
24 Ian Macgregor (USA) Team Slipstream                         2
25 Dominique Rollin (Can) Kodak Gallery Pro Cycling Team       1
26 Morten Christiansen (Den) Farso Denmark Nat                 1
27 Ciarán Power (Irl) Navigators Insurance                     1
 
Teams classification
 
1 Navigators Insurance                                  45.22.18
2 Symmetrics                                                5.27
3 Tecos Trek Vh                                            11.56
4 Kodak Gallery Pro Cycling Team                           24.44
5 Team Slipstream                                          29.43
6 Team Sparkasse                                           30.42
7 Québec                                                   35.41
8 Farso Denmark Nat                                        37.51
9 Savings And Loans Cycling Team                           53.57
10 La_Z_Boy                                              1.00.58
11 Eva-Devinci                                           1.07.34
12 Volkswagen Trek                                       1.43.14
13 Calyon-Litespeed                                      1.47.39
14 Garneau - Crocs                                       2.05.41
15 Team R.A.C.E                                          2.16.13
16 Tean Spin 12                                          3.26.18