22nd Tour de Beauce - 2.2
Canada, June 12-17, 2007
Main Page Results Overall standings Stage Details Previous Stage Next Stage
Stage 4a - June 15: St-Jean-de-la-Lande ITT, 20 km
A 'Day' in yellow
Ben Day stomps on Beauce TT and claims overall lead
By Mark Zalewski, North American Editor on top of Mont-Mégantic, Québec
Ben Day (Navigators Insurance)
Photo ©: Mark Zalewski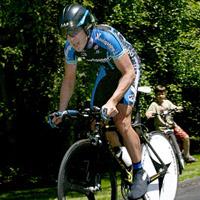 Ben Day (Navigators Insurance) is one of the quieter of the Australian contingent racing around the world. A 2003 national time trial champion, Day has been racing successfully in Europe over the past few years, with many top finishes but not a top win. In 2007, Day came across to the new world and a new team, and it looks like his search for a win could soon be over, after dominating the time trial of the 22nd Tour de Beauce.
"I felt good today, eh," said Day. "The harder the course could have been the better it was for me. With time trials sometimes you have nagging little hot spots in your legs but today I felt in a good rhythm and felt strong."
As part of a strong Naviagtors team, Day was one of many possible GC cards the team had at the beginning of the race. But after the first stage, only he and David O'Loughlin were left in contention after a major breakaway. Yesterday, atop Mont-Mégantic Day put himself at the top of the team's list with a strong fifth place finish.
Today it was up to Day, and he alone, to put him into position. "I knew that the half-way turn would be a good check point against the other guys. I was worried Svein [Tuft] was going to do a good time because he is such a strong guy. The first couple of kilometres it took me a bit to get into my rhythm, but then the long drag of 4km really suited me to the ground -- after that I was on top of it after that." Svein Tuft finished third today, nearly half a minute behind Day, and now sits in second place overall, 33 seconds out of first. "I would have liked to have gone faster," said Tuft. "It's a hard course. I am always about consistency. I try to ride the same no matter what because if you try to go above your level you just blow to pieces."
Svein Tuft (Symmetrics)
Photo ©: Mark Zalewski

The other dangerous rider at the top of the GC was Danny Pate (Slipstream-Chipotle). Pate, last year's time trial winner, finished second, nearly half a minute down. "I felt okay, I had a pretty good time trial," said Pate. "It was better than my riding from earlier in the week. Hopefully my next two days will go as well for me."
"Maybe Symmetrics and I can team up and put the pressure on Navigators," said Pate. "At least make them work for it. I think there are still a couple of shots to be had on these last two difficult circuits."
Tuft agreed with Pate, citing the difficulty in defending the jersey over the next three stages and thinking not winning could have been a blessing. "Maybe it's good because it is hell protecting it on these next three stages -- even the crit tonight is not fun with guys launching everywhere! It's all you can do, we have a fight now!"
Photography
For a thumbnail gallery of these images, click here
Images by Mark Zalewski/Cyclingnews
Images by Jerome Lessard
Results
1 Ben Day (Aus) Navigators Insurance                      25.58 (46.213 km/h)
2 Danny Pate (USA) Team Slipstream                         0.27
3 Svein Tuft (Can) Symmetrics                              0.29
4 David O'loughlin (Irl) Navigators Insurance              1.02
5 Glen Alan Chadwick (NZl) Navigators Insurance            1.30
6 Greg Reain (Can) Calyon-Litespeed                        1.31
7 Dominique Rollin (Can) Kodak Gallery Pro Cycling Team    1.32
8 Francois Parisien (Can) Team Slipstream                  1.37
9 Gregorio Ladino Vega (Col) Tecos Trek Vh                 1.40
10 Dominique Perras (Can) Québec                           1.44
11 David Pell (Aus) Savings And Loans Cycling Team         1.47
12 Sergey Lagutin (Uzb) Navigators Insurance               2.02
13 Eric Wohlberg (Can) Symmetrics                          2.06
14 Philipp Mamos (Ger) Team Sparkasse                      2.09
15 Christian Meier (Can) Symmetrics                            
16 Ryan Beliveau (Can) Calyon-Litespeed                    2.12
17 Cameron Evans (Can) Symmetrics                              
18 Hector Hugo Rangel (Mex) Tecos Trek Vh                  2.13
19 Jacob Erker (Can) Symmetrics                            2.18
20 Dan Timmerman (USA) Kodak Gallery Pro Cycling Team      2.21
21 Buck Milller (Can) Team R.A.C.E                         2.26
22 Andrew Randell (Can) Symmetrics                         2.27
23 Mark Walters (Can) Kodak Gallery Pro Cycling Team           
24 Derrick St-John (Can) Garneau - Crocs                   2.28
25 Mathieu Roy (Can) Eva-Devinci                           2.29
26 Juan Pablo Magallanes Arawda (Mex) Tecos Trek Vh        2.31
27 Soren Petersen (Den) Farso Denmark Nat                  2.34
28 Ben Raby (USA) Kodak Gallery Pro Cycling Team           2.37
29 Charles Dionne (Can) Québec                                 
30 William Goodfellow (Can) Volkswagen Trek                2.42
31 Craig Mccarney (Aus) Savings And Loans Cycling Team     2.43
32 Éric Boily (Can) Eva-Devinci                            2.45
33 Jean-Sebastien Perron (Can) Calyon-Litespeed                
34 Timo Honstein (Ger) Team Sparkasse                      2.48
35 Andreas Schillinger (Ger) Team Sparkasse                2.51
36 Martin Gilbert (Can) Québec                             2.57
37 Charlie Bryer (Can) Tean Spin 12                            
38 Ciarán Power (Irl) Navigators Insurance                 2.58
39 Phil Cortes (Can) Calyon-Litespeed                      3.00
40 John Fredy Parra Calada (Col) Tecos Trek Vh             3.02
41 Jamie Sparling (Can) La_Z_Boy                           3.03
42 Stefan Parinussa (Ger) Team Sparkasse                   3.04
43 Connor Trevor (Can) La_Z_Boy                            3.05
44 Dirk Müller (Ger) Team Sparkasse                        3.07
45 Ryan Mckenzie (Can) Volkswagen Trek                     3.11
46 Lars Wackernagel (Ger) Team Sparkasse                       
47 Keven Lacombe (Can) Volkswagen Trek                     3.13
48 Cody O'rielly (USA) Kodak Gallery Pro Cycling Team          
49 Heberth Gutierrez Garcia (Col) Tecos Trek Vh            3.14
50 Joel Dion-Poitras (Can) Eva-Devinci                     3.32
51 Fausto Esparza (Mex) Tecos Trek Vh                      3.37
52 Jesse Athony (USA) Kodak Gallery Pro Cycling Team       3.43
53 Jean-François Racine (Can) Garneau - Crocs              3.45
54 Alex Howes (USA) Team Slipstream                        3.47
55 Will Routley (Can) Symmetrics                           3.51
56 Adam Thuss (Can) Team R.A.C.E                           3.54
57 Jacob Nielsen (Den) Farso Denmark Nat                   3.55
58 Oleg Grishkin (Rus) Navigators Insurance                4.00
59 Tilo Schüler (Ger) Team Sparkasse                       4.11
60 Ian Macgregor (USA) Team Slipstream                     4.15
61 Mike Dietrich (USA) Kodak Gallery Pro Cycling Team          
62 André Tremblay (Can) Volkswagen Trek                    4.17
63 Ivor Bruin (Den) Farso Denmark Nat                          
64 Mark Pozniak (Can) Team R.A.C.E                             
65 Peter Mueller (Aus) Savings And Loans Cycling Team      4.28
66 Peter Ladd (Aus) Garneau - Crocs                        4.29
67 Charles Thibault (Can) Eva-Devinci                      4.30
68 Rene Ahrenkiel (Den) Farso Denmark Nat                  4.37
69 Benjamin Martel (Can) Garneau - Crocs                   4.39
70 Jeffrey Dirksen (Ned) Team R.A.C.E                      4.47
71 Matt Guse (Can) Calyon-Litespeed                        4.51
72 Mark Batty (Can) Team R.A.C.E                           4.53
73 Jamie Lamb (Can) Garneau - Crocs                        5.00
74 Pascal Bussières (Can) Québec                           5.08
75 Dave Vukets (Can) Tean Spin 12                          5.19
76 Peter Morse (Can) Tean Spin 12                          5.45
77 Morten Christiansen (Den) Farso Denmark Nat             6.04
78 Rob Britton (Can) La_Z_Boy                              7.21
 
Points
 
1 Ben Day (Aus) Navigators Insurance                         15 pts
2 Danny Pate (USA) Team Slipstream                           14
3 Svein Tuft (Can) Symmetrics                                13
4 David O'loughlin (Irl) Navigators Insurance                12
5 Glen Alan Chadwick (NZl) Navigators Insurance              11
6 Greg Reain (Can) Calyon-Litespeed                          10
7 Dominique Rollin (Can) Kodak Gallery Pro Cycling Team       9
8 Francois Parisien (Can) Team Slipstream                     8
9 Gregorio Ladino Vega (Col) Tecos Trek Vh                    7
10 Dominique Perras (Can) Québec                              6
11 David Pell (Aus) Savings And Loans Cycling Team            5
12 Sergey Lagutin (Uzb) Navigators Insurance                  4
13 Eric Wohlberg (Can) Symmetrics                             3
14 Philipp Mamos (Ger) Team Sparkasse                         2
15 Christian Meier (Can) Symmetrics                           1
 
Teams
 
1 Navigators Insurance                                  1.20.26
2 Symmetrics                                               2.12
3 Team Slipstream                                          3.19
4 Kodak Gallery Pro Cycling Team                           3.48
5 Tecos Trek Vh                                            3.52
6 Calyon-Litespeed                                         3.56
7 Québec                                                   4.46
8 Team Sparkasse                                           5.16
9 Eva-Devinci                                              6.14
10 Savings And Loans Cycling Team                          6.26
11 Volkswagen Trek                                         6.34
12 Team R.A.C.E                                            8.05
13 Garneau - Crocs                                         8.10
14 Farso Denmark Nat                                       8.14
15 La_Z_Boy                                               10.57
16 Tean Spin 12                                           11.29
 
General Classification after Stage 4a
 
1 Ben Day (Aus) Navigators Insurance                   13.41.45
2 Svein Tuft (Can) Symmetrics                              0.33
3 Danny Pate (USA) Team Slipstream                         1.04
4 Gregorio Ladino Vega (Col) Tecos Trek Vh                 1.25
5 David O'loughlin (Irl) Navigators Insurance              1.32
6 Jacob Erker (Can) Symmetrics                             2.44
7 Dominique Rollin (Can) Kodak Gallery Pro Cycling Team    2.47
8 Dominique Perras (Can) Québec                            2.55
9 Philipp Mamos (Ger) Team Sparkasse                       3.14
10 Juan Pablo Magallanes Arawda (Mex) Tecos Trek Vh        3.20
11 Mark Walters (Can) Kodak Gallery Pro Cycling Team       4.14
12 Soren Petersen (Den) Farso Denmark Nat                  7.43
13 Glen Alan Chadwick (NZl) Navigators Insurance           8.36
14 Craig Mccarney (Aus) Savings And Loans Cycling Team     9.09
15 Francois Parisien (Can) Team Slipstream                 9.15
16 Hector Hugo Rangel (Mex) Tecos Trek Vh                 11.20
17 Eric Wohlberg (Can) Symmetrics                         11.56
18 Timo Honstein (Ger) Team Sparkasse                     12.12
19 Charles Dionne (Can) Québec                            14.12
20 Cameron Evans (Can) Symmetrics                         15.08
21 Sergey Lagutin (Uzb) Navigators Insurance              15.21
22 Christian Meier (Can) Symmetrics                       16.50
23 John Fredy Parra Calada (Col) Tecos Trek Vh            17.43
24 Jacob Nielsen (Den) Farso Denmark Nat                  18.23
25 Greg Reain (Can) Calyon-Litespeed                      19.13
26 Connor Trevor (Can) La_Z_Boy                           19.19
27 Dirk Müller (Ger) Team Sparkasse                       19.48
28 David Pell (Aus) Savings And Loans Cycling Team        19.59
29 Lars Wackernagel (Ger) Team Sparkasse                  20.18
30 Ivor Bruin (Den) Farso Denmark Nat                     20.52
31 Andreas Schillinger (Ger) Team Sparkasse               21.11
32 Mathieu Roy (Can) Eva-Devinci                          21.37
33 Andrew Randell (Can) Symmetrics                        21.47
34 Will Routley (Can) Symmetrics                          21.55
35 Ben Raby (USA) Kodak Gallery Pro Cycling Team          22.06
36 Rob Britton (Can) La_Z_Boy                             22.27
37 Jamie Sparling (Can) La_Z_Boy                          22.52
38 Heberth Gutierrez Garcia (Col) Tecos Trek Vh           23.03
39 Fausto Esparza (Mex) Tecos Trek Vh                     23.06
40 Ian Macgregor (USA) Team Slipstream                    23.44
41 Joel Dion-Poitras (Can) Eva-Devinci                    24.03
42 Éric Boily (Can) Eva-Devinci                           25.57
43 William Goodfellow (Can) Volkswagen Trek               26.04
44 Stefan Parinussa (Ger) Team Sparkasse                  26.59
45 Martin Gilbert (Can) Québec                            27.48
46 Peter Mueller (Aus) Savings And Loans Cycling Team     28.25
47 Ciarán Power (Irl) Navigators Insurance                29.08
48 Dan Timmerman (USA) Kodak Gallery Pro Cycling Team     29.12
49 Keven Lacombe (Can) Volkswagen Trek                    29.32
50 Oleg Grishkin (Rus) Navigators Insurance               35.05
51 Derrick St-John (Can) Garneau - Crocs                  39.36
52 Benjamin Martel (Can) Garneau - Crocs                  41.01
53 Pascal Bussières (Can) Québec                          42.16
54 Buck Milller (Can) Team R.A.C.E                        43.08
55 Tilo Schüler (Ger) Team Sparkasse                      43.28
56 Alex Howes (USA) Team Slipstream                       44.49
57 Cody O'rielly (USA) Kodak Gallery Pro Cycling Team     45.13
58 Jean-Sebastien Perron (Can) Calyon-Litespeed           46.19
59 Matt Guse (Can) Calyon-Litespeed                       48.25
60 Jean-François Racine (Can) Garneau - Crocs             48.28
61 Phil Cortes (Can) Calyon-Litespeed                     49.02
62 Mark Batty (Can) Team R.A.C.E                          50.27
63 Jamie Lamb (Can) Garneau - Crocs                       50.34
64 Ryan Mckenzie (Can) Volkswagen Trek                    51.20
65 Morten Christiansen (Den) Farso Denmark Nat            51.35
66 Adam Thuss (Can) Team R.A.C.E                          51.38
67 Mark Pozniak (Can) Team R.A.C.E                        52.01
68 Dave Vukets (Can) Tean Spin 12                         52.27
69 Peter Ladd (Aus) Garneau - Crocs                       55.07
70 Jesse Athony (USA) Kodak Gallery Pro Cycling Team      55.43
71 Mike Dietrich (USA) Kodak Gallery Pro Cycling Team     56.11
72 Rene Ahrenkiel (Den) Farso Denmark Nat               1.05.25
73 Ryan Beliveau (Can) Calyon-Litespeed                 1.07.21
74 Peter Morse (Can) Tean Spin 12                       1.11.39
75 Charlie Bryer (Can) Tean Spin 12                     1.13.46
76 André Tremblay (Can) Volkswagen Trek                 1.23.38
77 Jeffrey Dirksen (Ned) Team R.A.C.E                   1.25.34
78 Charles Thibault (Can) Eva-Devinci                   1.51.42
 
Points classification
 
1 Glen Alan Chadwick (NZl) Navigators Insurance              44 pts
2 Ben Day (Aus) Navigators Insurance                         42
3 Francois Parisien (Can) Team Slipstream                    39
4 Dominique Rollin (Can) Kodak Gallery Pro Cycling Team      32
5 David O'loughlin (Irl) Navigators Insurance                31
6 Danny Pate (USA) Team Slipstream                           31
7 Svein Tuft (Can) Symmetrics                                29
8 Gregorio Ladino Vega (Col) Tecos Trek Vh                   24
9 Jacob Erker (Can) Symmetrics                               22
10 Hector Hugo Rangel (Mex) Tecos Trek Vh                    20
11 Charles Dionne (Can) Québec                               19
12 Juan Pablo Magallanes Arawda (Mex) Tecos Trek Vh          19
13 Sergey Lagutin (Uzb) Navigators Insurance                 17
14 Timo Honstein (Ger) Team Sparkasse                        16
15 Mark Walters (Can) Kodak Gallery Pro Cycling Team         15
16 Philipp Mamos (Ger) Team Sparkasse                        14
17 Dominique Perras (Can) Québec                             13
18 Cameron Evans (Can) Symmetrics                            12
19 Eric Wohlberg (Can) Symmetrics                            11
20 Greg Reain (Can) Calyon-Litespeed                         10
21 Morten Christiansen (Den) Farso Denmark Nat                9
22 David Pell (Aus) Savings And Loans Cycling Team            5
23 Ryan Mckenzie (Can) Volkswagen Trek                        4
24 Soren Petersen (Den) Farso Denmark Nat                     4
25 Christian Meier (Can) Symmetrics                           4
26 Craig Mccarney (Aus) Savings And Loans Cycling Team        3
27 Ciarán Power (Irl) Navigators Insurance                    3
28 Jacob Nielsen (Den) Farso Denmark Nat                      2
29 Stefan Parinussa (Ger) Team Sparkasse                      2
30 Andreas Schillinger (Ger) Team Sparkasse                   2
31 Dirk Müller (Ger) Team Sparkasse                           2
32 John Fredy Parra Calada (Col) Tecos Trek Vh                2
33 Oleg Grishkin (Rus) Navigators Insurance                   1
 
Teams classification
 
1 Navigators Insurance                                 41.09.48
2 Symmetrics                                               5.06
3 Tecos Trek Vh                                           11.38
4 Kodak Gallery Pro Cycling Team                          24.37
5 Team Slipstream                                         29.16
6 Team Sparkasse                                          30.27
7 Québec                                                  35.33
8 Farso Denmark Nat                                       37.15
9 Savings And Loans Cycling Team                          53.00
10 La_Z_Boy                                             1.00.05
11 Eva-Devinci                                          1.07.04
12 Volkswagen Trek                                      1.42.24
13 Calyon-Litespeed                                     1.46.39
14 Garneau - Crocs                                      2.04.22
15 Team R.A.C.E                                         2.15.09
16 Tean Spin 12                                         3.13.16