Tour of Qinghai Lake - 2.HC
China, July 14-22, 2007
Main Page Results Overall standings Stage Details Previous Stage Next Stage
Stage 4 - July 17: Xihaizhen - Guide, 172.4 km
Heavy rain and one high mountain make for an exciting day
By Mark Gunter
Joerg Ludwig (Team Wiesenhof)
Photo ©: Mark Gunter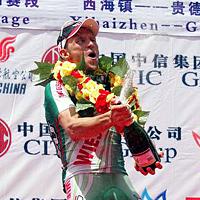 As the lead group raced down the 2km finish straight into Guide today, Joerg Ludewig (Team Wiesenhof Felt) was the strongest. All the riders had just been through horrific conditions as they ascended the 3,880m climb in heavy rain and then descend in even worse conditions to an elevation of 2,212m.
The 172km fourth stage of the Tour of Qinghai Lake presented the first real climb of the tour. The first 50km was a gradual downhill, but by the end of the next 50km, the riders would of reached an elevation of 3,880m, the highest of the Tour this year.
The pace was high right from the get go as an early sprint (at 12.8km) was contested. Team Wiesenhof Felt was after the points and took to the front, but Alex Rasmussen would take the points. As the race contined towards the base of the climb (at 50km), the pace was high and several thwarted break attempts were made before the climbing began.
Three riders broke free at the base of the climb. Clement Lhotellerie (Skil-Shimano) and Stanislav Kozubek (PSK Whirlpool Hradec Kralove) initiated, with Sergio Barbero (Serramenti PVC Diquigiovanni-Selle Italia) following suit soon after.
Then the rain came. By the top, the three escapees were still away, but plenty of action had been happening behind them. The yellow Jersey wearer Allan Davis (Discovery Channel) had fallen of the pace and Perez Mancebo (Relax-GAM) had attacked the group. Over the top, riders trickled through in little groups and as the ascent began the rain fell heavier with claps of thunder echoing down from the peaks around.
As they reached the base of the mountain Clement Lhotellerie (Skil-Shimano) was out on his own. He had about three minutes on a small group of riders that had formed on the descent, and as the weather cleared, he rode for his life through the baron eroded hillsides approaching Guide. He was inevitably caught though just on the outskirts of town. Thousand of spectators lined the 2km finish straight and witnessed Joerg Ludewig (Team Wiesenhof Felt) take the win.
Photography
For a thumbnail gallery of these images, click here
Images by Mark Gunter/www.pbase.com/gunterphotograph
Results
1 Joerg Ludewig (Ger) Team Wiesenhof Felt                                3.52.12 (44.548km/h)
2 Sergio Barbero (Ita) Serramenti PVC Diquigiovanni-Selle Italia                
3 Gabriele Missaglia (Ita) Serramenti PVC Diquigiovanni-Selle Italia            
4 Petr Bencik (Cze) PSK Whirlpool Hradec Kralove                                
5 Daniel Lloyd (GBr) DFL-Cyclingnews-Litespeed                                  
6 Francisco Mancebo Perez (Spa) Relax - Gam                                               
7 Petr Dlask (Cze) Fidea Cycling Team                                           
8 Daniel Fleeman (GBr) DFL-Cyclingnews-Litespeed                                
9 Clément Lhotellerie (Fra) Skil-Shimano                                        
10 Mares Martin (Cze) PSK Whirlpool Hradec Kralove                              
11 Rojo Nacor Burgos (Spa) Relax - Gam                                          
12 Oscar Garcia Casarrubios Pint (Spa) Relax - Gam                              
13 Jorge Perez Fernandez (Spa) Relax - Gam                                      
14 Albert Timmer (Ned) Skil-Shimano                                             
15 Kozubek Stanislav (Cze) PSK Whirlpool Hradec Kralove                     0.03
16 Francisco Jose Terciado Saced (Spa) Relax - Gam                          0.05
17 Juan Pablo Wilches (Col) DFL-Cyclingnews-Litespeed                           
18 Andrle Rene (Cze) PSK Whirlpool Hradec Kralove                           0.47
19 Denys Kostyuk (Ukr) Intel - Action                                       0.48
20 Oleksandr Kvachuk (Ukr) Ukraine National team                                
21 Rhys Pollock (Aus) DFL-Cyclingnews-Litespeed                                 
22 Bartosz Huzarski (Pol) Intel - Action                                    1.04
23 Ma Haijun (Chn) Chinese National team                                    4.35
24 Allan Davis (Aus) Discovery Channel Pro Cycling Team                         
25 Fuyu Li (Chn) Discovery Channel Pro Cycling Team                             
26 Torsten Schmidt (Ger) Team Wiesenhof Felt                                    
27 Kane Oakley (Aus) DFL-Cyclingnews-Litespeed                                  
28 Joaquin Sobrino Martinez (Spa) Relax - Gam                                   
29 Justin Kerr (NZl) New Zealand National team                                  
30 Donato Cannone (Ita) OTC Doors-Lauretana                                     
31 Erwin Vervecken (Bel) Fidea Cycling Team                                     
32 Iranagh Ghader Mizbani (IRI) Giant Asia Racing Team                          
33 Zdenek Stybar (Cze) Fidea Cycling Team                                       
34 Ahad Kazemi Sarai (IRI) Giant Asia Racing Team                               
35 Floris Goesinnen (Ned) Skil-Shimano                                          
36 Mattia Turrina (Ita) Serramenti PVC Diquigiovanni-Selle Italia               
37 Janez Brajkovic (Slo) Discovery Channel Pro Cycling Team                     
38 Volodymyr Zagorodniy (Ukr) OTC Doors-Lauretana                           5.00
39 Hossein Askari (IRI) Giant Asia Racing Team                                  
40 Peter Mcdonald (Aus) FRF Couriers - NSWIS                                    
41 Enrico Rossi (Ita) OTC Doors-Lauretana                                   7.42
42 Antonio Cruz (USA) Discovery Channel Pro Cycling Team                        
43 Jai Crawford (Aus) Giant Asia Racing Team                                    
44 Maksym Rudenko (Ukr) Ukraine National team                                   
45 Krzysztof Miara (Pol) Intel - Action                                         
46 Philippe Schnyder (Swi) Serramenti PVC Diquigiovanni-Selle Italia            
47 David Deroo (Fra) Skil-Shimano                                               
48 Mikhail Antonov (Rus) Russian National team                                  
49 Camussa Piergiorgio (Ita) OTC Doors-Lauretana                                
50 Robert Lyte (Aus) FRF Couriers - NSWIS                                   9.33
51 Sergey Shilov (Rus) Russian National team                                    
52 Marco Bos (Ned) Cyclingteam Jo Piels                                    10.11
53 Alex Candelario (USA) Jelly Belly Cycling Team                               
54 Dong Xiaoyon (Chn) China Marida Team                                    10.14
55 Mikhail Timochine (Rus) Russian National team                                
56 Xu Fang (Chn) Skil-Shimano                                              10.17
57 Liu Bia (Chn) China Marida Team                                              
58 Jose Rafael Martinez Castillo (Spa) Relax - Gam                         10.44
59 Ju Cha (Chn) China Marida Team                                          12.59
60 Egor Korotkov (Rus) Russian National team                                    
61 Peng Kuei Hsiang (Tpe) Giant Asia Racing Team                           13.01
62 Zou Rongxi (Chn) Chinese National team                                       
63 Jempy Drucker (Lux) Fidea Cycling Team                                       
64 Robert Wagner (Ger) Team Wiesenhof Felt                                      
65 Long Jin (Chn) Skil-Shimano                                                  
66 James Meadley (Aus) Jelly Belly Cycling Team                                 
67 Adriaan Helmantel (Ned) Cyclingteam Jo Piels                                 
68 Tomas Buchacek (Cze) PSK Whirlpool Hradec Kralove                            
69 Nick Reistad (USA) Jelly Belly Cycling Team                                  
70 Volodymyr Starchyk (Ukr) Ukraine National team                               
71 Klaas Vantornout (Bel) Fidea Cycling Team                                    
72 Liu Bo (Chn) Chinese National team                                      13.56
73 Wu Shengju (Chn) China Marida Team                                           
74 Wu Kin San (HKg) Hong Kong Pro Cycling                                       
75 Dmytro Novosad (Ukr) Ukraine National team                                   
76 Andr Sheydyk Oleks (Ukr) Ukraine National team                               
77 Michael Faerk Christensen (Den) Denmark National team                        
78 Ji Xitao (Chn) Chinese National team                                         
79 Sergiy Matveyev (Ukr) Ukraine National team                                  
80 Tu Yu (Chn) China Marida Team                                                
81 Blazej Janiaczyk (Pol) Intel - Action                                        
82 Du Chunxia (Chn) China Marida Team                                      14.52
83 Yu Shiji (Chn) China Marida Team                                             
84 Becka Radek (Cze) PSK Whirlpool Hradec Kralove                          18.10
85 Ashley Whitehead (NZl) New Zealand National team                        18.53
86 Andrew Bajadali (USA) Jelly Belly Cycling Team                               
87 Kevin Pauwels (Bel) Fidea Cycling Team                                  19.23
88 Jens-Erik Madsen (Den) Denmark National team                            23.39
89 Lam Kai Tsun (HKg) Hong Kong Pro Cycling                                     
90 Alberto Loddo (Ita) Serramenti PVC Diquigiovanni-Selle Italia                
91 Borghesi Fabio (Ita) Serramenti PVC Diquigiovanni-Selle Italia               
92 Denis Bertolini (Ita) Serramenti PVC Diquigiovanni-Selle Italia              
93 Liu Peng (Chn) Chinese National team                                         
94 Alexander Porsev (Rus) Russian National team                                 
95 Michael Morkov Christiansen (Den) Denmark National team                      
96 Alex Rasmussen (Den) Denmark National team                                   
97 Paul Griffin (IRI) Giant Asia Racing Team                                    
98 Casper Jorgensen (Den) Denmark National team                                 
99 Yuriu Metlushenko (Ukr) Ukraine National team                                
100 Fumiyuki Beppu (Jpn) Discovery Channel Pro Cycling Team                     
101 Martin Velits (Svk) Team Wiesenhof Felt                                     
102 Lukasz Bodnar (Pol) Intel - Action                                          
103 André Schulze (Ger) Team Wiesenhof Felt                                     
104 José Luis Rubiera (Spa) Discovery Channel Pro Cycling Team                  
105 Felix Odebrecht (Ger) Team Wiesenhof Felt                                   
106 Dlouhy Vojtech (Cze) PSK Whirlpool Hradec Kralove                           
107 Matthew Rice (Aus) Jelly Belly Cycling Team                                 
108 Paul Odlin (NZl) New Zealand National team                                  
109 John Devine (USA) Discovery Channel Pro Cycling Team                        
110 Robert Cater (Aus) FRF Couriers - NSWIS                                     
111 Cameron Jennings (Aus) DFL-Cyclingnews-Litespeed                            
112 Gert Vanderaerden (Bel) DFL-Cyclingnews-Litespeed                           
113 Cheng Ji (Chn) Skil-Shimano                                            24.07
114 Peter John Herzig (Aus) FRF Couriers - NSWIS                           25.06
115 Matthew Sillars (NZl) New Zealand National team                             
116 Mart Van Blanken (Ned) Cyclingteam Jo Piels                            27.36
117 Song Baoqing (Chn) Chinese National team                                    
118 Tang Wang Yip (HKg) Hong Kong Pro Cycling                                   
119 Mark Langlands (NZl) New Zealand National team                              
120 Peter Schulting (Ned) Cyclingteam Jo Piels                                  
121 Kristoffer Nielsen (Den) Denmark National team                         28.14
122 Kasper Jebjerg (Den) Denmark National team                             29.05
123 Ryan Connor (IRI) Giant Asia Racing Team                               39.29
124 Brian Dziewa (USA) Jelly Belly Cycling Team                                 
DNF Jason Hegert (Aus) FRF Couriers - NSWIS                                     
DNF Kasper Jebjerg (Den) Denmark National team                                  
DNF Marco Brus (Ned) Cyclingteam Jo Piels                                       
DNF Gijs Brouwer (Ned) Cyclingteam Jo Piels                                     
DNF Geert Van Der Sanden (Ned) Cyclingteam Jo Piels                             
DNF Simone Bruson (Ita) OTC Doors-Lauretana                                     
DNF Diego Genovesi (Ita) OTC Doors-Lauretana                                    
DNF Alberto Di Lorenzo (Ita) OTC Doors-Lauretana                                
DNF Bogdan Bondariew (Ukr) Intel - Action                                       
DNF Marcin Osinski (Pol) Intel - Action                                         
DNF Vasily Khatuntsev (Rus) Russian National team                               
DNF Evgeniy Krivosheev (Rus) Russian National team     

Mountains

1 Sergio Barbero (Ita) Serramenti PVC Diquigiovanni-Selle Italia               9 pts
2 Kozubek Stanislav (Cze) PSK Whirlpool Hradec Kralove                         7
3 Clément Lhotellerie (Fra) Skil-Shimano                                       5
4 Juan Pablo Wilches (Col) DFL-Cyclingnews-Litespeed                           3
5 Albert Timmer (Ned) Skil-Shimano                                             2
6 Francisco Jose Terciado Saced (Spa) Relax - Gam                              1  

Sprints

Sprint 1

1 Alex Rasmussen (Den) Denmark National team                                   5 pts
2 André Schulze (Ger) Team Wiesenhof Felt                                      3
3 Becka Radek (Cze) PSK Whirlpool Hradec Kralove                               1
 
Sprint 2

1 Alex Rasmussen (Den) Denmark National team                                   5 pts
2 André Schulze (Ger) Team Wiesenhof Felt                                      3
3 Robert Wagner (Ger) Team Wiesenhof Felt                                      1

Final Sprint

1 Joerg Ludewig (Ger) Team Wiesenhof Felt                                     16 pts
2 Sergio Barbero (Ita) Serramenti PVC Diquigiovanni-Selle Italia              14
3 Gabriele Missaglia (Ita) Serramenti PVC Diquigiovanni-Selle Italia          13
4 Petr Bencik (Cze) PSK Whirlpool Hradec Kralove                              12
5 Daniel Lloyd (GBr) DFL-Cyclingnews-Litespeed                                11
6 Francisco Mancebo Perez (Spa) Relax - Gam                                   10
7 Petr Dlask (Cze) Fidea Cycling Team                                          9
8 Daniel Fleeman (GBr) DFL-Cyclingnews-Litespeed                               8
9 Clément Lhotellerie (Fra) Skil-Shimano                                       7
10 Mares Martin (Cze) PSK Whirlpool Hradec Kralove                             6
11 Rojo Nacor Burgos (Spa) Relax - Gam                                         5
12 Oscar Garcia Casarrubios Pint (Spa) Relax - Gam                             4
13 Jorge Perez Fernandez (Spa) Relax - Gam                                     3
14 Albert Timmer (Ned) Skil-Shimano                                            2
15 Kozubek Stanislav (Cze) PSK Whirlpool Hradec Kralove                        1

Team

1 Relax-Gam                                                             11.36.36
2 DFL-Cyclingnews-Litespeed                                                 0.03
3 PSK Whirlpool Hradec Kralove                                              0.05
4 Serramenti PVC Diquigiovanni-Selle Italia                                 4.35
5 Skil-Shimano                                                                  
6 Intel - Action                                                            9.10
7 Discovery Channel Pro Cycling Team                                        9.34
8 Fidea Cycling Team                                                       13.45
9 OTC Doors -Laurentana                                                    14.10
10 Giant Asia Racing Team                                                  17.17
11 Ukraine National team                                                   17.36
12 Team Wiesenhof Felt                                                     21.31
13 Russian National team                                                   27.29
14 Jelly Belly Cycling Team                                                31.32
15 Chinese National team                                                   33.30
16 FRF Couriers - NSWIS                                                    36.13
17 China Marida Team                                                       38.12
18 Denmark National team                                                   47.07
19 Cyclingteam Jo Piels                                                    50.48
20 New Zealand National team                                             1.01.14
21 Hong Kong Pro Cycling                                                 1.05.11    

Asian team

1 Giant Asia Racing Team                                                11.50.46
2 Chinese National team                                                    17.22
3 China Marida Team                                                        19.20
4 Hong Kong Pro Cycling                                                    51.01                   
 
General Classification after stage 4

1 Gabriele Missaglia (Ita) Serramenti PVC Diquigiovanni-Selle Italia    14.02.34
2 Daniel Lloyd (GBr) DFL-Cyclingnews-Litespeed                              0.04
3 Francisco Mancebo Perez (Spa) Relax - Gam                                            
4 Francisco Jose Terciado Saced (Spa) Relax - Gam                           0.09
5 Juan Pablo Wilches (Col) DFL-Cyclingnews-Litespeed                            
6 Petr Bencik (Cze) PSK Whirlpool Hradec Kralove                            0.12
7 Albert Timmer (Ned) Skil-Shimano                                          0.18
8 Denys Kostyuk (Ukr) Intel - Action                                        0.46
9 Oleksandr Kvachuk (Ukr) Ukraine National team                             1.00
10 Joerg Ludewig (Ger) Team Wiesenhof Felt                                  3.05
11 Petr Dlask (Cze) Fidea Cycling Team                                      3.07
12 Rojo Nacor Burgos (Spa) Relax - Gam                                          
13 Sergio Barbero (Ita) Serramenti PVC Diquigiovanni-Selle Italia           3.08
14 Mares Martin (Cze) PSK Whirlpool Hradec Kralove                          3.13
15 Clément Lhotellerie (Fra) Skil-Shimano                                   3.15
16 Oscar Garcia Casarrubios Pint (Spa) Relax - Gam                              
17 Jorge Perez Fernandez (Spa) Relax - Gam                                  3.21
18 Daniel Fleeman (GBr) DFL-Cyclingnews-Litespeed                               
19 Kozubek Stanislav (Cze) PSK Whirlpool Hradec Kralove                     3.24
20 Rhys Pollock (Aus) DFL-Cyclingnews-Litespeed                             4.00
21 Andrle Rene (Cze) PSK Whirlpool Hradec Kralove                           4.08
22 Allan Davis (Aus) Discovery Channel Pro Cycling Team                     4.13
23 Bartosz Huzarski (Pol) Intel - Action                                    4.19
24 Floris Goesinnen (Ned) Skil-Shimano                                      4.36
25 Donato Cannone (Ita) OTC Doors-Lauretana                                 4.39
26 Fuyu Li (Chn) Discovery Channel Pro Cycling Team                             
27 Mattia Turrina (Ita) Serramenti PVC Diquigiovanni-Selle Italia           4.47
28 Joaquin Sobrino Martinez (Spa) Relax - Gam                               7.42
29 Ma Haijun (Chn) Chinese National team                                        
30 Erwin Vervecken (Bel) Fidea Cycling Team                                     
31 Janez Brajkovic (Slo) Discovery Channel Pro Cycling Team                     
32 Kane Oakley (Aus) DFL-Cyclingnews-Litespeed                              7.47
33 Zdenek Stybar (Cze) Fidea Cycling Team                                   7.48
34 Camussa Piergiorgio (Ita) OTC Doors-Lauretana                            7.54
35 Iranagh Ghader Mizbani (IRI) Giant Asia Racing Team                      7.56
36 Ahad Kazemi Sarai (IRI) Giant Asia Racing Team                               
37 Peter Mcdonald (Aus) FRF Couriers - NSWIS                                8.07
38 Volodymyr Zagorodniy (Ukr) OTC Doors-Lauretana                           8.21
39 Hossein Askari (IRI) Giant Asia Racing Team                                  
40 Philippe Schnyder (Swi) Serramenti PVC Diquigiovanni-Selle Italia       10.48
41 Torsten Schmidt (Ger) Team Wiesenhof Felt                               10.50
42 Enrico Rossi (Ita) OTC Doors-Lauretana                                  10.55
43 David Deroo (Fra) Skil-Shimano                                               
44 Maksym Rudenko (Ukr) Ukraine National team                                   
45 Antonio Cruz (USA) Discovery Channel Pro Cycling Team                   11.03
46 Jai Crawford (Aus) Giant Asia Racing Team                                    
47 Alex Candelario (USA) Jelly Belly Cycling Team                          13.24
48 Mikhail Timochine (Rus) Russian National team                           13.29
49 Krzysztof Miara (Pol) Intel - Action                                    13.32
50 Jose Rafael Martinez Castillo (Spa) Relax - Gam                         14.05
51 Justin Kerr (NZl) New Zealand National team                             15.57
52 Long Jin (Chn) Skil-Shimano                                             16.08
53 James Meadley (Aus) Jelly Belly Cycling Team                            16.14
54 Nick Reistad (USA) Jelly Belly Cycling Team                             16.19
55 Tomas Buchacek (Cze) PSK Whirlpool Hradec Kralove                       16.22
56 Volodymyr Starchyk (Ukr) Ukraine National team                               
57 Zou Rongxi (Chn) Chinese National team                                       
58 Blazej Janiaczyk (Pol) Intel - Action                                   17.09
59 Wu Kin San (HKg) Hong Kong Pro Cycling                                  17.17
60 Michael Faerk Christensen (Den) Denmark National team                        
61 Dmytro Novosad (Ukr) Ukraine National team                              17.34
62 Sergiy Matveyev (Ukr) Ukraine National team                             17.57
63 Mikhail Antonov (Rus) Russian National team                             18.52
64 Xu Fang (Chn) Skil-Shimano                                              21.31
65 Dong Xiaoyon (Chn) China Marida Team                                    21.32
66 Robert Lyte (Aus) FRF Couriers - NSWIS                                  21.39
67 Marco Bos (Ned) Cyclingteam Jo Piels                                    21.41
68 Andrew Bajadali (USA) Jelly Belly Cycling Team                          22.06
69 Casper Jorgensen (Den) Denmark National team                            23.47
70 Liu Bia (Chn) China Marida Team                                         23.55
71 Ju Cha (Chn) China Marida Team                                          24.21
72 Adriaan Helmantel (Ned) Cyclingteam Jo Piels                            24.31
73 Robert Wagner (Ger) Team Wiesenhof Felt                                 24.42
74 Jempy Drucker (Lux) Fidea Cycling Team                                  25.06
75 Tu Yu (Chn) China Marida Team                                           25.10
76 Klaas Vantornout (Bel) Fidea Cycling Team                               25.13
77 Liu Bo (Chn) Chinese National team                                      25.18
78 Ji Xitao (Chn) Chinese National team                                    25.22
79 Andr Sheydyk Oleks (Ukr) Ukraine National team                          26.04
80 John Devine (USA) Discovery Channel Pro Cycling Team                    26.46
81 Paul Griffin (IRI) Giant Asia Racing Team                               26.54
82 Michael Morkov Christiansen (Den) Denmark National team                 27.00
83 Cheng Ji (Chn) Skil-Shimano                                             27.44
84 Sergey Shilov (Rus) Russian National team                               28.10
85 Peter John Herzig (Aus) FRF Couriers - NSWIS                            29.11
86 Ashley Whitehead (NZl) New Zealand National team                        30.32
87 Kevin Pauwels (Bel) Fidea Cycling Team                                  30.54
88 Tang Wang Yip (HKg) Hong Kong Pro Cycling                               30.57
89 Kristoffer Nielsen (Den) Denmark National team                          31.33
90 Wu Shengju (Chn) China Marida Team                                      32.41
91 Kasper Jebjerg (Den) Denmark National team                              33.36
92 Yu Shiji (Chn) China Marida Team                                        33.58
93 Alex Rasmussen (Den) Denmark National team                              34.47
94 André Schulze (Ger) Team Wiesenhof Felt                                 35.01
95 Lam Kai Tsun (HKg) Hong Kong Pro Cycling                                     
96 Gert Vanderaerden (Bel) DFL-Cyclingnews-Litespeed                       35.05
97 Robert Cater (Aus) FRF Couriers - NSWIS                                      
98 Borghesi Fabio (Ita) Serramenti PVC Diquigiovanni-Selle Italia               
99 Liu Peng (Chn) Chinese National team                                         
100 Cameron Jennings (Aus) DFL-Cyclingnews-Litespeed                       35.07
101 Fumiyuki Beppu (Jpn) Discovery Channel Pro Cycling Team                35.10
102 Denis Bertolini (Ita) Serramenti PVC Diquigiovanni-Selle Italia        35.31
103 Egor Korotkov (Rus) Russian National team                              35.53
104 Peng Kuei Hsiang (Tpe) Giant Asia Racing Team                          35.55
105 Matthew Rice (Aus) Jelly Belly Cycling Team                            36.26
106 José Luis Rubiera (Spa) Discovery Channel Pro Cycling Team             36.36
107 Becka Radek (Cze) PSK Whirlpool Hradec Kralove                         36.54
108 Matthew Sillars (NZl) New Zealand National team                        37.24
109 Song Baoqing (Chn) Chinese National team                               39.20
110 Mart Van Blanken (Ned) Cyclingteam Jo Piels                            39.56
111 Du Chunxia (Chn) China Marida Team                                     42.21
112 Alexander Porsev (Rus) Russian National team                           42.24
113 Alberto Loddo (Ita) Serramenti PVC Diquigiovanni-Selle Italia          46.21
114 Peter Schulting (Ned) Cyclingteam Jo Piels                                  
115 Yuriu Metlushenko (Ukr) Ukraine National team                          46.25
116 Jens-Erik Madsen (Den) Denmark National team                           46.35
117 Mark Langlands (NZl) New Zealand National team                              
118 Paul Odlin (NZl) New Zealand National team                             47.01
119 Dlouhy Vojtech (Cze) PSK Whirlpool Hradec Kralove                      47.08
120 Lukasz Bodnar (Pol) Intel - Action                                     47.44
121 Martin Velits (Svk) Team Wiesenhof Felt                                48.42
122 Felix Odebrecht (Ger) Team Wiesenhof Felt                              49.26
123 Brian Dziewa (USA) Jelly Belly Cycling Team                            51.41
124 Ryan Connor (IRI) Giant Asia Racing Team                             1.00.48

Mountains classification

1 Sergio Barbero (Ita) Serramenti PVC Diquigiovanni-Selle Italia              14 pts
2 Clément Lhotellerie (Fra) Skil-Shimano                                      12
3 Cameron Jennings (Aus) DFL-Cyclingnews-Litespeed                             8
4 Kozubek Stanislav (Cze) PSK Whirlpool Hradec Kralove                         7
5 Albert Timmer (Ned) Skil-Shimano                                             5
6 Peter John Herzig (Aus) FRF Couriers - NSWIS                                 5
7 Juan Pablo Wilches (Col) DFL-Cyclingnews-Litespeed                           4
8 Mikhail Timochine (Rus) Russian National team                                3
9 Paul Odlin (NZl) New Zealand National team                                   3
10 Iranagh Ghader Mizbani (IRI) Giant Asia Racing Team                         2
11 Nick Reistad (USA) Jelly Belly Cycling Team                                 2
12 Francisco Jose Terciado Saced (Spa) Relax - Gam                             1
13 Rhys Pollock (Aus) DFL-Cyclingnews-Litespeed                                1
14 Hossein Askari (IRI) Giant Asia Racing Team                                 1

Points classification

1 Allan Davis (Aus) Discovery Channel Pro Cycling Team                        46 pts
2 André Schulze (Ger) Team Wiesenhof Felt                                     36
3 Alex Rasmussen (Den) Denmark National team                                  33
4 Daniel Lloyd (GBr) DFL-Cyclingnews-Litespeed                                33
5 Denys Kostyuk (Ukr) Intel - Action                                          28
6 Joaquin Sobrino Martinez (Spa) Relax - Gam                                  23
7 Gabriele Missaglia (Ita) Serramenti PVC Diquigiovanni-Selle Italia          22
8 Petr Bencik (Cze) PSK Whirlpool Hradec Kralove                              19
9 Joerg Ludewig (Ger) Team Wiesenhof Felt                                     16
10 Francisco Mancebo Perez (Spa) Relax - Ga                                   16
11 David Deroo (Fra) Skil-Shimano                                             16
12 Sergio Barbero (Ita) Serramenti PVC Diquigiovanni-Selle Italia             15
13 Enrico Rossi (Ita) OTC Doors-Lauretana                                     15
14 Floris Goesinnen (Ned) Skil-Shimano                                        13
15 Petr Dlask (Cze) Fidea Cycling Team                                        13
16 Casper Jorgensen (Den) Denmark National team                               13
17 Alberto Loddo (Ita) Serramenti PVC Diquigiovanni-Selle Italia              13
18 Donato Cannone (Ita) OTC Doors-Lauretana                                   12
19 Erwin Vervecken (Bel) Fidea Cycling Team                                   11
20 Mikhail Timochine (Rus) Russian National team                              10

Asian riders classification

1 Fuyu Li (Chn) Discovery Channel Pro Cycling Team                      14.07.13
2 Ma Haijun (Chn) Chinese National team                                     3.03
3 Iranagh Ghader Mizbani (IRI) Giant Asia Racing Team                       3.17
4 Ahad Kazemi Sarai (IRI) Giant Asia Racing Team                                
5 Hossein Askari (IRI) Giant Asia Racing Team                               3.42
6 Long Jin (Chn) Skil-Shimano                                              11.29
7 Zou Rongxi (Chn) Chinese National team                                   11.43
8 Wu Kin San (HKg) Hong Kong Pro Cycling                                   12.38
9 Xu Fang (Chn) Skil-Shimano                                               16.52
10 Dong Xiaoyon (Chn) China Marida Team                                    16.53
11 Liu Bia (Chn) China Marida Team                                         19.16
12 Ju Cha (Chn) China Marida Team                                          19.42
13 Tu Yu (Chn) China Marida Team                                           20.31
14 Liu Bo (Chn) Chinese National team                                      20.39
15 Ji Xitao (Chn) Chinese National team                                    20.43
16 Paul Griffin (IRI) Giant Asia Racing Team                               22.15
17 Cheng Ji (Chn) Skil-Shimano                                             23.05
18 Tang Wang Yip (HKg) Hong Kong Pro Cycling                               26.18
19 Wu Shengju (Chn) China Marida Team                                      28.02
20 Yu Shiji (Chn) China Marida Team                                        29.19
21 Lam Kai Tsun (HKg) Hong Kong Pro Cycling                                30.22
22 Liu Peng (Chn) Chinese National team                                    30.26
23 Fumiyuki Beppu (Jpn) Discovery Channel Pro Cycling Team                 30.31
24 Peng Kuei Hsiang (Tpe) Giant Asia Racing Team                           31.16
25 Song Baoqing (Chn) Chinese National team                                34.41
26 Du Chunxia (Chn) China Marida Team                                      37.42
 
Team classification

1 Relax-Gam                                                             42.10.57
2 DFL-Cyclingnews-Litespeed                                                 0.05
3 PSK Whirlpool Hradec Kralove                                              3.34
4 Serramenti PVC Diquigiovanni-Selle Italia                                 4.35
5 Skil-Shimano                                                              4.49
6 Intel - Action                                                            6.55
7 Discovery Channel Pro Cycling Team                                       13.45
8 Fidea Cycling Team                                                       15.22
9 OTC Doors -Laurentana                                                    17.23
10 Giant Asia Racing Team                                                  20.52
11 Ukraine National team                                                   24.54
12 Team Wiesenhof Felt                                                     32.31
13 Russian National team                                                   41.58
14 Jelly Belly Cycling Team                                                42.37
15 Chinese National team                                                   46.07
16 FRF Couriers - NSWIS                                                    53.03
17 China Marida Team                                                     1.04.09
18 Denmark National team                                                 1.04.45
19 Cyclingteam Jo Piels                                                  1.13.50
20 New Zealand National team                                             1.18.33
21 Hong Kong Pro Cycling                                                 1.20.00
 
Asian team classification

1 Giant Asia Racing Team                                                42.31.49
2 Chinese National team                                                    25.15
3 China Marida Team                                                        43.17
4 Hong Kong Pro Cycling                                                    59.08