An interview with Enrico Gasparotto, April 7, 2007
Gaspa aces spring exams
Enrico Gasparotto (Liquigas) shows his oncoming form
Photo ©: Sirotti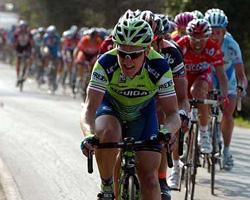 Enrico Gasparotto has passed his spring exams with flying colours. The 25 year-old Italian proved the value of his winter's work with an impressive performance in Tirreno-Adriatico, a solid Milano-Sanremo and forceful showing in an unplanned trip to Belgium. Gregor Brown of Cyclingnews spoke with the Liquigas rider as he prepared for the E3 Prijs, in Harelbeke.
'Gaspa' shot to fame in 2005 with is second professional win, the coveted Italian Championships. At the age of 23 he surprised many when he won the tricolore jersey from a bunch sprint that included the likes of Filippo Pozzato and Mirko Celestino. The cycling press wondered if maybe it was a fluke win by the rider from the Friuli region in North-East Italy, a zone where not many cyclists hail from.
He struggled and failed to achieve another victory in 2005 and was then struck down by mononucleosis. The illness wiped him out for the winter and first half of 2006. He then fought his way back, cumulating with a win in the Memorial Cimurri. The win gave him the confidence and motivation for a winter's worth of hard and effective training.
At this year's Tirreno-Adriatico it became evident that his dedication had paid off and he was finally able to start a season in form. He then raced the Milano-Sanremo before being unexpectedly called to service in Belgium.
"I arrived here in Belgium, which was not initially in the program for me," Gasparotto told Cyclingnews on a sunny Saturday morning in the Flemish part of Belgium. "I was planning on just stopping after Sanremo and then rebuilding for the Giro d'Italia. In fact, tomorrow night, after Brabantse Pijl, I am returning home. So I will only be here for one week: I raced last week in the GP Waregem [Dwars door Vlaanderen], today, tomorrow in the Brabantse Pijl and then basta [enough - ed.]."
"Now I am up with all the strong men, like Tom Boonen."
- Enrico Gasparotto says a strong winter has him in top shape.
Gasparotto was absolutely firing in Dwars. He helped form a key move with 48 kilometres of the finish and then later, on the Hosstraat, he fired off the front to crack the weaker riders. He was joined by Stijn Devolder (Discovery Channel) and Marcus Burghardt (T-Mobile) but the trio did not have enough firepower to hold off the charging Quick-Step squad.
"I went well at Dwars door Vlaanderen. My condition is very good now," he confirmed, a few days after the dust had settled. "I knew at Tirreno that I was going well and then at Sanremo I showed myself. I tried two times to have a go [in Sanremo]. I think I had spent too much energy before but I was happy with how the race turned out and how I performed."
He then revealed a secret: "This has been the first time for me to ever race on the pavé. The other day, at Dwars, was my first race ever on pavé!
'Gaspa' relaxed
Photo ©: Gregor Brown

"It was hard for me," he continued. "I took the Kwaremont too far back and as a consequence I had to put my foot down because the pace became too slow. By the end of Dwars I felt good and, overall, it was a nice race. I could see I was going well back in Tirreno. Many people saw me active on the penultimate stage to San Giacomo [second behind Bono - ed.] but also there was a stage before that were I was going strong, helping and pulling for Filippo Pozzato."
He lined up for the E3 Prijs for a round of training and to help his teammates get positioned for the early escapes. "Today and at the Tour of Flanders I will not be racing, in other words, if there is asphalt I will be there but when there is pavé it is a little too much," he joked. "But tomorrow, Brabantse Pijl, I really want to do well. There is pavé but very little: certainly it is a race for me."
The winter of hard work made Gasparotto happy. He was content to have an off-season with significant amounts of training after being knocked out by mononucleosis the year before.
"This condition is based on a winter of training without any problems," he confirmed. "I was able to put in good training, without being sick, and now I am up with all the strong men, like Tom Boonen."
He was looking forward to the next day's racing at the Brabantse Pijl, near Brussels, a race without so many cobbled bergs. He had said the event would suit him and Gasparotto lived up to his promise for Sunday's race: making the final cut of seven riders. He hooked on to the Michael Boogard express train and started his sprint early knowing the Dutchman's teammate, Oscar Freire, was about ready to launch. He was unfortunately washed away by the three-time Spanish World Champion but left Belgian feeling content.
"After Brabantse Pijl I will take a period of recovery and then rebuild," he explained. "I am planning on doing the Giro del Trentino and the Tour de Romandie before arriving at the Giro d'Italia. I have a training program that should allow me to arrive at the Giro with better condition than with respect to that I have now."
Italian Gsparotto racing
Photo ©: Luc Claessen

Gaspa will line up for his first Corsa Rosa in just over a month, on the island of Sardegna. Team Liquigas rider is behind Danilo Di Luca for the overall, but it will give a certain amount of freedom to its other riders. He sees his best chances of victory in the first seven days.
"The first week of the Giro I will be aiming for a stage, this is the time when I will have the most liberty," he continued in a confident manner. "After that the team will put its efforts behind [Franco] Pellizotti and Di Luca, and so my opportunities will become limited."
After Belgium, Gasparotto returned to his home in Sacile, in the Friuli-Venezia Giulia region, where he has a large fan base. "I will train on my home roads in preparations for the Giro. My fan club is there and it gives me great support," he noted.
"You know that last year I had a hard time and it was also hard on the club," he continued with a wry smile.
The fan club, called Giallo Fans Club, is organizing a party for Gasparotto's arrival in his home region. "Right now it is putting together something for the Giro. It will organize a party on the Monte Zoncolan, the 17th stage of the Giro, which is right near my home, in the Friuli region."
He continued with a proud smile on his face: "And then, the day after, the Giro passes three kilometres from my home."
So, why the name Giallo Fans Club? The Italian explains: "because my of my hair, which is blond or yellow, giallo in Italian. In my school years my nickname was Giallo. All of my friends called me Giallo, it was funny, and the name stuck. In the peloton no one uses this name: instead they use Gaspa."