Recently on Cyclingnews.com
An interview with Tom Boonen, April 14, 2007
Boonen fighting with equal weapons again
It's starting to become something of a tradition, Quick.Step-Innergetic meeting the press in a grubby backroom of the old-fashioned Bar Tabac L'Allumette in Bouvines after their reconnaissance of the Paris-Roubaix cobbles. Brecht DecaluwÚ was there once more for Cyclingnews.
Tom Boonen faces the press.
Photo ©: Brecht DecaluwÚ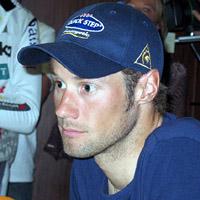 It could be me, but I had the impression things were different this year, although I couldn't figure out what had changed. First of all, there was much more sun, making it feel somewhat like a Tour de France rest day. Probably because of the good weather, there were more local people at the Bar Tabac. And why not pay a visit to cycling's prominent figurehead Tom 'Tornado' Boonen? The Quick.Step riders arrived from their reconnaissance ride, freshened up, and team leader Boonen strolled into L'Allumette.
Last year, Boonen was surprised to see so many people, saying the place was getting too small - journalists responded by saying that he was getting too big. This year, Boonen entered, sat down and looked somewhat bored with yet another press conference on his plate. A journalist asked why riders did the reconnaissance ride and Boonen answered rather tersely: "Only because you guys want us here."
Luckily, for the assembled press at least, Boonen soon livened up, making it an interesting brainstorm session. "Of course it's always interesting to see the new sectors," noted the Belgian. "Sector 13 is very bad, it won't be deciding for the race, it's just bad; they decided to throw some cobbles on the ground there," he added, in his typical ironic style. Manager Wilfried Peeters then explained that there's now less time for riders to recuperate, as in the past this section was ridden on the main road.
"In fact, I would want that there's a train again, because the organisers said they would avoid the crossing but they didn't change the course at all."
-Boonen's humorous take on the prospect of another train incident this year
The weather report for Sunday forecasts 26 degrees in the afternoon and today was a nice preparation for those unseasonably warm conditions. "It was very hot, I drank nine bidons of water; the heat will cause breathing problems and crashes," Boonen predicted.
In a race like Paris-Roubaix, it's hard for the team cars to get to the riders to provide them with water as the roads are always narrow. "Drinking won't be such a problem as we have many people on the course who provide us with bottles," explained Boonen. "For instance, Kevin Van Impe's parents and also mine take shortcuts and await us about 13 times on the course. There's also solidarity within the peloton so you can get a bottle from other team cars as well."
The Quick.Step team rolls in
Photo ©: Brecht DecaluwÚ

On the other hand, the drought results in a different style of racing. "The speeds will be higher as you can go through the corners much faster, keeping the speed high. But if you go fast through eight corners, you can always crash in the ninth because of some gravel. It has been dry for two weeks now, this is the most dangerous thing you can have... there will be many crashes again," the bomb from Balen said.
The former world champion brought up the crashes issue himself - it's been a hot topic since the huge amount of crashes during last Wednesday's Gent-Wevelgem. "Fear in the peloton?" asked Boonen, repeating a journalist's question. "The peloton will never be afraid. I think it's strange that people talk so much about Gent-Wevelgem being such a dangerous race since the Tour of Flanders was crazy as well."
The 26 year-old Belgian crashed early on in Flanders, raising doubts in his mind, and in the end he struggled against the powerful ciclisto from Castelfranco Veneto, Alessandro Ballan. The Italian counter-attacked Boonen on the steepest part of the Muur van Geraardsbergen and blasted to his first win in a Monument. "Nobody felt what I felt during the race... When Ballan passed me my heart sank to my boots. Nevertheless the team was good as I was delivered where I wanted, I was beaten at my best," Boonen said, clearly happy that he wasn't burdened with a serious injury for the remaining Classics.
Boonen and team manager
Photo ©: Brecht DecaluwÚ

"It was a contusion near my wrist (a bruising of skin and underlying tissue) but now I'm without pain, we're fighting with equal weapons again," a battle-ready Boonen said. "Luck will play its part again but I expect Hoste, Cancellara and Ballan in front, although it's hard to pick names with the dry conditions; for sure the strongest men will end up in front."
The Quick.Step selection has undergone a major change compared to the team's roster that failed in the Arenberg Forest last year. Peter Van Petegem is new to the team, just like Tosatto, Rosseler, Weylandt and Steegmans. "What can I say? Peter Van Petegem is the best cobbles rider of the past decade," said Boonen, full of admiration for De Peet. "I've never seen someone ride as fast on the cobbles like him in 2003 when he had punctured and was trying to get back in front; I was in a group with George Hincapie."
The Spring Classics season is almost over for the Belgian and it has been a long run series of intense fights again in Flanders. It's imaginable that there is some sort of decompression after the intensity of the Ronde van Vlaanderen. "Paris-Roubaix is just the same. Now I realise how hard the double (winning Flanders and Roubaix in the same year) has been. It's very hard to be twice on the top of your possibilities in one week," Boonen explained.
Get him! Get him!
Photo ©: Brecht DecaluwÚ

Last year that became obvious when Boonen's light went out deep into the finale near Roubaix. "Still I was fifth, people tend to forget that. And no, I wasn't second, to me I was fifth in that race," Boonen said regarding the results modification after the train barrier incident.
Cyclingnews asked Boonen how he looked back at that crucial moment, a moment which he afterwards said was almost philosophical as he enjoyed the silence, the birds flying around, the passing train... "It's good to notice that Paris-Roubaix is also just another race as even we need to stop for a train. In fact, I would want that there's a train again, because the organisers said they would avoid the crossing but they didn't change the course at all," Boonen smiled ironically. The Belgian was probably thinking about crossing the rail track earlier this time.
Boonen then stepped outside for the TV-interviews, and after doing our work, we stepped back inside the cafÚ to quench our thirst. I still hadn't figured out what had changed this year, but I quickly figured it out after ordering our Belgian beers. The yearly visit from Tom Boonen had resulted in a - probably temporary - increase in price; a journalist's price that is, as I'm sure the regular customers obtained a discount under the desk.