An interview with Leif Hoste, April 15, 2007
Hoste confident, as always
Leif Hoste (Predictor-Lotto) wants his first 'real classic'
Photo ©: Gregor Brown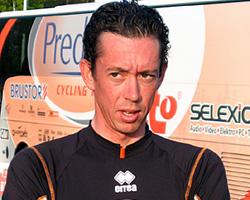 He's been the eternal bridesmaid in some of April's largest races, but this year Leif Hoste will settle for nothing short of victory in the Paris-Roubaix. Cyclingnews' Brecht Decaluwé caught up with the Belgian in Compiègne.
Predictor-Lotto's man for the Spring Classics is Leif Hoste, the Belgian joined the squad this year after spending some years with the Discovery Channel team. Hoste realizes the team expects a lot of him as he was employed to superseed former team leader Peter Van Petegem.
"I'm the team leader but I think I deserve that role, I'll go for it 100 per cent," Hoste declared on the eve of Roubaix. The Belgian wasn't nervous at all, actually he seldom tends to get nervous. "Maybe it'll feel different during the races but I don't think I'll worry too much, except when the team isn't going well either," Hoste said to Cyclingnews back in March. A day before Paris-Roubaix Hoste remains confident, although in the past it has always been close but no cigar for the Belgian. While disappoint to not take victory, his second place in the Ronde van Vlaanderen was reassuring.
"Today I've been very calm all day long, actually I wonder whether that's good or not," Hoste questioned, "I didn't do anything but sleeping today."
"I've been very calm all day long, actually, I wonder whether that's good or not?"
-A confident Hoste jokes about his preperations
Leif Hoste was surprisingly beaten in the Tour of Flanders by Alessandro Ballan, resulting in his third runner-up result in four years at Flanders. With Paris-Roubaix the Belgian also has a love-hate relationship. During the past few years he always performed well, but bad luck kept him away from great results.
Last year he was disqualified after the famous train incident, despite finishing second behind Cancellara, beating Peter Van Petegem and his former teammate Vladimir Gusev. And do your remember the flag incident? While accelerating in the front group a fan removed his flag too slowly getting it into Hoste's wheels, he crashed hard on his chest and was denied a shot a victory.
Frustration in Flanders:
Photo ©: Brecht Decaluwé

For today's race the heat will create dusty conditions, with low visibility and lot's of thirst. "The thirst shouldn't be a problem as we have people at the end of each cobble zone providing us with water bottles," he noted. "I'm more concerned about the dust. I'm wearing contact lenses so I hope they don't cause problems during the race."
Hoste won the 3-days of De Panne last year but is now hoping to take another step forward, by being the first to roll across the finish line in Roubaix. "I learned a lot from Dirk Demol at the Discovery Channel team, mainly to stay cool so if I can do the same like last year I'll be happy, but I hope to win a real classic this year," Hoste said.
Paris-Roubaix is the classic he loves a lot and Hoste is already taking care of his bike. "Just like all Roubaix bikes it has a longer frame and the fork is less steep but as important is to get the ideal air pressure into the sew-up," Hoste said of his Paris-Roubaix preparation. "The wheel basis is longer and there's more space at the rear end to use bigger sew-ups."
Hoste talks to Cyclingnews
Photo ©: Gregor Brown

While the Belgian wont have the special suspension of the Trek-bikes from Discovery Channel he rode last season, he notes that it wont make much of a difference come race time. "Those gadgets don't get you going, it's more important to have good legs", Hoste smiled. Nevertheless the man from Maldegem, Belgium is a freak when it comes down to tune a bike. "I've been adjusting my saddle at least a hundred times since my first training, a bit forward then more to the back again, up and down... it's something I'm really focused on," Hoste said.
Just like Fabian Cancellara, the Belgian is able to pull off a decent time trial. Hoste is the current Belgian TT champion and that was his last win, after claiming the 3-days of De Panne in 2006. He was able to win that race after beating fast men Bernhard Eisel and Gert Steegmans in a three men sprint, finishing them off in the final time trial.
During the winter Hoste had a shy go in a cyclo-cross race in Sint-Niklaas, the sport is extremely popular in Flanders but Hoste isn't so fond of it. "I tried it over there but I wasn't prepared and not in condition," he explained. "The work on the bike went alright but all the technical parts were bad, jumping off the bike, over obstacles and back on the bike isn't my cup of tea. I was forced to pull out of the race with two laps to go."
There's little chance we'll see Hoste jumping off his bike today, instead he will be battling it out with Boonen and Cancellara right to the finish line in Roubaix.