An interview with Bernhard Eisel, April 15, 2007
Eisel: "A lot of possibilities"
T-Mobile's Bernhard Eisel prepares himself
Photo ©: Gregor Brown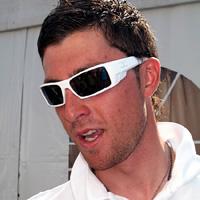 Bernhard Eisel cruised over the cobbles of the 2006 Paris-Roubaix to finish fifth with Française des Jeux. The Austrian is known for his sprinting talents but has also shown he has the nuts and bolts for cranking out a rhythm over Northern Europe's pavé. Cyclingnews' Gregor Brown spoke with the 26 year-old on the eve of the monument.
"I am happy with the weather," said the talkative Eisel, standing under the hot sun in Compiègne, France, the start town for the 105th Paris-Roubaix. Eisel was concentrating on tomorrow's running over the pavé and how the race had been contested in recent editions.
"I have never raced in bad conditions here in the Paris-Roubaix, so I prefer that it is really hot tomorrow," said Eisel, who is riding for German ProTour squad T-Mobile this season.
The weather for the famed Classic isn't always as glorious as the conditions predicted for this year's race. In years past there have been mud-fests, like in 1994 when Andrei Tchmil won or even in 2001, when Eisel's current teammate, Servais Knaven, shot clear to victory.
"I think there will also be a lot of crashes because everyone wants to get on the grassy side paths."
-Eisel is expecting a full-on race
"Tomorrow it will be strange a Roubaix," he noted. "It will be like one long cyclo-cross race because a lot of riders will be off on the side paths and in the grass to avoid the [full brunt] of the cobble sectors."
Eisel was referring to the unusual happenings along the parcours between Compiègne and Roubaix, where riders, seeking the smooth past from points A to B, hop off the 'main' cobbled road and ride along the side walking paths.
"I think there will also be a lot of crashes because everyone wants to get on the grassy side paths and there is not enough space," added the 26 year-old. "Then there are the fans and the cars parked along the side, you have to start dodging these obstacles and it gets precarious. The hot weather will bring out a lot of people to watch the event."
Gert Steegmans (Quickstep-Innergetic) noted the day before how many riders can suffer in the hot and dry temperatures, giving the added dust and Pollen in the air.
"The dust, it makes it hard to breath," explained Eisel. "When I did the reconnaissance yesterday with the team, I started to have problems already after thirty kilometres.
"For sure there are some problems but I think it will be similar to two years ago, in 2005," he continued. "I will have to drink a lot of water but I think it will be fine."
Hammond and Burghardt were successful in Gent-Wevelgem
Photo ©: Sirotti

The Germany-based T-Mobile team has a powerful line-up: along with the 2001 winner Knaven, it has British rider Roger Hammond who finished third in 2004 and in-form Burghardt, recent winner of Gent-Wevelgem. The later pair's spectacular one-two finish in Wevelgem during the week will have undoubtedly lifted the squad's spirits heading into the event.
"We have a lot of responsibilities to show that we are a nice team," said Eisel. "We got Roger Hammond, Servais Knaven, obviously Marcus Burghardt, Eric Baumann, and Lorenzo Bernucci is coming on to form,... everybody. Also, Andreas Klier is also in good shape after his crashes: he was sick before but is now doing better.
"So, overall, I think we have a great team with a lot of possibilities," the enthused Austrian said.
Patrick Lefevere, current team manager of Quickstep, once guided Mapei to a one-two-three podium finish in Roubaix, but despite the magenta team's strength Eisel doesn't think that piece of history will be repeated.
"No, I think those days are over," he concluded.
Either way, we can expect to see a lot form the magenta team at this year's race.