Tales from the team car: Scott Sunderland's Paris Roubaix, April 25, 2007
How the Hell was won
Stuart O'Grady's victory in Paris-Roubaix, arguably the world's toughest one-day bike race, was (quite literally) a monumental achievement for the Aussie and his Team CSC. Team director Scott Sunderland was in charge of the CSC crew for those epic six hours and gave Cyclingnews his thoughts on how the Hell was won.
O'Grady and Sunderland
Photo ©: Sabine Sunderland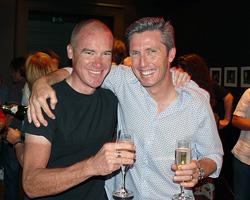 In my third year as team director with the Danish Team CSC it is an incredible experience to see this team victorious in the most unique, epic classic for the second consecutive year. This race is so special because of its intense historical character. In Roman times, the troops of the conquerors were marching across these cobble stone roads, and to me it still brings up the image of gladiators fighting in the arena.
The day before the race, I had actually put the quote I used for years on my diary pages underneath the team's race day schedule. Some of the riders and staff were very moved by that bit of prose. It set the tone for what was to come.
After analysing the Tour of Flanders, the warm weather and windless conditions; and with the same forecast for the Paris-Roubaix weekend I knew it wasn't going to be your usual day in Hell. Also, noticing the comments made by other top favourites, targeting Fabian Cancellara as the man to beat and the pressure he was consequently receiving from the press, I realised that I would have to apply different tactics for this race.
All the other top favourites were going to sit and wait for Fabian to make his move like he did in Tour of Flanders. Fabian took responsibility and lifted all that pressure onto his own shoulders, leaving his team mates in a comfort zone in which they could mentally prepare for the race in peace. To be the absolute favourite for Paris-Roubaix is a heavy load to carry. Fabian had daily interviews with media from all over the world in the days leading up to the race. He could have refused but he's such a nice person and wanted to do his bit for the press and the sponsors. It was demanding and tiring. I realized it was going to prove a burden on the day itself and I knew we would have to play the game differently.
"It was exciting to have Bjarne with me; as the race was getting more intense, so was Bjarne's driving."
-Team CSC's cars took their fair share of punishment on the pavé
The idea of sending Stuart, Matti Breschel, Luke Roberts, Marcus Ljungvist and Alan Johansen up the road proved indeed a winning concept. To have three of these riders in the front was a perfect scenario for us. Stuart was comfortable with the idea of going with such an early break because he knew that this way he would get a much easier ride. Also, for Stuart to go into the first substantial break of the day was something I knew would be best suited to him in the warm conditions which he is so used to.
It really turned out to be a very tactical race. To have a few riders in the front group had more reasons than one. Another factor was that it would put pressure on the teams not represented in that front group. Having Stuart, Matti Breschel and Luke Roberts in the break meant that Stuart and Matti were getting an easier ride in the front as we only had Luke working along with the other teams. That way, after 100km, Stuart and Matti came to the cobblestone sections fresh.
The toast: Scott Sunderland raises his glass
Photo ©: Sabine Sunderland

Being able to be in a small group makes it easier to find a good line to take across the cobbles; there isn't the pressure of fighting for your position in a group of 200 riders. Also, Fabian and Lars Michaelsen were in a more comfortable position in the peloton, as they were not forced to participate in the chase.
Bjarne Riis was with me in the car, he happily was my race driver for the day so I could concentrate on listening to race radio, communicating with the riders, informing them of how long each section of cobbles was and the distance between them; this is very vital to know for eating, drinking and positioning purposes. In the mean time I was constantly receiving text messages from the many people I had strategically placed along the different sections of pavé on the parcours.
It was exciting to have Bjarne with me; as the race was getting more intense, so was Bjarne's driving. Which reminds me; I still have to contact one of my fellow team directors for the insurance claim on his rear bumper and get our team car's head light repaired.
Bjarne did a great job; he got us to where we needed to be at the right moment; and that's no light achievement in Paris-Roubaix. I got nauseous at some points, trying to read and write while being tossed around in the car. But at least, I didn't have to hike home, unlike Marc Madiot, who saw his team car arrive at the velodrome on the back of a truck.
Bjarne Riis
Photo ©: Sabine Sunderland

The dust conditions were extreme. Breathing properly wasn't easy and many riders complained of bad stomachs and painful lungs days after. All the dust they were breathing in, all that crap into the body, man, that can't be healthy! When it's wet and muddy you don't see where the biggest cobbles and holes are; but it's just as bad in the soft sand and soil. It actually proved to be just a slippery as in wet conditions, something one could notice well with different riders crashing the whole day through and especially when Lars Michaelsen crashed in the closing kilometres to the velodrome. It definitely robbed him of his spot next to Stuart on the podium. It would have been a bloody fantastic way to close of his career and his 12th participation in Paris-Roubaix.
Many people asked me why Lars had changed bikes at that point, and if changing bikes was the cause of him crashing. The reason we had his second bike there was well considered. At that time in the race, a poorly working chain or derailleur can make the difference. By giving him a fresh, clean bike, Lars could go into the velodrome confident that his gears would be working fine, and that everything was running smoothly as it should. Unfortunately, as Lars put it himself, he was feeling too good and too strong. Going into that corner at 15km to go, he pushed a little bit too hard and it was fatal. He was really kicking himself afterwards and it took a few beers to rinse away the physical and mental pain and the thought of what could have been.
At different moments during the day, it looked like things weren't going our way. We had a lot technical issues to overcome. On the very first section of cobbles, Luke Roberts punctured (#1), then a few sections later it was Matti Breschel's turn (#2). Luke wasn't able to catch back onto the breakaway group they were in, but Matti put in a huge effort and he got back on.
"Everything went just perfect for us. Sometimes what appears to be a negative point can actually work in your favour in the end"
-Stuart O'Grady's untimely puncture in the Arenberg Forest ultimately worked out well for CSC
As the main peloton hit the cobbles, Marcus Ljungqvist punctured (#3). Just as he got back to the peloton, he punctured again (#4). Luckily for him there was a long section of asphalt following before Arenberg forest so he came back again.
Arenberg forest presented the ultimate challenge of keeping our cool and wits. Firstly, Stuart punctured in the breakaway (#5). As the team car was behind the main group; we couldn't get to him and he had to accept a wheel from the neutral spares. The next thing I hear over the radio: Cancellara flat tyre (#6), followed immediately by Allan Johansen puncturing (#7).
Kasper Klostergard suffered the same ailment the next moment (#8). Marcus went for the triple (#9)... Luckily we had foreseen plenty of staff standing ready with spare wheels as there was no way the team car could give assistance at that point. And if that wasn't enough, Luke Roberts had a rider go down right in front of him. He went up and over, fell heavily onto his hip and that ended Luke's day prematurely.
Anne Marie O'Grady was very proud
Photo ©: Sabine Sunderland

We got through Arenberg. All I could say to the boys was to keep calm, to get organised and not to panic! They were more or less all sitting together so it went considerably fluent to move back up to the front of the peloton. Not even three sections later, Marcus has his fourth puncture (#10 in total) and it eliminated him from the main peloton with Fabian and Stuart for the rest of the day. So you could say things looked grim at certain times. But on such a long and hard day preparation and anticipation pay off.
When Stuart had his flat tyre; it was definitely at the hardest moment of the race, on the Arenberg forest. Although it wasn't the ideal moment for him to puncture out off the front group with a five minute lead, after his wheel change he did get some beneficial 'recuperation' time during which he could eat and drink before he got taken back by the front of the peloton.
The peloton had been chasing at 100% for three sections by that time, that was asking a huge effort from other favourites. So really, when you look at it, everything went just perfect for us. Sometimes what appears to be a negative point can actually work in your favour in the end.
Fabian Cancellara helping to shave Mechanic Kenneth's head.
Photo ©: Sabine Sunderland

Fabian felt the effect of the heat and dry conditions with 35km to go; on top of that everybody was breathing down his neck. He told me he wasn't top. At that moment, with the group in front, Fabian and Stuart had to make their moves! Fabian agreed to give Stuart the go-ahead and Stuart took off and he didn't look back. By the time the other top favourites realized what was going on; they didn't have the legs left to take him back. It was a fantastic solo Stuart rode over the last 25km! An incredible and rewarding win for Stuart, Team CSC and Australia!
For Stuart to win the most beautiful of the Spring Classics, this gruelling and glorifying monument in cycling and sport in general, is an amazing achievement. What he has done since the start of his cycling career, over the last two decades, shows us what a complete rider he is. He is not only a World and Olympic Champion on the track, he is also an accomplished sprinter, he can bloody climb too and now he has perfected his skills in the cobbled classics, it's come full circle for him and I do expect to see more magnificent things.
Looking back on the day, Bjarne and myself were feeling very proud of how the team worked together to achieve this second win. All of the team, the staff and the riders did an excellent job. The more experienced riders; Fabian (Cancellara), Marcus (Ljungqvist), Allan (Johansen), Luke (Roberts) and Lars (Michaelsen) were able to execute the tactics exactly as planned. Kasper (Klostergard) rode his first Paris-Roubaix and has started his own love affair with the cobbles. Matti (Breschel), who was one of the younger riders in the breakaway group finished a very credible and gutsy 14th!
All's well that ends well.
Photography
For a thumbnail gallery of these images, click here
Images by Sabine Sunderland