10th Women's Flèche Wallonne - CDM
Belgium, April 25, 2007
Main Page Results World Cup standings
Vos denies Cooke to win Flèche Wallonne
By Shane Stokes in Huy
Marianne Vos (Team DSB Bank)
Photo ©: AFP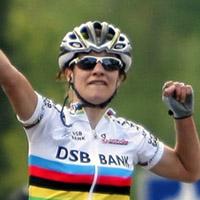 Marianne Vos unleashed a superb sprint to win the world road race title last autumn, and that same kick saw her race to a four second victory in the women's Flèche Wallonne today. She and the main race favourites hit the final climb of the Mur de Huy together, then the prodigious 19 year old DSB Bank rider bided her time on the steep, crowd-thronged wall before kicking for home and becoming the first reigning World Champion to win the event in its ten year history.
Last year's winner Nicole Cooke (Raleigh Lifeforce) just missed out on her goal of becoming the first four-time winner of the race, going early but being overhauled by the Dutchwoman before the line. She finished four seconds back, while T-Mobile's former world champ Judith Arndt was third, a further three seconds down.
Americans Amber Neben (Team Flexipoint) and Kristin Armstrong (USA) were fourth and fifth, with Bigla's Nicole Brandli next home.
"It was a very nice result," she said after the finish. "This was very good. To be first in Flèche Wallonne is a very good feeling. I was close in Vlaanderen and in Drenthe [the Ronde van Vlaanderen and Ronde van Drenthe], taking third twice, and so to get my first win in a World Cup is great.
"This race is special for me. I thought it would be nice with the finish here on Huy and it looks like it is good for me."
She said that it was important to gauge effort accurately on the final climb, especially as it is one of the toughest finishes in cycling. "You have to start in the front on the climb. I was near Arndt and Cooke and Worrack. They are the three riders that I have to watch out for. I stayed calm. Cooke attacked early on the climb but I thought to myself that I have to wait, wait, and then only on the last corner I attacked. I immediately got a few metres and was able to hold it until the line."
Indeed there was no danger of her being caught, Cooke being quickly distanced by the acceleration. She was disappointed not to get a record fourth win in the race, and remains tied with Fabiana Luperini with three wins apiece.
"We were riding for the win but it just didn't work out. Priska [Doppmann] gave me a perfect leadout but Marianne Vos was stronger. I am pleased to be in the World Cup jersey, that is always good, but we were going for the win."
Two triple winners of La Fleche
Photo ©: CJ Farquharson

T-Mobile rider Judith Arndt was second last year, third in 2005 and third again today. Directeur Sportif Anna Wilson described how things worked out for the German. "The riders basically attacked from the bottom. Judith finally managed to catch up to Cooke and Vos with about 250 metres to go, and then she said that Vos just sprinted like it was a flat piece of road. She was already on her limit.
"At the last few races we have been to, Marianne Vos wins whether it is a big bunch sprint or a hill or whatever. So we knew it will be tough to beat her today. We tried to break it up and while the group was small at the bottom of the climb, it was not a small as we would have liked."
World time trial champion Kristin Armstrong was just off the podium in fifth but she said that she was pleased with how things worked out. "The last time I raced here was 2003. I am just coming back off my knee surgery and so I am very happy with my result.
"I had a great team behind me with Rebecca [Larson] and Brooke [Miller] helping to get water bottles. It was a really hot day today. I was really keen to keep hydrated. I think it is a nice showing today from the Americans. We had Amber Neben fourth, and even though she is riding for Flexpoint, she is still American, and I got fifth."
America's Kristin Armstrong (US National Team)
Photo ©: Erik Van Breugel

Like Vos, she said that it was important to meter the finishing effort on the Mur de Huy. "Coming into last kilometre, it is very important to be in the right position so you don't get blocked. I went into the climb probably about tenth position and in the last 300 metres passed a few people and ended up fifth.
"Some people jumped early but I knew what the hill was like. If you go with some of the girls who jump early, you may explode with 500 metres to go. So even though they got in front of me for a little bit, I was okay with that in my head because I knew that you needed something for that last pitch with 300 metres to go."
Like many of the women racing here today, she felt that running the women's race on the same day and course as the men was a big plus. "It is awesome," she enthused. "I love having the women's races here. Women's racing isn't as popular as men's and here we get the fans that the guys have.
"Coming up the last climb with all those people is incredible - it is like a tunnel with all this noise. The encouragement is amazing."
How it unfolded
Suzanne De Goede (T-Mobile)
Photo ©: CJ Farquharson

137 women lined out in Huy for the start of the 10th women's Flèche Wallonne. Lauren Franges (USA) was the only non-starter. The riders were using a modified version of the men's course, fighting it out over the same final 104 kilometre circuit. This would see them scrap it out over eight climbs – the Côte de Pailhe (km 16.5), the Côte de Peu d'Eau (km 38.5), the Côte de Haut-Bois (km 44), the Côte de Thon (km 54), the Côte de Bonneville (km 62), the Côte de Bohissau (km 74), the Côte de Ahin (km 89.5) and the steep wall up to the finish, the Mur de Huy.

The race began at two minutes past twelve and got off to an active start, although the first break of significance did not occur until kilometre 14, when T-Mobile's Kim Anderson went briefly clear. Shortly afterwards, Swiss rider Dolores Maechler-Rupp led the bunch over the top of the Côte de Pailhe. Another T-Mobile rider, former world junior champion Suzanne de Goede, then went on the attack but she was hauled back.

Svetlana Bubnenkova (Fenixs-HPB), Kristin Armstrong (USA) and Andrea Bosman (Team DSB Bank) were first to the top of the second climb, the Côte de Peu d'Eau. The peloton was all together on the Côte de Haut-Bois, while on the next climb Armstrong showed once more that she was climbing well when she was first over the Côte de Thon. From this point, just 50 kilometres remained in the race and the action began to heat up.

Kath Curi (USA) and Miho Oki (Menikini Gysko)
Photo ©: CJ Farquharson

Edwige Pitel (Uniqa) showed well early on during the Côte de Bonneville and bridged across to an attack by Katheryn Curi (USA). This move was neutralised 1 kilometre after the summit, but the USA team were to the fore again when Curi's team-mate Alison Powers was first over the Côte de Bohissau. The penultimate climb, the Côte de Ahin, saw an escalation of the attacks and Chantal Beltman (T-Mobile) and Sara Carrigan (Lotto-Belisol-Ladiesteam) went clear in a dangerous move. With ten kilometres to go they had ten seconds over the chasing bunch, but everything was together by the foot of the final climb.

Eager to land a fourth win, Cooke surged clear with Eva Lutz (Equipe Nurnberger-Versicherung) early on the Mur de Huy. Vos, Neben and Regina Bruins (Netherlands) were able to rejoin, but Cooke went again. Vos was holding back, biding her time, and when she pounced she was able to speed past the treble-champion and write her own name in the history books, as the first reigning world champion to win the Ardennes Classic.
Photography
For a thumbnail gallery of these images, click here
Images by AFP
Images by Erik Van Breugel/www.cyclingmoments.com
Images by Shane Stokes/Cyclingnews
Images by CJ Farquharson/WomensCycling.net
Images by Luc Claessen/www.ctm-images.com
Results - 103.9 km

1 Marianne Vos (Ned) Team DSB Bank                          2.48.05 (37.124 km/h)
2 Nicole Cooke (GBr) Raleigh Lifeforce Pro Cycling Team        0.04
3 Judith Arndt (Ger) T-Mobile Professional Cycling             0.07
4 Amber Neben (USA) Team Flexpoint                             0.15
5 Kristin Armstrong (USA) US National Team                     0.19
6 Nicole Brändli (Swi) Bigla Cycling Team                      0.23
7 Andrea Graus (Aut) Equipe Nürnberger Versicherung                
8 Regina Bruins (Ned) Dutch National Team                      0.27
9 Fabiana Luperini (Ita) Menikini - Gysko                      0.29
10 Eva Lutz (Ger) Equipe Nürnberger Versicherung               0.31
11 Paulina Brzezna (Pol) AA-Drink Cycling Team                 0.35
12 Marina Jaunatre (Fra) Vienne Futuroscope                    0.36
13 Lieselot Decroix (Bel) Lotto - Belisol Ladiesteam           0.37
14 Andrea Bosman (Ned) Team DSB Bank                           0.40
15 Tatiana Guderzo (Ita) AA-Drink Cycling Team                     
16 Svetlana Bubnenkova (Rus) Fenixs - HPB                      0.46
17 Priska Doppmann (Swi) Raleigh Lifeforce Pro Cycling Team    0.50
18 Trixi Worrack (Ger) Equipe Nürnberger Versicherung          0.51
19 Monia Baccaille (Ita) Saccarelli EMU Marsciano              0.54
20 Edita Pucinskaite (Ltu) Equipe Nürnberger Versicherung          
21 Edwige Pitel (Fra) Team Uniqa                                   
22 Susanne Ljungskog (Swe) Team Flexpoint                      0.56
23 Nikki Egyed (Aus) Australian National Team                      
24 Annette Beutler (Swi) Team Flexpoint                            
25 Birgit Hollmann (Ger) Team Getränke-Hoffmann                0.58
26 Hanka Kupfernagel (Ger) German National Team                1.03
27 Lorian Graham (Aus) Australian National Team                1.06
28 Monika Schachl (Aut) Team Uniqa                             1.09
29 Georgina Waibl (NZl) New Zealand National Team                  
30 Sara Carrigan (Aus) Lotto - Belisol Ladiesteam              1.12
31 Karin Thürig (Swi) Raleigh Lifeforce Pro Cycling Team       1.14
32 Irene Van Den Broek (Ned) AA-Drink Cycling Team             1.17
33 Noemi Cantele (Ita) Bigla Cycling Team                          
34 Emma Johansson (Swe) Vlaanderen - Capri Sonne - T Interim       
35 Oenone Wood (Aus) T-Mobile Professional Cycling             1.20
36 Maryline Salvetat (Fra) French National Team                1.27
37 Grace Verbeke (Bel) Lotto - Belisol Ladiesteam              1.35
38 Elisa van Rooy-Vink (Ned) Dutch National Team               1.42
39 Madeleine Sandig (Ger) Team Flexpoint                       1.47
40 Sofie Goor (Bel) Vlaanderen - Capri Sonne - T Interim       1.50
41 Claudia Häusler (Ger) Equipe Nürnberger Versicherung        1.52
42 Dorte Lohse Rasmussen (Den) Menikini - Gysko                2.04
43 Emma Rickards (Aus) Raleigh Lifeforce Pro Cycling Team      2.08
44 Miho Oki (Jpn) Menikini - Gysko                             2.09
45 Joanne Kiesanowski (NZl) Raleigh Lifeforce Pro Cycling Team     
46 Chantal Beltman (Ned) T-Mobile Professional Cycling         2.30
47 Kimberly Anderson (USA) T-Mobile Professional Cycling           
48 Ludivine Henrion (Bel) Team DSB Bank                        6.30
49 Alison Powers (USA) US National Team                        7.09
50 Katheryn Curi (USA) US National Team                        8.01
51 Luise Keller (Ger) Team Flexpoint                           8.07
52 Daiva Tuslaite (Ltu) Lithuanian National Team               8.10
53 Jocelyn Loane (Aus) Australian National Team                    
54 Lada Kozlikova (Cze) Team Uniqa                             8.12
55 Karine Gautard (Fra) Vienne Futuroscope                     8.18
56 Suzanne De Goede (Ned) T-Mobile Professional Cycling            
57 Angelique Saldana (Fra) French National Team                8.23
DNF Veronika Sprügl (Aut) Team Uniqa                               
DNF Reza Hormes - Ravenstijn * (Ned) Dutch National Team           
DNF Moniek Rotmensen (Ned) Dutch National Team                     
DNF Monique Van de Ree (Ned) Dutch National Team                   
DNF Daphny van den Brand (Ned) Dutch National Team                 
DNF Liane Bahler (Ger) Fenixs - HPB                                
DNF Natalia Boyarskaya (Rus) Fenixs - HPB                          
DNF Stefanie Gronow (Ger) Fenixs - HPB                             
DNF Oxana Kozonchuk (Rus) Fenixs - HPB                             
DNF Carissa Wilkes (NZl) New Zealand National Team                 
DNF Serena Sheridan (NZl) New Zealand National Team                
DNF Alexandra Sonteimer (Ger) German National Team                 
DNF Denise Zuckermandel (Ger) German National Team                 
DNF Suzanne van Veen (Ned) Team Flexpoint                          
DNF Loes Sels (Bel) Vlaanderen - Capri Sonne - T Interim           
DNF Evy Van Damme (Bel) Vlaanderen - Capri Sonne - T Interim       
DNF Laure Werner (Bel) Vlaanderen - Capri Sonne - T Interim        
DNF Toni Bradshaw (NZl) New Zealand National Team                  
DNF Michelle Hyland (NZl) New Zealand National Team                
DNF Lorenza Morfin * (Ita) Fenixs - HPB                            
DNF Sarah Grab (Swi) Swiss National Team                           
DNF Agne Miliskeviciute (Ltu) Lithuanian National Team             
DNF Edita Unguryte (Ltu) Lithuanian National Team                  
DNF Sonia Bazire (Fra) Vienne Futuroscope                          
DNF Mélanie Bravard (Fra) Vienne Futuroscope                       
DNF Nathalie Jeuland (Fra) Vienne Futuroscope                      
DNF Emmanuelle Merlot (Fra) Vienne Futuroscope                     
DNF Daniela Pintarelli (Aut) Team Uniqa                            
DNF Bernadette Schober (Aut) Team Uniqa                            
DNF Rasa Leleivyte (Ltu) Lithuanian National Team                  
DNF Urte Juodvalkyte (Ltu) Lithuanian National Team                
DNF Andrea Kuster (Swi) Swiss National Team                        
DNF Dolores Maechler-Rupp (Swi) Swiss National Team                
DNF Karin Steiner (Swi) Swiss National Team                        
DNF Iris Zwahlen (Swi) Swiss National Team                         
DNF Martine Bras (Ned) Lotto - Belisol Ladiesteam                  
DNF Catherine Delfosse (Bel) Lotto - Belisol Ladiesteam            
DNF Kim Schoonbaert * (Bel) Lotto - Belisol Ladiesteam             
DNF Edita Janeliunaite (Ltu) Lithuanian National Team              
DNF Jana Schemmer (Ger) German National Team                       
DNF Lisa Weissenseel (Ger) German National Team                    
DNF Marlen Johrend (Ger) German National Team                      
DNF Sigrid Corneo (Ita) Menikini - Gysko                           
DNF Eneritz Iturriaga Echevarria Mazag (Spa) Menikini - Gysko      
DNF Zoulfia Zabirova (Kaz) Bigla Cycling Team                      
DNF Veronica Andreasson (Swe) Bigla Cycling Team                   
DNF Tanja Hennes (Ger) Bigla Cycling Team                          
DNF Andrea Thürig (Swi) Bigla Cycling Team                         
DNF Katie Brown (Aus) Australian National Team                     
DNF Jenny Macpherson (Aus) Australian National Team                
DNF Hannah Verhaeghe * (Bel) Belgian National Team                 
DNF Carine Potums (Bel) Belgian National Team                      
DNF Adrie Visser (Ned) Team DSB Bank                               
DNF Noortje Tabak (Ned) Team DSB Bank                              
DNF Sanne van Paassen (Ned) Team DSB Bank                          
DNF Alexis Rhodes (Aus) T-Mobile Professional Cycling              
DNF Ine Beyen (Bel) Belgian National Team                          
DNF Lien Beyen (Bel) Belgian National Team                         
DNF Sofie De Vuyst (Bel) Belgian National Team                     
DNF Melissa Flagotier (Bel) Belgian National Team                  
DNF Amanda Spratt (Aus) Australian National Team                   
DNF Modesta Vzesniauskaite (Ltu) Equipe Nürnberger Versicherung    
DNF Nathalie Bates (Ger) Team Getränke-Hoffmann                    
DNF Angela Brodtka (Ger) Team Getränke-Hoffmann                    
DNF Tina Liebig (Ger) Team Getränke-Hoffmann                       
DNF Stephanie Pohl (Ger) Team Getränke-Hoffmann                    
DNF Marllijn Binnendijk (Ned) AA-Drink Cycling Team                
DNF Inge Van Den Broeck (Bel) AA-Drink Cycling Team                
DNF Kirsten Wild * (Ned) AA-Drink Cycling Team                     
DNF Béatrice Thomas (Fra) French National Team                     
DNF Magali Mocquery (Fra) French National Team                     
DNF Lauren Franges (USA) US National Team                          
DNF Rebecca Larson (USA) US National Team                          
DNF Brooke Miller (USA) US National Team                           
DNF Miyoko Karami (Jpn) Saccarelli EMU Marsciano                   
DNF Alice Marmorini (Ita) Saccarelli EMU Marsciano                 
DNF Alessia Quarta (Ita) Saccarelli EMU Marsciano                  
DNF Christelle Ferrier-Bruneau (Fra) French National Team          
DNF Sonia Huguet (Fra) French National Team                        
DNF Sarah Düster (Ger) Raleigh Lifeforce Pro Cycling Team          

World Cup Standings
1 Nicole Cooke (GBr) Raleigh Lifeforce Creation