Ronde van Drenthe - CDM
Netherlands, April 14, 2007
Main Page Results World Cup standings
Visser takes round three
By Laura Weislo
Adrie Visser (DSB Bank) scores an important
Photo ©: CJ Farquharson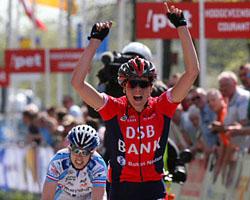 Dutch rider Adrie Visser (Team DSB Bank) won the women's UCI World Cup round three on her home soil, besting Elodie Touffet (Menkini-Gysko) in a two-up sprint. The pair broke away from a leading group of six, which included World Cup leader Nicole Cooke, Visser's team-mate, World Champion Marianne Vos, Suzanne De Goede (T-Mobile) and Loes Markerink (Team Flexpoint). Vos won the sprint for third, and Cooke retained her lead in the overall World Cup standings.
The 23 year-old Visser, a notable track racer with a bronze medal from the scratch race in this year's World Championships, bridged up to the group of her team-mate with Markerink after the last trip up the Vamberg. The pair then left the rest of their breakaway companions behind, and Visser outsprinted the French woman to win her first road World Cup.
On the cobbles: some riders opted
Photo ©: CJ Farquharson

"I hardly realize it right now but I did win a World Cup competition!" Visser told De Telegraaf after the finish. "When we ended up with two riders in the breakaway of six, we had to play it out. It made me feel queasy, because then you have to score, really. But Touffet just seemed to ride for her podium spot and I actually won the sprint easily."
Visser took advantage of excellent form leftover from the track World Championships in Mallorca, but almost left herself without that edge. "Last year, I was thinking about cutting down on the track racing, but I soon realized that I couldn't live without it. Anyway, this victory shows that the combination (of track and road) works well." Her team-mate Vos was happy with her team's win. "It's nice to win yourself, but now I can be happy about my third place and Adrie's victory. We not only planned this nicely as a team, but also put it into practice."
With a strong team on paper, T-Mobile hasn't been able to get things to go their way in Europe so far this season. Team director Anna Wilson confirmed that the team was "a little disappointed" with the outcome. "The team had a good race. Chantal won the cobblestone classification [intermediate sprints at the end of cobbled sectors], and we had five riders in the front group at the finish. The girls all did a great job, but Suzanne just ran out of legs at the finish."
How it unfolded
Race podium (L-R): Marianne Vos (DSB Bank), Adrie Visser (DSB Bank),
Photo ©: CJ Farquharson

The women were treated to a beautiful spring morning at the start in Hoogeveen, with unusually warm temperatures and sunshine making for perfect race conditions. In the first half of the race, there were several intermediate sprints after the cobbled sectors, which made up the 'cobblestone classification'. The cobbles repeatedly split the peloton into several groups, but the bunch regrouped each time on the flat, smooth roads in between.
It wasn't until the race approaced the final climb up the Vamberg that any breakaways were successful. Priska Doppman (Raleigh Lifeforce Creation) attacked before the climb, and was covered by T-Mobile's De Goede, but on the steep grind up the Vamberg, Marianne Vos put in a blistering attack that only Cooke, De Goede and Visser could follow.
When the road leveled out, Touffet and Markerink were able to bridge across to the group, making it six out front: Nicole Cooke (Raleigh Lifeforce Creation), Marianne Vos and Adrie Visser (Team DSB Bank), Suzanne De Goede (T-Mobile), Elodie Touffet (Menkini-Gysko) and Loes Markerink (Team Flexpoint). With numbers in their favor, Team DSB Bank sent Visser on the attack with 2km to go, and Touffet was able to follow, but was beaten in the sprint by Visser.
A hard-charging field caught the remnants of the breakaway just before the line, and Vos was able to hold on long enough to beat T-Mobile's Ina Teutenberg for third place. T-Mobile's Suzanne De Goede held on for fifth ahead of Australian Rochelle Gilmore (Menkini-Gysko) while Cooke faded to seventh.
Photography
For a thumbnail gallery of these images, click here
Images by CJ Farquharson/WomensCycling.net
Images by DCP/Bert Geerts
Results
1 Adrie Visser (Ned) Team DSB Bank                             3.33.47
2 Elodie Touffet (Fra) Menikini-Gysko                                 
3 Marianne Vos (Ned) Team DSB Bank                                0.17
4 Ina Teutenberg (Ger) T-Mobile Team                                  
5 Suzanne De Goede (Ned) T-Mobile Team                                
6 Rochelle Gilmore (Aus) Menikini-Gysko                               
7 Nicole Cooke (GBr) Raleigh Lifeforce Pro Cycling Team               
8 Giorgia Bronzini (Ita) Safi-Pasta Zara Manhattan                    
9 Monia Baccaille (Ita) Saccarelli EMU Marsciano                      
10 Mie Bekker Lacota (Den) Team Flexpoint                             
11 Tanja Hennes (Ger) Bigla Cycling Team                              
12 Kirsten Wild (Ned) AA-Drink Cycling Team                           
13 Ludivine Henrion (Bel) Team DSB Bank                               
14 Brooke Miller (USA) US National Team                               
15 Eleonora Van Dijk (Ned) Vrienden Van Het Platteland                
16 Silvia Parietti (Ita) Team Ista                                    
17 Liesbeth De Vocht (Bel) Lotto-Belisol Ladiesteam                   
18 Moniek Rotmensen (Ned) Vrienden Van Het Platteland                 
19 Annette Beutler (Swi) Team Flexpoint                               
20 Loes Markerink (Ned) Team Flexpoint                                
21 Emma Rickards (Aus) Raleigh Lifeforce Pro Cycling Team             
22 Marlen Jöhrend (Ger) German National Team                          
23 Rasa Leleivyte (Ltu) Lithuanian National Team                      
24 Regina Bruins (Ned) Dutch National Team                            
25 Jaccolien Wallaard (Ned) Vrienden Van Het Platteland               
26 Alessandra D'ettorre (Ita) Saccarelli EMU Marsciano                
27 Lada Kozlikova (Cze) Team Uniqa                                    
28 Loes Gunnewijk (Ned) Team Flexpoint                                
29 Priska Doppmann (Swi) Raleigh Lifeforce Pro Cycling Team           
30 Emma Johansson (Swe) Vlaanderen-Capri Sonne-T Interim              
31 Grace Verbeke (Bel) Lotto-Belisol Ladiesteam                       
32 Kristy Miggels (Ned) Therme Skin Care                              
33 Loes Sels (Bel) Vlaanderen-Capri Sonne-T Interim                   
34 Lorian Graham (Aus) Australian National Team                       
35 Laure Werner (Bel) Vlaanderen-Capri Sonne-T Interim                
36 Andrea Bosman (Ned) Team DSB Bank                                  
37 Joanne Kiesanowski (NZl) Raleigh Lifeforce Pro Cycling Team        
38 Svetlana Bubnenkova (Rus) Fenixs-HPB                               
39 Alice Donadoni (Ita) Team Ista                                     
40 Anita Valen (Nor) Vrienden Van Het Platteland                      
41 Miho Oki (Jpn) Menikini-Gysko                                      
42 Daphny Van Den Brand (Ned) Dutch National Team                     
43 Sarah Düster (Ger) Raleigh Lifeforce Pro Cycling Team              
44 Zoulfia Zabirova (Kaz) Bigla Cycling Team                          
45 An Van Rie (Bel) AA-Drink Cycling Team                             
46 Jocelyn Loane (Aus) Australian National Team                       
47 Theresa Senff (Ger) Team Getränke-Hoffmann                         
48 Stefanie Gronow (Ger) Fenixs-HPB                                   
49 Denise Zuckermandel (Ger) German National Team                     
50 Trixi Worrack (Ger) Equipe Nürnberger Versicherung                 
51 Madeleine Sandig (Ger) Team Flexpoint                              
52 Edita Pucinskaite (Ltu) Equipe Nürnberger Versicherung             
53 Judith Arndt (Ger) T-Mobile Team                                   
54 Regina Schleicher (Ger) Equipe Nürnberger Versicherung             
55 Edwige Pitel (Fra) Team Uniqa                                      
56 Karen Steurs (Bel) AA-Drink Cycling Team                           
57 Kathleen Sterckx (Bel) AA-Drink Cycling Team                       
58 Linda Villumsen Serup (Den) T-Mobile Team                          
59 Diana Ziliute (Ltu) Safi-Pasta Zara Manhattan                      
60 Chantal Beltman (Ned) T-Mobile Team                                
61 Alessandra Borchi (Ita) Safi-Pasta Zara Manhattan                  
62 Karin Thürig (Swi) Raleigh Lifeforce Pro Cycling Team              
63 Kristen Armstrong (USA) US National Team                           
64 Rebecca Larson (USA) US National Team                              
65 Katheryn Curi (USA) US National Team                               
66 Andrea Graus (Aut) Equipe Nürnberger Versicherung                  
67 Noemi Cantele (Ita) Bigla Cycling Team                             
68 Nicole Brändli (Swi) Bigla Cycling Team                            
69 Irene Van Den Broek (Ned) AA-Drink Cycling Team                0.29
70 Sharon Van Essen (Ned) Team DSB Bank                               
71 Alison Powers (USA) US National Team                           3.13
72 Lang Meng (Chn) Giant Pro Cycling Team                             
73 Iris Slappendel (Ned) Team Flexpoint                               
74 Andrea Thürig (Swi) Bigla Cycling Team                         3.33
75 Martina Ruzickova (Cze) ELK Haus                                   
76 Sara Carrigan (Aus) Lotto-Belisol Ladiesteam                       
77 Arenda Grimberg (Ned) Dutch National Team                          
78 Christina Becker (Ger) Team Getränke-Hoffmann                      
79 Eva Lutz (Ger) Equipe Nürnberger Versicherung                      
80 Evy Van Damme (Bel) Vlaanderen-Capri Sonne-T Interim               
81 Roxane Knetemann (Ned) AA-Drink Cycling Team                       
82 Stephanie Pohl (Ger) Team Getränke-Hoffmann                    6.02
83 Leda Cox (GBr) Saccarelli EMU Marsciano                        6.05
84 Daiva Tuslaite (Ltu) S.C. Michela Fanini Record Rox            7.03
85 Grete Treier (Est) S.C. Michela Fanini Record Rox                  
86 Elisabeth Braam (Ned) Therme Skin Care                             
87 Nina Kessler (Ned) Dutch National Team                             
88 Katharina Blum (Ger) ELK Haus                                      
89 Stefanie Degle (Ger) ELK Haus                                      
90 Monika Schachl (Aut) Team Uniqa                                    
91 Yolandi Du Toit (RSA) Lotto-Belisol Ladiesteam                     
92 Urte Juodvalkyte (Ltu) Lithuanian National Team                    
93 Christina Mos (Ned) Team DSB Bank                                  
94 Naiara Telletxea Lopez (Spa) Bizkaia-Panda Software-Durango    7.07
95 Daniela Fusar Poli (Ita) Safi-Pasta Zara Manhattan                 
96 Eneritz Iturriagaechevarria Magaz (Spa) Menikini-Gysko             
97 Liane Bahler (Ger) Fenixs-HPB                                      
98 Tina Liebig (Ger) Team Getränke-Hoffmann                           
99 Sandra Missbach (Ger) Team Getränke-Hoffmann                       
DNF Katherine Bates (Aus) T-Mobile Team                               
DNF Charlotte Becker (Ger) Equipe Nürnberger Versicherung             
DNF Bettina Kuhn (Swi) Bigla Cycling Team                             
DNF Suzie Godart (Lux) Fenixs-HPB                                     
DNF Deborah Mascelli (Ita) Fenixs-HPB                                 
DNF Laura Lorenza Morfin (Mex) Fenixs-HPB                             
DNF Karin Aune (Swe) Menikini-Gysko                                   
DNF Olivia Gollan (Aus) Menikini-Gysko                                
DNF Marta Bastianelli (Ita) Safi-Pasta Zara Manhattan                 
DNF Gintare Gaivenyte (Ltu) Safi-Pasta Zara Manhattan                 
DNF Birgit Hollmann (Ger) Team Getränke-Hoffmann                      
DNF Nathalie Lamborelle (Lux) Team Uniqa                              
DNF Daniela Pintarelli (Aut) Team Uniqa                               
DNF Corinna Kreidl (Aut) Team Uniqa                                   
DNF Miyoko Karami (Jpn) Saccarelli EMU Marsciano                      
DNF Alessia Quarta (Ita) Saccarelli EMU Marsciano                     
DNF Alice Marmorini (Ita) Saccarelli EMU Marsciano                    
DNF Rosane Kirch (Bra) S.C. Michela Fanini Record Rox                 
DNF Annalisa Cucinotta (Ita) S.C. Michela Fanini Record Rox           
DNF Jennifer Fiori (Ita) S.C. Michela Fanini Record Rox               
DNF Sara Mustonen (Swe) S.C. Michela Fanini Record Rox                
DNF Siobhan Dervan (Irl) Lotto-Belisol Ladiesteam                     
DNF Tamara Boyd (NZl) Lotto-Belisol Ladiesteam                        
DNF Debby Mansveld (Ned) Vlaanderen-Capri Sonne-T Interim             
DNF Sharon Van Dromme (Bel) Vlaanderen-Capri Sonne-T Interim          
DNF Meifang Li (Chn) Giant Pro Cycling Team                           
DNF Yong Li Liu (Chn) Giant Pro Cycling Team                          
DNF Xiaoning Gao (Chn) Giant Pro Cycling Team                         
DNF Ping Li (Chn) Giant Pro Cycling Team                              
DNF Fei Wang (Chn) Giant Pro Cycling Team                             
DNF Bertine Spijkerman (Ned) Therme Skin Care                         
DNF Marije Profijt (Ned) Therme Skin Care                             
DNF Rixt Meijer (Ned) Therme Skin Care                                
DNF Jennie Stenerhag (Swe) Therme Skin Care                           
DNF Liesbeth Bakker (Ned) Vrienden Van Het Platteland                 
DNF Yvonne Leezer (Ned) Vrienden Van Het Platteland                   
DNF Iosune Murillo Elkano (Spa) Bizkaia-Panda Software-Durango        
DNF Maitane Telletxea Lopez (Spa) Bizkaia-Panda Software-Durango      
DNF Arantzazu Azpiroz (Spa) Bizkaia-Panda Software-Durango            
DNF Agurtzane Elorriaga (Spa) Bizkaia-Panda Software-Durango          
DNF Nekane Lasa (Spa) Bizkaia-Panda Software-Durango                  
DNF Fabienne Sandig (Ger) German National Team                        
DNF Sabine Fischer (Ger) German National Team                         
DNF Corina Thumm (Ger) German National Team                           
DNF Jana Schemmer (Ger) German National Team                          
DNF Sissy Van Alebeek (Ned) Dutch National Team                       
DNF Yvonne Baltus (Ned) Dutch National Team                           
DNF Sarah Grab (Swi) Swiss National Team                              
DNF Karin Steiner (Swi) Swiss National Team                           
DNF Daniela Della Torre (Swi) Swiss National Team                     
DNF Fabienne Wolfsberger (Swi) Swiss National Team                    
DNF Dolores Rupp (Swi) Swiss National Team                            
DNF Giulia Lazzerini (Ita) Team Ista                                  
DNF Lorena Foresi (Ita) Team Ista                                     
DNF Sara Biondi (Ita) Team Ista                                       
DNF Martina Scoppa (Ita) Team Ista                                    
DNF Lauren Franges (USA) US National Team                             
DNF Amanda Spratt (Aus) Australian National Team                      
DNF Jenny Macpherson (Aus) Australian National Team                   
DNF Usrine Trebaite (Ltu) Lithuanian National Team                    
DNF Edita Janeliunaite (Ltu) Lithuanian National Team                 
DNF Edita Unguryte (Ltu) Lithuanian National Team                     
DNF Lina Skujaite (Ltu) Lithuanian National Team                      
DNF Karin Ruso (Aut) ELK Haus                                         
DNF Katarina Uhlarikova (Svk) ELK Haus                                

World Cup standings
1 Nicole Cooke (GBr)