An interview with Chris Wherry, June 8, 2006
Wherry's extended lease - Part II
In Part I of Mark Zalewski's interview with Chris Wherry they spoke about the reigning USPRO champion's illness and consequent late start to racing in 2006, something this year's Captain America has dealt with well. In Part II of their chat, Wherry speaks about changes to the USPRO Championship, Health Net and his aspirations for this year and beyond with Toyota-United Pro.
Those streets of Philadelphia
Chris Wherry looking good
Photo ©: Jon Devich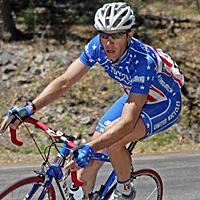 While Wherry is benefiting from the fact that the USPRO is three months later, he's still a little nostalgic about winning it in Philly, which is no longer possible. "It's a race that has a spot in my heart now. It's one of those races I'll always want to do well at. I've had some good rides there in the past, and last year it finally all came together. I do have mixed feelings about the USPRO championship not being [in Philly.] Obviously it means a lot to me to race in Philadelphia now, and I would like to have a good race there on Sunday. But it is also a positive sign that we can have a good American-only championship. That's an indicator that the sport is alive and well here in America."
"I am happy that these guys got Philly together even at the last minute because it is such a great race. It would have been a huge loss to American cycling to lose the week of racing. We already lost San Francisco, and yeah, Tour of California stepped in which is a huge bonus for the early part of the season - but to lose New York and San Francisco...if we'd lost this [Philly] things would have been tough," he says.
With one race of the series down, Wherry believes that having only one ProTour team represented isn't such a bad thing for the racing. "If Lancaster is any indication of what this week will be like, the races seem almost harder to me," he says. "It was so aggressive in Lancaster - constant attacks. I'm sure it's going to be like that on Thursday night, and the race in Philadelphia will force some to conserve because of the distance. I'm sure it will be a more active race than usual."
Wherry expects that the absence of the really dominant teams that can organise a chase will make the race more difficult, both in terms of racing and predicting tactics. "You don't have a lot of big teams out there to control the race, but all these smaller teams with all these factors that you don't always count on," he explains. "So a big group goes up the road and without four or six big teams to get on the front and throttle it back... if CSC wasn't there that break would have gone. This week is almost more open than it has been in a long time. You can't just send guys up the road and expect that a Discovery or some other big European team is going to bring it back."
Health-y rivalry?
Chris Wherry wins
Photo ©: Jon Devich

Lately it seems that the words between two of North America's top teams have been more lively that usual - Chris Wherry's current and former teams. Regarding teammate Tony Cruz's comments after the CSC Invitational, Wherry says that, "That's Tony's opinion; he tells it like he sees it. But I do think it's a healthy rivalry. I think it's good for the sport. Sure, guys get a little hot under the collar, but that's bike racing."
"And it will be good to have the Navigators guys here - we don't always get to race with them because they spend time in Europe, and they're going really well right now. Guys get heated but it usually goes by the wayside the next day or next race. Yeah when Navigators aren't racing here it's Toyota-United and Health Net dominating, but I think a rivalry is just the nature of it right now."
Focus after Philly
Chris Wherry on the podium
Photo ©: Jon Devich

At the end of last season, Wherry, like many riders, changed their usual off-season in order to prepare for the new Tour of California - a tough tour that comes much earlier on the calendar than other races. "I started our training at the end of October last year to get ready for Tour of California," explains Wherry. "I wasn't feeling it and then finally figured out I was sick. Then it was time to get ready for Tour de Georgia - but what I was doing wasn't getting me healthy. Then I finally figured out what to do, but Georgia came and went and there's nothing you can do about it. You can't look back...but now I'm here and healthy."
"I'm going to obviously focus on the stage races and the USPRO championships at the end of the year. I'm going to do the Tour de Nez, maybe Fitchburg before going back for Cascade. Then maybe Altoona followed by Tour of Utah. The team is really torn because there are three really big races that weekend now - with this new Tour of Elk Grove, Manhattan Beach and Tour of Utah. Why the promoters are scheduling it this way is beyond me, but I'm hoping that with all these stage races leading up it will build me into 100% form for USPRO in September," he says.
Another race that could land on Wherry's radar, particularly if he repeats on Sunday or at the USPRO Championship, is the world championship road race. "They asked me if I wanted to go last year. But I didn't because of the timing. We finished San Francisco and had like three weeks until the world's. It's so hard to be motivated at that time of year - to go out and train that hard and fast for a one day race three weeks later," he says, before explaining that, "I just chose to not do it, took an earlier break and got ready for Tour of California. Didn't really work out that way! [he laughs] I think world's is a little earlier this year, so we'll see. If I have incredible form after the USPRO championships maybe I'll want to go."
Long-term with Toyota
Chris Wherry has regained his strength
Photo ©: Jon Devich

Even though all the riders are on one-year contracts with the team, due in part to Toyota coming on later as a title sponsor, Wherry is excited about the prospects of continuing for multiple years. "The team is really happy with all of the riders, especially with the success so far," says Wherry. "It sometimes looks like a one man show from the outside with J.J. being such a dominant sprinter, but the whole team is riding well this year; Chris Baldwin has won stage races and other guys are winning too."
Another indication of the team's success is the role the team takes in many races. "People are putting us into the leadership role in races and we are stepping up to the challenge. For the future I don't see a whole lot of changes. I'm happy here - the management is awesome, the sponsors are great and everyone on the team gets along really well. We have a great time on the road. We're always laughing and joking around...I just see great things in the future.
Two parent house
Riding in Lancaster
Photo ©: Todd Leister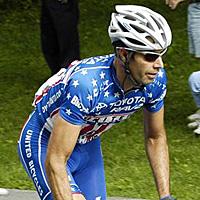 An interesting aspect of the Toyota-Untied Pro team is the dynamic duo that is the tactical brain trust - team directors Frankie Andreau and Harm Jansen. Both former racers, Wherry explains that they bring completely different styles of directing to the table. "It's actually a really cool situation. Obviously they are really talented ex-riders and are really experienced."
"Harm is incredibly analytical. He sends out spreadsheets to all of us that we have to spend an hour just to figure out what it means! But he analyses everything - the races, courses, riders and what he thinks is the best situation for us. Then Frankie has more of the old school European style that is totally different. Frankie is like, 'Yep, let's go out and ride', while Harm is saying, "We need to do this, this and this.' It's good to put the two together."
Ok, but who is the better caravan driver? "Ha, I don't know, I try to stay out of the caravan!" says Wherry with a laugh. "With those two, you could sit them down in a room and they would fight about it for days! Both of them I think are kind of crazy. Harm usually drives the car like he used to race a bike - very jumpy, in and out of everyone. And Frankie just likes to drive fast without stopping for stop signs."
With a sponsor in Toyota, one would expect the team to have a few vehicles with them at races. But more than a few riders have commented to Wherry that it looks more like a fleet of cars, including a very imposing team bus. "We do have a fleet with us! Part of it is the expo area that we bring to races. We have one Rav that just sits in a trailer for that purpose. I don't think it has more than a hundred miles on it. Then you need vehicles to pull those trailers and the mechanics' trailer."
Back to the bus, however, and Wherry cites this as a prime example of the team's management style. "The bus is awesome! We are really happy that Sean Tucker has done all of this as big as he has. He really wanted to change the sport and he has done it in our minds; cyclists have usually fought for every penny in this country. He said we are going to get a big sponsor, set up this whole organisation, get members and have all this stuff. He knows, coming from racing himself, that a happy rider is a good rider. Yeah, the bus is a luxury but we really take advantage of it. And it's a great image for the team and company. There is no doubt people notice when we roll into town!"