Recently on Cyclingnews.com
Wachovia Cycling Series
USA, May 31-June 5, 2005
Wachovia series culminates with USPRO crown
Francisco Ventoso (Prodir-Saunier Duval) wins the USPRO race in 2004
Photo ©: Jon Devich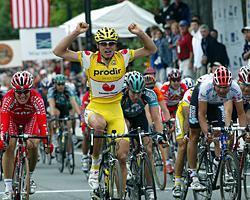 This year's Wachovia Cycling Series will once again see some of the best cyclists in the world tackle 336 miles of twists, turns, and speeding straight-aways through Lancaster, Trenton, and Philadelphia. The Wachovia Cycling Series is the most prestigious cycling event in America and has become a Philadelphia tradition. It's a week full of sun (well, usually), smiles and serious competition, with three men's races, one women's race, and the crowning of the US Professional Road Champion.
The race series kicks off with men's pro road race in Lancaster on May 31, followed by Trenton on June 2, and culminates in the 21st annual Wachovia USPRO Championship in Philadelphia on June 5, featuring 200 men and which includes the 11th annual women's Wachovia Liberty Classic.
Featuring top international and U.S. cyclists on a seven-mile rolling circuit, the Wachovia Cycling Series Lancaster race will showcase professional athletes riding 13 laps, a total of 91 miles, through Lancaster's streets and Rockford Park. The Lancaster course is fast-paced with short hills and turns where racers reach speeds of 30 mph. Racing starts at 4:30 p.m. on Tuesday, May 31.
The Wachovia Cycling Series Trenton race is known as one of the fastest races in the world. World-class riders compete on a 6.5-mile circuit for 14 laps, a total of 91 miles. The race provides high drama for spectators as the field strings out and crosses the Start/Finish line in both directions on each lap. The race starts in front of the New Jersey State Museum on State Street at 4:30 p.m. on Thursday, June 2nd.
More than 165 elite international women cyclists will compete on June 5th in the 12th annual Wachovia Liberty Classic, the world's richest single-day women's event. The race consists of four laps of the 14.4-mile Championship circuit through Philadelphia with steep climbs up the grueling Manayunk Wall. Female cyclists will depart ten minutes after the start of the men's Wachovia USPRO Championship on the Benjamin Franklin Parkway.
2004 USPRO champion Fred Rodriguez
Photo ©: Jon Devich

Now in its 21st year, the Wachovia USPRO Championship is the longest-running and richest single-day cycling race in the U.S. On Sunday, June 5, at 9 a.m., the best professional cyclists will take to the streets of Philadelphia, in front of more than 500,000 spectators. Riders will race down the Benjamin Franklin Parkway, on to Kelly Drive and through Manayunk, a total of ten times and 156 miles, to determine who will be the 2005 US Professional Road Champion.