Tour de Langkawi Cycling News for February 2, 2006
Edited by Anthony Tan
A new lease of life for Wiesenhof
By Anthony Tan in Kuala Lumpur
Wiesenhof Akud
Photo ©: Shane Goss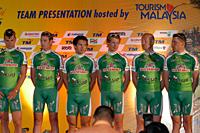 The only German-based Pro Continental team this year, Team Wiesenhof Akud may not rival T-Mobile or Gerolsteiner in terms of budget or star riders, but its role in the development of German cycling is just as important.
"If there were five [Pro Continental teams], okay, that's not so good, but with two ProTour teams and one team like Wisenhof, we have no problems and we get a lot of starts," said team captain and professional of 14 years, Torsten Schmidt. "This season, we started with Qatar and Malaysia that are both good, and our program continues to be good afterwards."
After six years with Gerolsteiner, the 33 year-old Schmidt told Cyclingnews the day before the start of the TM Le Tour de Langkawi that "it was time to change jerseys to get new motivation". "I liked the idea of building up a team with Jens Heppner and Raphael Schweda. The change of management was sign of a good change, and a change of target for the future."
Wiesenhof is using both the Tour of Qatar and Tour de Langkawi as preparation events for a racing season predominantly spent in Germany, with their major objectives being the Deutschland Tour and HEW-Cyclasics ProTour races. Coming from a frosty European winter, where temperatures in Germany reached minus 15 degrees, Schmidt admits neither team are at their best, but their six riders in Malaysia - Steffen Radochla, Marcel Sieberg, Corey Sweet, Lubor Tesar, Gerhard Wackernagel and Schmidt - arrived five days before the race start to at least be competitive.
Torsten Schmidt (Wiesenhof Akud)
Photo ©: Shane Goss

"All of us six riders, we start the season here and it's a really good nine days for us to get in shape. But we're not in the same shape as some teams from South Africa and the Asian teams, who are now at the top of their form.
"It's good race kilometres with the hot weather and one day we will show Steffen Radochla - he's a very good sprinter and he was with Festina and Illes Baleares before. Here he will get his chance; there are a lot of flat stages, so we have a lot of chances to bring him in front," he said.
As well as showing the younger riders the ropes, Schmidt still has ambitions of his own: "It's good to show the young riders what experience means, and I like to work like that, but in the German races I have shown I can finish in the first five or three, and I think I can go on at this level."
With directeur-sportif Heppner, who ended a fifteen-year career with Wiesenhof after eleven seasons with the Team Telekom, and team manager Schweda, who raced for Bianchi in 2003 with Jan Ullrich, there's certainly no lack of management experience. And together with Schmidt as team captain, the hiring of these old hands suggests bigger plans are in store for Wiesenhof Akud.
Raisin' hell in Malaysia
By Anthony Tan in Kuala Lumpur
Saul Raisin (Credit Agricole)
Photo ©: Shane Goss

Well not quite, according to the mild-mannered 23 year-old American with Credit Agricole, even though that's what stitched around the heel of his custom-made Rocket7 shoes.
2006 marks Saul Raisin's second trip to the tropics to contest the Le Tour de Langkawi, the second-year professional appearing to cope quite well in the heat after coming back from a training ride midday Thursday. "Oh, it's like home in Georgia!" he smiled.
"Summer in Georgia, the hottest days we have are like this, so it's just like home," said Raisin, whose attention suddenly turned to the imposing Shah Alam mosque directly across the road, where prayers could be heard inside the hotel. "Well, sort of... "
Raisin' Hell
Photo ©: Shane Goss
Asked what condition he's come to the race in, the mountains winner from the 2005 Tour de l'Avenir said he's not quite sure, even though he feels better prepared than before. "Compared to last year, I'm stronger. I'm older, I've got a year of racing in Europe - so I think I'm coming here better than I was last year, but how much better, that's a good question. I haven't tested myself on any climbs, so we'll have to find out."
Straight after the conclusion of the race, Raisin and his Credit Agricole team of three years (he was an espoir in his first year) fly out to race the inaugural Tour of California. However, he's not expecting anything huge there, either, as the season's first Grand Tour is top of mind.
"This year my objective is the Giro, so I'm going to try and reserve everything till the Giro. I want to do well in all my races, but I just have to use the form I have and see how far I can take it," he said.
Photography from the teams presentation
For a thumbnail gallery of these images, click here
Images by Shane Goss/www.licoricegallery.com
(All rights reserved/Copyright Knapp Communications Pty Limited 2006)