Tour of California - 2.1
USA, February 19-26, 2006
Main Page Results Overall standings Stage Details Live report Previous Stage Next Stage
Stage 1 - February 20: Sausalito to Santa Rosa, 129.1km
Homecoming for Leipheimer, Haedo Wins Big
Levi retains overall lead as new team notches big first win
by Mark Zalewski, North American Editor in Santa Rosa
Juan Jose Haedo (Toyota-United Pro)
Photo ©: Jon Devich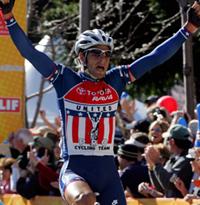 Levi Leipheimer (Gerolstenier) was emotional on the podium today - understandably, as he rode into his hometown wearing the leader's jersey. Even better, he got to keep it as a field sprint culminated the short but hilly 129km course with Juan Jose Haedo (Toyota-United) taking the top prize. "I think the guys had to work pretty hard," Leipheimer said after the race. "It was pretty fast, a lot of attacks at the end and of course the circuits are pretty difficult. They did a great job. It wasn't a long stage but they had to ride pretty fast. I won the prologue, but they made it possible for me to wear the leader's jersey in my hometown."
Haedo was quite excited, as he took the first win for his newly created team, as well as the sprinter's jersey. "I won a couple of big races last year, but I guess this is a bigger one. And it's the first win for the Toyota-United team, our second race of the year. I almost crashed with two to go. I just went for it. I think I went a little too long, but I felt it was the moment to go. I am so happy and I want to thank all of the guys." His sprint win was even more impressive as he easily put a three bike-length gap between him and second place Stuart O'Grady (CSC). "It was pretty chaotic," O'Grady said of the finishing circuits. "We just tried to keep up at the front, out of the carnage. Just under a kilometre to go it got a little bit messy, but I was pretty well placed. Next thing you know this guy [Haedo] is taking five lengths out of us."
Leipheimer was feeling good most of the day, both because his team was defending the lead well and because there were fans lining most of the race route. "The whole day today, there were fans along the road," Leipheimer said. "We didn't go five hundred meters without somebody cheering us on. We took off out of Sausalito and climbed over to the coast - there was a moment when the peloton took a break and it was beautiful." Yet Levi was more interested in retaining his lead as he rode home. "We defended [Tour of Germany] for six days - from that, the team takes experience," Leipheimer explained. "Everyone who is here has experience defending the lead. From what I saw of my team today, they were as motivated as I am. They saw how much I want to win the overall, and to come into my hometown. They know what that is like for a rider, and they were fantastic."
Sven Kraus (Gerolsteiner)
Photo ©: Jon Devich

The Gerolsteiner team has its work cut out for it tomorrow, as Levi is surrounded by multiple CSC and Discovery Channel riders with the race headed into a tough stage two with a critical climb only thirty kilometers from the finish. "The big question is what happens before the climb, with teams attacking," Leipheimer said. "If we get to the climb then everything is within reach. Hopefully we can get it down to a small group and race it as a time trial." Regarding feeling a little lonely at the top, Leipheimer said, "It doesn't worry me - it's the situation we're in and we can't change it. We'll do the best with what we have. I'm the one leading the race and they have to attack us - they have to go on the offense."
How it unfolded
The riders were greeted with mild temperatures and a rare sunny day across the bay from San Francisco, on the pier in Sausalito. But the smiles soon turned upside down after the neutral section when the road twisted and turned steeply on the way to the coast. Gerolsteiner assumed its role at the front with the leader's jersey. Once over the top the views of the Pacific ocean were simply breathtaking, and the speed slowed - partially for the riders to enjoy and because the descent to the coast was fraught with dangerous curves and sections of road slipping away. "The sections that were rough and dangerous were pretty well marked," CSC's O'Grady said. "I think everyone was pretty alert. For many of us it's the first time racing over here, and didn't know what to expect, so you are extra alert."
Chris Horner (Davitamon-Lotto)
Photo ©: Jon Devich

After the field felt comfortable, Credit Agricole's Jean Marc Marino initiated the main break of the day, and was quickly joined by Jackson Stewart (Kodakgallery.Com-Sierra Nevada). "Our team discussed how it was going to play out today," said Stewart. "Marino established the move, and I was just waiting and jumped on." These two rode for nearly sixty-five kilometers, along rolling terrain with only one major climb. "It wasn't incredibly hard - the weather was nice," Stewart said. "We were really smooth, and then he turned it up towards the end, once we saw three minutes. At first I was trying to save some, but then at the end I really didn't have that much."
Their lead ballooned to more than three minutes at one point, but then quickly fell as Discovery Channel's Vladmir Gusev and Jason McCartney drove the pace off the front of the field. From here the break was doomed, and the two were caught with Santa Rosa, with its three finishing circuits, in sight.
As the field entered the city the speed was quite high, led by Gerolsteiner. Thousands of people lined the entire course and were even hanging off of a four-story parking deck overlooking the finish. "The circuits were just packed, with people even hanging out of the parking garage," Leipheimer said. But the field did not have time to enjoy the atmosphere too much as the circuits included fourteen turns - many at ninety degrees and one more than 100.
Being a native, Leipheimer took advantage of the home court' and used his pre-race scouting to its fullest. '"I saw this circuit months ago and knew it was going to be technical, fast and a big battle," Leipheimer explained. "I just made sure I was always in the top ten - I was following David Kopp and Rene Haselbacher - for a finish like this they are really good."
Levi Leipheimer (Gerolsteiner)
Photo ©: Jon Devich
As the laps clicked off Gerolsteiner was challenged at the front by Phonak, CSC and Health Net-Maxxis riders. Health Net-Maxxis' sprinter Gord Fraser suffered an unlucky flat on the second lap and teammate Mike Sayers jumped on the front to slow the pace. The pace did change quite a lot with the field moving from single-file to curb-to-curb multiple times. Finally, Davitamon-Lotto put six riders on the front to set-up Fred Rodriguez.
After the final left turn at 800 meters, the road dipped down and up under a bridge before the straight shot to the finish. "It was really, really messy," said Haedo. "It wasn't that fast so people came around and you lost your teammates. I was on my own, but it worked out pretty good. The last 800 meters I took the front. Stuart O'Grady went with 300 meters to go, then I jumped on him." After that, Haedo flew by everyone and had enough time to put his arms in the air, look around and enjoy his team's first win - and probably his biggest. "It is different for sure, with nine Pro Tour teams here," Haedo said. "I can't say I wasn't surprised. But at the same time I worked hard through the winter to be here in shape."
Leipheimer was ecstatic that he could ride into his hometown wearing the leader's jersey for what is arguably America's biggest race. "I've been dreaming for months; training the whole winter, every day, thinking about the possibility of winning the prologue and bringing the yellow jersey into my hometown; and then to actually realise that dream is something I can't describe," said the Gerolsteiner rider. "It's an amazing feeling. I got reports last night that they were expecting 50,000 people today and [thought] well, that's maybe a little bit much. But I think you saw today that was at least as many people out there. It was very impressive to see the support for the race and for me. I'm overwhelmed and very grateful," he added.
The bunch
Photo ©: Jon Devich

Tomorrow the race hits a few tough climbs - a category four and a category one - as well as two intermediate sprints. "I think we are going to need some help tomorrow, which will come," Levi predicted. "But it's going to be a hard day."
Photography
For a thumbnail gallery of these images, click here
Images by Jonathan Devich/epicimages.us
Images by Mitch Friedman/www.mitchophoto.com
Images by Mark Zalewski/Cyclingnews.com
Images by David Wood
Images by Beth Seliga/

Images by Seng Chen
Results
1 Juan José Haedo (Arg) Toyota-United Pro                         3.14.13 (39.88km/h)
2 Olaf Pollack (Ger) T-Mobile Team                                       
3 Stuart O'Grady (Aus) Team CSC                                          
4 Charles Bradley Huff (USA) Team TIAA-CREF                              
5 George Hincapie (USA) Discovery Channel                                
6 Viktor Rapinski (Blr) Colavita Olive Oil-Sutter Home Wines             
7 René Haselbacher (Aut) Gerolsteiner                                    
8 Martin Elmiger (Swi) Phonak Hearing Systems                            
9 Antonio Cruz (USA) Toyota-United Pro                                   
10 Bobby Julich (USA) Team CSC                                           
11 Mike Sayers (USA) Health Net p/b Maxxis                               
12 Alex Candelario (USA) Jelly Belly                                     
13 Charles Dionne (Can) Saunier Duval-Prodir                             
14 Mark McCormack (USA) Colavita Olive Oil-Sutter Home Wines             
15 Vladimir Gusev (Rus) Discovery Channel                                
16 Kyle Wamsley (USA) Colavita Olive Oil-Sutter Home Wines               
17 Alexandre Moos (Swi) Phonak Hearing Systems                           
18 Scott Davis (Aus) T-Mobile Team                                       
19 André Greipel (Ger) T-Mobile Team                                     
20 Hayden Roulston (NZl) Health Net p/b Maxxis                           
21 Valery Kobzarenko (Ukr) Navigators Insurance                          
22 Levi Leipheimer (USA) Gerolsteiner                                    
23 Matthew Rice (Aus) Jelly Belly                                        
24 Christopher Horner (USA) Davitamon-Lotto                              
25 Michael Barry (Can) Discovery Channel                                 
26 Danny Pate (USA) Team TIAA-CREF                                       
27 Paolo Savoldelli (Ita) Discovery Channel                              
28 David Zabriskie (USA) Team CSC                                        
29 Cadel Evans (Aus) Davitamon-Lotto                                     
30 Bastiaan Giling (Ned) T-Mobile Team                                   
31 Nicolas Jalabert (Fra) Phonak Hearing Systems                         
32 Michael Friedman (USA) Team TIAA-CREF                                 
33 Ben Jacques-Maynes (USA) Kodakgallery.Com-Sierra Nevada               
34 David Kopp (Ger) Gerolsteiner                                         
35 Sébastien Portal (Fra) Credit Agricole                                
36 Thomas Danielson (USA) Discovery Channel                              
37 Fausto Esparza (Mex) KB Home Mexican National Team                    
38 Jens Voigt (Ger) Team CSC                                             
39 André Korff (Ger) T-Mobile Team                                       
40 Christian Vandevelde (USA) Team CSC                                   
41 Janez Brajkovic (Slo) Discovery Channel                               
42 Tyler Wren (USA) Colavita Olive Oil-Sutter Home Wines                 
43 Dominique Perras (Can) Kodakgallery.Com-Sierra Nevada                 
44 Michael Rogers (Aus) T-Mobile Team                                    
45 Gordon Fraser (Can) Health Net p/b Maxxis                             
46 Koldo Gil Perez (Spa) Saunier Duval-Prodir                            
47 Saul Raisin (USA) Credit Agricole                                     
48 Brice Jones (USA) Jelly Belly                                         
49 Miguel Angel Martin Perdiguero (Spa) Phonak Hearing Systems           
50 Floyd Landis (USA) Phonak Hearing Systems                             
51 Taylor Tolleson (USA) Team TIAA-CREF                                  
52 Rémi Pauriol (Fra) Credit Agricole                                    
53 Kilian Patour (Fra) Credit Agricole                                   
54 Viatcheslav Ekimov (Rus) Discovery Channel                            
55 Mads Kaggestad (Nor) Credit Agricole                                  
56 Lars Ytting Bak (Den) Team CSC                                        
57 Jason McCartney (USA) Discovery Channel                               
58 Andrew Bajadali (USA) Jelly Belly                                     
59 Pieter Mertens (Bel) Davitamon-Lotto                                  
60 Bernhard Kohl (Aut) T-Mobile Team                                     
61 Mark Walters (Can) Navigators Insurance                               
62 Robert Hunter (RSA) Phonak Hearing Systems                            
63 Torsten Hiekmann (Ger) Gerolsteiner                                   
64 Martin Gilbert (Can) Kodakgallery.Com-Sierra Nevada                   
65 Jonathan Patrick Mc Carty (USA) Phonak Hearing Systems                
66 Timothy Johnson (USA) Health Net p/b Maxxis                           
67 Mariano Friedick (USA) Toyota-United Pro                              
68 Justin England (USA) Toyota-United Pro                                
69 Nick Reistad (USA) Jelly Belly                                        
70 Frantisek Rabon (Cze) T-Mobile Team                                   
71 Phil Zajicek (USA) Navigators Insurance                               
72 Zachary Grabowski (USA) Colavita Olive Oil-Sutter Home Wines          
73 Karsten Kroon (Ned) Team CSC                                          
74 Josep Jufre Pou (Spa) Davitamon-Lotto                                 
75 Sergey Lagutin (Uzb) Navigators Insurance                             
76 Marco Pinotti (Ita) Saunier Duval-Prodir                              
77 Christopher Baldwin (USA) Toyota-United Pro                           
78 Todd Herriot (USA) Colavita Olive Oil-Sutter Home Wines               
79 Brian Jensen (USA) Jelly Belly                                        
80 Nathan O'Neill (Aus) Health Net p/b Maxxis                            
81 José-Manuel Garcia (Mex) Toyota-United Pro                            
82 Sven Krauss (Ger) Gerolsteiner                                        
83 Peter Lopinto (USA) Kodakgallery.Com-Sierra Nevada                    
84 Riccardo Ricco (Ita) Saunier Duval-Prodir                             
85 Scott Moninger (USA) Health Net p/b Maxxis                            
86 Steve Zampieri (Swi) Phonak Hearing Systems                           
87 Jose Alberto Benitez Roman (Spa) Saunier Duval-Prodir                 
88 Heath Blackgrove (NZl) Toyota-United Pro                              
89 Arquimides Lam (Mex) KB Home Mexican National Team                    
90 Fred Rodriguez (USA) Davitamon-Lotto                                  
91 Aaron Olsen (USA) Saunier Duval-Prodir                                
92 Sebastian Lang (Ger) Gerolsteiner                                     
93 José Angel Gomez Marchante (Spa) Saunier Duval-Prodir                 
94 Michael Creed (USA) Team TIAA-CREF                                    
95 Lucas Euser (USA) Team TIAA-CREF                                      
96 Thomas Peterson (USA) Team TIAA-CREF                                  
97 Gustavo Artacho (Arg) Colavita Olive Oil-Sutter Home Wines            
98 Glen Alan Chadwick (Aus) Navigators Insurance                         
99 Preben Van Hecke (Bel) Davitamon-Lotto                                
100 Craig Lewis (USA) Team TIAA-CREF                                     
101 Frank Hoj (Den) Gerolsteiner                                         
102 Bart Dockx (Bel) Davitamon-Lotto                                     
103 Scott Zwizanski (USA) Kodakgallery.Com-Sierra Nevada                 
104 Gregory Henderson (NZl) Health Net p/b Maxxis                        
105 Nicolas Vogondy (Fra) Credit Agricole                                
106 Gilberto Simoni (Ita) Saunier Duval-Prodir                           
107 Kirk Albers (USA) Jelly Belly                                        
108 Jean Marc Marino (Fra) Credit Agricole                               
109 Caleb Manion (Aus) Jelly Belly                                       
110 Michael Dietrich (USA) Kodakgallery.Com-Sierra Nevada                
111 Benjamin Brooks (Aus) Navigators Insurance                           
112 Ivan Dominguez (Cub) Toyota-United Pro                           0.29
113 David O'Loughlin (Irl) Navigators Insurance                      0.42
114 Vassili Davidenko (Rus) Navigators Insurance                     0.56
115 Fabian Cancellara (Swi) Team CSC                                     
116 Michael Jones (USA) Health Net p/b Maxxis                        1.35
117 Jackson Stewart (USA) Kodakgallery.Com-Sierra Nevada             2.54
118 Davide Frattini (Ita) Colavita Olive Oil-Sutter Home Wines           
119 David Robinson (USA) Kodakgallery.Com-Sierra Nevada              3.16
120 Domingo Gonzalez (Mex) KB Home Mexican National Team             6.57
121 Florencio Ramos (Mex) KB Home Mexican National Team                  
122 Jesus Zarate (Mex) KB Home Mexican National Team                     
123 Antonio Aldape (Mex) KB Home Mexican National Team                   
124 Fabian Wegmann (Ger) Gerolsteiner                                7.03
125 Olivier Kaisen (Bel) Davitamon-Lotto                             8.11
126 Manuel Hernandez (Mex) KB Home Mexican National Team            11.45
127 Miguel Mesa (Mex) KB Home Mexican National Team                      
 
Sprints
 
1 Jackson Stewart (USA) Kodakgallery.Com-Sierra Nevada                  5 pts
2 Jean Marc Marino (Fra) Credit Agricole                                3
3 Fred Rodriguez (USA) Davitamon-Lotto                                  1
 
Teams
 
1 Colavita Olive Oil/Sutter Home Wines                            9.42.39
2 T-Mobile Team                                                          
3 Team CSC                                                               
4 Discovery Channel                                                      
5 Phonak Hearing Systems                                                 
6 Team TIAA-Cref                                                         
7 Gerolsteiner                                                           
8 Health Net Presented by Maxxis                                         
9 Toyota-United                                                          
10 Jelly Belly                                                           
11 Davitamon-Lotto                                                       
12 Credit Agricole                                                       
13 Prodir-Saunier Duval                                                  
14 Kodak Gallery.com/Sierra Nevada                                       
15 Navigators Insurance                                                  
16 KB Home Mexican National Team                                     6.57
 
General classification after stage 1
 
1 Levi Leipheimer (USA) Gerolsteiner                              3.19.06
2 Bobby Julich (USA) Team CSC                                        0.05
3 George Hincapie (USA) Discovery Channel                            0.06
4 Floyd Landis (USA) Phonak Hearing Systems                              
5 David Zabriskie (USA) Team CSC                                     0.09
6 Fabian Cancellara (Swi) Team CSC                                   0.10
7 Jason McCartney (USA) Discovery Channel                                
8 Hayden Roulston (NZl) Health Net p/b Maxxis                        0.11
9 Vladimir Gusev (Rus) Discovery Channel                                 
10 Paolo Savoldelli (Ita) Discovery Channel                              
11 Thomas Danielson (USA) Discovery Channel                          0.12
12 Cadel Evans (Aus) Davitamon-Lotto                                     
13 Stuart O'Grady (Aus) Team CSC                                         
14 Robert Hunter (RSA) Phonak Hearing Systems                        0.14
15 Heath Blackgrove (NZl) Toyota-United Pro                              
16 Fred Rodriguez (USA) Davitamon-Lotto                                  
17 Ben Jacques-Maynes (USA) Kodakgallery.Com-Sierra Nevada           0.15
18 Gordon Fraser (Can) Health Net p/b Maxxis                         0.16
19 René Haselbacher (Aut) Gerolsteiner                               0.17
20 Rémi Pauriol (Fra) Credit Agricole                                    
21 Riccardo Ricco (Ita) Saunier Duval-Prodir                             
22 Christian Vandevelde (USA) Team CSC                                   
23 Miguel Angel Martin Perdiguero (Spa) Phonak Hearing Systems           
24 Christopher Baldwin (USA) Toyota-United Pro                           
25 Nathan O'Neill (Aus) Health Net p/b Maxxis                            
26 Michael Barry (Can) Discovery Channel                             0.18
27 Karsten Kroon (Ned) Team CSC                                          
28 Phil Zajicek (USA) Navigators Insurance                           0.19
29 Frank Hoj (Den) Gerolsteiner                                      0.20
30 David Kopp (Ger) Gerolsteiner                                         
31 Gilberto Simoni (Ita) Saunier Duval-Prodir                            
32 Michael Rogers (Aus) T-Mobile Team                                0.21
33 Christopher Horner (USA) Davitamon-Lotto                              
34 Viatcheslav Ekimov (Rus) Discovery Channel                            
35 Sebastian Lang (Ger) Gerolsteiner                                 0.22
36 Koldo Gil Perez (Spa) Saunier Duval-Prodir                            
37 Nicolas Vogondy (Fra) Credit Agricole                                 
38 Josep Jufre Pou (Spa) Davitamon-Lotto                                 
39 Danny Pate (USA) Team TIAA-CREF                                       
40 Saul Raisin (USA) Credit Agricole                                 0.23
41 Zachary Grabowski (USA) Colavita Olive Oil-Sutter Home Wines          
42 Mads Kaggestad (Nor) Credit Agricole                                  
43 Janez Brajkovic (Slo) Discovery Channel                               
44 Mark Walters (Can) Navigators Insurance                           0.24
45 Tyler Wren (USA) Colavita Olive Oil-Sutter Home Wines                 
46 Timothy Johnson (USA) Health Net p/b Maxxis                           
47 Olaf Pollack (Ger) T-Mobile Team                                  0.25
48 Alexandre Moos (Swi) Phonak Hearing Systems                           
49 Mark McCormack (USA) Colavita Olive Oil-Sutter Home Wines             
50 Marco Pinotti (Ita) Saunier Duval-Prodir                              
51 Glen Alan Chadwick (Aus) Navigators Insurance                         
52 Aaron Olsen (USA) Saunier Duval-Prodir                                
53 Charles Bradley Huff (USA) Team TIAA-CREF                         0.26
54 Craig Lewis (USA) Team TIAA-CREF                                      
55 André Greipel (Ger) T-Mobile Team                                     
56 Pieter Mertens (Bel) Davitamon-Lotto                                  
57 Viktor Rapinski (Blr) Colavita Olive Oil-Sutter Home Wines        0.27
58 Nicolas Jalabert (Fra) Phonak Hearing Systems                         
59 Scott Moninger (USA) Health Net p/b Maxxis                            
60 Torsten Hiekmann (Ger) Gerolsteiner                                   
61 Valery Kobzarenko (Ukr) Navigators Insurance                          
62 José Angel Gomez Marchante (Spa) Saunier Duval-Prodir                 
63 Justin England (USA) Toyota-United Pro                            0.28
64 Taylor Tolleson (USA) Team TIAA-CREF                                  
65 Todd Herriot (USA) Colavita Olive Oil-Sutter Home Wines               
66 Brian Jensen (USA) Jelly Belly                                        
67 Andrew Bajadali (USA) Jelly Belly                                 0.29
68 Jonathan Patrick Mc Carty (USA) Phonak Hearing Systems            0.30
69 Juan José Haedo (Arg) Toyota-United Pro                               
70 André Korff (Ger) T-Mobile Team                                       
71 José-Manuel Garcia (Mex) Toyota-United Pro                        0.31
72 Gregory Henderson (NZl) Health Net p/b Maxxis                         
73 Bastiaan Giling (Ned) T-Mobile Team                               0.32
74 Michael Creed (USA) Team TIAA-CREF                                    
75 Preben Van Hecke (Bel) Davitamon-Lotto                                
76 Jean Marc Marino (Fra) Credit Agricole                                
77 Jens Voigt (Ger) Team CSC                                         0.33
78 Sergey Lagutin (Uzb) Navigators Insurance                             
79 Sébastien Portal (Fra) Credit Agricole                                
80 Bernhard Kohl (Aut) T-Mobile Team                                     
81 Matthew Rice (Aus) Jelly Belly                                    0.34
82 Caleb Manion (Aus) Jelly Belly                                        
83 Steve Zampieri (Swi) Phonak Hearing Systems                       0.35
84 Michael Friedman (USA) Team TIAA-CREF                             0.36
85 Michael Dietrich (USA) Kodakgallery.Com-Sierra Nevada                 
86 Sven Krauss (Ger) Gerolsteiner                                        
87 Antonio Cruz (USA) Toyota-United Pro                                  
88 Martin Elmiger (Swi) Phonak Hearing Systems                           
89 Kyle Wamsley (USA) Colavita Olive Oil-Sutter Home Wines           0.37
90 Bart Dockx (Bel) Davitamon-Lotto                                      
91 Gustavo Artacho (Arg) Colavita Olive Oil-Sutter Home Wines        0.38
92 Dominique Perras (Can) Kodakgallery.Com-Sierra Nevada                 
93 Lars Ytting Bak (Den) Team CSC                                        
94 Scott Zwizanski (USA) Kodakgallery.Com-Sierra Nevada              0.41
95 Lucas Euser (USA) Team TIAA-CREF                                  0.42
96 Nick Reistad (USA) Jelly Belly                                    0.44
97 Kilian Patour (Fra) Credit Agricole                                   
98 Fausto Esparza (Mex) KB Home Mexican National Team                0.45
99 Mike Sayers (USA) Health Net p/b Maxxis                               
100 Benjamin Brooks (Aus) Navigators Insurance                           
101 Alex Candelario (USA) Jelly Belly                                    
102 Jose Alberto Benitez Roman (Spa) Saunier Duval-Prodir                
103 Thomas Peterson (USA) Team TIAA-CREF                             0.50
104 Martin Gilbert (Can) Kodakgallery.Com-Sierra Nevada              0.51
105 Mariano Friedick (USA) Toyota-United Pro                             
106 Kirk Albers (USA) Jelly Belly                                        
107 Brice Jones (USA) Jelly Belly                                    0.52
108 Scott Davis (Aus) T-Mobile Team                                      
109 Peter Lopinto (USA) Kodakgallery.Com-Sierra Nevada               0.54
110 Frantisek Rabon (Cze) T-Mobile Team                                  
111 Arquimides Lam (Mex) KB Home Mexican National Team               0.59
112 Charles Dionne (Can) Saunier Duval-Prodir                        1.01
113 David O'Loughlin (Irl) Navigators Insurance                      1.03
114 Ivan Dominguez (Cub) Toyota-United Pro                           1.28
115 Vassili Davidenko (Rus) Navigators Insurance                     1.29
116 Michael Jones (USA) Health Net p/b Maxxis                        1.58
117 Davide Frattini (Ita) Colavita Olive Oil-Sutter Home Wines       3.28
118 Jackson Stewart (USA) Kodakgallery.Com-Sierra Nevada             3.39
119 David Robinson (USA) Kodakgallery.Com-Sierra Nevada              4.15
120 Fabian Wegmann (Ger) Gerolsteiner                                7.36
121 Domingo Gonzalez (Mex) KB Home Mexican National Team             7.45
122 Antonio Aldape (Mex) KB Home Mexican National Team               7.51
123 Florencio Ramos (Mex) KB Home Mexican National Team              8.06
124 Jesus Zarate (Mex) KB Home Mexican National Team                 8.24
125 Olivier Kaisen (Bel) Davitamon-Lotto                             9.24
126 Manuel Hernandez (Mex) KB Home Mexican National Team            12.50
127 Miguel Mesa (Mex) KB Home Mexican National Team                 13.01
 
Points classification
 
1 Juan José Haedo (Arg) Toyota-United Pro                              15 pts
2 Olaf Pollack (Ger) T-Mobile Team                                     12
3 Stuart O'Grady (Aus) Team CSC                                        10
4 Charles Bradley Huff (USA) Team TIAA-CREF                             7
5 George Hincapie (USA) Discovery Channel                               6
6 Jackson Stewart (USA) Kodakgallery.Com-Sierra Nevada                  5
7 Viktor Rapinski (Blr) Colavita Olive Oil-Sutter Home Wines            5
8 René Haselbacher (Aut) Gerolsteiner                                   4
9 Jean Marc Marino (Fra) Credit Agricole                                3
10 Martin Elmiger (Swi) Phonak Hearing Systems                          3
11 Antonio Cruz (USA) Toyota-United Pro                                 2
12 Fred Rodriguez (USA) Davitamon-Lotto                                 1
13 Bobby Julich (USA) Team CSC                                          1
 
Team classification
 
1 Team CSC                                                        9.57.42
2 Discovery Channel                                                  0.03
3 Phonak Hearing Systems                                             0.13
4 Gerolsteiner                                                           
5 Health Net Presented by Maxxis                                     0.20
6 Davitamon-Lotto                                                    0.23
7 Toyota-United                                                      0.35
8 Prodir-Saunier Duval                                                   
9 Credit Agricole                                                    0.38
10 Navigators Insurance                                              0.40
11 Colavita Olive Oil/Sutter Home Wines                              0.48
12 Team TIAA-Cref                                                    0.50
13 T-Mobile Team                                                     0.53
14 Kodak Gallery.com/Sierra Nevada                                   1.05
15 Jelly Belly                                                       1.07
16 KB Home Mexican National Team                                     9.00
 
Best young rider
 
1 Zachary Grabowski (USA) Colavita Olive Oil-Sutter Home Wines    3.19.29
2 Craig Lewis (USA) Team TIAA-CREF                                   0.03
3 Taylor Tolleson (USA) Team TIAA-CREF                               0.05
4 Thomas Peterson (USA) Team TIAA-CREF                               0.27