Another interview with Tom Boonen, April 4, 2006
Why not Gent-Wevelgem?
Boonen-mania reaches its peak in Belgium in early April, when the Quick.Step star rides his favourite spring classics. On the eve of the 68th Gent-Wevelgem, Boonen spoke to the press at the Holiday Inn, Gent, about his chances in the mid-week classic and plenty more. Jeff Jones was there for Cyclingnews.
Tom Boonen
Photo ©: Jeff Jones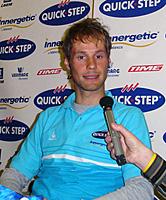 After winning the Ronde van Vlaanderen-Paris Roubaix double in 2005, and his second Ronde just a few days ago, World Champion Tom Boonen is in his best form. Winning one of these highly competitive classics is difficult enough, but the 25 year-old already has three, with the prospect of more to come if everything falls his way this week. While Roubaix is at the forefront of his mind, there's also the small matter of Gent-Wevelgem tomorrow, the Wednesday classic that is favoured by sprinters who can handle the wind...and Boonen is certainly one of those.
But there has been much speculation about whether he will race to win, or try and set up one of his other loyal Quick.Step teammates for victory. Although he wins a lot of races, Boonen is not greedy. He has arguably been the strongest rider in every Belgian one day race that he's ridden this season, winning the E3 Prijs again for good measure. And he's already won Gent-Wevelgem in 2004. Does he need this victory? Or will he try to give it to Milan-San Remo winner Filippo Pozzato, who crashed while in the finale last year?
After keeping a large contingent of international media waiting for half an hour, a very lean looking Boonen, accompanied by team manager Patrick Lefevere, was happy to field all manner of questions relating not only to tomorrow's race, but also to the Ronde, cycling, and even a few odd ones about the Tour de France.
So does he want to try to win the Ronde, Gent-Wevelgem and Paris-Roubaix? "We'll see. Tomorrow, for me it's one more very important week: three more races [including next Wednesday's Scheldeprijs]. And I don't give any presents. If I'm good tomorrow and I have the legs and I'm recovered well, then I'll try to win the race. But it's not an objective like the Tour of Flanders or Paris-Roubaix. It's hard to be 100 percent in Gent-Wevelgem if you did the final in the Tour of Flanders, but I'll try to.
The media was in full force
Photo ©: Jeff Jones

"Gent-Wevelgem is not a race like the Tour of Flanders. Two strong moments on the Kemmel and a good finish, and you can win it."
What about Alessandro Petacchi, who is one of the few sprinters that can beat Boonen in a mass finish? "Tomorrow, Petacchi has to ride the final, then he can be strong," said Boonen. "You can't underestimate Petacchi. He remains - as some say - the best sprinter in the world. But it's not that easy here. You need specific preparation. He starts as if it is another race, but it's not like that."
Although Gent-Wevelgem is considered a lesser classic than the two races that flank it, that doesn't bother Boonen. He wants to win it simply "Because it's Gent-Wevelgem, and because it's not easy. I find it a race with prestige." And it's also the classic preparation for Paris-Roubaix "to keep things ticking over."
"I don't think I'll ever get tired of trying to win the classics."
- Tom Boonen doesn't lack motivation
Boonen is a rider for all seasons, as he proved last year. He won from January through to the World Championships in Madrid, and that included some very big races. But he's now at the end of his first big block of the season, and is looking forward to a rest. "Regarding my condition, I'll try to keep it until the Scheldeprijs. I've been active since Qatar and I feel as though I've performed well since Milan-San Remo up to now. And it's already a while since Milan-San Remo. Maybe I could try to keep going to win Amstel, but I don't think I can maintain my top for two more weeks. Paris-Roubaix is really a killer for your body."
Turning back to the Tour of Flanders, which Boonen won in a two man breakaway against Leif Hoste (Discovery). It was his second victory in Vlaanderen's mooiste. "I could enjoy it a bit more than last year," said Boonen. "Last year was my first time. It proves a bit more what I achieved last year. It looks simple but it isn't. It remains a special thing for me. Every year I try to be he strongest. You can have a bad winter, get sick at the wrong moment, so I'm very satisfied with my second win."
Tom Boonen
Photo ©: Jeff Jones

How deep did he go this year? "Pretty. It was a very tough race from the start. It was the hardest Tour of Flanders I ever did as a professional. When we hit the bottom of the Kwaremont, there were already only 80-90 guys left, and that made it really hard. The wind and in the beginning, the rain - really stressful. It made it really easy for us because after three climbs there were only ten guys left. Then it was just a case of recover your legs and let Pozzato and Baguet come back, and they made a beautiful race for us. But I went pretty deep."
Tom Boonen is only 25 years old, and yet he is world champion, has the Paris-Roubaix/Ronde van Vlaanderen double, Gent-Wevelgem, three victories in the E3 Prijs among his more than 50 UCI race victories. There is very little that has eluded his grasp - the Tour de France green jersey is one thing - and yet he could easily race for another 10 years. But Boonen shows no signs of burnout at the moment, radiating confidence while keeping his head firmly on his shoulders.
"I don't have problems with objectives. I never had. The moment I feel tired about winning races is the time to stop, but I don't think I'll ever get tired of trying to win the classics. A lot of riders have to try ten times before they win one. I only tried a few times and I already have a few, so I think that's the biggest motivation there, to try to do better...Win again."
The combined World Champion/ProTour jersey
Photo ©: Jeff Jones

Finally, ProTour leader Boonen will be wearing his rainbow stripes in Gent-Wevelgem, as the UCI has agreed to a special jersey design that incorporates both the world champion's colours and the ProTour logos. Team manager Patrick Lefevere explained: "We sent a proposal to the UCI a few months ago to find an agreement between the ProTour jersey and the world champion's jersey. It was more a problem for them than us, because they are the owner of both. So which has the greater priority? I think we found a good solution. [Tom] likes his jersey very much, so the most emphasis is still on the world champion's jersey."
Quick.Step-Innergetic for Gent-Wevelgem: Tom Boonen, nick Nuyens, Filippo Pozzato, Steven de Jongh, Wilfried Cretskens, Kevin Hulsmans, Servais Knaven, Matteo Tosatto.
Photography
For a thumbnail gallery of these images, click here
Images by Jeff Jones/Cyclingnews.com