Recently on Cyclingnews.com
104th Paris-Roubaix - PT
France, April 9, 2006
A route to 'Hell': The Paris-Roubaix parcours
By Anthony Tan
The Paris-Roubaix parcours
Photo ©: www.letour.fr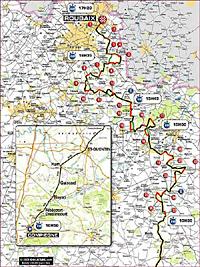 Like its Belgian half-brother, the Ronde van Vlaanderen, racing does not commence for real until almost 100 kilometres of racing has been covered. Beginning at Compiègne's Place du Palais, approximately 80 kilometres north of the nation's capital, the official start time is 1100 hours Sunday morning, although the Départ fictif is 10 minutes beforehand.
Heading direction nor'-nor'-east, the first of 27 cobbled secteurs comes after 98 kilometres at Troisvilles à Inchy, a 2,200 metre-long stretch of pavé to loosen up the legs... and pretty much everything else on the bike and body! Inspecting each of the secteurs last Monday, race director Jean-François Pescheux rated each based on three criteria: length, state of repair (or in some cases, disrepair) and its position in the race (see classification below). Troisvilles was awarded 3 out of 5 stars, or medium difficulty.
Then in descending order, the remaining 26 secteurs of pavé follow in quick succession with little respite. As mentioned in the preview, the first key secteur comes almost 66 kilometres later as the riders enter secteur 17, or La Forêt d'Arenberg at km 163,5, the 2,400 metre stretch not the longest but awarded 5 out of 5 - the severest of all.
The next key secteur arrives after 210,5 kilometres. 3000 metres in length, Mons-en-Pévèle is the second longest, and coupled with its position in the race, roughly 50 kilometres from the Roubaix velodrome, Monsieur Pescheux has also given it the five-star treatment.
If the race has not taken a definitive shape after Mons-en-Pévèle, it will by the time the riders exit Le Carrefour de l'Arbre, the fourth last secteur and the only other to receive a five-star rating. When one reaches Le Carrefour de l'Arbre, it is the culmination of 242 kilometres' racing and a trio of four-star pavé secteurs only 10 kilometres before it. Numbness, frailty and exhaustion are likely outcomes.
But for one man, after 259 kilometres, six hours' plus on arguably the most gruelling cycling terrain on earth and two laps of the Roubaix velodrome, the pain will all have been worth it.
Unfortunately, our ProTour parcours man and Chief Online Editor, Dr. Jeff Jones, is still been nursed from the mental scars he suffered after riding the full distance in last weekend's 270 kilometre-long Ronde van Vlaanderen, insanely completed the day before the actual event. However, the good news is that he's already aboard the recently refurbished Hindenburg V, and perched on a triple-sprung chair with the creature comforts of gas heating (naturally) and home-made Belgian waffles, 'Doc' will be ready to provide live coverage to our viewers this Sunday.
Les secteurs pavés

Secteur   Km mark     Place                                   Length   Rating
 
27        98 km       Troisvilles to Inchy                    2,2 km      ***
26        104,5 km    Viesly to Quiévy                        1,8 km      ***
25        107 km      Quiévy to Saint-Python                  3,7 km     ****
24        112 km      Saint-Python                            1,5 km       **
23        119,5 km    Vertain to St-Martin-sur-Écaillon       1,9 km      ***
22        126,5 km    Capelle-sur-Écaillon - Le-Buat          1,7 km      ***
21        138 km      Verchain-Maugré to Quérénaing           1,6 km      ***
20        141 km      Quérénaing to Maing                     2,5 km      ***
19        144 km      Maing to Monchaux-sur-Écaillon          1,6 km      ***
18        155,5 km    Haveluy to Wallers                      2,5 km     ****
17        163,5 km    Trouée d'Arenberg                       2,4 km    *****
16        170 km      Wallers to Hélesmes                     1,6 km     ****
15        176,5 km    Hornaing to Wandignies - Hamage         3,7 km      ***
14        184 km      Warlaing to Brillon                     2,4 km      ***
13        187,5 km    Tilloy to Sars-et-Rosières              2,4 km      ***
12        198,5 km    Orchies                                 1,7 km      ***
11        205 km      Auchy-lez-Orchies to Bersée             2,6 km      ***
10        210,5 km    Mons-en-Pévèle                          3,0 km    *****
9         216,5 km    Méringnies to Pont-à-Marcq              0,7 km       **
8         219,5 km    Pont-Thibaut to Ennevelin               1,4 km      ***
7         225 km      Templeuve - L'Épinette                  0,2 km        *
7         225,5 km    Templeuve - Moulin-de-Vertain           0,5 km       **
6         232 km      Cysoing to Bourghelles                  1,3 km     ****
6         234,5 km    Bourghelles to Wannehain                1,1 km     ****
5         239 km      Camphin-en Pévèle                       1,8 km     ****
4         242 km      Carrefour de l'Arbre                    2,1 km    *****
3         244 km      Gruson                                  1,1 km       **
2         251 km      Hem                                     1,4 km        *
1         259 km      Roubaix                                 0,3 km        *

                      Total length des secteurs pavés        52,7 km