The bikes of Hell: Alessandro Ballan's Wilier & Frédéric Guesdon's Lapierre, April 10, 2006
Anthony Tan takes a look at two of the more unusual - and successful - bikes of paris-Roubaix, a steel-framed Wilier and a road-going Lapierre cyclo-cross bike.
Steel is real: Alessandro Ballan's Lampre-Fondital custom Wilier
Steel is real
Photo ©: Anthony Tan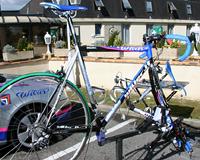 Having ridden so well since mid-February when he won the prestigious Trofeo Laigueglia, right up until the E3 Prijs-Harelbeke and Milano-San Remo, Lampre-Fondital's Alessandro Ballan form appeared to be waning ever so slightly before Sunday. But his eventual podium place showed that he still had plenty of punch and it's just possible that the bike he was riding helped keep him fresh to the bitter end of the Hell of the North.
Both Ballan and former Italian cyclocross champ Franzoi were using custom-made Wilier steel bikes, instead of their normal mix of full scandium, scandium/carbon and full carbon frames.
Steel frames have become extremely rare in the pro peloton, but there are times when steel's reliability is worth the extra grams. It also doesn't hurt that steel's failure mode is quite forgiving - steel tends to bend rather than snap, so a rider might be able to continue on a steel frame after a crash that would destroy a carbon or aluminium.
Lampre's chief mechanic told Cyclingnews that these special frames for Roubaix are one centimetre longer both in the front and back, adding two centimetres to the wheelbase and increasing comfort and stability. Furthermore, the 32-spoke hand-built wheels will be paired with 27mm Vittoria tubulars both front and rear; depending on rider preference, tyre pressure will range from six to seven bars. Add a double wrapping of bar tape and Bob's your Uncle!
An slightly oversized top tube.
Photo ©: Anthony Tan

And a tapered downtube.
Photo ©: Anthony Tan

31.8mmm oversized
Photo ©: Anthony Tan

The lanky though flexible Ballan
Photo ©: Anthony Tan
Chef Marjet's Lapierre delight: Frédéric Guesdon's Française des Jeux Lapierre
Frédéric Guesdon's Lapierre
Photo ©: Anthony Tan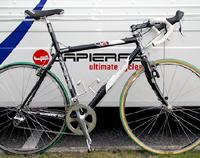 Perhaps the most unusual of all the bikes seen in Compiègne before the start of Paris-Roubaix, 1997 champion Frédéric Guesdon's Lapierre resembles more a cyclo-cross bike than a road machine. That's because, at heart, that's exactly what it is.
Mechanic Jacques Marjet's home-cooked recipe begins by taking one cyclo-cross frame, and mixing in two cantilever brakes. You then throw in a pair of 32 spoke hand-built wheels with soldered spokes, then sprinkle with Vittoria's pavé tubulars. Race over 259 kilometres with 57.2 clicks of cobbles for six hours at less than 10 degrees C.
Other teams have experimented with adding cantilever brakes to road frames for Paris-Roubaix, but the big advantage of starting with a pukka cyclo-cross frame is that you get nott only the extra mud clearance of the brakes, but lots of extra space around the wheels too. Even if wet weather isn't a factor, that extra clearance is nice to have if a rider crashes and buckles a wheel - he might be able to carry on with damage that would jam the wheel in a conventional frame.
Chef Marjet's recipe cooked up a tasty treat for Guesdon and his team-mates. He finished seventh, Bernhard Eisel was fifth and Christophe Mengin came in ninth, making FdJ the only team with three riders in the top ten.
It's actually a custom frame

Update, April 14, 2006:
Following on from our reporter's blast around the hotel carparks prior to the great one-dayer, Amanda Bruck from Lapierre wrote in to let us know more about Frédéric Guesdon's bike. "I just wanted to point out that this was not in fact his cyclo-cross frame, but a frame that Lapierre specially developed for the Paris-Roubaix race.
"It is a Scandium frame with modified geometries, keeping in mind the unique characteristics of this mythic race," she wrote. "The bottom bracket was slightly raised so that the cranks would not touch the cobblestones while the riders were riding on the sides of the road (which are slightly lower).
"The head tube angle was increased, which made the bike more stable and reduced the 'rebound' effect on the cobblestones. The chainstays are longer and the joint between the chainstays and the bottom bracket is a CNC part in order to have more room for a larger tyre.
"Basically it's a mix between a cyclo-cross frame and a regular racing bike, and the riders were pleased with it…they have already requested the same frame for next year," she said.
Go the canti's!
Photo ©: Anthony Tan

A closer look
Photo ©: Anthony Tan

Pulling the lever
Photo ©: Anthony Tan

32 hole hubs and soldered spokes
Photo ©: Anthony Tan
Photography
For a thumbnail gallery of these images, click here
Images by Anthony Tan/Cyclingnews.com