An interview with Tom Boonen, April 7, 2006
My main goal is to win the next race
French and tiny, that's how one would describe the 'Bar Tabac L'Allumette' in Bouvines on the outskirts of Roubaix.
Once a year it is used as a press room for the Belgian Quick.Step-Innergetic team the Friday before the main event. Strolling in from across the road, Tom Boonen mentioned that it was getting too small - we thought that Tom Boonen is getting far too big for this place... Confident as usual and joking around with the press, Brecht DecaluwÚ was there for Cyclingnews.
Q: How important was it to do the reconnaissance ride this morning?
Here comes Tom Boonen
Photo ©: Sirotti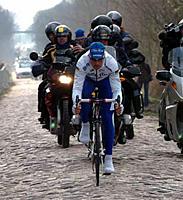 TB: We did the most important roads but it didn't learn much. As with the Ronde van Vlaanderen, we know what the most important parts of the race will be. The forest of Arenberg has been cleaned up last year but I'm wondering why they did that. It is worse than it was before. Normally, on a cobblestoned road, you have a line that you can follow. In Arenberg, there isn't such a path. There are only gaps and borders; it is really tough. The mud between the cobbles has been removed. That makes it even worse than the Koppenberg [the cobbled hill in the Tour of Flanders, were most of the peloton had to walk its way to the top - ed.].
The forest of Arenberg is a really dangerous part of the race. The speeds are so high when you enter the forest, they are up to 65 to 70 km/h. It's like racing towards the Oude Kwaremont in the Tour of Flanders; you just have to ride in front. Once you're in the forest and you're riding in front, then nothing can happen. You just have to gamble that you'll be lucky.
Q: In Gent-Wevelgem last Wednesday, you were not able to battle for victory. On Tuesday, you said that you would try to win this race. Was it a disappointment for you that you had a bad day?
TB: Before the start I said that I could win this race, not that I would win it. If you start a race, then you can win it. When I get to the start of the Tour de France, I'm one of the people that can win the race because I'm a participant. Before the race in Gent-Wevelgem I knew that nine times out of ten, I wouldn't stand a chance for victory. The Ronde van Vlaanderen was a very tough race and my legs still weren't recuperated from those efforts.
Q: You are riding an attacking style this season. Shouldn't you be riding more economically?
TB: With this jersey of the world champion, I can perform just that one percent better than I could last year. I'm motivated even more than I used to be, even though there is more pressure than last year. But maybe that's because I'm too honest. The press asks me before the race, "Can you win this race?" - I will not lie and say that I can't win. But the mental pressure is still the same like last year. It's bearable to handle because I know that after the Scheldeprijs my first part of the season is behind me. Then I'll enjoy a well deserved holiday. But right now, I'm ready to start on Sunday with the knife between my teeth.
Up close and personal
Photo ©: Sirotti

Q: Flecha and Hincapie wanted to attack you in the final kilometres of last year's race. They admitted recently that just didn't have any more energy to do so. How strong were you in those final kilometres leading to the finish?
TB: I was waiting on an attack but it didn't come. If an attack came, I would've counter-attacked them immediately; it wasn't up to me to attack, because that was too much of a risk. I saw that Flecha was wrecked but I didn't know how Hincapie was feeling. But with him, I knew I could beat him in a sprint.
Q: How much are you concerned about the weather?
TB: When it's dry the speed is very high, that's not easy. But if the cobbles are wet, it's also tough, because then you need to turn very slow in the corners and work hard to regain the speed in the straights.
Q: What kind of weather do you prefer?
TB: I don't like riding in the rain. My performance will not be worse, but I prefer not to ride in the rain.
Q: How difficult is it to win this race?
TB: It's easier to win this race than the Tour of Flanders. In Flanders there are much more decisive points where you need to be up front. In Paris-Roubaix, you have to wait a bit more until the others die.
Q: You're riding a new bike, is it feeling alright?
TB: The bike is totally new. We tested it last year but it has been assembled especially for this race. It's very stiff but it gives me lots of control on the cobbles. I'm very happy with it.
Listening intently
Photo ©: Anthony Tan

Q: Recently you commented that some papers don't deliver serious comments on other [riders'] performances. What's the fuss about?
TB: I'm annoyed with some reactions [in the press]. For example, those after Gent-Wevelgem: when I look to the front page of a certain Belgian newspaper, I see a picture of Boonen. That's not realistic considering that I wasn't riding the finale. Hushovd won the race and he just got a few lines. I don't want nor deserve three pages with comments about my ride.
Q: Who will be your major contenders coming Sunday?
TB: Kevin Hulsmans is very strong and so he is an important contender. He will be there in the finale for sure [no-one is quite sure if Boonen is serious - Hulsmans is a Quick.Step team-mate - ed.]. Leif Hoste and the other Discovery Channel guys will be important to watch out for. Of course, Peter Van Petegem will be there, too.
Some people suggest that I should let him ride if he attacks because he helped me at the world's in Madrid. Sadly for him, he's riding in another team so I will not let him go. But in fact, I'm not looking at other riders - I'll ride my own race because I'm the guy with the most confidence in the peloton right now.
Q: What about the triple of Rik Van Looy? [Van Looy won the Tour of Flanders, Gent-Wevelgem and Paris-Roubaix in one year as a world champion]
TB: That's not possible anymore, but that's okay. I can still become the first rider that wins the E3 Prijs Harelbeke, the Tour of Flanders and Paris-Roubaix in the same year... for two years in a row! Nobody did that before, but I don't think about those statistics too much. My main goal is to win the next race. Nice statistics will follow automatically.
Photography
For a thumbnail gallery of these images, click here
Images by Anthony Tan/Cyclingnews.com
Images by Fotoreporter Sirotti