41st Amstel Gold Race - PT
Netherlands, April 16, 2006
Main Page Results Live report ProTour standings
Fränky-boy, you're amazing! Birthday boy gets his joy
Schleck triumphs in aggressive-as-hell Amstel
By Anthony Tan and Brecht Decaluwé in Valkenburg, Netherlands
Fränk Schleck (CSC)
Photo ©: Roberto Bettini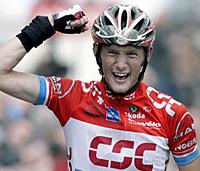 Less than 24 hours after celebrating his twenty-sixth birthday, Fränk Schleck crossed the finish line alone at the top of the Cauberg to reward himself with his biggest career victory and the best present ever. Since his race-defining attack on the Poggio in Milano-Sanremo one month ago, many knew the day the lanky Luxembourger would come of age was not too far away - and that came today.
"There was never time to think about [winning]," said a shocked, esctatic Schleck. "Obviously, I wasn't a big favourite and I thought the chasers would catch me. Arriving at the finish line, I couldn't believe that I would actually win the race. This is all like a dream to me because I've been chasing a big victory for over seven years now.
"We had two leaders in the team, me and Karsten Kroon, who's riding really strong and knows this course like [the inside of] his pocket, so he was [also] really motivated for this," he explained to Cyclingnews. "Both of us were in the front at the final and I decided to attack and take my chance. And hey, it went good!"
"He was strong, and waited for this day," said his smiling partner. "It was his birthday yesterday, so it was the best present he could have."
Steffen Wesemann was probably the strongest in the race today but maybe not the smartest, and had to settle for second in the end. "Knowing that I was alone in the lead for such a long time makes it easier to be happy with that second place; I really felt that I was the strongest man in the race. Despite the team didn't get the win at the end, I'm happy with my performance," Wesemann said.
These three were the strongest today
Photo ©: Elmar Krings

The Swiss-based German attacked with some 40km to go, which at first appeared to be a bit of a 'mission impossible', but the T-Mobile rider said he wanted to do something to break the chain of the Rabobank team: "It looked impossible, but they [Rabobank] had to use some [of their] riders in the pursuit and then the race was on for everyone. Why not attack, because you never know how it's going to end up?" he said. "My form is alright, so I'll give my very best in Liège," added Wesemann.
Third-placed Michael Boogerd added yet another podium spot in Holland's most important race, and answered critics' questions on their choice of tactics by saying: "The others teams just don't take their responsibility - we can't allow the early break an advantage of 15 minutes, because then you're in major trouble. If you think you have a possible winner in your team, you should take your responsibility and offer maybe one man in the chasing group.
"Ah, there will always be some criticism if you don't win," said a Boogerd with a wry grin. "It is true, I didn't study at university, but I'm not stupid. I'm not Eddy Merckx, so I couldn't react to every attack. If you look around and you see three T-Mobile riders and Paolo Bettini, then I know I'd better spare some energy; if I had've chased Schleck and lost in the sprint against Bettini, the crowd would probably dunked me in tar and feathers. I hoped the others would come back and maybe Freire still had a good sprint in his legs. My gamble was that T-Mobile would chase Schleck back - they didn't."
Boogerd
Photo ©: Roberto Bettini

Boogerd also added his strength on the climbs will hopefully pay dividends in next weekend's Liège-Bastogne-Liège: "I hope to be just as good as today. Every year is different; sometimes I'm better in Liège, the other years I'm stronger in Valkenburg. I'll try to recover from this race now with a long training ride on Wednesday.
"My main goal will be to make the difference uphill, making it possible to ride without headaches concerning team tactics. The main advantage in Liège is that the race is less nervous. It's also good for me to see that Paolo Bettini is riding well. He's always in for an attack, trying to shape the race," said 'Boogie'. "We can also play the card of Thomas Dekker; if he gets in an early break, that could result in having an extra team-mate in the finale."
After Team CSC's emotion-charged victory last Sunday with Fabian Cancellara winning Paris-Roubaix and becoming only the second Swiss to do so, Schleck also created a piece of history, being the first rider from Luxembourg to win the Amstel Gold and just the second to win one of cycling's big classics after Marcel Ernzer's win in Liège-Bastogne-Liège 62 years ago, in 1954.
"I have to say I didn't know it before yesterday till a journalist told me, so I was lucky that I knew it [today]," he smiled. "Yeah, it's great to be the second Luxembourger... it's just amazing."
CSC's team manager Bjarne Riis must take some of the praise for this triumph, who, like Schleck as a rider, has proven himself to be one of the most versatile directeurs sportifs in cycling today, able to choose a team with riders that complement each other, create a unique harmony, and formulate a winning strategy from Classics to Grand Tours.
Bjarne Riis
Photo ©: Brecht Decaluwé

"He never goes into the race and just sits there and we do nothing; no, Bjarne thinks a lot about the race and what to do," said the rider from Mondorf-les-Bains in the Grand-Duchy of Luxembourg. "The plan was for Karsten [Kroon] and me to save as much energy as possible till the final and yeah, it worked out. The plan was to attack in the final - well, the plan was much, much more [than that] - but I won't go into details," he grinned.
"CSC is the best team in the world," continued Schleck, "and we're not only team-mates, but we're great friends. We're really close to each other; you don't see it so often that riders call each other during the week and just ask, 'how it's going?' I think that makes it the best team in the world, because we're very good friends and we work together as a team."
Little change to ProTour leaderboard
Only five of the top ten riders on the individual ProTour rankings competed in today's Amstel Gold Race - namely Alessandro Ballan (Lampre-Fondital), Antonio Colom Mas (Caisse D'epargne-Illes Balears), Filippo Pozzato (Quick Step-Innergetic), Samuel Sanchez Gonzalez (Euskaltel-Euskadi) and José Angel Gomez Marchante (Saunier Duval-Prodir) - with the best-placed being Ballan in 11th place, who earns no points. Consequently, Tom Boonen (Quick.Step-Innergetic) maintains his position at the top of the leaderboard on 129 points, 24 clear of Ballan and 45 ahead Paris-Roubaix winner Fabian Cancellara (Team CSC), with fourth to sixth places also unchanged. However, Schleck catapulted himself from 27th to 6th as a result of today's win, moving the previous sixth to tenth placings down one rung.
How it unfolded
Rain coats
Photo ©: Sirotti

With most of the previous Spring Classics held in mostly dry conditions, pundits were wondering when bad weather was going to greet the ProTour peloton. Well, on this Easter Sunday morning in Limburg, it came...
15 minutes before the start of the 41st Amstel Gold in Maastricht's Grote Markt, toeschouwers met paraplus (spectators with umbrellas) were many but riders were few, taking last minute shelter in their team buses before the official kick-off at 10:15. Then all of a sudden, the favourites came rushing out, but the lycra-led traffic jam saw a handful of names miss the sign-on altogether, among them Aart Vierhouten from Skil-Shimano and Saunier Duval-Prodir's Manuele Mori.
However, the circumstances saw them unpenalised and the peloton gingerly made its way north, hugging the banks of the River Maas, direction Stein. After no more than 20 kilometres, AG2R Prévoyance's Christophe Moreau decided one way to keep warm in the dreary weather was to attack, going off the front shortly after the Maasberg, the first of 31 climbs to be tackled today.
The early breakaway
Photo ©: Sirotti

This popular veteran Frenchman soon had four for company as Erwin Thijs (Unibet.com), Michael Albasini (Liquigas), Bram Schmitz (T-Mobile) and René Weissinger (Skil-Shimano) hooked up for the ride; once together, the quintet was motoring, soon establishing a six minute lead on the peloton after 35 kilometres. Some 12 kilometres before the top of the Cauberg that was to be tackled thrice today, Weissinger punctured, and some overly enthusiastic pacing from his team car saw the German DQ'd by race officials. Nevertheless, the quartet pressed on unphased, and the Cauberg's crest (km 61.6), their advantage was 11 minutes.
The onus was on pre-race favourites Rabobank to take up the chase, which they duly did by sending a few good men to the front: Bram de Groot, Erik Dekker and Joost Posthuma. At half past twelve and 86 kilometres completed, the gap was 10'50, but 20 minutes later, the situation had stabilised, the four leaders now eight minutes and forty seconds in front.
After a brief trip to the German border and with the second and final visit to Eperheide (km 134.5) behind them, the seemingly infinite series of climbs continued. With 14 out of the way and another 17 still to go, the Amstel Gold Race began to take on its customary face as a slow but sure natural selection dictated the race.
Number 15 of 31 was the climb of Gulperberg and although not particularly severe in gradient or length, it was enough for our early protagonist Christophe Moreau to call it a day, the lactic in his legs leaving just three: Erwin Thijs (Unibet.com), Michael Albasini (Liquigas) and Bram Schmitz (T-Mobile). The three leaders were beginning to look a little worse for wear themselves with 100 kilometres still remaining, and as a seven-strong orange train pressed on at the head of the peloton, the trio were undoubtedly facing a slow but certain death.
Rabobank controlled the field
Photo ©: Sirotti

The second ascent of the Cauberg saw Schmitz in difficulty, but the big man hung tough over the top (km 170, 80.7 km to go). Back in the 100+ peloton, it appeared everyone bar Rabo were enjoying a free ride with few in difficulty - Thomas Dekker even had time (and energy) to wave to the crowd! Moreau also took the opportunity to head for the showers and an Amstel pils.
Around ten past three in the afternoon, the rain had stopped, the roads had dried but still no sign of sun; if anything, the air temperature had dropped a few degrees and as the breeze continued to blow, it was chilly single digit territory. At this point, the peloton was now three minutes behind and closing. With 60 kilometres to go and nine climbs left, the battle for position began in the peloton, as the Rabobank domestiques pressed the pace as hard as they could on the following series of ascents. On the Bemelerberg, Schmitz was again in trouble and this time for good, as Thijs and Albasini gained a half-minute lead after their descent.
Less than two minutes later, it was the peloton's turn to tackle the aforementioned ascent, and news of Schmitz's departure from the break saw T-Mobile troops move to the front, followed by a predictable attack by the team's veteran of 13 years, Steffen Wesemann. The move was marked by around a dozen others including Matthias Kessler, Eddy Mazzoleni (T-Mobile), Juan Antonio Flecha, Erik Dekker (Rabobank), Philippe Gilbert (Française des Jeux) and Filippo Pozzato (Quick.Step), but the despite the class up front, the peloton wasn't ready to give in, regrouping shortly thereafter.
Steffen Wesemann (T-Mobile)
Photo ©: Sirotti

Though it didn't last long: counter-attacks then came from Nicki Sørensen (CSC), Johan Vansummeren (Davitamon-Lotto), Maarten Den Bakker (Milram) and Paolo Bettini (Quick.Step), the latter notably bridging solo very quickly indeed. Tacking on to the various counters were Sylvain Chavanel (Cofidis), Vladimir Gusev and Benoit Joachim (Discovery), Stefan Schumacher (Gerolsteiner), Eddy Mazzoleni, Patrik Sinkewitz (T-Mobile), Serge Baguet (Quick.Step), Koos Moerenhout (Phonak) and Chris Horner (Davitamon-Lotto) - but no-one from Rabobank, and an organised orange chase and a disorganised break returned the situation to status quo with 40 clicks to go.
It was again a Wesemann attack on the 25th climb of the Loorberg, taking with him 2003 world champion Igor Astarloa (Barloworld) and Cofidis' Leonardo Bertagnolli. Impressively, the German soon dropped his two companions, forging ahead on his own and taking the T-Mobile offensive head to head with the likes of Rabobank, Quick.Step and Team CSC, arguably the three strongest teams in the race.
Shoving some food down his gob shortly before powering over the fifth-to-last climb of the Kruisberg with 21.3 kilometres remaining, 'Wese's' advantage was precariously hovering at roughly 15 seconds, but by the top had moved to 30, pursued by a peloton led by the Milram duo of Maarten Den Bakker and Andriy Grivko. And as they rode up the Kruisberg, CSC rider Karsten Kroon's attacked, followed by Sergei Ivanov (T-Mobile) and then Bettini broke the peloton to pieces, leading to a 10-man chase group with Michael Boogerd (Rabobank), Alessandro Ballan (Lampre-Fondital), Frank Schleck (CSC), Koos Moerenhout (Phonak), Bjorn Leukemans (Davitamon-Lotto), Fabian Wegmann and Davide Rebellin (both Gerolsteiner) and Patrik Sinkewitz (T-Mobile) also in there.
Fränk Schleck's winning attack
Photo ©: Roberto Bettini

On the third-last climb of the Fromberg and with less than 16 kilometres remaining, Bettini exploded out of this bunch like a bat out of hell, bridging to Wesemann just after the top of the climb (km 239.2, 13.9 km to go). Behind them, Wegmann, Ivanov and Schleck were chasing hard 10 seconds in arrears, and with Wesemann not working as a result of having Ivanov in the chase group, the penultimate climb of the Keutenberg led to an eventual regrouping. With 10 kilometres left to race, the following riders all stood a chance of victory: Wesemann, Ivanov, Sinkewitz (all T-Mobile), Bettini (Quick.Step), Kroon and Schleck (CSC), Boogerd (Rabobank), Perdiguero (Phonak), Sanchez (Euskaltel-Euskadi) and Rebellin (Gerolsteiner).
Not more than a kilometre later, Schleck attacked in a massive gear, immediately opening a gap to the rest of the leaders. Perdiguero attempted to get the guys going, and so did T-Mobile, but the lack of cohesion aided the Luxembourger's chances, who was holding a 15 second gap at Sibbe with 5k to go. By the foot of the Cauberg, Schleck earned himself five seconds more that proved more than enough to earn his most emotional and by far his finest-ever career victory, while an indefatigable Wesemann led a fruitless, last-minute chase, before attacking once more to take second place ahead of Boogerd, conceding defeat by throwing his hands up in the air as he crossed the line.
Photography
For a thumbnail gallery of these images, click here
Images by Anthony Tan/Cyclingnews.com
Images by Fotoreporter Sirotti
Images by Elmar Krings
Images by Roberto Bettini/www.bettiniphoto.net
Images by Brecht Decaluwé/Cyclingnews.com
Images by Mani Wollner/www.foto-grafik-satz.de
Results - 253 km
1 Frank Schleck (Lux) Team CSC                                        6.25.39 (39.36 km/h)
2 Steffen Wesemann (Swi) T-Mobile Team                                   0.22
3 Michael Boogerd (Ned) Rabobank                                         0.46
4 Karsten Kroon (Ned) Team CSC                                           0.48
5 Patrik Sinkewitz (Ger) T-Mobile Team                                       
6 Davide Rebellin (Ita) Gerolsteiner                                         
7 Miguel Angel Martin Perdiguero (Spa) Phonak Hearing Systems                
8 Paolo Bettini (Ita) Quickstep-Innergetic                               0.53
9 Stefan Schumacher (Ger) Gerolsteiner                                   0.57
10 Serguei Ivanov (Rus) T-Mobile Team                                    1.07
11 Alessandro Ballan (Ita) Lampre-Fondital                               1.12
12 Alexandre Moos (Swi) Phonak Hearing Systems                               
13 Fabian Wegmann (Ger) Gerolsteiner                                         
14 David Etxebarria Alkorta (Spa) Liberty Seguros-Würth Team                 
15 Samuel Sanchez Gonzalez (Spa) Euskaltel-Euskadi                       1.20
16 Andrea Moletta (Ita) Gerolsteiner                                     1.22
17 Oscar Freire Gomez (Spa) Rabobank                                     1.25
18 Cristian Moreni (Ita) Cofidis-Le Crédit par Téléphone                     
19 Thomas Dekker (Ned) Rabobank                                              
20 Chris Horner (USA) Davitamon-Lotto                                    1.30
21 Matthias Kessler (Ger) T-Mobile Team                                  1.33
22 Constantino Zaballa Gutierrez (Spa) Caisse d'Epargne-Illes Balears    1.34
23 Alejandro Valverde Belmonte (Spa) Caisse d'Epargne-Illes Balears          
24 Andry Grivko (Ukr) Team Milram                                        1.36
25 Leonardo Bertagnolli (Ita) Cofidis-Le Crédit par Téléphone                
26 Mario Aerts (Bel) Davitamon-Lotto                                     1.49
27 Igor Astarloa (Spa) Barloworld                                        1.53
28 Martin Elmiger (Swi) Phonak Hearing Systems                           2.54
29 Nicki Sørensen (Den) Team CSC                                             
30 Jurgen Van Den Broeck (Bel) Discovery Channel Pro Cycling Team            
31 Cédric Vasseur (Fra) Quickstep-Innergetic                                 
32 Koos Moerenhout (Ned) Phonak Hearing Systems                              
33 Thomas Voeckler (Fra) Bouygues Telecom                                    
34 Nicolas Jalabert (Fra) Phonak Hearing Systems                             
35 Gorazd Stangelj (Slo) Lampre-Fondital                                     
36 Stefano Garzelli (Ita) Liquigas                                           
37 Dmitriy Fofonov (Kaz) Crédit Agricole                                     
38 Christophe Brandt (Bel) Davitamon-Lotto                                   
39 Maarten Den Bakker (Ned) Team Milram                                      
40 Francesco Bellotti (Ita) Crédit Agricole                                  
41 Samuel Dumoulin (Fra) AG2R Prévoyance                                     
42 Laurens Ten Dam (Ned) Unibet.com                                          
43 Johan Van Summeren (Bel) Davitamon-Lotto                                  
44 Maxim Iglinskiy (Kaz) Team Milram                                         
45 Salvatore Commesso (Ita) Lampre-Fondital                                  
46 Björn Leukemans (Bel) Davitamon-Lotto                                     
47 Maarten Tjallingii (Ned) Skil-Shimano                                     
48 Wim Van Huffel (Bel) Davitamon-Lotto                                      
49 Manuele Mori (Ita) Saunier Duval-Prodir                                   
50 Kjell Carlström (Fin) Liquigas                                            
51 Vladimir Gusev (Rus) Discovery Channel Pro Cycling Team                   
52 Filippo Pozzato (Ita) Quickstep-Innergetic                                
53 Francisco Mancebo Perez (Spa) AG2R Prévoyance                             
54 José Azevedo (Por) Discovery Channel Pro Cycling Team                     
55 Eddy Mazzoleni (Ita) T-Mobile Team                                        
56 Bram Tankink (Ned) Quickstep-Innergetic                                   
57 Axel Merckx (Bel) Phonak Hearing Systems                                  
58 Luca Paolini (Ita) Liquigas                                               
59 Giuliano Figueras (Ita) Lampre-Fondital                                   
60 Kim Kirchen (Lux) T-Mobile Team                                           
61 Sylvain Chavanel (Fra) Cofidis-Le Crédit par Téléphone                5.31
62 Giampaolo Cheula (Ita) Barloworld                                         
63 Aitor Perez Arrieta (Spa) Caisse d'Epargne-Illes Balears                  
64 Stijn Devolder (Bel) Discovery Channel Pro Cycling Team               5.47
65 Benoît Joachim (Lux) Discovery Channel Pro Cycling Team                   
66 Johan Coenen (Bel) Unibet.com                                             
67 Aart Vierhouten (Ned) Skil-Shimano                                        
68 Michael Blaudzun (Den) Team CSC                                           
69 Philippe Gilbert (Bel) Française des Jeux                                 
70 Heinrich Haussler (Ger) Gerolsteiner                                      
71 Matthew Wilson (Aus) Unibet.com                                           
72 Fabio Sacchi (Ita) Team Milram                                            
73 Serge Baguet (Bel) Quickstep-Innergetic                                   
74 Björn Schröder (Ger) Team Milram                                          
75 Pietro Caucchioli (Ita) Crédit Agricole                                   
76 Marco Marzano (Ita) Lampre-Fondital                                       
77 Mauro Facci (Ita) Barloworld                                              
78 Inaki Isasi Flores (Spa) Euskaltel-Euskadi                                
79 Pieter Weening (Ned) Rabobank                                             
80 Markus Zberg (Swi) Gerolsteiner                                       6.02
81 Angel Vicioso Arcos (Spa) Liberty Seguros-Würth Team                  6.10
82 Patrick Calcagni (Swi) Liquigas                                           
83 Iker Camano Ortuzar (Spa) Euskaltel-Euskadi                               
84 Luis Pasamontes Rodriguez (Spa) Unibet.com                                
85 Jens Voigt (Ger) Team CSC                                                 
86 David Arroyo Duran (Spa) Caisse d'Epargne-Illes Balears                   
87 Rubens Bertogliati (Bra) Saunier Duval-Prodir                         6.31
88 Daniel Musiol (Ger) Team Milram                                           
89 Hugo Sabido (Por) Barloworld                                              
90 Sebastiaan Langeveld (Ned) Skil-Shimano                                   
91 Benoît Poilvet (Fra) Crédit Agricole                                      
92 Walter Beneteau (Fra) Bouygues Telecom                                    
93 Mads Kaggestad (Nor) Crédit Agricole                                      
94 Frédéric Bessy (Fra) Cofidis-Le Crédit par Téléphone                      
95 Sven Renders (Bel) Landbouwkrediet-Colnago                                
96 Pieter Ghyllebert (Bel) Chocolade Jacques-Topsport Vlaanderen             
97 Joaquin Rodriguez Oliver (Spa) Caisse d'Epargne-Illes Balears        18.11
98 Marcos Antonio Serrano Rodriguez (Spa) Liberty Seguros-Würth Team         
99 Joseba Albizu Lizaso (Spa) Euskaltel-Euskadi                              
100 Ruben Lobato Elvira (Spa) Saunier Duval-Prodir                           
101 Andrey Kashechkin (Kaz) Liberty Seguros-Würth Team                       
102 Addy Engels (Ned) Quickstep-Innergetic                                   
103 Bert Grabsch (Ger) Phonak Hearing Systems                                
104 Sandy Casar (Fra) Française des Jeux                                     
105 Ryan Cox (RSA) Barloworld                                                
106 Erwin Thijs (Bel) Unibet.com                                             
107 José Angel Gomez Marchante (Spa) Saunier Duval-Prodir                    


ProTour standings
1 Tom Boonen (Bel) Quick Step - Innergetic                            129 pts
2 Alessandro Ballan (Ita) Lampre-Fondital                             105
3 Fabian Cancellara (Swi) Team CSC                                     84
4 Alessandro Petacchi (Ita) Team Milram                                72
5 Antonio Colom Mas (Spa) Caisse D'epargne-Illes Balears               71
6 Filippo Pozzato (Ita) Quick Step - Innergetic                        70
7 Frank Schleck (Lux) Team CSC                                         65
8 George Hincapie (USA) Discovery Channel Pro Cycling Team             60
9 Samuel Sanchez Gonzalez (Spa) Euskaltel - Euskadi                    59
10 José Angel Gomez Marchante (Spa) Saunier Duval - Prodir             53
11 Floyd Landis (USA) Phonak Hearing Systems                           52
12 Thomas Dekker (Ned) Rabobank                                        51
13 Steffen Wesemann (Swi) T-Mobile Team                                50
14 Michael Boogerd (Ned) Rabobank                                      50
15 Francisco Javier Vila Errandonea (Spa) Lampre-Fondital              48
16 Alejandro Valverde Belmonte (Spa) Caisse D'epargne-Illes Balears    46
17 Patrik Sinkewitz (Ger) T-Mobile Team                                45
18 Thor Hushovd (Nor) Credit Agricole                                  44
19 Leif Hoste (Bel) Discovery Channel Pro Cycling Team                 42
20 Jörg Jaksche (Ger) Liberty Seguros - Würth Team                     40
21 Luca Paolini (Ita) Liquigas                                         35
22 Karsten Kroon (Ned) Team CSC                                        35
23 Bernhard Eisel (Aut) Française Des Jeux                             32
24 David Kopp (Ger) Gerolsteiner                                       30
25 Juan Antonio Flecha Giannoni (Spa) Rabobank                         30
26 Peter Van Petegem (Bel) Davitamon-Lotto                             30
27 Paolo Savoldelli (Ita) Discovery Channel Pro Cycling Team           30
28 Alberto Contador Velasco (Spa) Liberty Seguros - Würth Team         29
29 Oscar Freire Gomez (Spa) Rabobank                                   29
30 Danilo Napolitano (Ita) Lampre-Fondital                             26
31 Paolo Bettini (Ita) Quick Step - Innergetic                         26
32 Leonardo Bertagnolli (Ita) Cofidis, Le Credit Par Telephone         23
33 José Azevedo (Por) Discovery Channel Pro Cycling Team               22
34 Miguel Angel Martin Perdiguero (Spa) Phonak Hearing Systems         22
35 Frédéric Guesdon (Fra) Française Des Jeux                           15
36 Stefano Garzelli (Ita) Liquigas                                     15
37 Erik Dekker (Ned) Rabobank                                          15
38 Ivan Basso (Ita) Team CSC                                           15
39 Davide Rebellin (Ita) Gerolsteiner                                  14
40 Bert Roesems (Bel) Davitamon-Lotto                                  10
41 Cadel Evans (Aus) Davitamon-Lotto                                   10
42 Pietro Caucchioli (Ita) Credit Agricole                             10
43 Allan Davis (Aus) Liberty Seguros - Würth Team                       9
44 Erki Pütsep (Est) Ag2R Prevoyance                                    5
45 Christophe Mengin (Fra) Française Des Jeux                           5
46 Martin Elmiger (Swi) Phonak Hearing Systems                          5
47 Andreas Klier (Ger) T-Mobile Team                                    5
48 José Luis Rubiera Vigil (Spa) Discovery Channel Pro Cycling Team     5
49 Andrey Kashechkin (Kaz) Liberty Seguros - Würth Team                 5
50 Stefan Schumacher (Ger) Gerolsteiner                                 4
51 Erik Zabel (Ger) Team Milram                                         4
52 Thomas Voeckler (Fra) Bouygues Telecom                               3
53 Markus Zberg (Swi) Gerolsteiner                                      3
54 Joaquin Rodriguez Oliver (Spa) Caisse D'epargne-Illes Balears        3
55 Bobby Julich (USA) Team CSC                                          3
56 Staf Scheirlinckx (Bel) Cofidis, Le Credit Par Telephone             2
57 Christopher Horner (USA) Davitamon-Lotto                             2
58 Matteo Carrara (Ita) Lampre-Fondital                                 2
59 Thomas Danielson (USA) Discovery Channel Pro Cycling Team            2
60 Evgeni Petrov (Rus) Lampre-Fondital                                  2
61 Sylvain Chavanel (Fra) Cofidis, Le Credit Par Telephone              2
62 Jens Voigt (Ger) Team CSC                                            2
63 Riccardo Ricco (Ita) Saunier Duval - Prodir                          2
64 Joost Posthuma (Ned) Rabobank                                        2
65 Robbie Mcewen (Aus) Davitamon-Lotto                                  2
66 Serguei Ivanov (Rus) T-Mobile Team                                   1
67 Kurt-Asle Arvesen (Nor) Team CSC                                     1
68 Fabian Wegmann (Ger) Gerolsteiner                                    1
69 Sandy Casar (Fra) Française Des Jeux                                 1
70 Juan Jose Cobo Acebo (Spa) Saunier Duval - Prodir                    1
71 Francisco José Ventoso Alberdi (Spa) Saunier Duval - Prodir          1
72 Jérôme Pineau (Fra) Bouygues Telecom                                 1
73 Bradley Mcgee (Aus) Française Des Jeux                               1