Recently on Cyclingnews.com
60th Vuelta a Espaņa - GT
Spain, August 27-September 18, 2005
Main Page Results Overall standings Stage Details Live report Previous Stage Next Stage
September 12: Rest Day 2
Heras takes control and Petacchi makes it four
By Les Clarke
The Heras train about to leave
Photo ©: AFP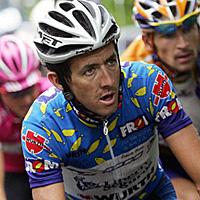 It's been a short stint since the first rest day, but in between there's been action aplenty; another win for Alessandro Petacchi, a crash for Heras and mountain drama galore in the high country of the Asturias. Euskatel-Euskadi delivered on the promise they always show with a win to Samuel Sanchez on stage 13 and second to the same rider on stage 15, and Communidad Valenciana forgot about their troubled times of late with a win to Eladio Jimenez on the tough stage 14.
There have been more riders abandon the race, many of whom have left to concentrate on their world championship campaigns, while others have just found the going too tough after a hot first week, then a punishing stint in the mountains which hasn't finished yet. Belgian ace Tom Boonen is one of the higher-profile abandonments, clearly having one eye (or even two) on his form for Madrid on September 25. Belgian sprinter Tom Steels was flown to hospital after a nasty crash on stage 13, and obviously had to forego his place in the race - thankfully, the Davitamon-Lotto rider didn't suffer any lasting injuries. Discovery Channel's Jose Azevedo didn't take to the start of stage 13, and Saunier Duval local boy David De la Fuente decided he wanted out on stage 14.
Francisco Mancebo (Illes Balears)
Photo ©: Sirotti
Carlos Sastre, Francisco Mancebo and Denis Menchov now find themselves fighting for second place after Roberto Heras' amazing burst on stage 15 to establish a lead of four minutes and 30 seconds - this after crashing heavily on stage 12. Heras' knee was badly cut in the accident, which occurred after 95 kilometres and forced CSC's Jakob Piil to abandon the race. Resting in the pack while always keeping Menchov in his sights over the stages following his accident, Heras appears not to have suffered any lasting ill-effects of the crash, apparent during yesterday's stage. The three-time Vuelta winner rode a perfect mountain stage to put over five minutes into previous leader Denis Menchov (Rabobank).
Heras' team has worked in a similar fashion to the way he and his former team, US Postal, worked for Lance Armstrong in the Tour de France. Heras has been the clear team leader, rarely left isolated on climbs, particularly after his nasty fall. Michele Scarponi and Joseba Beloki have used all their ability to keep Heras well in the hunt - for Heras it was then a matter of picking the right time to attack, which happened to be in the rain of stage 15.
But with two more heavy climbing stages, some hectic sprinting and an individual time trial to come in the run to Madrid, anything and everything is possible in what has been an intriguing race so far. Let the intrigue continue!
Stage 12 - September 8: Logroņo-Burgos, 133 km
Petacchi dedicates his win
Photo ©: Sirotti

Another stage, another stage win for Alessandro Petacchi. What was news to come from stage 12, however, was the crash which affected Roberto Heras after 95 kilometres. Jakob Pill and Petacchi were also involved in the accident, with Piil forced to abandoned the race as a result of the concussion he suffered - but Petacchi wasn't badly affected, dominating the sprint in what has been a familiar sight in this year's edition of the Vuelta. An early break had managed a lead in excess of four minutes, but as has happened so often in this Vuelta, Fassa Bortolo's leadout train reeled the escapees in over the final kilometres to set up Ale Jet for the win. Menchov held onto yellow, but not as a result of Heras' crash - Rabobank's Russian rider didn't increase his lead, waiting with the rest of peloton for Heras to rejoin the race. A classy move on what was a busy day for riders.
Stage 13 - September 9: Burgos-La Bien Aparecida, 196 km
Samuel Sanchez (Euskaltel-Euskadi)
Photo ©: Sirotti

More drama on stage 13, with a very serious crash involving Davitamon-Lotto rider Tom Steels, (for which he was taken to hospital for), a Mauricio Ardila embarrassing mistake, and a new winner on the podium from the Basque boys, Euskatel-Euskadi. After 22 kilometres, Francisco Mancebo, Pedro Horrillo, Thorwald Veneberg (Rabobank), Dariusz Baranowski (Liberty-Würth) and Tom Steels were involved in a crash, with Mancebo and the other riders continuing the stage, but Steels had to be taken to hospital where the prognosis was positive. A large 'semi-break' went clear but was attacked by David Latasa (Comunidad Valenciana), Mauricio Ardila (Davitamon-Lotto) and Constantino Zaballa (Saunier Duval) - and later Oscar Pereiro (Phonak) - after 100 kilometres of racing.
This group stayed away, but a small group of riders - Samuel Sanchez (Euskaltel), Oscar Sevilla (T-Mobile), Joan Horrach and Pablo Lastras (Illes Balears) - caught the lead group and from this the winner came. Mauricio Ardila (Davitamon-Lotto) thought he had the stage win 100 metres ahead of schedule, celebrating prematurely, which allowed Sanchez and Pereiro past to fight it out for the actual stage win. An action-packed day for good and bad reasons.
Stage 14 - September 10: Nestlé La Penilla-Lagos de Covadonga, 172.3 km
Give me five!
Photo ©: Sirotti

On a testing parcours, Communidad Valenciana rider Eladio Jimenez took the win ahead of all the overall favourites, as they fought their own little battles behind the Spanish rider. Carlos Sastre (CSC) and Gilberto Simoni (Lampre) rode next to each other all the way to Lagos de Covadonga, constantly prodding each other for weaknesses. Further back, Roberto Heras and Denis Menchov resumed their battle for the overall lead, and despite his best attempts the Liberty Seguros rider couldn't shake the persistent Rabobank rider. The race was strung out on the deceptively difficult stage, lending itself to individual battles, and as a result the stage winner came from a break made after 39 kilometres. With 12 kilometres to go Jimenez made a push for the finish, and cantered across the line after holding off the attacks of Liberty Seguros and Sastre, who all seemed to struggle with the day's climbing.
Menchov stayed in the maillot oro for another day, with Heras, Sastre and Mancebo holding their positions at the top of the overall tree. Little did they know the following day would have HERAS stamped all over it!
Stage 15 - September 11: Cangas de Onis-Valgrande Pajares, 191 km
Scarponi and Heras ride together
Photo ©: AFP

During stage 14 it seemed Roberto Heras was struggling with the efforts made to hold off Denis Menchov, but on stage 15 this all went out the windown as Heras annihilated his opposition for the overall title with a powerful display of mountain attacking. Heras had previously targetted this phase of the race as crucial to his chances, and he delivered perfectly with an attack on the penultimate climb to put over five minutes into Menchov, who started the day in gold.
With breaks being made virtually from the stage start, riders such as Samuel Sanchez, mountains classification leader Joaquin Rodriguez and Mauricio Ardila were riding near the front all day. Heras and race leader Menchov were content to sit in the peloton and ride out the harsh weather conditions without the added strain of working in a small group. This paid dividends for Heras, who had enough fuel in the tank to attack on the Alto de la Colladiella after almost 140 kilometres. Overall contenders including Menchov, Sastre, Quesada, Sevilla and Mancebo all went with Heras as he caught the leading group. Only teammate Michele Scarponi, Francisco Lara (T-Mobile), Javier Pascual Rodriguez (Comunidad Valenciana) and Samuel Sanchez (Euskaltel) could stay with Heras on his second attacking raid before he found himself alone with six kilometres to the finish. Barring illness or injury, Heras may have sealed his fourth victory in his home tour.
It's not over…
The racing in this year's Vuelta certainly hasn't finished yet, despite Heras' commanding performance on stage 15. A transitional stage tomorrow, followed by two more days of tough climbing before the final individual time trial on Saturday could provide a few surprises and some great racing before the final stage into Madrid, where the teams will be more than happy the 2005 edition of the Vuelta a Espana is finished.