Tour de France Tech – July 18, 2005
Edited by John Stevenson
Got tech? Send press releases, news, and tech questions to the Cyclingnews tech desk.
Michael Rasmussen's Colnago Extreme-C mountain special
Michael Rasmussen's Rabobank Colnago Extreme-C
Photo ©: Anthony Tan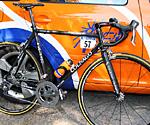 Almost every bike builder involved with the Tour has rolled out a new, lightweight machine for this year's extremely hilly race. Colnago is no exception, equipping Rabobank rider Michael "Chicken" Rasmussen with its latest Extreme-C frame, the first sub-1000g frame from Colnago that will actually be available for the rest of us to buy.
The ever-reliable Colnago Star
Photo ©: Anthony Tan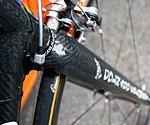 In the 2004 Tour de France, Cyclingnews was shown the prototype of the Extreme-C, which was created for Rabobank to Michael Boogerd, Levi Leipheimer and Michael Rasmussen to use for the l'Alpe d'Huez TT stage. That C50 proto was an extremely light frame, but still respected Colnago's rules about safety. When weighed before l'Alpe d'Huez, Leipheimer's bike was well below the UCI weight limit of 6.8kg, so the Rabobank's mechanics had to add some weight to the bike!
The new incarnation of the Extreme-C certainly seems to be doing the job for Rasmussen, who is leading the polka-dot jersey mountains competition in the Tour de France, and looking like a contender for the podium in Paris.
We thought
Photo ©: Anthony Tan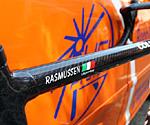 Alex Colnago told Cyclingnews about the new frame. "Our new Extreme-C is the perfect frame for riders asking a very light frame, especially for climbing," he said by phone from Colnago's world HQ in Cambiago, Italy. "We have the C50 as a the universal frame, for every type of riding. Our Extreme-C was created for special riders, who are looking for the lightest bike for the long, hard mountain climbs, where every gram is important."
The B-Stay wishbone rear stays.
Photo ©: Anthony Tan
Getting the weight down was therefore the first priority for the new bike, but it had to be done right.
"We brought the weight of the Extreme-C below 1,000 grams in a medium sloping size and have re-engineered this new model step by step from the C50," said Colnago. "First, we use round carbon fiber tubing, which is the best shape to keep the whole frame light. Since the lighter weight reduced the overall stiffness of the frame, my uncle Ernesto Colnago created new oversized, more rigid chainstays to increase power transmission for those long, hard extreme climbs."
The head-tube cluster.
Photo ©: Anthony Tan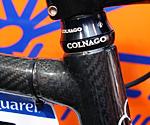 Not surprisingly, Rasmussen's exploits, including his spectacular stage 9 solo victory in Mulhouse are a source of considerable excitement in Cambiago. "We are very proud of Michael Rasmussen's performance at the Tour and expect more from him in the stages to come," said Colnago.
According to Colnago, the first production Extreme-C framesets will be available in very limited quantities in October 2006.
Photography
For a thumbnail gallery of these images, click here
Images by Anthony Tan/Cyclingnews.com