91st Tour de France - July 3-25, 2004
Tour tech - July 22, 2004
Edited by Anthony Tan
Got tech? Send press releases, news, and tech questions to the Cyclingnews tech-heads.
Bikes of the 2004 Tour de France: Part II
By Tim Maloney & Anthony Tan
There's never a shortage of new schwag rearing its pretty little head at Le Tour. In our second squiz at the bikes of the 2004 Tour, we take a look at Michael "Chicken" Rasmussen's Colnago C-50 HP Mountain Prototype, Viatcheslav "Eki" Ekimov's USPS-Berry Floor Team Trek Madone, and David Etxebarria's Euskaltel-Euskadi Orbea Orca.
Black Beauty: Michael Rasmussen's Colnago C-50 HP Mountain Prototype
Michael Rasmussen's Colnago C-50
Photo ©: Cyclingnews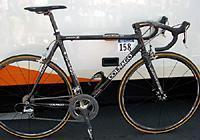 When Cyclingnews visited Ernesto Colnago in his HQ outside Milano last month, the world renowned bicycle builder gave us a sneak peek at some special super-lightweight climbing bikes he prepared for this year's Tour de France. Says Ernesto, "Theo de Rooy [Rabobank team manager] asked us to prepare some very special, very light bikes for the Tour de France, especially for the L'Alpe d'Huez mountain time trial. But we also built these for racing on any stage as we never compromise safety and reliability in any of our frames."
Colnago obtained a special, limited production high modulus carbon fibre from ATR (their exclusive composite material supplier located in Italy) and had the tubes made in a smaller diameter, circular section reminiscent of a C-40, rather than the C-50's star shape.
Top and down tubes,
Photo ©: Cyclingnews

Once the Tour hit the mountains, we saw the special Colnagos next to the Rabobank bus and took some quick piccies. We then asked the riders who race them their impression of the new Colnago machines. Levi Leipheimer, who has been racing on Colnagos for his two seasons at Rabobank, told Cyclingnews, "This bike is awesome... Ernesto gave us the go ahead to use this bike on all the mountain stages so we're not holding back. This bike weighs 6.84kg, right on the limit!"
Know to be a man who likes his equipment light from back in his mountain bike days, Rabobank's Michael Rasmussen couldn't agree more with his team-mate: "This Colnago climbing bike is awesome... it's the best bike I've ever ridden. It handles so well for such a light bike. I like it a lot." Rasmussen took his black beauty on breakaways on both Pyrenees stages, and look for both Rabobank riders to be aboard their Colnago prototypes in the Alps, too. At press time, there were no plans to commercialize this model, but Ernesto Colnago hinted that this special climbing prototype might be available as a very limited edition for 2005 if it passes the test of the Tour de France.
Specifications
Frame: Colnago C-50 HP mountain prototype
Size: 55cm (c-c) seat tube; 57cm (c-c) top tube
Cranks: Shimano Dura-Ace 175mm
Bars: Cinelli 44x130 RAM integrated
Wheels: Shimano Dura-Ace tubular prototype
Blue Ribbon Vanilla: Viatcheslav Ekimov's USPS-Berry Floor Team Trek Madone
Viatcheslav Ekimov's Trek Madone.
Photo ©: Cyclingnews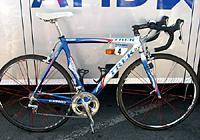 Hardly a plain vanilla rig, Eki's Tour team bike sports the new USPS-Berry Floor team colors that Trek delivered to the squad last month just before the Tour. Eki's frame is a 56cm model, with a blue and white colour scheme that celebrates Trek's original USPS color scheme that Armstrong rode to victory in the Tour de France at the close of last century.
Of note are the special Bontrager XXX carbon tubulars and standard 25.6mm diameter Deda Elementi stem and bars, not the oversize 31.8mm version. Eki positions his Shimano Dura-Ace levers very high on the bars in a seemingly Fast Freddy-like position, but since Eki is certainly no Fred, team mechanic Geoff Brown tells Cyclingnews that a lot of riders like the high position for greater comfort.
Mini-bike: David Etxebarria's Euskaltel-Euskadi Orbea Orca
David Etxebarria's Orbea Orca
Photo ©: Cyclingnews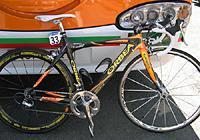 At 164 centimetres (5'5") tall and weighing just 55 kilograms, you could be forgiven for mistaking David Etxebarria's Orbea Orca for a kid's bike. But seriously, would any kid be riding a full carbon monocoque, Shimano Dura-Ace group, the latest Mavic wheels and a Tour de France race number?
Photography
Images by Tim Maloney/Cyclingnews