Tour de France Tech – July 25, 2005
Edited by John Stevenson
Got tech? Send press releases, news, and tech questions to the Cyclingnews tech desk.
The light stuff
Lance Armstrong's Tour-developed gear coming soon to mere mortals
Trek's team liaison manager Scott Daubert
Photo ©: Anthony Tan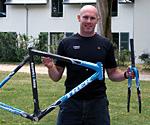 Win on Sunday, sell on Monday. It's the mantra of every bike manufacturer that sponsors a pro team. For Lance Armstrong and the Discovery Channel team's bike sponsor Trek, its association with the seven-time Tour winner has provided a perfect platform to improve its bikes. This year Armstrong has been aboard Trek's Madone SSLx, the 2006 incarnation of Trek's flagship road bike, which incorporates boron fiber in its carbon fiber structure and lightened components. Anthony Tan takes a look.
The headcup on the SSLx
Photo ©: Anthony Tan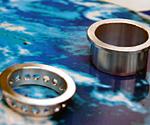 Lance Armstrong's penchant for the latest and lightest is well-known in the peloton. No other rider enjoys equipment sponsors willing to bend over backwards to offer improvements or modifications that save the odd gram here, or the odd second there. But as the man himself says, every second counts.
This year, the seven-time Tour winner rode around France on the first prototype of Trek's Madone SSLx frame, due to hit the shelves in limited quantities next year.
One bag for Lance
Photo ©: Anthony Tan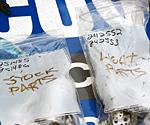 While some riders such as Paolo Savoldelli have stuck with the original Madone(that's the one with the aero-shaped seat-tube) as frame of choice, Armstrong and the rest of the Discovery Channel team have been riding aboard the Madone SSL for most of this season. However, Trek has recently taken the SSL one step further by adding OCLV boron in the bottom bracket and shaving weight wherever possible on all non-carbon attachments. The result: a sub-1 kilo frame, dubbed the Madone SSLx.
Bontrager all-carbon prototype fork
Photo ©: Anthony Tan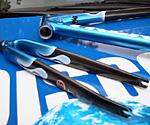 "Right now, our aim is to be as light as possible, but still remain safe," said Trek's team liaison manager Scott Daubert to Cyclingnews. "The reason why this is important to us now is that this will become our flagship frame available to consumers next year."
Daubert then went on to explain the nature of the modifications. "All the aluminium parts in a Trek [SSL] frame, we've addressed in some way," he said, "bits and pieces where you have to attach something to the bike, where carbon fibre doesn't machine that well. We've removed material that was in the past aesthetic, or we've removed material that we knew wasn't of structural value."
Lance Armstrong's SSLx complete
Photo ©: Tim Maloney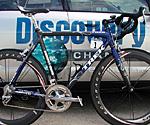 Two items that were addressed came in the form of drop-outs and head-cups for the fork steerer, which had both been painstakingly drilled to save a few grams over its SSL predecessor. Interestingly, the addition of boron in the frame cancels out most of the aforementioned weight-saving, but the increase in stiffness in the area of highest torsional load was considered more of a priority. "The SL, SSL and SSLX are all very similar in weight, they're all within 100 grams of each other," Daubert confirmed.
The rear drop-outs
Photo ©: Anthony Tan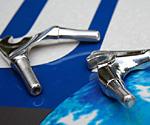 The final piece of proto being played around with is an incredibly lightweight all-carbon fork, although it's yet to be decided whether this will make it into the SSLX package in '06. Armstrong and a few of his Discovery team-mates have all used it in testing with no noticeable difference, but the whole team has stuck with the tried and true carbon fork/aluminium steerer combination for this year's Grand Boucle.
Price is also yet to be decided on, but expect to pay a few dollars more than the current Madone SSL flagship, which retails for US$6,995.
Photography
For a thumbnail gallery of these images, click here
Images by Anthony Tan/Cyclingnews.com
Images by Tim Maloney/Cyclingnews.com