Tour de France Cycling News for July 22, 2005
Edited by Jeff Jones, assisted by Sabine Sunderland
Stage 18 wrap up
Serano saves Liberty's Tour; Ullrich getting closer
By Shane Stokes
Marcos Serrano (Liberty Seguros)
Photo ©: AFP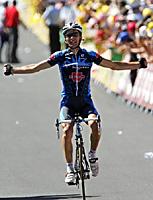 Marcos Serrano finally gave the Liberty Seguros team something to smile about when he raced to victory on today's 18th stage of the Tour de France today. The Spaniard attacked his breakaway companions on the steep climb of the Montee Laurent Jalabert, dropping Cédric Vasseur (Cofidis), Axel Merckx (Davitamon.Lotto) and Xabier Zandio (Illes Balears) on the 10% wall up to the finish in Mende.
The four were part of a group of ten which established itself 50 kilometres after the start in Albi, opening up a maximum lead of over 15 minutes approximately 20 kilometres from the end. Carlos de la Cruz (Francaise des Jeux) jumped clear shortly afterwards, but was caught and passed on the penultimate climb of the Cote de Chabrits. Merckx and former maillot jaune Thomas Voeckler (Bouygues Telecom) were clear over the summit but Serrano, Vasseur, Zandio and Franco Pellizotti (Liquigas-Bianchi) got back on before the start of the final climb, where Serrano made his victorious move.
The peloton hit the slopes over 12 minutes later and there an acceleration by Ivan Basso (Team CSC) carried race leader Lance Armstrong (Discovery Channel), Jan Ullrich (T-Mobile) and Cadel Evans (Davitamon.Lotto) clear. These drove it on to the finish, where Evans led them home 11'20 behind Serrano. Alexandre Vinokourov (T-Mobile), Michael Rasmussen (Rabobank), Levi Leipheimer (Gerolsteiner) and Francisco Mancebo (Illes Balears-Caisse d'Epargne) finished 37 seconds back, with Floyd Landis (Phonak Hearing Systems) a further 12 seconds down.
The net result is that Ullrich moves to within 2'12 of Rasmussen, meaning that a podium place is possible if he does a strong time trial on Saturday. Evans overtook Vinokourov to get back up to seventh overall.
"This victory is for my family, of course," Serrano said post-stage. "My wife, my children, my children, my family. And my team, of course, including the helpers. When someone wins it is not an individual victory but the work of the whole entity, the whole team which makes it possible. It is the team as a whole that does it, therefore this is a victory for Liberty Seguros."
Also see:
Stage 18 full results, report & photos
Live report
Complete stage maps & profiles
Start list
Stages
News
Photos
An interview with Marcos Serrano
On the wheel of Jalabert
This one's for you
Photo ©: Roberto Bettini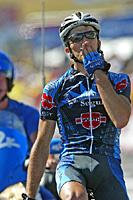 Liberty Seguros rider Marcos Serrano today saved the honour of his Spanish team by taking the victory on the Côte de la Croix-Neuve, recently renamed 'Côte de Laurent Jalabert' in the end of Stage 18 from Albi to Mende. Under a sunny sky and in beautiful wheat field country, Serrano attacked the remains of the obligatory break of the day on the last Spring Classic-like 10 percent ascent, and had no problems flying back down to the local airport with a strong tailwind blowing him to the finish, as Cyclingnews' Hedwig Kröner reports from Mende.
"It's unbelievable," he said after crossing the line. "You work so hard all the time and really suffer, and then you finally succeed!" As personally rewarding as a Tour de France stage win is, the Galician was quick to dedicate it to his family, and say that it was success of the whole team - who had to bury their hopes for good general classification standings in this Tour de France, as leader Roberto Heras wasn't exactly up to the challenge in the recent mountain stages.
"I don't know if this makes up for our lost hopes," he replied when asked what the victory meant to Liberty Seguros. "We've tried to jump into the breakaways in the mountain stages of this Tour. Allan Davis was there the other day, and Alberto Contador also. Today was my turn..."
Click here for the full story
Merckx unhappy with Vasseur
Merckx and Vasseur
Photo ©: Sirotti

Third placed Axel Merckx (Davitamon-Lotto) was not impressed with Cedric Vasseur (Cofidis), who sprinted around him at the finish to take second place, despite not helping Merckx chase Marcos Serrano. "Bastard," Merckx fumed to Belgian TV1 immediately after the stage. "Serrano was the best. He simply rode away. Vasseur stayed on my wheel and didn't want to come through. If you want to finish second in a Tour stage, I think you should make an effort. Serrano was better, especially on that second climb."
Basso tries one more time
On the final climb of Stage 18, the Côte de la Croix Neuve (3 km at 10%), CSC's team leader Ivan Basso played his final card to try and distance Lance Armstrong and co. in the general classification. Although Armstrong was once again able to follow Basso's acceleration on the leg snapping climb, Basso did manage to put some time between himself and third on GC Michael Rasmussen (Rabobank), with the future Tour King of the Mountains being unable to follow. Only Cadel Evans and Jan Ullrich could stick with Basso and Armstrong on the climb, and the quartet finished 37 seconds clear of Rasmussen, Vinokourov, Leipheimer, and Mancebo.
"I gave everything I had on the final climb, as it's probably the last mountain with any significance in this year's Tour de France," said Ivan Basso on team-csc.com. The Italian is still 2.46 behind Armstrong in the general classification, but now a full minute ahead of Rasmussen in third place.
Luke Roberts (CSC)
Photo ©: Luc Claessen
Luke Roberts (7th) told Cyclingnews' John Trevorrow at the finish, "It was fun out there. I've been trying to get in a break for a couple of days, but it was unfortunate that the finish wasn't really for me. I knew I was going to only have a slim chance with a group like that. Too many good climbers in there. I had to save some energy to ride as good as possible up the climb."
Team CSC's team manager Bjarne Riis commented, "We tried to get Bobby or Carlos in a break, but that didn't work, so I went off, even though it might have been better for the team, if one of those two had gotten away," said a modest Roberts after his seventh place in today's stage, 1'28 after the winner Marcos Serrano (Liberty Seguros).
"The finish wasn't really Luke's cup of tea, but you never know what could happen, so it was fine for him to be up front. We tried to put the peloton under pressure on the penultimate climb, and then the plan was for Basso to attack again at the end. We did succeed in making a difference and it's great to see Ivan on the offensive."
Evans improving
Cadel Evans (Davitamon-Lotto)
Photo ©: Sirotti

A strong ride by Cadel Evans moved him back into seventh overall, 9'49 behind leader Lance Armstrong and 1'37 behind sixth placed Levi Leipheimer. Evans was able to hold onto Armstrong, Basso, and Ullrich when they attacked on the last climb, eventually finishing 37 seconds up on the next group of GC contenders. Cyclingnews' John Trevorrow spoke to Evans on the finish line, and the Australian was happy with his performance, which made up for yesterday's 20 second time loss near the finish.
"All that work and only one place," said a smiling Evans. "I'm sure there was a little aggression in my legs. Any opportunity I can, I take. You can't afford not to. Finally I ran into the level of the Tour. Bit late, but better late than never."
Unfortunately for Evans, his sprint to take 11th place displeased Lance Armstrong, who had led the group up to the finish line. "He wasn't happy about me coming past at the finish," Evans said. "He said 'What was that for?' I suppose he meant that I hadn't done any work. But hey, it's a bike race and you put a finish line in front of me on a day like today with the adrenalin pumping and I can't help myself. I don't even know what day it is, man."
Evans was happy with his teammates today, who put him in the right place at the finish. "Today I had a great lead out from my team as we approached the final climb. Wim Vansevenant put me in the ultimate position, if anything I was too far forward, but I could afford to take it easy at the bottom part of the climb, get in my perfect position and go forward from there.
"I am better at the shorter, steeper climbs, and a good mate called me this morning and said 'today it will be Armstrong, Rasmussen and Evans on the climb. I didn't believe him and he was wrong, it was Basso not Rasmussen."
Were you in trouble on the climb? "Let's say I wasn't sitting there looking at my watch. In fact I took it off this morning cause I didn't want any extra weight."
How do you see yourself in the time trial? "Well, this was a steep uphill and the TT is up and down, but I am just happy to be in this position now and I will take it day by day. I just wanted to get through this without losing any time and I did that. I managed to stay with Armstrong and take some time on the others and that's always a bonus."
Tour riders pay tribute to Australian team
The Tour peloton held a minute's silence before the start of the 18th stage between Albi and Mende in memory of Amy Gillett, the Australian national women's team rider who was killed and five of her teammates seriously injured in a terrible accident in Germany last Monday. It was a sobering moment for the riders, who would have all had close calls with motor vehicles during their careers.
Cyclingnews' John Trevorrow spoke to Tour leader Lance Armstrong about the tragedy, and the Discovery Channel captain commented, "Our sport is extremely difficult. Every time you suit up you take life into your own hands. As an English speaking rider, it's close to home.
"Our hearts go out to their families. I know that we were thinking of them. Their loss weighs heavily on us, and everyone in the peloton. We know that every time we go out it could happen to us."
CSC's Luke Roberts put things into perspective: "The last couple of days I have been struggling with concentration about a bike race. I think of the pain that I am going through, and then I think of the families and loved ones of the girls [Australians killed/injured in Germany] and what they must be struggling with. I then realize that this is nothing."
Condolences and tributes
Cyclingnews has now published three pages of tributes from cyclists and supporters from around the world who've been affected by this tragedy. Please see: Amy Gillett: Tributes, Part 1, and More tributes to Amy Gillett, 1976-2005 and Part 3 (posted July 21).
Cycling Australia has also established an email link for people who wish to send condolence messages to the family of Amy Gillett or to pass on their thoughts and wishes to those injured. Go to Cycling Australia's web site and follow the link on the home page.
Related stories:
Amy Gillett dead after crash in Germany
Unprecedented carnage in Germany
AIS women update - condition still critical, but AIS 'optimistic' about recovery
The Tour de France of give-aways and competitions
Don't miss out at Tour time!
Resident freebies expert, Rufus Staffordshire, sniffs out some competitions where up to $1 million in prizes are on offer as manufacturers clamber for your eyeballs. Woof!
Lucky 7 Sweepstakes'
Photo ©: Trek
The Tour de France is not only a reasonably popular bike race, ahem, it's also a great opportunity to win an incredible range of prizes and competitions on offer from manufacturers, publishers and distributors.
Many of our sponsors are offering Cyclingnews readers a schwag-fest of give-aways during the lap-around-France. The prizes on offer range from Volkswagens and vaccuum cleaners through to trips to Paris for the 2006 TdF, as well as actual kit being ridden by top pros in the Tour - including top bikes from Trek, Cervelo, and Avanti.
So that you don't have to go hunting around the Internet for all these goodies, we've assembled the Cyclingnews complete guide to Tour freebies and competitions.
(All rights reserved/Copyright Knapp Communications Pty Limited 2005)