First Edition TdF Cycling News for July 1, 2005
Edited by Jeff Jones & Hedwig Kröner
Lance Armstrong's final pre-Tour press conference
Big Tex Armstrong ready for super seventh Tour de France challenge
By Tim Maloney, European Editor in Challans, France
Lance Armstrong (Discovery Channel)
Photo ©: Anthony Tan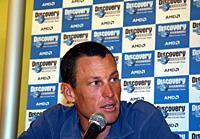 Lance Armstrong was visibly at ease as he faced the assembled media circus at for the traditional pre-Tour de France press conference in Challans, France. Commencing his sixth consecutive pre-Tour press conference, Armstrong said he was feeling "relaxed...I was more nervous last year...up against the demon of being the first to win a sixth tour. It was an incredible burden to get rid of. This year, I'm not chasing history, a legacy, I'm just here to enjoy the Tour and have a good time."
Earlier in the season, Armstrong had an inauspicious 2005 debut in March at Paris-Nice, but remained focused on his preparation for the Tour de France. "I had a lot of doubts as I suffered through the first few stages of Paris-Nice, but I never panicked about my Tour preparation. I knew I couldn't waste a day but I'm now at the place I need to be."
Click here for the full story
Challenge the wind
Armstrong and Discovery Team tests Tour stage 1 TT course
By Tim Maloney, European Editor in Nantes, France
The boys are back in town:
Photo ©: Tim Maloney

Thursday morning at 11:45, the Discovery Channel Pro Cycling team departed from their hotel in Nantes, the French city where Lance Armstrong clinched his 2003 Tour win. It must have felt familiar to the Texan, as the variable weather with periods of rain interspersed with rain and powered by a strong northwest wind off the Atlantic Ocean was much like the lousy, rainy day almost two years ago of the Pornic-Nantes TT.
Later that afternoon, after a four hour ride where the Discovery Channel riders tested the Stage 1 TT course, Armstrong spoke about the Saturday's opening stage to Noirmoutier en l'Isle, evaluating the opening time test in his race in his usually incisive manner. "This stage is much different than most years; it's like 2000 (in Futuroscope) and it doesn't feel like a 20km time trial. That's because it's a point to point stage. And the entire race will have a headwind...there's one bridge, five roundabouts and hardly any turns. So it actually feels like a 30km time trial...long enough to make some serious time differences. So (I) will try and take some time out of my competition already."
Lance
Photo ©: Tim Maloney

Armstrong will tackle the Fromentine-Noirmoutier Stage 1 TT aboard his new Trek TTX time trial prototype bike, and according to Scott Daubert of Trek, the Texan will use the same 38mm narrow profile Bontrager TT bars that he used two years ago in that very same Pornic-Nantes TT. "With the strong head and cross winds, Lance wants to keep a narrow profile to cut down wind resistance", explained Daubert. As defending Tour Champion, Armstrong will start last at 6:48PM and according to the TDF time schedule, his ride is expected to last 24 minutes over the 19 km course.
The Maillot Vert Contendahs!
Cyclingnews' chief online editor and canal sprint wannabe Jeff Jones reviews who's likely to be banging shoulders all the way to Paris in the 2005 Tour.
One of the many duels
Photo ©: Olympia Photo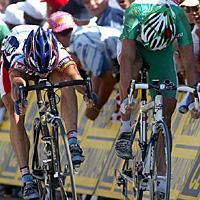 The green points jersey, or maillot vert competition was introduced in 1953, and has become the Tour's second most prized jersey after yellow. It's considered the sprinters' jersey, but it doesn't necessarily go to the best sprinter in the Tour, but the most consistent...and one who can survive the mountains. Many of the Tour's sprinters pack their bags as soon as the halfway point is reached and the road goes up above the treeline. There's also the need to fight out every bonus sprint along the road, because every point is important for the green jersey, and on more than one occasion, it has been decided in the finishing sprint on the Champs Elysées.
Past winners of the green jersey include Eddy Merckx, Freddy Maertens, Sean Kelly, Djamolodine Abdujaparov, Laurent Jalabert, Robbie McEwen, and Erik Zabel, the latter having won the green tunic a record six times in a row between 1996 and 2001. Zabel has always coloured the green jersey competition, and although he has lost out to Robbie McEwen and Baden Cooke in the past few years, he has made them work hard for it. But his T-Mobile team decided that it didn't want to take him to the Tour this year in order to focus completely on Jan Ullrich and the yellow jersey. It was a bitter pill to swallow for the world's former number one sprinter, but in cycling, you are only as good as your last race.
Click here for the full story
Phonak out for a collective win
Phonak at Eindhoven TTT, led by Floyd Landis
Photo ©: Christine Grein

The Swiss Phonak team has set its goals for this year's Tour de France. Manager John Lelangue has established three criteria to be met at the upcoming race: one rider to place top five on GC, offensive riding in general, and adding further points for the Tour team classification as well as the UCI team ranking. Lelangue is convinced his team can live up to these challenges, and refuses to put any further pressure on the riders. "We will always make the best out of every situation," he said. "If you exert a lot of pressure and the demands cannot be met, it's bad for motivation and doesn't breed a good atmosphere."
A lot of emphasis is put on the team time trial, where Lelangue is expecting a top three finish. 67.5 kilometres will have to be raced collectively against the clock on Tuesday, July 5, and Phonak's American rider Floyd Landis is not afraid to throw a ball: "Our goal is to win it," he told L'Equipe on Thursday. The team reconnoitred the time trial course from Tour to Blois yesterday. "We had been told that the last little climb 10 km before the finish was difficult," said Nicolas Jalabert, "But in fact it's not even three percent gradient."
"It's not dangerous," his teammate Landis continued. "There's no tight curve, only a few roundabouts. That's fortunate, as the rigid time trialling bikes are very difficult to control if it rains." The parcours (Click here for map and profile) doesn't feature any particular difficulties, and the squad that placed second in the Eindhoven ProTour team time trial is ready - even if they know that competition will be tough.
"Apart from a little narrower roads in the end, with rough, dead tarmac, the route isn't difficult so I'm sure that the times will be fast," said Robert Hunter, who will be the team's lead-out on Tuesday, the first off the starting block to set the pace for his team. Phonak's rotating order will be: Hunter, Grabsch, Pereiro, Botero, Moos, Gutierrez, Jalabert and Zampieri, each rider taking a leading turn not exceeding 30 seconds. "Above that," explained Jalabert, "you spend too much energy and pay for it in the end - especially if you've lost some men or if some can't take a turn anymore."
TTT training for Liberty
The nine riders of Spanish Liberty Seguros-Würth team went out training for the second time since their arrival in France. Team director Manolo Saiz advised the riders to work their team time trialling skills on the parcours of stage four, to be raced on July 5. Despite the risk of rain in Northern France, the Liberty train practised different alternatives to optimise power output for three hours. Finally, the rain did start and the team returned to its hotel.
Tomorrow, the team will undergo medical check-up before training again, and attending the official presentation of the Tour de France 2005 in the evening.
Weather update
French weather forecasts have announced an improvement of the bad weather for the weekend, just in time for the start of the Tour de France. While local temperature in Noirmoutier averaged 18° Celsius on Thursday, it should increase above 20° Celsius on Saturday as skies are predicted to be less cloudy, the risk of rain diminishing.
(All rights reserved/Copyright Knapp Communications Pty Limited 2005)