92nd Tour de France - July 2-24, 2005
Lance Armstrong's final pre-Tour press conference, June 30, 2005
Big Tex Armstrong ready for super seventh Tour de France challenge
By Tim Maloney, European Editor in Challans, France
Lance Armstrong (Discovery Channel)
Photo ©: Anthony Tan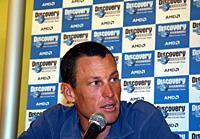 Lance Armstrong was visibly at ease as he faced the assembled media circus at for the traditional pre-Tour de France press conference in Challans, France. Commencing his sixth consecutive pre-Tour press conference, Armstrong said he was feeling "relaxed...I was more nervous last year...up against the demon of being the first to win a sixth tour. It was an incredible burden to get rid of. This year, I'm not chasing history, a legacy, I'm just here to enjoy the Tour and have a good time."
Earlier in the season, Armstrong had an inauspicious 2005 debut in March at Paris-Nice, but remained focused on his preparation for the Tour de France. "I had a lot of doubts as I suffered through the first few stages of Paris-Nice, but I never panicked about my Tour preparation. I knew I couldn't waste a day but I'm now at the place I need to be."
Asked if he was worried about all the competitors who had extra motivation to beat him because it was his last Tour de France, a measured Armstrong replied, "I don't really like (that my competitors are motivated), but that's part of it. Those are the facts. We all have to find our own specific motivations...it's normal, natural and good for sport. Sure it would be easier if (the competition) was not very motivated!", he joked.
As for the challenge at this year's Tour from the T-Mobile squad, with Jan Ullrich, Alex Vinokourov and Andreas Klöden, Lance replied, "It's a serious challenge...we saw Vino was very good in the Dauphiné; he was climbing and time trialing well and will be very motivated this year. I think Jan is in excellent shape this year and will get better as the Tour goes on; he's a major threat. With Klöden, you never know. Perhaps he'll be different this year. But we have our own triple threat with Savoldelli, Popovych and Azevedo. So T-Mobile is the biggest threat (for Discovery Channel) in the Tour this year. "
Armstrong watched last year's TDF third place rider Ivan Basso on TV every day during the Giro d'Italia and called the CSC rider, "very impressive at the Giro in beginning, bad luck in the stomach, but won two stages. So we can say that (Basso) has improved dramatically in the TT, is climbing well and is a very strong, classy rider. Basso is one of, if not the main challenger."
When asked where he felt what would be the determining factor in this year's Tour, Armstrong reduced the Tour De France to the nub. "The deciding factor? Who's the strongest." As for which might be the key moments in this year's Tour, Armstrong said frankly, "I'm most nervous about the opening stages in mountains...you never know what form, condition you have. On paper, the Alps don't look that difficult, but with back to back mountain stages, they are hard, especially the mountain top finish in Courchevel. The middle 10 days (of the Tour) are going to critical because you have a lot packed in there."
Armstrong feels he's done a good job of balancing the nostalgic feeling of riding his final Tour with the burning desire to put his seventh straight Tour De France win on the shelf. " I know time is not on my side, but having said that I'm motivated and ready to go. I can't control what my birth certificate says. I'll miss certain key moments, like never being in a team meeting as a leader at the Tour de France...I'll miss that.
He's alive!!
Photo ©: AFP

"I realize it will be the last time for a lot of things; (like today) the last time to preview and opening stage of the Tour, so every day will be special and every finish will be special. For me, the Tour is not a promenade around France. I'm still trying to win, so I'll have to balance the two things. Yeah, certain days are scary and nervous and I'll happy to have them pass. And sometimes there will be great days, so it's a balancing act. But now, I'm ready to move on and move back to the States full time and do some other things."
Speaking of where and how he finds his motivation to try and win a seventh straight Tour De France, Armstrong admitted, "It's different (this year) because it's my last one. But still love what I do; I cherish every day on the bike and I'll miss that." He spoke of his motivation to support his new sponsor, Discovery Channel. "They made a serious, long term commitment to the team and I feel excited and a little obligated to give them a TDF victory. Plus my children will be here this year, so I'd like to win it in front of my kids. It would be nice to show them one final yellow jersey..."
Armstrong spoke of his alleged love-hate relationship with the French and France and offered nothing but praise for l'Hexagone. "The French people have been excellent this year. They have been very encouraging, especially in Dauphiné. It's nice to see. I have nothing against (France); on the contrary, I love the country and love the (Tour), but I'm not a politician..."
One journalist at the press conference told Armstrong that he had placed a £100 bet at his bookmakers on the American to eventually end up in the White House after his retirement. Lance wasn't quite sure what to make of this, saying with a grin, "I don't know that I'm cut out for politics...I have no dreams of the White House. After I retire, I'll take some time to evaluate what I'm going to do."
Running for office was not on the Discovery Channel team leader's mind today in Challans; winning his seventh straight Tour was on top of Armstrong's list and Big Tex looks and sounds ready to win another shootout at the TDF corral starting with Saturday's opening TT.