Australian Road Cycling Championships - NE
Sunshine Coast, Australia, September 3-11, 2005
Main Page Results Overall standings Previous Day Next Day
Day 4 - September 6: Pairs time trials: under 15 men; under 15 women; under 17 men; under 17 women
Norwood boys and Midlands girls feature in the major medals
Pairs time trial caps off junior program at National Club Championships
By John Flynn in Mooloolaba
Norwood's winning team
Photo ©: John Flynn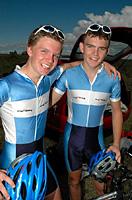 Buoyed by an overnight message of support from injured A.I.S. cyclist and Norwood team-mate Alexis Rhodes, talented South Australian duo Jack Bobridge and Christos Winter used their superior team work to slam home a gold medal performance in today's under 17 pairs time trial at Australia's National Club Championships.
On any other day, the freshly laid hotmix road surface and flat gradient (including one slight undulating hill) would have made for perfect time trialling conditions, but as can be the case with cycling events on Australia's East Coast, the near gale force South-East trade winds arrived just in time to play havoc with the young riders.
But the tougher the conditions, the more it seemed to play into the hands of the Norwood duo. The 'best mates' off the track, prevailed in a race against the clock, where team-work and the ability to follow a wheel were imperative. "This course suited us perfectly because it was an absolute hell of a course," Winter told Cyclingnews as the Team O'Grady riders packed up and headed home to Adelaide. "We've been training hard for this for the last year, together, we worked really well, he's a best mate of mine."
The sometimes savage winds were cutting across the riders on much of the course, which took an inland path over a journey of 20 kilometres for the under 17 men, and ten kilometres for the remaining age group divisions. Winter and Bobridge stopped the clock at 30 minutes 46.18 seconds, more than half a minute in front of Victorian pairing Leigh Howard and James Langedyk (Geelong C.C.) and 40 seconds ahead of Midlands pairing Tod Francis and Travis Meyer.
Bathurst boys
Photo ©: John Flynn

Howard's silver medal performance today, coupled with two gold medals (criterium and time trial) and a bronze in the road race made him clearly the standout rider in the under 17 men's division.
But the South Australian too had good reason to celebrate. "I've been to three Road Nationals and three Track Nationals. It's been that long I just wanted this, and yeah I got it, it's just heaven," an elated Winter revealed. "We've got medals, we've come close and this time was so good."
In the Under 17 women's event Western Australian cyclist Josephine Tomic also capped off an impressive overall performance at the National Club Championships. Her pairs time trial victory racing alongside team-mate Sarah Kent in a time of 17 minutes, 9.54 seconds for the ten kilometre effort, made it two gold medals, one silver and one bronze for the gifted Midlands rider in the space of four races.
"It was a huge tailwind on the way out and on the way back it was pretty tough," Tomic admitted post-race.
The only real challenge to the Western Australian duo came from their own number two team in the under seventeen women's division. The pairing of Camille Jones-Pallett and Rebecca Macpherson winning the silver medal, with the Balmoral pairing of Lucy Mosely and Zoe Appell, well back in third.
Midlands also won a bronze medal in the under seventeen men's division. The pairing of Travis Meyer and Tod Francis, helping cement the suburban Perth club's reputation in the junior divisions. "The Midland club brought a team of about twenty to Mooloolaba and we got quite a few medals," Meyer told Cyclingnews. "We hoping to do well and we achieved what we wanted."
What for the future?
Balmoral pairing
Photo ©: John Flynn

With so many high quality performances in the junior divisions at the National Club Road Championships, what does it say for the future of the sport in Australia?
The performances of Victorian Leigh Howard and Western Australian Josephine Tomic (each claimed 2 gold, 1 silver, 1 bronze) were obvious standouts. But just as worthy were the efforts of Queenslander Courtney Le Lay (Gold medals in the Under 17 road race and criterium) and under fifteen talents Megan Dunn, Brodie Stewart, and Patrick Drapac.
One worthy judge is Cycling Australia's race announcer Mark Windsor, who hails from the New South Wales Academy of Sport Program. Not surprisingly, He rates Leigh Howard, among the best junior talents yet to emerge.
"To win every title on the track and break an Australian record like the sprint and then come out and win the time trial yesterday against what I believe is a very strong group with heaps of depth in there is an exceptional performance," Windsor told Cyclingnews. "To be as fast as he is and still have as much endurance as he's got, you wonder how good he is."
Windsor was also highly impressed with the performance of Queensland's young female riders, including Under 17 road race and criterium winner Courtney Le Lay, and under fifteen time trial winner Brodie Stewart. "Brodie beat Megan (Dunn) in the time trial," Windsor mused. "Australian champion, fastest girl over two k, she's (Dunn) bloody good and for Brodie Stewart who's a year younger to come out and beat her. I just wonder how good Brodie Stewart is."
Plenty more racing yet
With the junior riders heading for home, the focus of the National Club Road Championships now turns to the Under 19, Under 23 and Open divisions. The senior program commences Thursday with individual time trials, followed by road races on Saturday and criteriums on Sunday.
Photography
For a thumbnail gallery of these images, click here
Images by John Flynn
Results

Under 15 men
 
1 Kevin Hawes/Lachlan Morton (Port Macquarie CC)                  17.17.87
2 Andrew Smith/Luke Ockerby (Mersey Valley Devonport CC)           0.03.05
3 Christopher Murphy/Grayson Follett (Gold Coast Goldstars C C)    0.03.58
4 Patrick Drapac/Warren Moore (Brunswick Cycling Club Inc)         0.06.38
5 Jack Hickey/Adrian Byrnes (Gunnedah Cycling & Trathlon Club)     0.18.91
6 Dale Parker/Shamus Liptrot (Central Districts C.C.)              0.37.33
7 Adam Phelan/Michael Phelan (Canberra Cycling Club)               0.46.57
8 Ethan O'Dell/Chris Hendy (Broncos)                               0.54.30
9 David Lyons/Edward Robinson (Launceston City CC)                 0.55.43
10 Ben Cutajar/Campbell Matt (Gold Coast Goldstars C C)            0.58.09
11 Jordan Van Der Togt/Jonathan Dunlop (Midland CC)                1.01.07
12 Sam Davis/Riley Pattison (Northern Districts CC)                1.03.58
13 Callum Docker/Alex Carver (Lidcombe Auburn CC)                  1.24.04
14 Gordon Foster/Jake Syme (Darwin Cycling Club)                   2.56.76
15 Callan Walker/Ryan Ockerby (Mersey Valley Devonport CC)         3.41.19
 
Under 17 men
 
1 Christos Winter/Jack Bobridge (Norwood C.C.)                    30.46.18
2 Leigh Howard/James Langedyk (Geelong Cycle Club)                 0.31.78
3 Tod Francis/Travis Meyer (Midland CC)                            0.40.42
4 Blair Windsor/Tim Guy (Bathurst CC)                              0.52.17
5 Ricky Peoples/Griffiths Trevor (Shepparton Cycling Club Inc)     0.55.09
6 Dale Scarfe/Laurence Van Schie (Central Coast CC)                1.31.19
7 Ben Grenda/Thomas Robinson (Launceston City CC)                  1.36.61
8 Glenn O'Shea/Anthony Rix (Bendigo & District CC)                 1.37.57
9 Joel Lewis/Byron Davis (kangaroo Point C C)                      1.41.17
10 Thomas Palmer/Lindsay Wall (Canberra Cycling Club)              1.50.01
11 Mitchell Brooks/Michael Freiberg (Midland CC)                   2.20.19
12 Ben Dyball/Brodie Talbot (Colnago - Caravello CC)               2.47.12
13 Jake King/Ben Sanders (Carnegie Caulfield CC)                   2.57.06
14 Nicholas Ferguson/Cameron Bayly (Norwood C.C.)                  3.04.87
15 Richard Lang/Aaron Brewer (Colnago - Caravello CC)              3.06.59
16 Daniel Jamieson/Alex Benson (Mersey Valley Devonport CC)        3.10.76
17 Darren Robbie/Loutit Alistair (Canberra Cycling Club)           3.52.62
18 Lachlan Ritchie/Joel Fahy (Bendigo & District CC)               5.50.20
DQS Matt Couanis/Michael Dowell (Peel Districts Cycle Club)               
 
Under 15 women
 
1 Tamara Josefski/Courtney Dutton (Broncos)                       18.18.68
2 Brodie Stewart/Bridget Mohr (Balmoral Cycle Club)                0.22.41
3 Heather Macpherson/Michaela Anderson (Midland CC)                0.43.05
4 Emma Smith/Amy Cure (Mersey Valley Devonport CC)                 0.44.07
5 Tara Bryan/Caitlin Brookes (Wagga Wagga CC)                      0.50.66
6 Sarah Cure/Bianca Thomson (Mersey Valley Devonport CC)           1.37.62
 
Under 17 women
 
1 Sarah Kent/Josephine Tomic (Midland CC)                         17.09.54
2 Camille Jones-Pallett/Rebecca Macpherson (Midland CC)            0.41.30
3 Lucy Moseley/Zoe Appel (Balmoral Cycle Club)                     1.34.94
4 Chloe Hosking/Caitlin Westropp-Evans (Canberra Cycling Club)     1.51.80
5 Danielle Longworth/Gabriella Miller (Peel Districts Cycle Club)  3.01.97