Australian Road Cycling Championships - NE
Sunshine Coast, Australia, September 3-11, 2005
Main Page Results Overall standings Previous Day Next Day
Day 5 - September 8: Time trials: under 19 women; under 19 men; under 23 men; elite women; elite men
Watt wins time trial gold at National Club Championships
'Big Troy' gets it in the men's race
Troy Glennan (Sutherland Shire CC)
Photo ©: John Flynn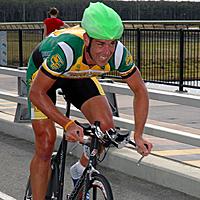 Former Olympic Gold medalist Kathryn Watt may yet achieve the dream of riding past the front door of her shop in the time trial event at next year's Melbourne Commonwealth Games after scoring a second successive victory in her pet race at the National Club Road Cycling Championships on Queensland's Sunshine Coast.
The ageless star of Australian Women's Road Cycling, who launched a comeback last year, but failed in her bid to make the 2004 Olympic Games team, is one step closer to another shot at 'Games Glory', but will need to remain consistent over the Australian summer to achieve her ultimate goal.
"I'd really like to try and make the Commonwealth Games team for the time trial," a smiling Watt told Cyclingnews after today's event.
"It's in Melbourne, and the road race is on a course which I won the Australian championship on in '98 and the time trial's on a course which I train on nearly every day - it comes right past our shop and the turnaround point."
So it happens, it was at the 'turnaround point' of yesterday's race (6.25 kilometres of a 25km course) that Watt had already asserted her authority on the race against the clock.
The conditions at Kawana Waters, very much to the liking of the Australian Women's Cycling legend, whose form continues to improve after two months of intense racing in Europe.
"It was awesome great course; big long straight stretches," Watt said.
"A lot of hot mix, a bit windy but it was good, I've just got this new Wolda bike from Europe, pretty fast."
Fast indeed! Watt's time of 36 minutes and 32 seconds, was more than two minutes in front of second placed Toireasa Gallagher for the journey of 25 kilometres. The Victorian wasting no time catching her minute man on the fast Sunshine Coast roads. "I Just settled in to start with then picked it up and caught Sally Cowman just after the first lap and then Laura (Bortollozi - Randwick Botany C.C.) going up the hill just before the turn on the second lap.
Second place in today's Elite Women's T.T. was initially awarded to Norwood's Lisa Payne, who unselfishly admitted to making a wrongturn at a roundabout. When the placings were sorted out it was Gallagher in the silver medal position and Victor Cycles Sally Cowman bronze.
The silver medalist using these championships as a buildup for her other pursuit of tandem riding as a companion rider in paralympic competition. "I was pretty happy with that, time trialling's my thing," Gallagher told Cyclingnews. "I was willing to have a really good hard hitout today and the wind was definitely tough but just loved it actually. It was a good course fast course."
Former teammate 'stitches up' Milostic
In the elite men's event, something fellow competitors and officials at the National Club Road Cycling Championships have rarely seen in recent years, Peter Milostic without a gold medal.
The Penrith Panthers cyclist, who admitted to, "not having lost a time trial in years" had to settle for bronze in the 40 kilometre TT, with gold going the way of his good mate Troy Glennan from the Sutherland Shire Cycling Club. Glennan's time of 54 minutes and 16 seconds, produced an average speed of just over 44km/h. "What can I say you know, I come here with intentions to win, I've got no answers it just didn't happen today," Milostic revealed. "I don't think I could have done anything different."
Glennan's victory though, absolutely no surprise to one of Australia's top domestic cyclists. "With Troy he's been on the improve for quite a while today and if there's anybody I want to beat me it's particularly Troy because he's a former team-mate I've mine," Milostic said. 23-year-old Glennan was just as chuffed to 'stitch up' his old team-mate and score a breakthrough TT win. "Yeah well, I've never beat Peter Milostic - first time I've beaten him in a time trial and pretty ecstatic about that," Glennan told Cyclingnews.
"First time trial win and I've always been around the top few but to finally get a win is really good." But it was the silver medal performance of Josh Collingwood in the Elite men's time trial which caught the attention of cycling's officialdom.
The former world under 19 time trial champion, now aged 28, has launched a comeback to road cycling. And if today's performance is any guide, there will be much bigger fish to fry. "Yeah a bit of a comeback, been working full-time and just been getting bored on the weekends," an excited Collingwood said about his return to racing. "I thought I'd get back on the bike and have a bit of a bash."
Collingwood's time off the bike, though, hasn't been entirely wasted. Now based in Adelaide, he's put years of university study to good use, using his newfound knowledge of sports science for racing. "Negotiating with a few pro teams at the moment," Collingwood revealed. "I'm a bit old but the results in the laboratory say that I'm coming back stronger than ever."
Confusion
There was confusion on the podium following the Under 23 men's race when Sydney cyclist Shaun Higgerson was initially stripped of the Gold medal, after officials claimed he hadn't reached the turnaround. But the 20-year-old Randwick cyclist was quick to protest the outcome, after producing evidence to the contrary.
"Apparently second lap out I didn't go to the turnaround," Higgerson said as he finally clutched the gold medal. "They didn't get me (passing through) but there was a car following me and he saw me go to the turnaround, so it's all good."
Also making an appearance on the podium, Norwood cyclist Matt Rex, who is recently returned from a stint in Europe with the AIS Mapei under 23 development squad. "You come back and you're a lot stronger and you know how to race a bit more," Rex said of his experience overseas with the National squad. "You come back a lot better rider and you're always happy with a medal."
The National Club Road Cycling Championships resume on Saturday with the the Elite, Under 23 and Under 19 road races followed by the criterium events on Sunday.
Photography
For a thumbnail gallery of these images, click here
Images by John Flynn
Results

Elite Men
 
1 Troy Glennan (Sutherland Shire CC)              54.16
2 Joshua Collingwood (Adelaide CC)                 1.02
3 Peter Milostic (Penrith Panthers CC)             1.13
4 Peter Herzig (Uni Cycle Club)                    1.46
5 Peter Dawson (Peel Districts Cycle Club)         2.01
6 Riki Lanyon (C.A.T.S.)                           2.18
7 Joe Mcdonnell (Sutherland Shire CC)              3.06
8 Andrew Naylor (Blackburn Cycling Club Inc)       3.32
9 Allan Sieper (Canberra Cycling Club)             3.46
10 Leighton Jefferson (Victor Cycle Club)          5.07
11 Mark Wall (Sutherland Shire CC)                 5.31
12 Kurt Dutton (Victor Cycle Club)                 5.32
13 Stephen Palomba (Ffast Cycle Club)              6.17
14 Stephen Blair (Canberra Cycling Club)           7.53
15 Martin Tobin (Wangaratta Cycling Club Inc)      9.08
16 Damien Peall (Ipswich Amateur CC)              10.09
17 Alistair Hartley (Kangaroo Point CC)           11.16
 
Elite Women
 
1 Kathryn Watt (Blackburn Cycling Club Inc)       36.32
2 Toireasa Gallagher (Bathurst CC)                 2.05
3 Sally Cowman (Victor Cycle Club)                 2.06
4 Laura Bortolozzi (Randwick Botany CC)            2.49
5 Jessie Maclean (Canberra Cycling Club)           2.53
6 Elizabeth Hayman (Canberra Cycling Club)         3.03
7 Emma Mackie (Uni Cycle Club)                     3.17
8 Kate Charge (Lidcombe Auburn CC)                 3.18
9 Bridie O'Donnell (Brunswick Cycling Club Inc)    3.47
10 Anouska Edwards (Rockhampton Cycle Club)        3.51
11 Kate Mercer (Uni Cycle Club)                    4.00
12 Jess Haynes (Uni Cycle Club)                    4.18
13 Louise Kerr (Uni Cycle Club)                    4.37
14 Nathalie Laurendeau (Midland CC)                4.55
15 Kelly Furey (Hunter District CC)                5.25
16 Kristy Gablonski (Uni Cycle Club)               5.30
17 Nicole Magner (Uni Cycle Club)                  5.37
18 Vicki Eustace (Tuggeranong Vikings CC)          6.27
19 Charlotte Warren (Uni Cycle Club)               6.47
20 Gemma Kernich (Port Adelaide C.C.)              7.27
21 Emily Yorkston (Uni Cycle Club)                 7.37


U23 Men
 
1 Shaun Higgerson (Randwick Botany CC)             39.11
2 Sean Finning (Castlemaine Cycling Club Inc)       0.39
3 Mathew Rex (Norwood CC)                           1.07
4 Jai Crawford (Hobart Wheelers)                    1.41
5 Mitchell Docker (Brunswick Cycling Club Inc)      1.45
6 Simon Clarke (Carnegie Caulfield CC)              2.02
7 Kai Rothlisberger (Lifecycle Cycling Club)        2.18
8 Brendan O'Connell (Lifecycle Cycling Club)        2.19
9 Peter Ladd (Bendigo)                              2.35
10 Joshua Wilson (Launceston City CC)               2.39
11 Marc Williams (Canberra Cycling Club)            2.42
12 David Kemp (Toowoomba Cycling Club Inc.)         2.58
13 Tim Hillard (Lifecycle Cycling Club)             3.04
14 Stephen Rossendell (Hobart Wheelers)             3.07
15 Scott Peoples (Shepparton Cycling Club Inc)      3.32
16 Brendan Brooks (Colnago-Caravello CC)            4.10
17 Casey Munro (Brunswick Cycling Club Inc)         4.17
18 Phil Gough (Peloton Sports Inc.)                 4.21
19 Simon Pearson (Norwood C.C.)                     4.24
20 Michael England (Rockhampton Cycle Club)         4.29
21 Nathan Silleto (Canberra Cycling Club)           4.38
22 Brendan Kay (Victor Cycle Club)                  4.44
23 Kyle Marwood (Bendigo & District CC)             5.15
24 Morgan Pilley (Byron Bay Freeriders)             8.35
 
U19 Women
 
1 Tess Downing (Carnegie Caulfield CC)               22.39
2 Peta Mullens (Latrobe City Cycling Club)            0.25
3 Tiffany Cromwell (Norwood C.C.)                     0.27
4 Jessica Mccallum (Midland CC)                       0.46
5 Joanna Von Berky (Hamilton Pine River Wheelers)     0.54
6 Grace Sulzberger (West Tamar CC)                    1.09
7 Emma Sonerson (Tamworth CC)                         1.11
8 Belinda Thompson (Canberra Cycling Club)            1.18
9 Philippa Martin (Midland CC)                        2.11
10 Tahlia Clayton (Ararat&District Cycling Club)      2.25
11 Jessica Hume (Wagga Wagga CC)                      3.07
12 Angeline Papajcsik (Balmoral Cycle Club)           3.22
13 Tiffany Manion (West Tamar CC)                     4.00
14 Katie Smith (Rockhampton Cycle Club)               6.03
 
U19 Men
 
1 Cameron Meyer (Midland CC)                         35.14
2 Hayden Josefski (Broncos)                           0.20
3 Shaun Morris (Shepparton Cycling Club Inc)          0.43
4 Pip Grinter (Bendigo & District CC)                 0.44
5 Joshua Gundry (Bendigo & District CC)               0.49
6 Matt King (Darwin Cycling Club)                     1.04
7 Adam O'Connor (Midland CC)                          1.08
8 Todd Dawson (C.A.T.S.)                              1.09
9 Kyle Bateson (C.A.T.S.)                             1.12
10 Mitch Chapman (Orange CTC)                         1.32
11 Benjamin Phillips (Broncos)                        1.37
12 Jarrod Harman (Mersey Valley Devonport CC)         1.39
13 Fabio Calabria (Canberra Cycling Club)             1.40
14 Michael Mellish (Central Coast CC)                 1.40
15 Scott Sunderland (South West CC)                   1.45
16 John Rayner (Mersey Valley Devonport CC)           1.55
17 Jarrad Tremayne (South West CC)                    2.06
18 Luke Cridland (Southern Cross CC)                  2.17
19 William Robinson (Launceston City CC)              2.24
20 Joel Davis (Kangaroo Point C C)                    2.30
21 Tarquin Wallace (Balmoral CC)                      2.38
22 Mario Giramondo (Carnegie Caulfield CC)            2.39
23 Ryan Gittins (Toowoomba Cycling Club Inc.)         2.58
24 Darcy Rosenlund (Broncos)                          3.39
25 Luke Barrett (St George CC)                        3.57
26 Chris Jory (Port Macquarie)                        4.24
27 Matthew Curnow (Carnegie Caulfield CC)             4.36
28 Jack Hudson (Colnago-Caravello CC)                 4.37
29 John Polson (C.A.T.S.)                             4.49
30 Benjamin Fleming (Hamilton Pine River Wheelers)    5.05
31 Bradley Clark (Albury-Wodonga CC)                  5.15
32 Anthony Bennett (Lidcombe Auburn CC)               5.26
33 Mathew Wild (Southern Cross CC)                    6.01
34 Alfred Cook (Canberra Cycling Club)                7.24