An interview with Chris Horner, June 4, 2005
"I need to do the Tour"
Coming off a broken leg, Saunier Duval-Prodir's Chris Horner has a lot to show to his team management this week in terms of fitness. With two strong placings in the two warm-up races, Horner is ready to win the stars and stripes jersey, believing that it will create a space for him on this year's Tour de France team. Cyclingnews' Mark Zalewski sat down with Horner at Breakaway Bicycles in downtown Philadelphia for a chat.
Chris Horner (Prodir/Saunier Duval)
Photo ©: Jon Devich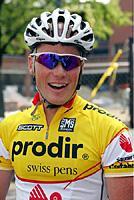 CN: How did Trenton go for you?
CH: I was more working for the sprinter, Ventoso. Guys are coming from the Giro and they are tired. I've never done the Giro so I couldn't tell you why - I could imagine why! He's just tired and doesn't have the legs at the moment. [In Trenton] I did what work I could for him but in the end he said he didn't have it so I just did my own thing and managed to get sixth out of it.
CN: Are you concerned about the increased field size for Sunday?
CH: I hope it's hot. For the team, it's key to get to the hill in a good place, to get someone in the early move. Seems like every year, first lap something gets away.
CN: How is the form coming off the injury?
CH: I had to find the form. I did the work that needed to be done, did the time and training, so I'm not surprised where it is at - I am happy where it is at and at the same time I still wanted to win [in Lancaster]. The form is good, and I hope after two races... you can't ask much, but I hope it's enough to give the acceleration and top-end speed that training just can't deliver you.
CN: Do you think that your team will be watching Sunday to see if you've fully returned to form?
CH: I'm banking that it's already started to happen. They know I was home and only had three weeks of training - I come here and I was sixth each day. They should know that the form can only go better - it's not going to go down! You've got to believe I'm not peaking right now, I haven't raced! I truly hope someone on the team is keeping an eye out for a Tour spot for me. But at the moment, the Tour team is selected.
Lieswyn and Horner
Photo ©: Jon Devich

I am banking on everything for doing the Tour. Every bit of energy I've put in so far is to do the Tour. And if I don't do the Tour it will be a big let-down. Between the broken leg and not doing the Tour it will pretty much be the end of season. There are other races, but even with my broken leg I was on the trainer every day, which takes a lot of mental work. I've been training really hard for the past three weeks, and I'm going to the Tour of Switzerland which will be another two weeks after that, so it will be a solid nine weeks training for the Tour - and if you tell me I'm not going to the Tour... I can't keep that kind of motivation for another six weeks before I get over to do more world cups. I NEED to be doing the Tour is what I am telling you! I NEED TO DO THE TOUR!
CN: How important will winning the jersey be for you?
CH: If I get the jersey I am going to the Tour. They haven't said that, but how can you not? That's a no-brainer. I always race to win, so I wouldn't do anything different. I've put in the maximum effort. It wouldn't matter if it was this year, last year or ten years back, I would do everything I could to win the race. But the only difference is, if I cross the line with the jersey I know I am going to the Tour.
CN: With your injury messing with your planned race schedule, do races like the Vuelta and World Championships seem like a possibility this year?
CH: I'm doing the San Francisco race, so I'm not doing the Vuelta. I could go good at Worlds, but why? It's flat! You are not getting away on a flat course like that. I don't care how good someone is going, you are not going to drop forty guys that are dedicated to a field sprint. Maybe a Tour of Lombardy!
Also see: Chris Horner: Tooting his own Horner - Part I & Part II