20th Tour de Beauce Bell - 2.2
Canada, June 14-19, 2005
Main Page Results Overall standings Stage Details Previous Stage Next Stage
Stage 5 - June 18: Quebec city urban circuit, 125 km
Homeboy Dionne wins, O'Neill takes Yellow…just
By Matt Hansen in St. Georges
Charles Dionne (Canadian National Team)
Photo ©: Anthony Rancourt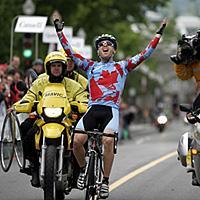 After a week of crashes, bad luck and near misses, local hero Charles Dionne took the win he needed, soloing ahead from the lead break in downtown Quebec city. In the race behind for the yellow jersey, Navigators' Nathan O'Neill launched on the final climb to blast ahead and put 18 seconds on Symmetrics' Svein Tuft; the stage is set for another battle royale, with the gap between O'Neill and Tuft just 12 seconds.
Autumn-like conditions once again greeted the riders: At the start temperatures hovered around 10 degrees and the sky again was grey. But luckily, no rain. Although it was cold, fans were still lining the start-finish line as well as the climb.
Before the race there were high hopes from many of the riders about the opportunistic aspects of the race. Dom Perras (Canada) said that the next few days would be good ones for riders not in contention to win. "Today's a good course to take advantage of the race situation. To follow the moves, attack after the lulls and hopefully either Charles or I can take the stage."
Health Net's John Lieswyn hoped for a good result as well, but was respectful of the hard work that Canadian team Symmetrics had put in. "I don't want to help Navigators beat Svein, as I think he's a good rider and deserves the win, but I won't give up a chance to win a stage either."
How it unfolded
Not surprisingly, the race was aggressive from the start. The 14km circuit took the riders down to the St. Lawrence river, then back up a tough 500 metre pitch, followed by a kilometre gradual uphill to the finish line. Dionne, along with Health Net's Mike Sayers and Doug Ollerenshaw made a move as Symmetrics were content to ride tempo and allow the gap to grow.
"It was hard out there to set the tempo today," Symmetrics' Eric Wohlberg explained. "There was lot of wind down by the river-we were only able to go 32, 33kmh down there some times. Combine that with riding up that hill each lap and we were all getting pretty tired toward the end."
After two laps, the gap had increased to over three minutes, and suddenly there was speculation of the possibility of Ollerenshaw - who was over five minutes behind and sitting 17th overall - of possibly upsetting the works and taking over. The trio were eventually joined with several others not in contention for the overall: Oleg Grishkine (Navigators Insurance), Domenico Passuelo (Amore & Vita - Beretta), Tomasz Lesniak (Paged-MBK-Scout), Corey Jay (CRCA Sakonnet), Jonathan Sundt (Jittery Joe's Kalahari), Evan Elken (Jittery Joe's Kalahari), Richard Bowker (Ital Pasta Belmire), Charles Dionne (Team Canada), Alexandre Nadeau (Team Quebec) and Leigh Palmer (Cyclingnews.com-Fondriest).
Oleg Grigckine (Navigators)
Photo ©: Matt Hansen

With the gap staying at three minutes, the lead group began to seem both tired and disorganised. Although it was obvious that Sayers was driving the break for his teammate Ollerenshaw, Charles Dionne explained that there were several times where he needed to yell at some of the riders…in several languages. "Guys weren't pulling through some times, which I didn't understand. It was a good opportunity for any one of us to take the stage."
O'Neill had a bike change because of some gear problems, but quickly caught back on as the main bunch began to shed riders; the toll of the past few tough days was beginning to show each time up the climb. By the eighth lap, the lead group dwindled to just eight; Dionne followed Grichkine and Passuello and quickly formed the move of the day. Just under a minute behind was Ollerenshaw, with Lesniak and Nadeau a further minute and a half back. David O'Loughlin (Navigators Insurance) and Krzysztof Mermer (Paged - Mbk - Scout) took advantage of the Symmetrics' fatigue and marking of O'Neill and got a gap on the group, eventually putting more time on Tuft: O'Loughlin would gain another minute on his GC.
But up the road, it was all Dionne. He accelerated hard on the final sections and managed to gain a gap of 12 seconds by the line. The fans were wild for the local hero, and he was quickly swarmed by the media.
"It is a relief to win," Dionne said. "It's even better because it's my first win of the season. I'm tired of thirds and seconds. The best stage of Beauce, and in my hometown."
"I didn't know that the move was going to stay away at first. I knew there was going to be a move and I said I was going to be there. I felt bad from the start, and wasn't sure how long I'd be in the front. I changed my shoes this morning, changed my bike position last night because I felt bad on the bike. I would never do that; I felt so terrible in the crit I knew it couldn't be worse."
"But by the time us three got away, I knew I had to win. On the last lap I was going to die before I let that win go, and with so many people here yelling my name. It was motivation. Kris Westwood, my team manager, asked me how I felt on the radio toward the end and I said I would do it au courage."
The overall podium after stage 5:
Photo ©: Anthony Rancourt

And luck certainly was on Dionne's side. Right after finishing, he discovered his tyre had just begun to go soft. In fact, he did the last few hundred metres on 50 psi.
After Dionne finished, all eyes were on the race behind. O'Neill and Tuft were together with one lap to go, and although O'Loughlin would gain time, it would still not enough to be take the lead. Symmetrics, exhausted from riding at the front, had only Andrew Pinfold and Cory Lange to guard Tuft on the last lap; finally it came down to Tuft on O'Neill as the select lead group came to the final pitch.
At one point Tuft wondered if it might have been worth it to risk letting the break go and put pressure on the Navigators to chase.
"In my opinion I thought it might have made sense to put more GC threats up the road, and let them take over the race. That's a pretty risky plan, of course," Tuft explained. "I knew O'Neill was the strongest guy, when he goes up those climbs I couldn't match. We were all gassed up the climb and he just launched. I might have been able to match his intial jump but then I might have faded. So it was just damage control to the finish. But the race isn't over. I know the race well tomorrow."
Tuft certainly does know tomorrow's stage: he won it in 2001, catapulting him into the limelight and his pro career with Prime Alliance. "I've ridden a lot of teamwork with Prime Alliance but it was nothing like the guys here. Steady, strong riding; I have nothing but praise for them. I hope I can repay them tomorrow."
The Tour de Beauce Bell concludes tomorrow with a 135km circuit race in St. Georges.
Photography
For a thumbnail gallery of these images, click here
Images by Matt Hansen/http://7thgroove.com/~hansen/new/
Images by Anthony Rancourt
Results

1 Charles Dionne (Can) Canadian National Team                  3.17.52
2 Domenico Passuello (Ita) Amore & Vita-Beretta-Polska            0.12
3 Oleg Grichkine (Rus) Navigators Insurance Cycling Team          0.43
4 Krzysztof Mermer (Pol) Paged-Mbk-Scout                          1.53
5 David O'Loughlin (Irl) Navigators Insurance Cycling Team        1.54
6 Doug Ollerenshaw (USA) Health Net presented by Maxxis           1.56
7 Alexandre Nadeau (Can) Equipe du Quebec                         2.05
8 Tomasz Lesniak (Pol) Paged-Mbk-Scout                            2.09
9 Kimmo Kananen (Fin) Amore & Vita-Beretta-Polska                     
10 Richard Bowker (NZl) Italpasta - Belmire Transport             2.19
11 Jonathan Sundt (USA) Jittery Joe's-Kalahari                    2.38
12 Nathan O'Neill (Aus) Navigators Insurance Cycling Team             
13 Dawid Krupa (Pol) Paged-Mbk-Scout                              2.48
14 Glen Alan Chadwick (Aus) Team Cyclingnews.com                  2.50
15 John Lieswyn (USA) Health Net presented by Maxxis                  
16 Jeff Louder (USA) Navigators Insurance Cycling Team            2.53
17 Mark Walters (Can) Navigators Insurance Cycling Team               
18 Svein Tuft (Can) Symmetrics Cycling                            2.56
19 Kacper Sowinski (Pol) Amore & Vita-Beretta-Polska                  
20 Cesar Grajales (Col) Navigators Insurance Cycling Team             
21 Dominique Perras (Can) Canadian National Team                      
22 Mike Sayers (USA) Health Net presented by Maxxis                   
23 Martin Gilbert (Can) Volkswagen-Trek                               
24 Timothy Johnson (USA) Jittery Joe's-Kalahari                   3.01
25 Brandon Crichton* (Can) Italpasta - Belmire Transport        
26 Cameron Jennings (Aus) Team Cyclingnews.com                    3.04
27 Finn Heitmann (Ger) Stevens Racing Team                        3.09
28 Mike Jones (USA) Health Net presented by Maxxis                3.10
29 Jamie Burrow (GBr) Amore & Vita-Beretta-Polska                 3.13
30 Dominique Rollin (Can) Equipe du Quebec                        3.16
31 Sven De Weerdt (Bel) Team Cyclingnews.com                      3.20
32 Wojciech Kalemba (Pol) Paged-Mbk-Scout                             
33 Zach Bell (Can) Canadian National Team                         3.22
34 Nat Faulkner (Can) Italpasta - Belmire Transport               3.24
35 Raphaël Tremblay (Can) Volkswagen-Trek                         3.30
36 Chris Isaac (Can) Italpasta - Belmire Transport              
37 Jean-Sébastien Maheu (Can) Volkswagen-Trek                         
38 Justin England (USA) Health Net presented by Maxxis                
39 Mathieu Roy (Can) Equipe du Quebec                                 
40 Vassili Davidenko (Rus) Navigators Insurance Cycling Team      3.44
41 Claudio Bartoli (Ita) Amore & Vita-Beretta-Polska                  
42 Chris Kuhl (USA) CRCA/Sakonnet Technology                      3.55
43 Cory Lange (Can) Symmetrics Cycling                            4.18
44 Jeremy Vennell (NZl) Team Cyclingnews.com                      4.24
45 Andrew Pinfold (Can) Symmetrics Cycling                        4.34
46 Max Plaxton (Can) Canadian National Team                       4.36
47 Jean-Sébastien Béland (Can) Equipe du Quebec                   4.59
48 Przemyslaw Mikolajczyk (Pol) Paged-Mbk-Scout                   5.08
49 Jens Schwedler (Ger) Stevens Racing Team                       9.48
50 Evan Elken (USA) Jittery Joe's-Kalahari                       10.05
51 Christian Meier (Can) Symmetrics Cycling                      10.27
52 Bradley Fairall (Can) Symmetrics Cycling                           
53 Eric Wohlberg (Can) Symmetrics Cycling                             
54 Jacob Erker (Can) Symmetrics Cycling                               
55 Leigh Palmer (Aus) Team Cyclingnews.com                            
56 Kevin Lacombe (Can) Volkswagen-Trek                                
57 Tom Barras (GBr) Team Cyclingnews.com                         13.05
58 Alex Richer (Can) Yeti                                             
59 Cory Jay (Can) CRCA/Sakonnet Technology                       13.50
60 Johny Hayes (USA) CRCA/Sakonnet Technology                         
61 Bruno Langlois (Can) Jittery Joe's-Kalahari                        
62 Ryan Roth (Can) Canadian National Team                             
DNF Daniel Maclaren (Can) Italpasta - Belmire Transport         
DNF Peter Sanowar (Can) Italpasta - Belmire Transport           
DNF Peter Morse (Can) Yeti                                            
DNS Dustin Macburnie (Can) Yeti                                       
 
General Classification after stage 5
 
1 Nathan O'Neill (Aus) Navigators Insurance Cycling Team      18.24.50
2 Svein Tuft (Can) Symmetrics Cycling                             0.12
3 Jeff Louder (USA) Navigators Insurance Cycling Team             0.35
4 John Lieswyn (USA) Health Net presented by Maxxis               1.17
5 Dawid Krupa (Pol) Paged-Mbk-Scout                               1.19
6 David O'Loughlin (Irl) Navigators Insurance Cycling Team        1.35
7 Glen Alan Chadwick (Aus) Team Cyclingnews.com                   1.38
8 Mark Walters (Can) Navigators Insurance Cycling Team                
9 Kacper Sowinski (Pol) Amore & Vita-Beretta-Polska               2.41
10 Mike Jones (USA) Health Net presented by Maxxis                3.05
11 Krzysztof Mermer (Pol) Paged-Mbk-Scout                         3.14
12 Dominique Rollin (Can) Equipe du Quebec                        3.41
13 Brandon Crichton* (Can) Italpasta - Belmire Transport          4.02
14 Doug Ollerenshaw (USA) Health Net presented by Maxxis          4.36
15 Dominique Perras (Can) Canadian National Team                  5.18
16 Wojciech Kalemba (Pol) Paged-Mbk-Scout                         6.45
17 Charles Dionne (Can) Canadian National Team                    7.34
18 Cameron Jennings (Aus) Team Cyclingnews.com                    8.20
19 Kimmo Kananen (Fin) Amore & Vita-Beretta-Polska                9.46
20 Jean-Sébastien Maheu (Can) Volkswagen-Trek                    10.06
21 Eric Wohlberg (Can) Symmetrics Cycling                        11.09
22 Mike Sayers (USA) Health Net presented by Maxxis              12.11
23 Jacob Erker (Can) Symmetrics Cycling                          13.06
24 Christian Meier (Can) Symmetrics Cycling                      13.49
25 Martin Gilbert (Can) Volkswagen-Trek                          13.56
26 Cesar Grajales (Col) Navigators Insurance Cycling Team        15.09
27 Justin England (USA) Health Net presented by Maxxis           15.55
28 Oleg Grichkine (Rus) Navigators Insurance Cycling Team        20.44
29 Vassili Davidenko (Rus) Navigators Insurance Cycling Team     21.58
30 Domenico Passuello (Ita) Amore & Vita-Beretta-Polska          21.59
31 Chris Isaac (Can) Italpasta - Belmire Transport               22.17
32 Timothy Johnson (USA) Jittery Joe's-Kalahari                  22.31
33 Max Plaxton (Can) Canadian National Team                      24.15
34 Finn Heitmann (Ger) Stevens Racing Team                       24.37
35 Raphaël Tremblay (Can) Volkswagen-Trek                        24.50
36 Chris Kuhl (USA) CRCA/Sakonnet Technology                     25.09
37 Tomasz Lesniak (Pol) Paged-Mbk-Scout                          25.45
38 Jamie Burrow (GBr) Amore & Vita-Beretta-Polska                26.07
39 Sven De Weerdt (Bel) Team Cyclingnews.com                     26.43
40 Nat Faulkner (Can) Italpasta - Belmire Transport              27.17
41 Claudio Bartoli (Ita) Amore & Vita-Beretta-Polska             27.32
42 Alexandre Nadeau (Can) Equipe du Quebec                       29.50
43 Andrew Pinfold (Can) Symmetrics Cycling                       33.48
44 Cory Jay (Can) CRCA/Sakonnet Technology                       34.23
45 Kevin Lacombe (Can) Volkswagen-Trek                           36.24
46 Cory Lange (Can) Symmetrics Cycling                           37.03
47 Jeremy Vennell (NZl) Team Cyclingnews.com                     38.57
48 Jonathan Sundt (USA) Jittery Joe's-Kalahari                   42.21
49 Richard Bowker (NZl) Italpasta - Belmire Transport            46.02
50 Bradley Fairall (Can) Symmetrics Cycling                      48.47
51 Mathieu Roy (Can) Equipe du Quebec                            48.49
52 Przemyslaw Mikolajczyk (Pol) Paged-Mbk-Scout                  49.38
53 Ryan Roth (Can) Canadian National Team                        50.43
54 Leigh Palmer (Aus) Team Cyclingnews.com                       52.55
55 Evan Elken (USA) Jittery Joe's-Kalahari                       54.27
56 Tom Barras (GBr) Team Cyclingnews.com                         56.50
57 Jens Schwedler (Ger) Stevens Racing Team                      57.21
58 Bruno Langlois (Can) Jittery Joe's-Kalahari                   57.27
59 Zach Bell (Can) Canadian National Team                      1.00.16
60 Jean-Sébastien Béland (Can) Equipe du Quebec                1.00.29
61 Alex Richer (Can) Yeti                                      1.41.20
62 Johny Hayes (USA) CRCA/Sakonnet Technology                  1.42.59
 
Points classfication
 
1 David O'Loughlin (Irl) Navigators Insurance Cycling Team          51 pts
2 Domenico Passuello (Ita) Amore & Vita-Beretta-Polska              40
3 Mark Walters (Can) Navigators Insurance Cycling Team              38
4 Jeff Louder (USA) Navigators Insurance Cycling Team               37
5 Vassili Davidenko (Rus) Navigators Insurance Cycling Team         34
6 Dominique Rollin (Can) Equipe du Quebec                           33
7 Dawid Krupa (Pol) Paged-Mbk-Scout                                 33
8 Svein Tuft (Can) Symmetrics Cycling                               31
9 Mike Jones (USA) Health Net presented by Maxxis                   30
10 Glen Alan Chadwick (Aus) Team Cyclingnews.com                    29
11 Charles Dionne (Can) Canadian National Team                      27
12 John Lieswyn (USA) Health Net presented by Maxxis                26
13 Krzysztof Mermer (Pol) Paged-Mbk-Scout                           26
14 Martin Gilbert (Can) Volkswagen-Trek                             24
15 Nathan O'Neill (Aus) Navigators Insurance Cycling Team           24
16 Kacper Sowinski (Pol) Amore & Vita-Beretta-Polska                21
17 Tomasz Lesniak (Pol) Paged-Mbk-Scout                             21
18 Kimmo Kananen (Fin) Amore & Vita-Beretta-Polska                  17
19 Brandon Crichton* (Can) Italpasta - Belmire Transport            15
20 Oleg Grichkine (Rus) Navigators Insurance Cycling Team           14
21 Evan Elken (USA) Jittery Joe's-Kalahari                          14
22 Doug Ollerenshaw (USA) Health Net presented by Maxxis            13
23 Wojciech Kalemba (Pol) Paged-Mbk-Scout                           13
24 Jean-Sébastien Maheu (Can) Volkswagen-Trek                       13
25 Max Plaxton (Can) Canadian National Team                         13
26 Raphaël Tremblay (Can) Volkswagen-Trek                           13
27 Alexandre Nadeau (Can) Equipe du Quebec                          12
28 Christian Meier (Can) Symmetrics Cycling                         11
29 Eric Wohlberg (Can) Symmetrics Cycling                           10
30 Mike Sayers (USA) Health Net presented by Maxxis                 10
31 Jacob Erker (Can) Symmetrics Cycling                             10
32 Tom Barras (GBr) Team Cyclingnews.com                            10
33 Dominique Perras (Can) Canadian National Team                     9
34 Jonathan Sundt (USA) Jittery Joe's-Kalahari                       9
35 Richard Bowker (NZl) Italpasta - Belmire Transport                6
36 Kevin Lacombe (Can) Volkswagen-Trek                               3
37 Jean-Sébastien Béland (Can) Equipe du Quebec                      3
 
Mountains classification
 
1 Wojciech Kalemba (Pol) Paged-Mbk-Scout                            36 pts
2 Mike Jones (USA) Health Net presented by Maxxis                   24
3 Doug Ollerenshaw (USA) Health Net presented by Maxxis             21
4 Charles Dionne (Can) Canadian National Team                       20
5 Tomasz Lesniak (Pol) Paged-Mbk-Scout                              19
6 Nathan O'Neill (Aus) Navigators Insurance Cycling Team            17
7 Mike Sayers (USA) Health Net presented by Maxxis                  15
8 Glen Alan Chadwick (Aus) Team Cyclingnews.com                     14
9 Cesar Grajales (Col) Navigators Insurance Cycling Team            14
10 Alexandre Nadeau (Can) Equipe du Quebec                          13
11 Dawid Krupa (Pol) Paged-Mbk-Scout                                12
12 Krzysztof Mermer (Pol) Paged-Mbk-Scout                           12
13 Oleg Grichkine (Rus) Navigators Insurance Cycling Team           12
14 Jean-Sébastien Béland (Can) Equipe du Quebec                     10
15 Timothy Johnson (USA) Jittery Joe's-Kalahari                     10
16 Kimmo Kananen (Fin) Amore & Vita-Beretta-Polska                  10
17 Jeff Louder (USA) Navigators Insurance Cycling Team               9
18 Dominique Perras (Can) Canadian National Team                     8
19 Vassili Davidenko (Rus) Navigators Insurance Cycling Team         8
20 Domenico Passuello (Ita) Amore & Vita-Beretta-Polska              8
21 Leigh Palmer (Aus) Team Cyclingnews.com                           8
22 John Lieswyn (USA) Health Net presented by Maxxis                 6
23 Dominique Rollin (Can) Equipe du Quebec                           6
24 Chris Isaac (Can) Italpasta - Belmire Transport                   6
25 Mark Walters (Can) Navigators Insurance Cycling Team              5
26 Kacper Sowinski (Pol) Amore & Vita-Beretta-Polska                 4
27 Richard Bowker (NZl) Italpasta - Belmire Transport                4
28 Justin England (USA) Health Net presented by Maxxis               3
29 Evan Elken (USA) Jittery Joe's-Kalahari                           3
30 Jonathan Sundt (USA) Jittery Joe's-Kalahari                       2
31 Svein Tuft (Can) Symmetrics Cycling                               1
 
Teams Classification
 
1 Navigators Insurance                                        55.11.46
2 Health Net Presented By Maxxis                                 11.15
3 Symmetrics Cycling                                                  
4 Paged - Mbk - Scout                                            12.05
5 Canada National Team                                           32.19
6 Amore & Vita - Beretta                                         37.26
7 Team Cyclingnews.com                                           37.41
8 Volkswagen Trek                                                39.23
9 Equipe Du Quebec                                               45.12
10 Italpasta - Transport Belmire                                 51.53
11 The Jittery Joe's - Kalahari                                2.01.05
12 Crca/Sakonnet Techno                                        2.41.07