Australian Open Road Championships - CN
Australia, January 12-15, 2005
Main Page Results Race Details Previous Race Next Race
Race 5 - January 15: U/23 Men's Road Race, 182km
Sutton survives the longest to win U23 crown
By Jeff Jones in Echunga
Chris Sutton (NSW)
Photo ©: CN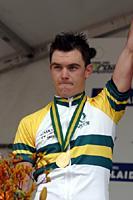 FDJ-NSWIS rider Chris Sutton has claimed the Australian U23 national champion's jersey after surviving the longest in the leading breakaway and holding off his rivals behind. Sutton was tailed off with three laps to go and eventually finished six minutes behind elite winner Robbie McEwen, but he still had 2'39 in hand over William Walker (Rabobank Continental Team) and Daniel Newnham (Gold Coast Goldstars), who claimed the silver and bronze medals in the U23 category, respectively.
"I felt pretty good for the first 100 kilometres," Sutton told Cyclingnews. "I thought I'd stick with the pro's for as long as I could and it worked out fine. I was feeling good and then with four to go there was an attack which took the wind out of me a bit but I held in there. Then there was an attack with three to go so after that I tried to stay off the front of the main bunch. It was only a minute and a half and it was coming down, and then it just went back out so I thought 'beauty, this is unreal, I've got this title'."
There were only 11 finishers of the 55 starters in the U23 men's race.
Photography
For a thumbnail gallery of these images, click here
Images by Mark Gunter/Cyclingnews.com
Results
1 Christopher Sutton (NSW) St George CC                      4.16.30 (42.57 km/h)
2 William Walker (Vic) Brunswick CC/Rabobank Continental        2.39
3 Daniel Newnham (Qld) Gold Coast Goldstars C C                     
4 Benjamin Johnson (Qld) Sunshine Coast Cc                          
5 Mathew Rex (SA) Norwood C.C.                                  4.58
6 James Meadley (ACT) Canberra Cycling Club                     7.15
7 Jonathon Clarke (Vic) Carnegie Caulfield CC                       
8 Richard Moffatt (NSW) Wagga Wagga CC                              
9 Robert Williams (NSW) Optus World Nowra Velo Club
10 Jai Crawford (Tas) Hobart Wheelers                           18.51
11 David Tanner (NSW) Parramatta CC                                 
DNF Jamie Simchick (SA) Norwood C.C.                                
DNF Brendan Brooks (NSW) Port Macquarie                             
DNF Shaun Higgerson (NSW) Rand/ Bot. CC/FRF                         
DNF Tim Hillard (NSW) Gunnedah CTC                                  
DNF Samuel Lee (NSW) St George CC                                   
DNF Owen Macphillamy (NSW) Bathurst CC                              
DNF Joshua Wall (NSW) Illawarra CC                                  
DNF Brendan Washington (NSW) Lavington Panthers Sports              
DNF Andrew Wyper (NSW) Bankstown Sports CC                          
DNF Daniel Bennett (Qld) Gold Coast Goldstars C C                   
DNF Gareth Davies (Qld) Lifecycle Cycling Club                      
DNF Tommy Nankervis (SA) Adelaide CC                                
DNF Simon Pearson (SA) Norwood C.C.                                 
DNF Daniel Furmston (Tas) Hobart Wheelers                           
DNF Matthew Goss (Tas) West Tamar CC                                
DNF Kharne Hammersley (Tas) West Tamar CC                           
DNF Mark Jamieson (Tas) Mersey Valley Devonport CC                  
DNF Stephen Rossendell (Tas) Hobart Wheelers                        
DNF Ryan Sullivan (Tas) Northern Districts CC                       
DNF Wesley Sulzberger (Tas) West Tamar CC                           
DNF Bernard Sulzberger (Tas) West Tamar CC                          
DNF Timothy Walker (Tas) West Tamar CC                              
DNF Joshua Wilson (Tas) Launceston City CC                          
DNF Lincoln Brown (Vic) St Kilda Cycling Club Inc                   
DNF Simon Clarke (Vic) Carnegie Caulfield CC                        
DNF Evan Corry (Vic) Bendigo & District CC                          
DNF Christopher D'amelio (Vic) Bairnsdale & Riviera C C             
DNF Jason Hegert (Vic) Ballarat/Sebastopol C C                      
DNF Peter Ladd (Vic) Bendigo & District CC                          
DNF Darren Lapthorne (Vic) Coburg Cycling Club Inc                  
DNF Matthew Lloyd (Vic) St Kilda Cycling Club Inc                   
DNF Brenton Logan (Vic) Brunswick Cycling Club Inc                  
DNF Casey Munro (Vic) Brunswick Cycling Club Inc                    
DNF Scott Peoples (Vic) Shepparton Cycling Club Inc                 
DNF Lee Robinson (Vic) Carnegie Caulfield CC                        
DNF Nicholas Sanderson (Vic) Ararat&District Cycling Club           
DNF Patrick Shaw (Vic) Ballarat/Sebastopol C C                      
DNF Brenton Slotegraaf (Vic) Bendigo & District CC                  
DNF Clinton Slotegraaf (Vic) Bendigo & District CC                  
DNF Andrew Wade (WA) Melville Fremantle CC                          
DNF Ben Isaksen (NSW) Lidcombe Auburn                               
DNF Keith Evans (WA) Midland CC                                     
DNF James Hannam (SA) Norwood CC                                    
DNF Shaun Lewis (SA) Norwood CC                                     
DNS Marc Williams (ACT) Canberra Cycling Club                       
DNS David Lawrenson (NSW) Western Sydney MTB                        
DNS Kyle Marwood (Vic) Bendigo & District CC