An interview with Tristan Hoffman, April 9, 2005
"I'll be riding Paris-Roubaix tomorrow"
Tristan Hoffman
© Daniel Schamps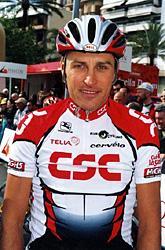 Age: 35
Born: January 1, 1970
Place of Birth: Groenlo, The Netherlands
Married to: Vera
Children: Iris and Nout
Height: 186cm
Weight: 80kg
Turned professional: 1992
Teams: CSC (2001-2005), Memory Card-Jack & Jones (2000), TVM (1992-1999)
Selected career highlights
2004 - CSC

2nd Paris - Roubaix
14th Paris - Bruxelles
16th Gent - Wevelgem

2002 - CSC

4th Paris - Roubaix
9th Gent - Wevelgem
14th Paris - Tours

2001 - CSC

5th Grand Prix E3 Harelbeke

2000 - Memory Card-Jack & Jones

1st Dwars Door Vlaanderen
4th Paris - Roubaix
4th Gent - Wevelgem
4th Grand Prix Plouay
5th Ronde van Vlaanderen
7th Omloop Het Volk

1999 - TVM

1st Veenendaal - Veenendaal
1st Clasica de Sabinanigo
1st Stage 1, Omloop Vlaamse Ardennen
3rd Gent - Wevelgem
3rd Grote Scheldeprijs
8th Ronde van Vlaanderen
9th Grand Prix E3 Harelbeke

1998 - TVM

6th Grand Prix E3 Harelbeke

1997 - TVM

8th Omloop Het Volk

1996 - TVM

1st A Travers la Belgique
1st Paris - Bourges
3rd Tour du Haut-Var
4th Paris - Tours
7th Grand Prix E3 Harelbeke
12th Paris - Roubaix

1995 - TVM

1st Stage 3, Vuelta a Murcia

1994 - TVM

1st Stage 2, Herald Sun Tour

1993 - TVM

1st Stage 3, Tour de Suisse
8th Grand Prix Plouay

1992 - TVM

1st Dutch Championship
A serious crash in the Omloop het Volk earlier this season had some serious consequences for CSC's likeable Dutchman Tristan Hoffman. Tristan hit a small post and suffered an open leg fracture. He was transported to the hospital in Geraardsbergen before almost immediately being transferred to the University Hospital in Gent, where the surgeons diagnosed 'a complicated multiple open fracture on the lower leg and a fractured splint bone'. He was operated on that same evening.
If it weren't for the new technique used during the surgery in which a pin instead of plates were applied, Tristan would have been forced to rest for six weeks. But thanks to modern medicine, the healing process has been considerably faster. Tristan also suffered concussion and after recovering from that and a sore stomach (caused by the handle bars and fork which had broken off) in a darkened room in the UZ for a week, he was allowed to go home on March 4.
On the eve of his favourite classic Paris-Roubaix, in which he finished fourth twice - in 2000 and 2002- and second last year, Cyclingnews' Sabine Sunderland checked on how "Hoffie" is going.
Beautifully pregnant with their third child, who is expected to join brother Nout and sister Iris mid-June, the ever so bubbly Vera Hoffman is the first to update us on Tristan's progress.
The Het Volk crash
Photo ©: AFP

"Tristan had his ups and downs the first days after his dismissal from the hospital," says Vera, who is a qualified nurse. "He had bad headaches and couldn't handle too much commotion around him. As long as Tristan was resting on the couch or in bed, the pain was bearable, but when he had to get up for only a brief period, his leg started swelling immediately and the pain was excruciating. But he has improved so much since. The dose of painkillers that he needed was reduced quickly and the headaches are getting less as days pass, but he still has to be cautious as the headaches return when he's working too intensively on his rehab. Although it's really nice that Tristan's joking and laughing again as before, I want him to be careful."
But knowing Tristan, there would be little reason needed for him to get up and get on with things.
Tristan laughs: "I know, I simply can't sit still for long. Looking back on how I was as a child, I think that it is highly likely that I had a mild case of ADHD (Hyperactivity Disorder). It's no surprise to me that our kids have the same energy levels, they're always flat out too.
"I was on the home-trainer doing some light training almost immediately. I also started using electrostimulation to improve the circulation and to promote the function of the lymph system, so that the fluid and the toxins got drained easily. But I also use the Compex machine for actually working the muscles; it's amazing how quickly you lose muscle mass after an accident or fracture.
"I'm also back riding my race bike now, I can use my normal racing shoes and clipless pedals and I'm already going out for a couple of hours on the bike each day, which is great."
Tristan Hoffman (CSC)
Photo ©: Luc Claessen

Hoffman isn't one to complain about how he's experiencing the intensive rehabilitation work. Surely it isn't always easy to stay positive. "It's been going well you know. I really can't complain as there's been steady progress," Tristan remarks, "Well, actually, this week is the first time I've experienced a bit of stagnation. It's like I have reached a plateau and I'm a bit stuck there, it's not a nice sensation. Yesterday I took a rest day, because I felt I had worked too hard the previous days. I started feeling irritated and had a headache.
"This morning I rode the bike for two hours again. Guess I'll need to be a bit more patient, give myself some time, this lack of improvement right now is no step backwards so it's no big drama. I hope there's progress to be noted again quickly though."
Tristan turned 35 on January the 1st. A major comeback in pro cycling isn't that obvious at this age. But Tristan has his mind set, there's no way this accident is going to put an end to his career as a pro cyclist. "I only had doubts about continuing my career for three days after the accident. Now, there's not a grain of doubt or hesitation left, I'm determined to return to the pro peloton as soon as possible. My mind's made up, I want to continue. I hope to be joining the team for the training camp in Austria in July and maybe return to competition in the Eneco Tour of Benelux (August 3-10)."
Tristan has a thing with Paris-Roubaix. He has the perfect build for that special Classic, he has the height (186cm), weight (80kg) and the power to perform well in a typical Paris-Roubaix classic. Hoffman's also considered to be one of the best cobblestone-riders in the peloton. But although he has been so close, Tristan hasn't experienced standing on the highest step of the podium in the velodrome in Roubaix as yet.
Last year's Paris-Roubaix podium
Photo ©: Olympia

"Of all the classics, I love Paris-Roubaix the most. It's something special. In many of the other races - like Het Volk, Dwars door Vlaanderen, Tour of Flanders - you ride over the same roads in the different races. You have the same sections of cobbles, same climbs in different races. But Roubaix is a 'one-only'. That's why it's so great.. and those roads are 100 years old, that's what makes it so unique."
On Sunday, Tristan will spend most of the afternoon in front of the television. Even though he hasn't checked out this year's renewed parcours yet, Tristan will be watching the riders go through the Hell of the North. Will it be hell for him to watch?
The answer's almost instant: "No, I don't think so. See, I woke up this morning and realised P-R is on tomorrow. But the excitement I otherwise feel the day before this race wasn't there. Zero tension, no adrenaline stirring the system. It was weird."
Tristan seems to reflect for a second and then continues in his typical up-beat manner. "I aim to ride the race mentally though. I'll be sending the messages from my brain to my legs as if I'm actually on the bike riding it. I want to feel that same tiredness, that aching in my body, after watching it. Surely that will help me feel ok about not actually being there!"