An interview with Greg Henderson, April 20, 2005
Kiwi flyer
A kiwi is actually a flightless bird, but that doesn't stop Greg Henderson, Health Net's New Zealand track specialist, from giving it his best shot. After winning the scratch race title at the Track World Championships in 2004, he was a close runner up in the event in 2005. He's now into his road programme and performing well at the Tour de Georgia. Cyclingnews' Les Clarke caught up with Henderson just before the start in Augusta to see how all was for this flying kiwi.
We started off by asking what was on Henderson's plate in terms of racing, for 2005.
Big smiles from the kiwi
Photo ©: Mark Gunter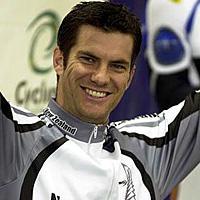 First race back for me is the Tour de Georgia, and I'll be racing the rest of the US calendar right through till San Fran in September.
Henderson was crowned World Champion in the scratch race in 2004, and went to Los Angeles last month a marked man. He took good form into the event, but came up a little short, taking a silver medal. When asked what he was hoping to get out of the World Championships after winning the scratch title in '04, he replied: "I would have loved to repeat my scratch race title, but you really can't complain with second. I was very happy with my form at the Worlds this year and I felt I was competitive in every event I entered."
But when asked whether he was actually disappointed with the result, Henderson had a mixed response: "I cant say I'm disappointed. I did get a medal and was fourth in the Teams Pursuit. I was a little brassed off with the way the points race ended for me [he took sixth place] but it just makes you hungry for next time."
The development of Julian Dean in the European pro ranks has been solid, riding with Team CSC and now Credit Agricole; Henderson's countryman is now a permanent fixture on the continent. Looking at Dean's rise, would Henderson want to go down that path?
"I would love to follow down that path one day, but I know I'm going to have to put track racing on hold."
Henderson came to the attention of his current team because of his strong endurance track riding, indicating to management that he had the engine to work for the team, and the ability to be a team player through his riding in team pursuit events. It's this type of racing that may now have to take a back seat as he pursues a spot in the Euro ranks. If he's keen to get over there, how would he look to play it?
Greg Henderson is an important part of Health Net's plans
Photo ©: Bill Parsons
"I think a relatively slow entry to the Euro peloton would be in order. If I could I would prefer a very structured programme, maybe with a mix of both Euro and US racing." This is in contrast to riders such as Chris Horner, who went straight from the frying pan of pro US racing into the fire of Euro competition - it's not easy, and riders can get pretty badly burnt. Henderson realises this.
It becomes pretty clear when watching Henderson ride, particularly on the track, that he's a very talented athlete. Some people have said he has the engine to perform well in ProTour races - would he be keen to make that happen? "I would love for it to happen, but it is pretty hard to just get over there. I think if I got the chance I would take it but it's all about getting that chance."
But for now Henderson is plying his trade with a strong team in a very professional environment, so the question had to be asked - does he enjoy living and racing in the States, and how are things different to back home (New Zealand) or Australia? "I do enjoy it over here but it's definitely not like home. Everything here seems to be bigger and better - according to them…(laughs). Things are definitely more 'uptight' here - in NZ and Aussie we are a lot more laid back."
With Tour de Georgia right upon us, what sort of training has Henderson been up to in Boulder? "I have been doing what I like to call 'panic miles'...it's where I pretty much ride everyday till I blow up. Believe me, it doesn't take long some days. After a track campaign I lose a lot of endurance but it does come back fast...well, that's what I keep telling myself...(more chuckles)."
It's known in the triathlon community that New Zealand has an abundance of talented triathletes - do cyclists and triathletes train together at all? "Not really, to be honest. I actually don't know too many down where I live in 'Sunny Dunnos' [slang for Dunedin, Henderson's home town, which is infamous for its cold weather]."
Henderson took second in the Scratch race
Photo ©: Russ and Nancy Wright

Henderson is not the only kiwi in the US pro peloton - Hayden Godfrey is another track rider who is performing well for Kodak Gallery/Sierra Nevada and riding this week in the Tour de Georgia. There's also the aforementioned Julian Dean riding in Europe and World and Olympic champion Sarah Ulmer as established riders from New Zealand. With strong riders such as these making names for themselves overseas, does Henderson see the sport's profile lifted back in New Zealand?
"I like to think our profile has been lifted. We have had some great results. We are never going to compete with the likes of a top rugby player, but you think of the amazing stuff Julian has done - it far outweighs anything rugby guys do."
Rugby is the game in New Zealand, and so it's always going to be hard to compete against the nation's passion, but personally, does Henderson have a set amount of time he'd like to continue riding in the pro ranks? Or does that depend on the path he takes: "To be honest I would love to end on a high note...the 2008 Olympics. But like you said it really does all depend on what happens over the next few years - anything can happen in our sport."
If his fifth place in stage one of the Tour de Georgia is anything to go by, anything can happen, and it may be that this kiwi heads to Europe to try and fly with the best there is on the continent. But first there's the immediate job of building on his great start in the Tour de Georgia.