An interview with Bobby Julich, April 19, 2005
Aiming high on home soil: Part II
"If I didn't know better,
Photo ©: AFP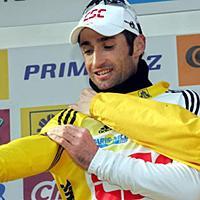 In Part II of this interview with Bobby Julich, he speaks about what has kept him going throughout the lean years, his team, the Tour, and the ProTour.
Cyclingnews: Has this run of winning form changed your mentality?
Bobby Julich: I think I am the same person that I was before. I always had these... Even when I was not very good, where I would be 20th or 25th, I always went to races with the objective of winning. Maybe that is what kept me going through all those lean years, that I was always there, that I was always finishing the races. but I was just lacking that little five or ten percent which is the difference between finishing 30th and finishing first.
Obviously it has changed me in the way I look at racing and in how my confidence is. Now it is not just a hope of winning, a positive-thinking wish, but a reality. So that makes it much more fun.
CN: It has been a few years since you were in that kind of position. I guess it must have been a slightly nerve-wracking moment, pulling on that leader's yellow jersey in Paris-Nice?
BJ: You know, you would think so. But, to me it was just very, very natural. I was very comfortable, and if I didn't know better, I would almost say that I had been in that situation many, many times in my career. I was just so comfortable, so confident, and so happy to have the team that I had around me that, no, there was no nerves. I think that was pretty obvious in the way that I was riding.
Obviously I have experience - I don't have experience dealing with that specific situation, but I have been around big race winners such as Vinokourov, and Jaksche and Jens Voigt last year. I have obviously just taken some of that in and learned that stressing or being nervous doesn't help you at all. When you're nervous, that means you are lacking confidence. I wasn't lacking confidence at that time, for sure.
"it is the riders who are making the most sacrifices. We are giving it as much credit as it deserves right now, and for what? I thought this was going to be the future of cycling."
- Julich on how ProTour polemics have affected the peloton
CN: You have often talked about just how good CSC is. Can you explain what it is about the team that so impresses you, and how it has helped you to bring out the best in yourself?
BJ: Well, from day one I was just treated with respect again, given responsibility and listened to. Not just spoken to, people actually listened. Because I have a lot of experience, I have a lot of good ideas. But you put yourself a little bit at risk by putting yourself out there, and saying 'this is what we need to do,' or 'this is what I want'. I was as surprised as anyone to get a positive response back, instead of a negative response. I was very used to hearing: 'Oh, Bobby, you are just stressing over the wrong things, it is not going to help you ride any better.' Basically, they would just slam me down.
But on this team it was much more different. I think I really gained the respect from my teammates and staff last year. Then we just built upon that this year. So it is just obviously a natural progression of confidence and comfort within the team.
CN: What will you do between now and the Tour de France, in terms of preparation?
Enjoying his time in the sun
Photo ©: AFP

BJ: I spoke with Bjarne about that a couple of days ago. I will have seven days off my bike after the Tour of Georgia, but those seven days will probably be more stressful than if I was training. I have so many things all of a sudden that I have been asked to do during my break.
The day after the Tour of Georgia ends, I am going to my high-altitude home in Reno, Nevada. I will be training there for a month. I will take one week off and then I will start back with one week of easy, longer training. Then, the last two weeks, I will do some specific work.
After that, I will fly back to Europe. I will be there right around the first of June, then I will do the Dauphine as, basically, training. Then I will do the ProTour team time trial on June the 19th, before possibly looking at some mountain stages between then and when the Tour de France starts.
CN: Have you set goals for this year's Tour?
BJ: Yeah. My goal has always been - especially after 1998 and 2001, when I was so close - to wear the yellow jersey during the race. Even if it is just for one day. So that is my goal. I would like to win a stage in the Tour and take the yellow jersey. Obviously, we have Ivan Basso and Carlos Sastre having a little bit more expectations for the GC; that kind of frees me up to maybe go for a stage win, and possibly take yellow.
It just depends on how well people are riding, as regards what cards we have to play. Hopefully Ivan will be coming out of the Giro on a high after putting in a great race. I think that Carlos will be coming on really strong around then, because he has an injury right now and he is resting.
We'll just have to take it as comes. The Tour de France is a wonderful race, but the momentum changes day to day, like we saw last year.
CN: Once the Tour is over, have you looked at doing the Vuelta or the world championships?
BJ: Yeah, we have been thinking about that a little bit. Obviously I have some ProTour points already in the pocket, so maybe I will do a couple more ProTour races. Right now, it looks like the Tour of Germany, San Sebastian and possibly the Tour of Poland as preparation for the world championships. But right now, I don't believe that I will be doing the Tour of Spain.
CN: Presumably, after taking a medal in the Olympics last year, you must be dreaming of the world championship win?
Storming his way to win number 2
Photo ©: Elmar Krings

BJ: Yeah, I really was kicking myself for missing that opportunity last year. But, with a broken wrist and having basically 10 days off because of an ear infection, I think my body pretty much had enough last year. So I have to just accept that as part of the rigours of the sport. But obviously I would love to do a really good world championship time trial. I am not getting any younger, so what bigger goal can you set for yourself than winning the world's?
CN: You mention you're not getting any younger, but you seem to be in a real golden spell this season. Have you thought about how many more years you will continue for?
BJ: Yeah, I have actually. You know, after the Olympic experience last year when I was up on the podium with Ekimov, who is 37 and took second place, I said afterwards: 'You know what? Maybe this isn't my last Olympic experience.'
I was kind of treating it like it was my last Olympics, my only Olympics, but right now I am definitely not looking to stop anytime soon. Maybe I will put a goal out there of reaching the Olympics in Beijing, and then pulling the horse out to pasture. I don't know. Right now, I am just living in the present and really enjoying myself. I hope to do this for two, three, four more years.
CN: Finally, what is your feeling on the whole clash between the UCI and the Grand Tour organisers?
BJ: It really makes me lose confidence in those who run our sports. The Grand Tours can't come to some sort of agreement with the ProTour, yet I thought the whole idea of the ProTour was that everybody has to make sacrifices.
As it stands, it is the riders who are making the most sacrifices. We are giving it as much credit as it deserves right now, and for what? I thought this was going to be the future of cycling. But if we can't get the Grand Tours included in the ProTour, if the Grand Tours want to do things on their own and keep all the money for themselves...
I thought that was the whole reason the ProTour came about, so that everyone would have a piece of the pie and everyone would have to share all the responsibilities. I have been reading a little bit about it on the Internet recently and, personally, I am a little bummed out that our sport is just so fractioned.
I know there are going to be some growing pains and there is going to be some time to adapt, to have everybody on the same page, but I think everybody has to make some compromises. The Grand Tours, especially the Tour de France organisation, have had a great run. The biggest races are run by ASO, and the Tour de France is the biggest race in the world, so I was hoping that they would blend in with this whole idea of having a great, huge, solid front called the ProTour. Unfortunately, that doesn't look like it is happening.
Pulling on the first ProTour leader's jersey
Photo ©: AFP

I am not educated enough to point fingers one way or another. But as a cyclist, I see this disorganisation and it definitely worries me about the future of the sport. Why try to bring something like the ProTour in if not everyone is willing to make the same sacrifices? I guess we were just have to wait and see what happens...
CN: Reading between the lines, do most people within the peloton feel that the Tour organisers are the ones who are more at fault, that it is 50-50, or that the UCI are to blame?
BJ: Well, from the rider's standpoint, from the people I have spoken to, it just seems like the Grand Tours are trying to do things their way. Obviously, they don't want to give up their power because they have enjoyed it for so long, especially the Tour de France.
I have always heard that the Giro and the Vuelta are trying to do their own thing, anyway, but the Tour de France is cycling and if that is not included in the ProTour, which is supposed to be what pro cycling is now about, then that just doesn't work as far as I'm concerned. It just doesn't hold water... (deep sigh) it is kind of frustrating to see that they basically can't work out the differences between these organisations, making it profitable and advantageous to everyone.