World Championships - CM
Verona, Italy, September 27-October 3, 2004
Main Page Start list Live coverage Results Previous Race Next Race
Race 5 - Wednesday September 29: Time Trial - Elite Men, 46.75km
Dodger looking dangerous
By Anthony Tan
Rogers the man to beat
Photo ©: Régis Garnier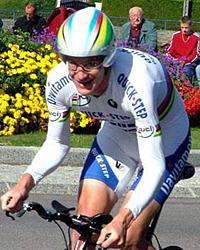 Barring disaster, defending champion Michael Rogers - who only got to wear his rainbow jersey once this year after David Millar admitted using EPO to 'earn' his time trial title in Hamilton - is the odds-on favourite for a second win in Verona.
"Obviously it's disappointing but unfortunately it's history and we can't do anything about it now," said Rogers about his once-used rainbow jersey. "It's made me more determined for this year."
With a number of contenders choosing to make eleventh-hour withdrawals due to illness or lack of form (Ullrich, Evans), a number giving the World's a miss due to the Olympic Games creating an irregular season (Botero, Ekimov, Hamilton, Julich), and a number who simply can't be bothered for one reason or another (Armstrong, Bodrogi, Igor Gonzalez De Galdeano), it's all looking good for the man affably known as 'Dodger'.
"For me it's the perfect course and much like last year in Hamilton," he added. "I think I've prepared quite well for it over the last month riding it at least once a week. "I think it's the best I've prepared for all the championships I've done."
That's not to say Rogers will be pedalling with one leg or won't need to try - there's a handful of riders in the 47-man lineup who could cause an upset in this 46.75 kilometre ride against the clock.
Second rider to depart at 14:31:30, Irish road champion David O'Loughlin, could well set the fastest time for the best part of half an hour until the departure of American Tom Danielson at three minutes to three. Flicked from Fassa squad for the Vuelta, Danielson will be seeking revenge and no doubt prove his worth to his new employer Discovery Channel, where he will be riding for the next two seasons.
Leaving a quarter of a hour later at 15:12:00 is Eric Wohlberg; the multiple Canadian TT champ finished a respectable 18th place in Athens and 20th in Sydney four years prior, but at 39 years old, it appears his best days are behind him.
Setting off a few minutes later and separated by one and a half minute intervals, Jean Nuttli (Switzerland), Joost Posthuma (Netherlands), Bradley McGee (Australia), Bert Roesems (Belgium), Yuriy Krivtsov (Ukraine), Dave Zabriskie (USA), Laszlo Bodrogi (Hungary) and Michal Hrazdira (Czech Republic) all have the potential to set a new benchmark, but it is most likely Belgian TT champion Roesems, who won his title only a month ago, Ukraine champ Krivtsov, 11th in Athens, or Hungarian champ Bodrogi, World's TT bronze medallist in 2000, that will be the pick of this pack.
But it will be the next - and final - nine where the gold is sure to be given.
Spaniards Isidro Nozal and José Ivan Gutierrez are in superb form, Nozal a man reborn after a fantastic Tour of Spain where he helped team-mate Roberto Heras to his second consecutive Vuelta victory, and Gutierrez, most recently finishing on the podium at the Grand Prix des Nations just over a week ago. Marc Wauters (Rabobank) finished second to Bart Roesems at last month's Belgian TT championships and was just outside the top 10 at the Olympic Games. Germany's Michael Rich and Uwe Peschel went 1-2 at the GP des Nations and are probably Rogers' biggest threat, with Rich fifth in Athens and Peschel a bronze medallist from the Hamilton World's one year ago.
Swiss TT champion Fabian Cancellara, winner of the prologue at the Tour de France, definitely has the ability to place on the podium after his tenth place in Athens, while Kazakhstan's Alexandre Vinkourov, sixth at the Olympics, has had a slightly muted comeback after early season injuries caused him to miss the Tour, and will be looking for a medal at the minimum.
Course description
All time trials start and finish in Bardolino, adjacent to the lakefront at Lago di Garda (Lake Garda), with each of the five championship categories covering loops of varying sizes, offering their share of sinuous twists and turns, short, sharp climbs and demanding descents.
For the Elite Men, who complete a distance of 48.75 kilometres, riders head north in a clockwise direction from Bardolino (68m alt.) for a flat first run out to Garda (68m alt.). A right-hand turn then sees them tackling the course's most difficult climb up to Costermano (253m alt.), where the road continues to rise ever so slightly until Caprino Veronese (256m alt.), before reaching the northernmost point in Pazzon.
From here, it's due south for almost 10 k's down into Sega (98m alt.) via Rivoli Veronese (195m alt.). Once at Sega, it's uphill once again to Pastrengo (186m alt.), before a medium right takes them east for a downward run into Lazise (71m alt.). One more right brings the chrono men back along the seafront for a fast, flat-out run back to the start/finish line via Cisano (67m alt.).
Time Trial map