World Championships - CM
Verona, Italy, September 27-October 3, 2004
Main Page Live coverage Results Race Details Start list Next Race
Race 1 - Monday September 27: Time Trial - Junior Women, 15.75km
Czech MTB rider powers to Garda gold
By Tim Maloney, European Editor
Tereza Hurikova (Czech Republic)
Photo ©: Sirotti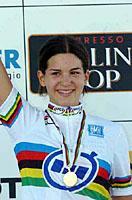 Now in its 10th year, the Junior Women's Time Trial was run on a beautiful, crystal-clear Monday midday. The 15.75km course climbs east from the lakeside village of Garda, up through rolling hills of the Bardolino wine region and then descends down and back along the eastern shore of Lake Garda to the start. Already bronze medalist in the Junior Women's World MTB championships last August, Czech rider Theresa Hurikova had a superb ride to win the gold medal in a time of 22'14, 5.37 seconds ahead of US Junior Women's TT champion Rebecca Much, who scored an excellent silver. 18 year-old Much of Chicago, Ill., who two senior women's races at Superweek in July, races for XXX Racing/Athletico.
Tereza Hurikova was a happy girl at the finish of the first competition of the 2004 World Championships. "It's my dream, but I'm a mountain biker. This is my second World Championships this year. In [the MTB] World's I had a problem with my bike. I [would have been] the winner, but with my defect I was third."
Rebecca Much (USA)
Photo ©: AFP

When asked if she expected to win today, Hurikova laughed, "I'm very happy! This is such a nice place, and I liked the uphill start. I went out fast, and I wanted to have the same speed to finish."
The bronze medal went to Australian Amanda Spratt, already Junior World Champion in the Points Race in June. The 16 year-old rider for New South Wales showed today her obvious talent on both road and track. "I'm over the moon because I came here not knowing what to expect and it's been an amazing experience," said Spratt. "I am absolutely stoked."
Amanda Spratt (Aus)
Photo ©: Mitch Friedman

"The course was pretty tough with a climb at the start but it was wonderful to have so many enthusiastic spectators cheering for us," she said. "We're not used to having so many people watch us race and it was my first experience of that sort of support for a junior road event."
Pre-race favourite and last starter today was German rider Sabine Fisher, who was third in the road race and 11th in the Jr. Women's Worlds last year, but at her 10.6km split in was fifth. Fisher finished out of the medals in managed 4th, 0'45 out of the medals.
Photography
Images by Fotoreporter Sirotti
Images by AFP Photo
Images by Mitch Friedman Photography
Results
1 Tereza Hurikova (Czech Republic)                  22.14.10 (42.501 km/h)
2 Rebecca Much (USA)                                 0.05.37
3 Amanda Spratt (Australia)                          0.05.67
4 Sabine Fischer (Germany)                           0.51.58
5 Marianne Vos (Netherlands)                         0.55.45
6 Roxane Knetemann (Netherlands)                     0.57.94
7 Alexandra Sontheimer (Germany)                     1.01.83
8 Natasha Mapley (Australia)                         1.09.08
9 Irina Zemlyanskaya (Russia)                        1.13.26
10 Emmanuelle Merlot (France)                        1.19.41
11 Aleksandra Dawidowicz (Poland)                    1.21.39
12 Martina Faccin (Italy)                            1.21.46
13 Florence Girardet (France)                        1.27.18
14 Jwona Pytel (Poland)                              1.28.67
15 Luydmila Zakirova (Russia)                        1.28.86
16 Marie Lindberg (Sweden)                           1.29.24
17 Rebecca Bertolo (Italy)                           1.33.05
18 Joelle Numainville (Canada)                       1.34.69
19 Anna Tratnyek (Canada)                            1.35.29
20 Daiva Tuslaite (Lithuania)                        1.37.17
21 Inga Cilvinaite (Lithuania)                       1.38.54
22 Karen Verbeek (Belgium)                           1.39.21
23 Olena Sharga (Ukraine)                            1.40.38
24 Jarmila Machacova (Czech Republic)                1.41.46
25 Olena Andruk (Ukraine)                            1.46.15
26 Veronika Sprügel (Austria)                        1.51.01
27 Karin Metzler (Switzerland)                       1.52.66
28 Maria De Lourdes Garcia-Navas Llaneras (Spain)    1.56.44
29 Kata - Liina Normak (Estonia)                     2.09.68
30 Mayuko Hagiwara (Japan)                           2.24.87
31 Jennifer Hohl (Switzerland)                       2.28.54
32 Silvia Tirado Marquez (Spain)                     2.40.85
33 Axelle Doisy (Belgium)                            2.42.59
34 Mary Brennan (Ireland)                            2.55.80
35 Catrine Josefsson (Sweden)                        3.02.33
36 Veranika Vyrastka (Bielorussia)                   3.26.74
37 Laura Lepasalu (Estonia)                          3.35.43
38 Stefanie Wiedner (Austria)                        4.03.17
 
Intermediate time check - 10.5 km
 
1 Tereza Hurikova (Czech Republic)                  15.24.74
2 Amanda Spratt (Australia)                          0.06.97
3 Rebecca Much (USA)                                 0.10.60
4 Marianne Vos (Netherlands)                         0.41.85
5 Sabine Fischer (Germany)                           0.41.90
6 Alexandra Sontheimer (Germany)                     0.47.96
7 Roxane Knetemann (Netherlands)                     0.48.27
8 Natasha Mapley (Australia)                         0.52.64
9 Irina Zemlyanskaya (Russia)                        0.56.11
10 Emmanuelle Merlot (France)                        0.58.24
11 Marie Lindberg (Sweden)                           1.03.72
12 Jwona Pytel (Poland)                              1.04.37
13 Aleksandra Dawidowicz (Poland)                    1.05.77
14 Luydmila Zakirova (Russia)                        1.05.91
15 Daiva Tuslaite (Lithuania)                        1.07.24
16 Jarmila Machacova (Czech Republic)                1.07.44
17 Rebecca Bertolo (Italy)                           1.09.04
18 Joelle Numainville (Canada)                       1.09.79
19 Florence Girardet (France)                        1.10.12
20 Inga Cilvinaite (Lithuania)                       1.10.16
21 Anna Tratnyek (Canada)                            1.10.88
22 Olena Sharga (Ukraine)                            1.11.58
23 Karen Verbeek (Belgium)                           1.12.34
24 Martina Faccin (Italy)                            1.13.43
25 Olena Andruk (Ukraine)                            1.14.58
26 Veronika Sprügel (Austria)                        1.16.52
27 Maria De Lourdes Garcia-Navas Llaneras (Spain)    1.22.89
28 Karin Metzler (Switzerland)                       1.25.45
29 Kata - Liina Normak (Estonia)                     1.33.43
30 Jennifer Hohl (Switzerland)                       1.46.18
31 Mayuko Hagiwara (Japan)                           1.58.14
32 Axelle Doisy (Belgium)                            2.00.26
33 Silvia Tirado Marquez (Spain)                     2.04.82
34 Catrine Josefsson (Sweden)                        2.06.75
35 Mary Brennan (Ireland)                            2.11.39
36 Laura Lepasalu (Estonia)                          2.24.56
37 Veranika Vyrastka (Bielorussia)                   2.32.97
38 Stefanie Wiedner (Austria)                        2.54.37