An interview with Oenone Wood, October 2, 2004
Aiming high in Italy
With the powerful Australian team behind here, World Cup champion Oenone Wood is one of the favourites for Saturday's world championship road race. She spoke to Shane Stokes about a stellar season, the imminent Verona race and beyond.
Oenone Wood
Photo ©: Shane Stokes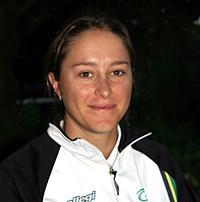 Australian rider Oenone Wood has had what can only be termed as a stomping season, winning the first round and overall title of the UCI World Cup, taking a stage and the points classification in the Giro d'Italia Femminile and placing fourth and sixth respectively in the Olympic road race and time trial. She will be one of the big names to watch in both today's time trial and Saturday's road race.
Cyclingnews caught up with Wood on the eve of the world's time trial in Bardolino, on the shores of the picturesque Lake Garda.
Cyclingnews: How are you feeling coming up to the big race?
Oenone Wood: I am feeling good. I am looking forward to it, it is the last race of the season so I would quite like to go out with a bit of a bang.
CN: Do you feel your form is good? Has it been difficult to keep your concentration up at this stage of the year?
OW: It has been difficult because it has been such a long season for us with so many races. There was a fair bit of pressure on us towards the end of the World Cup series and of course the Olympics, but I think the whole team is traveling pretty well. We raced a training tour down in Tuscany last week and I think we have all came through that pretty well.
CN: You have had a great year. Have you exceeded your pre-season expectations?
OW: Yes, absolutely. We have come away from the season…we have won the World Cup and the team has won a gold medal at the Olympics so it is a pretty amazing year for us.
Meeting the press
Photo ©: Shane Stokes

With team-mates Gollan & Rogers
Photo ©: Shane Stokes

Ready to go
Photo ©: Dick Soepenberg

World Cup champion
Photo ©: Mario Stiehl

CN: Coming into the season, had you set specific targets?
OW: I just wanted to improve on all areas of my performance. I did a lot of early-season work on that in terms of time trialing and that sort of thing and that really seemed to work. I have also improved a lot in my sprinting and that has helped me to get a lot of good results this year.
CN: What were the key performances for you in the World Cup?
OW: Well, of course the first race set it up for the year…I got the jersey there, and then I guess it was just consistent performances throughout the year. The only World Cup that I went to that I did pretty badly in was Montreal and that was coming back from my break. So that was something for me to learn from for next year, that just timing-wise you can't have form for the whole year.
CN: Your preparation for the World's has been good?
OW: Yeah, we had three World Cups, in France, Holland and Germany. The Holland and German World Cups were relatively flat so it was good for us to be able to get into the hills - from what I have seen of this road course it is going to be very tough.
CN: Have you gone around it a few times?
OW: We actually raced over it in the Tour of Trentino. I think it is going to be a really tough day for everyone - hopefully we have come out of the Tour from Tuscany with good legs.
CN: Do you think the same riders will be your main rivals for the time trial and the road race?
OW: No, I think there are some slight differences for the time trial. Obviously you will be looking towards riders like Somarriba and the American girls, possibly Judith Arndt, whereas I think some other riders will come in and be really strong in the road race such as Nicole Cooke and Edita Pucinskaite.
CN: On the day, will there be much team tactics or do you think it will just come down to who is the strongest there in the closing stages?
OW: I think team tactics will definitely come into it because obviously you need to conserve energy early on for someone who is looking to win the race. So you are going to rely on team-mates to conserve as much as possible as you will need someone to chase breaks down.
CN: What are your goals for the two events?
OW: Obviously I am going to go into the time trial and have a really solid race. I came sixth at the Olympics so if I can put in a good performance I would certainly hope to improve on that. I am also hoping to be strong in the road race.
CN: You have had a great season - what's planned for after?
OW: Holidays! We are going to go up to Switzerland and then do a few days snowboarding, and then we will head home and hit the beach…
Most of October will be off the bike. It is enough to recover mentally and physically. I haven't been in the sport for an incredibly long time - this is my fourth year cycling - so I think just to allow your body a little bit of time to recover is enough. This is the most racing I have done and at the highest level so I think it is good to have a bit of a break.
CN: Does that mean you think you can go up again another notch next year?
OW: Yes… perhaps not so much in volume, but maybe targeting different things at different times in the year. That'll be the plan anyway!