Recently on Cyclingnews.com
91st Meisterschaft von Zürich - Championship of Zurich - CDM
Switzerland, August 22, 2004
2003 results Preview Start List Past winners
Bettini vs. Rebellin in Zurich
By Jeff Jones
Daniele Nardello triumphs in Zurich in 2003
Photo: © Sirotti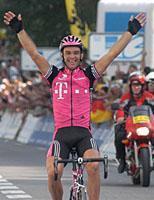 For many of the classics riders, the month August is a tough one this year. With a few notable exceptions, most took part in last Saturday's Olympic road race, which has been sandwiched in between the three August World Cups. This weekend's Züri-Metzgete (Championship of Zurich) will therefore be the fourth race in a row for some, including World Cup aspirant Paolo Bettini, who looks set to challenge David Rebellin for the honours again on Sunday. Rebellin currently leads the World Cup with 282 points, but Bettini, who is now on 238, is in great form after winning the Olympic road race and should find Zurich to his liking. Nevertheless, Rebellin may have the advantage after not doing the testing Athens race, and is definitely a hot tip for the win on Sunday. It is a sure bet that both riders will be watching each other like hawks.
As for the challengers, World Champion Igor Astarloa (Lampre) crashed out of the Olympic Road Race on the first lap, and if he's recovered enough from his injuries he should be motivated to give it his all on Sunday. Igor has been in good form in the first two World Cups in August, and may finally hit his straps to finish on the top step in Zurich.
Jan Ullrich (T-Mobile) is normally a good performer in the Züri-Metzgete, but it's been apparent that he's not in his best shape at the moment. After his fourth place in the Tour and a few "nearly" rides in the World Cups and the Olympics, Ullrich decided to withdraw from Zurich at the last minute. But Ullrich's teammate Daniele Nardello is the defending champion in Zurich, and T-Mobile can also count on Alexandre Vinokourov, Andreas Klöden, Paolo Savoldelli and Cadel Evans in its powerful line up.
Belgian Axel Merckx (Lotto-Domo) has been very consistent throughout July and August, culminating with his fine bronze medal in Athens. That was a big goal for Merckx, so he could find himself on the downward slope after his peak. But by the way he's been riding of late he is a good bet to be in the final mix. Fassa Bortolo's Dario Frigo, who won in 2002, appears to be in good form again after finishing second in the Coppa Agostoni this week. His teammates Kim Kirchen and Juan Antonio Flecha should be able to add plenty of mortar to the Fassa mix.
Saeco's man in form is Danilo Di Luca, and with Mirko Celestino at his side should have a decent ride in Zurich. Team CSC will bring Ivan Basso, Jörg Jaksche and Olympic TT bronze medalist Bobby Julich to Zurich, with Basso probably their main man. The US Postal-Berry Floor team will have most of its Tour de France riders in action, including Azevedo, Hincapie, Beltran, Noval and Padrnos, with the addition of Canadian Michael Barry, American Damon Kluck and Russian Guennadi Mikhailov.
Of the rest of the starters, Philippe Gilbert (FDJeux.com), Yaroslav Popovych (Landbouwkrediet-Colnago) and Laurent Brochard (Ag2r) are the standouts.
Live coverage
Cyclingnews will be covering the Championship of Zurich live, with coverage starting at 14:30 CEST (Europe)/8:30 EDT (USA East)/5:30 PDT (USA West)/22:30 AEST (Australia East).
Past winners
     First                     Second                    Third
     
2003 Daniele Nardello (Ita)    Jan Ullrich (Ger)         Paolo Bettini (Ita)
2002 Dario Frigo (Ita)         Paolo Bettini (Ita)       Lance Armstrong (USA)
2001 Paolo Bettini (Ita)       Jan Ullrich (Ger)         Fernando Escartin (Spa)
2000 Laurent Dufaux (Swi)      Jan Ullrich (Ger)         Francesco Casagrande (Ita)
1999 Grzegorz Gwiazdowski (Pol) Sergio Barbero (Ita)     Andrei Tchmil (Bel)
1998 Michele Bartoli (Ita)     Frank Vandenbroucke (Bel) Salvatore Commesso (Ita)
1997 Davide Rebellin (Ita)     Jan Ullrich (Ger)         Rolf Sörensen (Dan)
1996 Andrea Ferrigato (Ita)    Michele Bartoli (Ita)     Johan Museeuw (Bel)
1995 Johan Museeuw (Bel)       Gianni Bugno (Ita)        Giorgio Furlan (Ita)
1994 Gianluca Bortolami (Ita)  Johan Museeuw (Bel)       Maurizio Fondriest (Ita)
1993 Maurizio Fondriest (Ita)  Charly Mottet (Fra)       Bruno Cenghialta (Ita)
1992 Viatcheslav Ekimov (Rus)  Lance Armstrong (USA)     Jan Nevens (Bel)
1991 Johan Museeuw (Bel)       Laurent Jalabert (Fra)    Max Sciandri (GB)
1990 Charly Mottet (Fra)       Greg Lemond (USA)         Claudio Chiappucci (Ita)
1989 Steve Bauer (Can)         Acacio Da Silva (Por)     Rolf Gölz (Ger)
1988 Steven Rooks (Ned)        Rolf Sörensen (Dan)       Toni Rominger (Swi)
1987 Rolf Gölz (Ger)           Raul Alcala (Mex)         Cam Passera (Ita)
1986 Acacio da Silva (P)       Steve Bauer (Can)         Adri van der Poel (Ned)
1985 Ludo Peeters (Bel)        Mario Beccia (Ita)        Steve Bauer (Can)
1984 Phil Anderson (Aus)       Hubert Seiz (Swi)         Pierino Gavazzi (Ita)
1983 Johan van de Velde (Ned)  Gilbert Glaus (Swi)       Frans Pirard (Ned)
1982 Adri van der Poel (Ned)   Hubert Seiz (Swi)         Tommy Prim (Swi)
1981 Beat Breu (Swi)           Henry Rinklin (Ger)       Daniel Willems (Bel)
1980 Gery Verlinden (Bel)      Jean-P Vandenbrande (Bel) Stefan Mutter (Swi)
1979 Giuseppe Saronni (Ita)    Francesco Moser (Ita)     Marc Demeyer (Bel)
1978 Dietrich Thurau (Ger)     Francesco Moser (Ita)     G. Van Roosbroeck (Bel)
1977 Francesco Moser (Ita)     Ron. De Witte (Bel)       Walter Godefroot (Bel)
1976 Freddy Maertens (Bel)     Roger De Vlaeminck (Bel)  Walter Godefroot (Bel)
1975 Roger DE Vlaeminck (Bel)  Eddy Merckx (Bel)         Franceso Moser (Ita)
1974 Walter Godefroot (Bel)    G. Van Roosbroeck (Bel)   Frans Verbeeck (Bel)
1973 André Dierrickx (Bel)     Hennie Kuiper (Ned)       Licien de Brauwere (Bel)
1972 Willy Vanneste (Bel)      Vic van Schil (Bel)       André Poppe (Bel)
1971 Herman Vanspringel (Bel)  Romano Tumellero (Ita)    Roland Berland (F)
1970 Walter Godefroot (Bel)    Franz Mintjens (Bel)      André Dierickx (Bel)
1969 Roger Swerts (Bel)        Eddy Beugels (Ned)        Roger de Vlaeminck (Bel)
1968 Franco Bitossi (Ita)      Walter van Sweevelt (Bel) Marino Basso (Ita)
1967 Robert Hagmann (Swi)      Paul Zollinger (Swi)      Louis Pfenninger (Swi)
1966 Italo Zilioli (Ita)       Luc Armani (Ita)          Francis Blanc (Swi)
1965 Franco Bitossi (Ita)      Roland Zoeffel (Swi)      Jan Hugens (Ned)
1964 Guido Reibrouck (Bel)     Gastone Nencini (Ita)     Robert Hintermüller (Swi)
1963 Franco Balmanion (Ita)    Angelo Conterno (Swi)     Vend Barriliera (Ita)
1962 Jan Janssen (Ned)         Marc Ongenae (Bel)        Raf Gijsles (Ned)
1961 Rolf Maurer (Swi)         Heinz Graf (Swi)          Andre Noyelle (Bel)
1960 Freddy Ruegg (Swi)        Alc. Vaucher (Swi)        Arrigo Padovan (Ita)
1959 Angelo Conterno (Ita)     Heinz Graf (Swi)          Otto Altweck (Ger)
1958 Giuseppe Cainero (Ita)    Hans Junkermann (Ger)     Heinz Graf (Swi)
1957 Hans Junkermann (Ger)     R. Filippi (Ita)          L. van der Elst (Bel)
1956 Carlo Clerici (Swi)       Giuseppe Cainero (Ita)    Heinz Graf (Swi)
1955 Max Schellenberg (Swi)    Carlo Lafranchi (Swi)     Roland Callebout (Bel)
1954 Hugo Koblet (Swi)         Eugen Kamber (Swi)        Jean Brun (Swi)
1953 Eugen Kamber (Swi)        Arm. Para (Ita)           Carlo Clerici (Swi)
1952 Hugo Koblet (Swi)         Carlo Clerici (Swi)       Fritz Schaer (Swi)
1951 Jean Brun (Swi)           Fritz Schaer (Swi)        Hans Sommer (Swi)
1950 Fritz Schaer (Swi)        Ferdi Kübler (Swi)        Désiré Keteleer (Bel)
1949 Fritz Schaer (Swi)        C. Danguillaume (Fra)     Gottfried Weilenmann (Swi)
1948 Gino Bartali (Ita)        Ernest Stettler (Swi)     Hans Schütz (Ita)
1947 Charles Guyot (Swi)       Renzo Zanazzi (Ita)       Ferdi Kübler (Swi)
1946 Gino Bartali (Ita)        Fausto Coppi (Ita)        H. Bolliger (Swi)
1945 Leo Weilemann (Swi)       Hans Maag (Swi)           Ernst Naef (Swi)
1944 Ernst Naef (Swi)          E. Kuhn (Swi)             Hans Knecht (Swi)
1943 Ferdy Kübler (Swi)        Kurt Zogg (Swi)           Walter Diggelmann (Swi)
1942 Paul Egli (Swi)           Walter Diggelmann (Swi)   Hans Knecht (Swi)
1941 Walter Diggelmann (Swi)   Hans Maag (Swi)           Paul Egli (Swi)
1940 Robert Zimmermann (Swi)   Walter Diggelmann (Swi)   R. Breitenmoser (Swi)
1939 Karl Litschi (Swi)        Werner Buchwalder (Swi)   Walter Gross (Swi)
1938 Hans Martin (Swi)         Walter Blattmann (Swi)    Paul Egli (Swi)
1937 Leo Amberg (Swi)          Ed Buchwalder (Swi)       Werner Buchwalder (Swi)
1936 Werner Buchwalder (Swi)   Jean Wauters (Bel)        Auguste Erne (Swi)
1935 Paul Egli (Swi)           Leo Amberg (Swi)          Walter Blattmann (Swi)
1934 Paul Egli (Swi)           Auguste Erne (Swi)        Alfred Bula (Swi)
1933 Walter Blattmann (Swi)    Alfred Bula (Swi)         Willi Kutschbach (Ger)
1932 Auguste Erne (Swi)        Alfred Bula (Swi)         Karl Altenburger (Ger)
1931 Max Bulla (Aut)           Karl Altenburger (Ger)    Albert Buchi (Swi)
1930 Omer Taverne (Bel)        Désiré Louesse (Bel)      Max Bulla (Aut)
1929 Henri Suter (Swi)         Ludwig Geyer (Ger)        Jozef Zind (Ger)
1928 Henri Suter (Swi)         Albert Meyer (Swi)        Henri Reymond (Swi)
1927 Kastor Notter (Swi)       Oskar Tietz (Ger)         Félix Manthey (Ger)
1926 Albert Blattmann (Swi)    Otto Lehner (Swi)         Oskar Tietz (Ger)
1925 Hans Kaspar (Swi)         Henri Reymond (Swi)       Marcel Perriere (Swi)
1924 Henri Suter (Swi)         Kastor Notter (Swi)       Max Sutter (Swi)
1923 Adolf Huschke (Ger)       Henri Suter (Swi)         Kastor Notter (Swi)
1922 Henri Suter (Swi)         Hermann Gehrig (Swi)      Louis Krauss (Swi)
1921 Ricardo Maffeo (Ita)      A. Bani (Ita)             Alf Dätwiler (Swi)
1920 Henri Suter (Swi)         Josi Zorloni (Swi)        F. Francescon (Ita)
1919 Henri Suter (Swi)         Emile Strasser (Swi)      Hans Lienhard (Swi)
1918 Anton Sieger (Swi)        Jakob Sieger (Swi)        Heinrich Wegmann (Swi)
1917 Charles Martinet (Ita)    Josi Zorloni (Swi)        Pascal Valentini (Ita)
1914 Henri Rheinwald (Swi)     Otto Wiedmer (Swi)        Robert Chopard (Swi)

In 1984, Eric McKenzie (NZ) was the winner but was disqualified for doping