Recently on Cyclingnews.com
88th Ronde van Vlaanderen - CDM
Belgium, April 4, 2004
The parcours
This year's Ronde measures 257 km, starting in Brugge in northwestern Flanders, and taking a traditional route out to the coast where it passes through Oostende and Johan Museeuw's home town of Gistel. Then it's a flat run in a south easterly direction to the hill zone, which begins with the relatively easy Grotenberge after 138 km. But things soon start to sort themselves out at the Molenberg (climb 3, km 154), Wolvenberg (climb 4, km 163) and Oude Kwaremont (climb 5, km 182). There are 18 climbs in total, and the peloton is usually quite thin by the Berendries (climb 15, km 227).
Last year, Van Petegem bridged up to the leaders on Tenbossestraat (climb 16, km 232), before making his final move with Vandenbroucke on the Muur van Geraardsbergen (climb 17, km 242). The pair stayed together over the Bosberg (the final climb at km 246) to fight it out for the honours in Ninove.
Besides the Muur, which has been resurfaced and will be considerably easier to ride up this year, other important cobbled climbs include the Paterberg (climb 6, km 186), Koppenberg (climb 7, km 192), Taaienberg (climb 9, km 200) and Eikenberg (climb 10, km 205).
There are also plenty of flat cobbled sections, which always make life interesting. Kanegem (km 75, 1900m), Doorn (km 112, 1700m), Paddestraat/Lippenhovestraat (km 130, 2400m + 1300m), Mater/Kerkgate (km 159, 3000m), Kattenberg (km 164, 1200m, actually a descent), Mariaborrestraat (km 196, 2100m) and Haaghoek (km 219, 2000m).
Course Map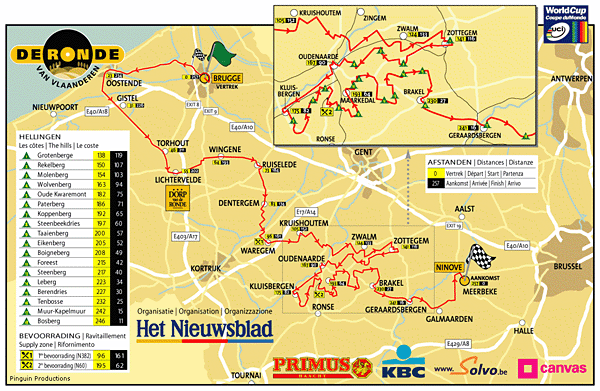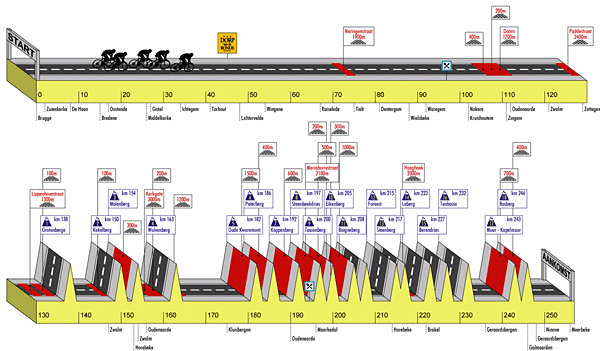 © Tom & Eddy Van Laere