An interview with Magnus Bäckstedt, April 12, 2004
Dream come true
Before the race, Alessio-Bianchi's big Scandinavian sprinter hoped a Paris-Roubaix win was within his grasp, but didn't really dare believe it would happen. At the post-race press conference he talks about the moment when he realized it could be done, and the turn-around in his and his team's fortunes this year.
Magnus Backstedt celebrates with the trophy
Photo ©: Sirotti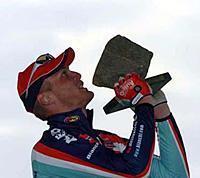 "If you had told me this morning I would win I would have called you a liar," said Bäckstedt at the post-race press conference. "I came into the velodrome with tears in my eyes because this has been my childhood dream.
"In the first 50km my legs were good and I could tell it was going to be a good day for me. I didn't have any problems during the day. I was always on the right wheel and I didn't have any mechanical problems. The really important moment during the race was the Arenberg Forest. I had a really close call and almost crashed. After that it was difficult to get through the people in front. I sat with Boonen till we saw a place we could slip through. At that time the front group wasn't big at all. Even after that, not a lot of riders made it back.
In the thick of the action
Photo ©: Sirotti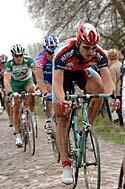 "The most important moment for me was when Johan attacked with 50km to go, and I realized I could follow. As long as I could stay close to Johan, he wasn't going to ride away from me. I began to believe I could win when I found myself in the group of four up front. I was most afraid of Hammond, because I knew he's fast in a sprint and he's had good results recently."
With six kilometres to go on the cobbles in Hem, the five man lead group suddenly became four when Johan Museeuw punctured. "When Museeuw flatted I didn't know what happened," said Magnus. "It was just at the end of a section of pavé and he was no longer there. At that point I said to everyone that we needed to really work together."
Bäckstedt has been sharing a house with Roger Hammond in Zulte, Belgium, so the pair know each other very well. "Roger has been riding brilliantly all year," said Bäckstedt of his housemate. "He was third in Waregem and ninth in Harelbeke, so I was worried about him coming into the velodrome with me. On the other hand, we've been living together for three years, so I know the way he sprints like the back of my hand. That could be to my advantage or disadvantage, because Roger knows me too."
In the velodrome with Hammond and Hoffman
Photo ©: Sirotti

However, Bäckstedt says he'll be moving back to Wales, where his wife Meg comes from. "I've lived in Belgium since I started my career with Collstrop. I think it's a good place to be, and there are several guys from the team who live in the same area so we can train together. But... I'm moving next weekend Great Britain, since my daughter is going to learn English. I expect I'll return to Belgium to train, at least this year, because I know the roads well and I enjoy training in Belgium."
The moment of triumph
Photo ©: Sirotti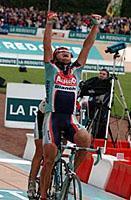 Bäckstedt's recent years haven't been great, but since joining fakta in 2003 and then Alessio-Bianchi this year, the 29 year old has found his legs again. "I was on Credit Agricole for four years. I'm happy to have changed teams, it's something new and it's good for the morale.
"This has repaid everything for me. I often felt that I haven't been riding at the best of my ability. There are a lot people who have helped me over the years. When you're not doing as well as you know you could, it makes you suffer terrible mood swings. I've been going through hell every other day, so I want to thank everyone who has stood behind me.
"We're a really close team. We haven't been let down by the bad luck we've had, because sooner or later it had to turn around. The whole team kept believing that one of us could do something here. I did a great race in Gent-Wevelgem, and then we started to think that maybe it was possible to do something here. We had hoped for me and Tafi and Baldato, but we didn't dare to believe that this would happen."
Bäckstedt recalled that, "The first time I did Paris-Roubaix was in 1998, when I was seventh. After that moment I've always made it an objective. If I could only do one race a year I'd make it Paris-Roubaix. Since 1998 I've had problems with my health, so I've never been able to match the result from that year."
Congratulations from team-mate Fabio Baldato
Photo ©: Olympia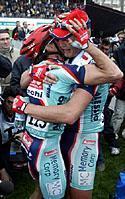 Despite the fact that he has 100 World Cup points, Bäckstedt doesn't rate his chance for the overall title. "I don't think I can win the World Cup overall," he said. "I don't have much of a chance because there are only three races that suit me: Paris-Roubaix, HEW Cyclassics, and Paris-Tours. For the rest of the season, my goals are the world championships, the Olympics, and a stage win at the Tour de France."
Asked if his weight was a problem, Bäckstedt replied, "I'm at 90 kilos now, but I don't pay much attention to that. It might be better for preventing flats to be lighter, but it has to be a balance. I figure as long as I'm fit, I should be fine."