An interview with Magnus Bäckstedt, April 10, 2004
Roubaix without doubt!
After his second placing at Gent-Wevelgem on Wednesday, Alessio's Magnus Bäckstedt is a favourite for Paris-Roubaix. He has the form, his team is behind him, and most importantly he has the attitude. Cobbles and mud are just "plain fun" he tells Gabriella Ekstrom.
Enjoying Spring sunshine
Photo: © Alessio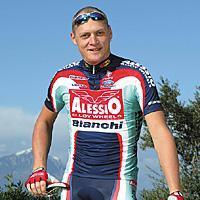 Although frequently seen in the results this year, Alessio rider Magnus Bäckstedt has not been all pleased with his spring, until now that is. A brilliant second place at Gent-Wevelgem, where he was beaten only by big local favourite Tom Boonen, proved his form.
"I have been chasing my form all spring it seems," says Magnus Bäckstedt when he talks to Cyclingnews from his hotel in Harelbeke. "I have been sick quite a lot this spring. At one time, I only got four hours of training into a two week period, because of illness," he explains.
"It was very cold in the morning of Gent-Wevelgem, and for the first 120 kilometres, I didn't feel too good. I was kind of cold, and finally thought I should go to the front and warm myself up with an attack or two. I needed to get my blood circulation going. With about 70 kilometres to go, I got away with Jo Planckaert, Peter Farazijn and Nick Nuyens. Shortly after, we were joined by a bigger group ad we all kept riding. I stayed close to the front over the climbs, and believe it or not, but my legs were feeling good on the climbs. Bit unusual that."
"As we approached Wevelgem I thought about attacking. That's what I wanted to do, but the pace was very high, and we had a tail wind. On top of that, Quick.Step had six riders in the group, so I knew it was impossible to get away. Having realised that, I decided to go for the sprint instead, and in that event, there was only one wheel to choose, Boonen's. It was a bit funny because the whole group really slowed down coming in to the final stretch, and I decided that I better go early than be left too late. I wanted to be able to take advantage of my full sprint. I took off with 300m to go, and it proved to be almost successful," Magnus says with the weight on the word almost.
So in a situation like this, what sort of feeling takes over? Is it disappointment over being first loser, or is it relief over having achieved a good result?
"For me I must say it was a relief. I was happy. I had been chasing after the good form the other riders already had for a long time. Now at least I had been moving forward over each climb during the course, instead of slipping further back as each climb proceeded. It proves my form is here."
Hitting the dirt at GP SATS in 2003
Photo: © Frank Rud Jensen
The waiting for Roubaix takes place in Harelbeke, in a hotel the riders are getting used to.
"We stay at the same place during the 'classic' part of the spring season. We came here after Dwars door Vlaanderen-Waregem. It makes things a lot easier when we don't have to move around. The time between the races is mostly spent lying on bed, trying to recover as much as possible and stay fresh and relaxed until the next race. Today, the day after Gent-Wevelgem, we rode for one and a half hours, because we got a lot of rain over us. Normally a ride would last for eighty or ninety kilometres. We're basically eating and sleeping with some riding included."
Riding on the pavé in northern France and in Belgium has always been a preference for the tall, blond Swede, and he's not scared of the mess and mud either.
"I have always liked these races. I like riding on pavé. I guess if you're good at something, it's easy to like it. It's true I don't mind the bad weather either. Especially not at these races. The worse the road, the worse the weather, I'd say. It gives me an advantage over those who doen't like it too. Some give up the minute they pull the curtains and see the weather. Then there's some riders who can't physically stand the rain either, they just get too cold. Luckily, I don't have any problems with that."
Fair enough that your heart has to be in it, but what makes him such a good pavé rider that he can claim to like cobbles big as tombstones and ditches deep with mud?
"Oh, I don't know. It could very well be a matter of attitude in the end. As I said, I do like to race on these roads, and what is even better, I also like to train on these roads. I will go out and look for them. Some people doen't like to do that, they think it's bumpy and shaky, and that is obviously to their disadvantage. I think it's plain fun," Magnus says.
With his good form just appearing, how brave is his ambition on Sunday morning, I'm curious to find out?
Heading for the start at Flanders
Photo: © Chris Henry

"My ambition is to win! Every time I head for the start of a race, my ambition is to win. On a more realistic level, with a good day without punctures and where I manage to stay upright on both wheels, I'd like to finish top ten. It would be good if I could do better, but in order to be satisfied, I need to have a goal, and for Sunday, top ten is that goal."
The mystique of Paris-Roubaix resembles no other race, and just as many other riders who will line up for the start on Sunday, Magnus has felt it too, even before he started his own professional career.
"I remember I had a poster of Gilbert Duclos-Lassalle winning Paris-Roubaix on my wall. It was in the early nineties and I guess it was a boy's childhood dream. Even now I still think it is a race like no other. It's a one-of-a-kind competition where everything from cobblestones to mother fortune could either work your way or against you."
If you could choose between a world champion title or a win on Sunday, what would it be?
"I'd rather win on Sunday!" Magnus says without doubt.