6th Primavera Rosa - CDM
Italy, March 20, 2004
Results
World Cup Standings
Zabirova zaps competition for 2nd consecutive Primavera Rosa win
By Tim Maloney, European Editor
20 seconds before the finish and Zoulfia Zabirova has the race in the bag
Photo ©: Davide Tricarico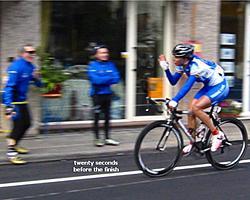 Zulfia Zabirova (Let's Go Finland) soloed to her second win in as many years in the 2004 edition of la Primavera Rosa, round two of the 2004 Women's World Cup from Varazze to San Remo. Zabirova, the 1996 Olympic Time Trial champ from Russia, had prepared for two months in Mallorca for this race, and soloed across the line to beat Mirjam Melchers (Farm Frites Hartol) by 26" with World Cup leader Oenone Wood (AIS) taking the bunch sprint for third, thus keeping her jersey.
"The team worked perfectly together today, it was amazing, all what we planned before the race happened," Zabirova told Cyclingnews after the finish. "Fabiana [Luperini] did a great race, and it was planned that she would attack on the Cipressa from the bottom...she did it and as soon as the bunch caught her, I made a counter and took off...from then, you know how it is, full on!"
Although it was almost exactly the same move as last year, Zabirova wasn't afraid. "As it worked last year, why change it?" she said. "The only difference though is that I attacked today later in the Cipressa than last year. Last year I attacked earlier on this climb, but it happened today to work out well the same."
Zabirova was also proud to have won the race for her team, which is a new one in the women's peloton. "This team is so cool - 'tranquilla'. Let's Go Finland is a Finnish sponsor, it's a big gym centre, with swimming pools and all you need to work out. It's huge. It's a good team really and I am very excited to have won today."
How it unfolded
Farm Frites-Hartol tried to take control on a windy day along the Italian Riviera and on Capo Cervo, Lorian Graham (AIS) and Eneritz Iturriaga (Let's Go Finland) attacked and were joined by Sandra Missbach (Farm Frites-Hartol) and Tatiana Stiajkina (Aliverti-Kookai) on the descent. The quartet maintained a slim lead over Capo Berta, but were pulled back by Luperini and Boubnenkova.
Before the penultimate climb of the Cipressa after 80km, eight riders got away: Iturriaga, Gollan (AIS), Newstead (Britain), Thürig (Switzerland), Hemsley (Nürnberger), Oki (Farm Frites-Hartol), R. Polikeviciute (USC Chirio) and Rutherford (Michela Fanini). After 5km, they had gained 30", but the peloton chased them down. As the Cipressa began, Thürig attacked again, followed by Luperini, but they were brought back. At that moment, Zabirova picked just the right time for a classic counter attack and had gained 17" by the summit of the Cipressa.
With 15km to go, Zabirova had 34" lead with Cantele (Safi-Pasta Zara Manhattan) and Rutherford chasing, who were absorbed by the bunch. Zabirova put her time trial skills to work and flew up the Poggio for the second year in a row to win by 37". Melchers attacked on the descent of the Poggio to get second, while World Cup leader Wood won the group sprint for third.
Photography
Images by Davide Tricarico
Results - 118 km
1 Zoulfia Zabirova (Rus) Team Let's Go Finland                    2.55.49 (40.269 km/h)
2 Mirjam Melchers (Ned) Farm Frites-Hartol                           0.26
3 Oenone Wood (Aus) Australian National Team                         0.29
4 Regina Schleicher (Ger) Safi-Pasta Zara Manhattan                      
5 Anita Valen (Nor) Team S.A.T.S.                                        
6 Priska Doppmann (Swi) Swiss National Team                              
7 Olga Slyusareva (Rus) Nobili Rubinetterie-Guerciotti                   
8 Joanne Kiesanowski (NZl) New Zealand National Team                    
9 Katia Longhin (Ita) S.C. Michela Fanini Record Rox                     
10 Liane Bahler (Ger) German National Team                               
11 Sharron Vandromme (Bel) Vlaanderen-T-Interim Univega                  
12 Arenda Grimberg (Ned) Dutch National Team                             
13 Eneritz Iturriaga (Spa) Team Let's Go Finland                         
14 Svetlana Boubnenkova (Rus) Russian National Team                      
15 Alison Wright (Aus) Nobili Rubinetterie-Guerciotti                    
16 Modesta Vzezniauskaite (Ltu) Safi-Pasta Zara Manhattan                
17 Angela Brodtka (Ger) German National Team                             
18 Miho Oki (Jpn) Farm Frites-Hartol                                     
19 Rosa Maria Bravo Soba (Spa) Spagnola National Team                    
20 Annette Beutler (Swi) Lietzsport Cycling                              
21 Ghita Beltman (Ned) Dutch National Team                               
22 Tatiana Guderzo (Ita) Italian National Team                           
23 Margaret Hemsley (Aus) Equipe Nurnberger Versicherung                 
24 Edita Pucinskaite (Ltu) S.C. Michela Fanini Record Rox                
25 Amber Neben (USA) Team T-Mobile                                       
26 Katherine Bates (Aus) Team Ton Van Bemmelen Sports                    
27 Nicole Brandli (Swi) S.C. Michela Fanini Record Rox                   
28 Tania Belvederesi (Ita) Acqua&Sapone - Valenti Argenti                
29 Susanne Ljungskog (Swe) Team S.A.T.S.                                 
30 Olivia Gollan (Aus) Australian National Team                          
31 Cindy Pieters (Bel) Vlaanderen-T-Interim Univega                      
32 Chantal Beltman (Ned) Ondernemers Van Nature                          
33 Trixi Worrack (Ger) Equipe Nurnberger Versicherung                    
34 Marion Clignet (Fra) Basis Aude                                       
35 Theresa Senff (Ger) German National Team                              
36 Anna Zugno (Ita) Safi-Pasta Zara Manhattan                            
37 Valentina Polkhanova (Rus) Nobili Rubinetterie-Guerciotti             
38 Fabiana Luperini (Ita) Team Let's Go Finland                          
39 Noemi Cantele (Ita) Safi-Pasta Zara Manhattan                     1.13
40 Rachel Heal (GBr) Farm Frites-Hartol                              1.14
41 Barbara Heeb (Swi) Lietzsport Cycling                                 
42 Karin Thurg (Swi) Swiss National Team                                 
43 Sara Carrigan (Aus) Australian National Team                          
44 Hayley Rutherford (Aus) S.C. Michela Fanini Record Rox            1.17
45 Gunn-Rita Dahle (Nor) Safi-Pasta Zara Manhattan                       
46 Vicky Pincombe (GBr) British National Team                        1.34
47 Lorian Graham (Aus) Australian National Team                      1.47
48 Tetyiana Stiajkina (Ukr) Team Aliverti - Bianchi Kookai               
49 Kimberly Bruckner (USA) Team T-Mobile                                 
50 Stacey Peters (USA) Team T-Mobile                                     
51 Maigorzata Wysocka (Pol) Polish National Team                     2.02
52 Debby Mansveld (Ned) Vlaanderen-T-Interim Univega                     
53 Suzanne De Goede (Ned) Team Ton Van Bemmelen Sports                   
54 Giorgia Bronzini (Ita) Safi-Pasta Zara Manhattan                      
55 Barbara Cazzaniga (Ita) S.C. Michela Fanini Record Rox                
56 Petra Rossner (Ger) Equipe Nurnberger Versicherung                    
57 Veronique Belleter (Bel) Vlaanderen-T-Interim Univega                 
58 Loes Gunnewijk (Ned) Ondernemers Van Nature                           
59 Esther Van Der Helm (Ned) Farm Frites-Hartol                          
60 Silvia Parietti (Ita) Italian National Team                           
61 Julia Martisova (Rus) Russian National Team                           
62 Sarah Duster (Ger) German National Team                               
63 Silva Cremilda Fernandes (Bra) USC Chirio Forno D'asolo               
64 Any Wood Susie (NZl) New Zealand National Team                        
65 Marianna Lorenzoni (Ita) Team Aliverti - Bianchi Kookai               
66 Olga Zabelinskaya (Rus) Equipe Nurnberger Versicherung                
67 Letizia Giardinelli (Ita) Acqua&Sapone - Valenti Argenti              
68 Teodora Ruano Sanchon (Spa) Spagnola National Team                    
69 Manon Jutras (Can) Team S.A.T.S.                                      
70 Jolanta Polikeviciute (Ltu) USC Chirio Forno D'asolo                  
71 Melissa Holt (NZl) New Zealand National Team                          
72 Kristen Lasasso (USA) Basis Aude                                      
73 Deirdre Demet-Barry (USA) Team T-Mobile                               
74 Sigrid Corneo (Ita) Nobili Rubinetterie-Guerciotti                    
75 Hanka Kupfernagel (Ger) Vlaanderen-T-Interim Univega                  
76 Anouska Van Der Zee (Ned) Farm Frites-Hartol                          
77 Amy Safe (Aus) Australian National Team                               
78 Judith Arndt (Ger) Equipe Nurnberger Versicherung                     
79 Leticia Gil Parra (Spa) Spagnola National Team                    2.14
80 Dotsie Cowden (USA) Team T-Mobile                                 2.21
81 Madeleine Sandig (Ger) German National Team                       2.25
82 Rosalind Reekie May (NZl) New Zealand National Team               4.20
83 Laura Telle (Lat) Team Aliverti - Bianchi Kookai                      
84 Sara Symington (GBr) Team S.A.T.S.                                5.02
85 Frances Newstead (GBr) British National Team                          
86 Irenr Hostettler (Swi) Team Next 125                                  
87 Rochelle Gilmore (Aus) Team S.A.T.S.                                  
88 Sandra Missbach (Ger) Farm Frites-Hartol                              
89 Bettina Kuhn (Swi) Swiss National Team                                
90 Maribel Moreno Allue (Spa) Spagnola National Team                     
91 Kirsty Nicole Robb (NZl) New Zealand National Team                    
92 Ketty Manfrin (Ita) Team Let's Go Finland                         5.16
93 Diana Rast (Swi) Swiss National Team                              5.23
94 Rasa Polikeviciute (Ltu) USC Chirio Forno D'asolo                 5.46
95 Alessandra D'ettorre (Ita) Italian National Team                  6.13
96 Charlotte Goldsmith (GBr) British National Team                       
97 Andrea Bosman (Ned) Ondernemers Van Nature                        6.15
98 Daniela Porta (Ita) USC Chirio Forno D'asolo                          
99 Mercedes Cagigas Amedo (Spa) Spagnola National Team                   
100 Kim Shirley (Aus) Nobili Rubinetterie-Guerciotti                     
101 Madeleine Lindberg (Swe) Equipe Nurnberger Versicherung          6.18
102 Bogumila Matusiak (Pol) Polish National Team                     6.57
103 Annette Griner (Swi) Team Next 125                                   
104 Jaccolien Wallaard (Ned) Team Ton Van Bemmelen Sports                
105 Josephine Groenveld (Ned) Team Ton Van Bemmelen Sports               
106 Sarah Grab (Swi) Swiss National Team                                 
107 Nicole Hofer (Swi) Swiss National Team                               
108 Paulina Brzezna (Pol) Polish National Team                           
109 Nina Davies (GBr) British National Team                              
110 Fatima Blazquez Lozano (Spa) Spagnola National Team                  
111 Michelle Hyland (NZl) New Zealand National Team                      
112 Emma James (Aus) Team S.A.T.S.                                       
113 Natalie Bates (Aus) Australian National Team                         
114 Catherine Marsal (Fra) Nobili Rubinetterie-Guerciotti                
115 Loes Markerink (Ned) Dutch National Team                         7.55
116 Katrin Leumann (Swi) Team Next 125                                   
117 Svetlana Denissenko (Rus) Russian National Team                  8.31
118 Anna Farina (Ita) Acqua&Sapone - Valenti Argenti  

Outside time limit (Hors Delai)                   

HD Areke Hassink (Ned) Dutch National Team                               
HD Janildes Silva Fernandes (Bra) S.C. Michela Fanini Record Rox         
HD Karin Wieser (Aut) Lietzsport Cycling                                 
HD Veronique Coene (Bel) Team Ton Van Bemmelen Sports                    
HD Valentina Alessio (Ita) Team Aliverti - Bianchi Kookai                
HD Frederika Wiel (Ned) Team Ton Van Bemmelen Sports                     
HD Azucema Sancez Benito (Spa) Team Aliverti - Bianchi Kookai            
HD Monia Baccaille (Ita) Italian National Team                           
HD Lavinia Tofanelli (Ita) Acqua&Sapone - Valenti Argenti                
HD Marina Gloria Chirio (Ita) USC Chirio Forno D'asolo                   
HD Francesca Castrucci (Ita) Acqua&Sapone - Valenti Argenti              
HD Janneke Vos (Ned) Dutch National Team                                 
HD Bertine Spijkerman (Ned) Dutch National Team                          
HD Nicole Freedman (Isr) Basis Aude                                      
HD Mirella Van Melis (Ned) Vlaanderen-T-Interim Univega                  
HD Jacqui Marshall (GBr) British National Team                           
HD Lorna Webb (GBr) British National Team                                
HD Eleonora Soldo (Ita) Italian National Team                            
HD Elena Shalaeva (Rus) Russian National Team                            
HD Annette Griner (Swi) Team Next 125                                    
HD Paulina Fiuk (Pol) Polish National Team                               
HD Lina Dervaityte (Ltu) Team Aliverti - Bianchi Kookai                  
HD Iris Slappendel (Ned) Ondernemers Van Nature                          
HD Kathy White (Can) Basis Aude                                          
HD Kristy Miggels (Ned) Ondernemers Van Nature                           
HD Oxana Kostenko (Rus) Russian National Team                            
HD Anna Sipurzynska (Pol) Polish National Team                           
HD Anna Skawinska (Pol) Polish National Team                             
HD Jenevieve Leblanc (Can) Basis Aude                                    
HD Chiara Bartoli (Ita) Acqua&Sapone - Valenti Argenti  
   
DNF Sari Saarelainen (Fin) Team Let's Go Finland                         
DNF Teija Alaviiqi (Fin) Team Let's Go Finland                           
DNF Vera Carrara (Ita) Italian National Team                             
DNF Madeleine Sandig (Ger) German National Team                          
DNF Isabella Wieser (Aut) Lietzsport Cycling                             
DNF Sigrid Corneo (Ita) Nobili Rubinetterie-Guerciotti                   
DNF Sharon Van Essen (Ned) Ondernemers Van Nature                        
DNF Tanja Hennes (Ger) Team Next 125                                     
DNF Alexandra Vetter (Swi) Team Next 125                                 
DNS Claudia Meyer (Ger) Lietzsport Cycling                                            

World Cup standings after round 2


1 Oenone Wood (Aus)                                                   110 pts
2 Zoulfia Zabirova (Rus) Team Let's Go Finland                         75
3 Petra Rossner (Ger) Equipe Nürnberger Versicherung                   50
4 Mirjam Melchers (Ned) Team Farm Frites-Hartol                        50
5 Priska Doppmann (Swi)                                                42
6 Miho Oki (Jpn) Team Farm Frites-Hartol                               38
7 Alison Wright (Aus) Nobili Rubinetterie-Guerciotti                   36
8 Regina Schleicher (Ger) Safi-Pasta Zara Manhattan                    30
9 Joanne Kiesanowski (NZl)                                             28
10 Rochelle Gilmore (Aus) Team S.A.T.S.                                27
11 Anita Valen (Nor) Team S.A.T.S.                                     27
12 Hayley Rutherford (Aus) S.C. Michela Fanini Record Rox              24
13 Rachel Heal (GBr) Team Farm Frites-Hartol                           21
14 Olga Slyusareva (Rus) MRG                                           21
15 Sara Carrigan (Aus)                                                 15
16 Katia Longhin (Ita) S.C. Michela Fanini Record Rox                  15
17 Tanja Hennes (Ger) Team Next 125                                    11
18 Liane Bahler (Ger)                                                  11
19 Sharron Vandromme (Bel) Vlaanderen-T-Interim Univega Ladies Team    10
20 Sara Symington (GBr) Team S.A.T.S.                                   9
21 Arenda Grimberg (Ned)                                                9
22 Nicole Freedman (Isr) Basis Aude                                     8
23 Eneritz Iturriaga (Spa) Team Let's Go Finland                        8
24 Cathy Marsal (Fra) Nobili Rubinetterie-Guerciotti                    7
25 Svetlana Boubnenkova (Rus)                                           7
26 Tina Mayolo - Pic (USA)                                              6
27 Katie Mactier (Aus)                                                  5
28 Modesta Vzezniauskaite (Ltu) Safi-Pasta Zara Manhattan               5
29 Olivia Gollan (Aus)                                                  4
30 Angela Brodtka (Ger)                                                 4
31 Tetyana Stiajkina (Ukr)                                              3
32 Frances Newstead (GBr)                                               2
33 Rosa Maria Bravo Soba (Spa)                                          2
34 Deirdre Barry (USA) T-Mobile Professional Cycling Team               1
35 Annette Beutler (Swi) Lietzsport Cycling                             1