Rund um die Nürnberger Altstadt - CDM / 1.3
Germany, September 12, 2004
2003 results Preview Start List Past winners
Preview
One last time for Wood
By Kristy Scrymgeour
Oenone Wood in Plouay
Photo: Régis Garnier www.velofotopro.fr.st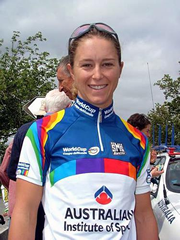 The final round of the women's world cup will take place this weekend in Nürnberg, Germany. The race is the last time Australian Oenone Wood will have to defend the World Cup leaders jersey that she has held since round one in Geelong, Australia. Despite double points being awarded for the final race, only three riders, Mirjam Melchers (Farm Frites/Hartol), Zoulfia Zabirova (Let's Go Finland) and Petra Rossner (Nürnberger) have the ability to dethrone her, each of them needing to win the race outright and keep Wood out of the top ten to do so. - A hard task, considering the consistent performance of the Australian Team this year leading Wood to seven top ten placing out of only eight races.
The circuit race will cover nine laps of a 12.9km loop for a total of 116.1km on undulating roads. The Nürnberg team, who won last weeks round of the world cup in Rotterdam, will be aiming to repeat using their sprinter Petra Rossner and will therefore be set on keeping the race together for a bunch sprint.
The Australian team are aiming to win the race, but their main objective will be to win the series and they will therefore be happy to let a break of non-series contenders go up the road. Australian Team director Warren McDonald believes that the team is capable of getting Wood into a top ten position and capable of winning the race, despite Nürnberger being at home.
Last weeks winner, Petra Rossner (Equipe Nürnberger Versicherung) will be aiming win at the home of her sponsor
Photo ©: Dick Soepenberg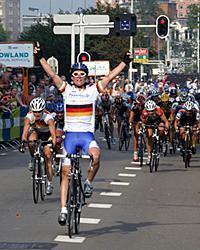 In an interview with Cyclingnews this week McDonald explained, "Petra is tactically gifted and has many years of experience in her, but we just have to figure out a way to beat her. I think it's achievable."
Last years winner of the Rund um die Nürnberger Altstadt, Diana Ziliute (Safi Pasta) will not be back to defend her title, as she will be in San Francisco for the T-Mobile International to help her team-mate Nicole Cooke defend her title, but Safi Pasta Sara Manhattan do have a strong team on the start list, including two very strong sprinters in Georgia Bronzini and Regina Schleicher. Scheicher cam second to Ziliute last year and third behind Jenny Algelid and Henka Kupfernagel in 2001 and will be on of the favourites to win on Sunday.
Melchers will not back down and will try one last time to take the World Cup Series from Wood. She fell a little further behind last week but now sits 99 points behind. A seasoned one-day racer, Melchers is always a favourite.
Another favourite on the start list is recently crowned two time Olympic Champion Olga Slyusareva (Nobili Rubinetterie-Guerciotti) who gives the team two cards to play, with herself and Australian sprinter Alison Wright in good form.
Also on the agenda for the day is an elite men's race as well as junior and masters races.
Past Winners
Women
2003 Diana Ziliute (Ltu) Acca Due O Pasta Zara Lorena Camicie
2002 Jenny Algelid (Swe) Equipe Nürnberger Versicherung
2001 Jenny Algelid (Swe) Equipe Nürnberger    
Men
2003 Kai Hundertmarck (Ger) Team Telekom 
2002 Erik Zabel (Ger) Telekom
2001 Olaf Pollack (Ger)
2000 Raphael Schweda (Ger)
1999 Jens Zemke (Ger)
1998 Jan Ullrich (Ger)
1997 Michael Holst-Kyneb (Den)
1996 Jan Schaffrath (Ger) Elite
1995 Fabio Baldato (Ita)
1994 Andreas Walzer (Ger) Elite
1993 Steffen Rein (Ger) Amateur
1992 Bert Dietz (Ger) Amateur
1991 Stephan Gottschling (Ger) Amateur